Seven in the evenin', just about supper time
There goes Jarrod Washburn, he's starting to unwind
Four balls ain't an option, he's strikin' every throw
Willie's out in center, runnin' fast as he can go.

Downtown at Safeco, out by the pier
Willie and the Mojos are playin'
Buy a hot dog, drink a beer.
Right, so I went to tonight's game. Like I said, the Mariners obviously need me to attend their games in order for them to win, and tonight was no different, as they
skunked the White Sox, 5-1
. I wore my Thome #25 Phillies jersey over my Washburn #56 Angels t-shirt, which was sort of amusing. I really ought to stop buying player-number shirts, shouldn't I?
Short version: Washburn pitched to his spots, let guys hit the ball way up in the air to be caught, and only once did it result in them scoring. The Mariners had a big second inning where they scored three runs off Mark Buehrle, who had a momentary lapse of skill. Ibanez led off with a home run in the 6th inning, and while the "aggressive baserunning" caused Willie Bloomquist to get tagged out like a retard in the 3rd inning, it led to Ibanez going from first to third on a single in the 8th and subsequently scoring. Bloomquist redeemed his moronic early running by making a spectacular diving catch of a low liner by Joe Crede in the 7th inning, which actually saved at least one run if not two, though they did manage to smallball Konerko across for one run after all. Putz had a momentary lapse of control in the 9th inning, but Betancourt brought in a double play and the game ended in a mere two hours and 12 minutes. I was home by 10pm.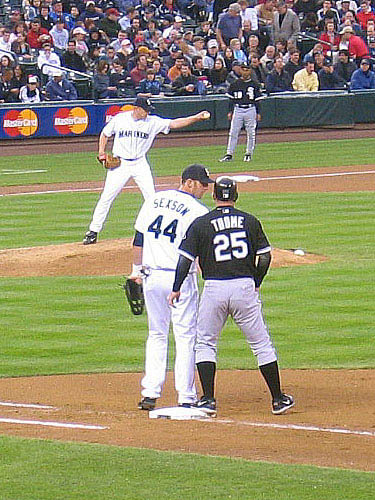 Big Richie makes even Big Jim look small.
Long version: Wait a minute, I really don't have much to add to the short version. Seriously. It was a really quick game. I went to it expecting it to be quick, but that was more owing to Buehrle, who seems ruthlessly efficient with his pitches, and fairly quick at that -- no long pauses while trying to decide what to throw, etc, just throw, throw, throw. Washburn, to his credit, did a pretty good job of keeping the Sox in check, even striking out Iguchi, Thome, and Konerko consecutively between the first and second innings.
They had this cute video on the big screen of Johjima and Washburn, as part of the Shannon Dreyer "beyond the baselines" series. Apparently both of the guys like to go fishing, and I couldn't really hear the audio too well, but it sounded like they were asking Johjima if he wanted to go to Wisconsin to hang out with Washburn and go fishing. They had a silly competition where both of them were trying to throw a fishing hook into an equipment bag, which Johjima won.
Also, the trivia song was Buddy Holly by Weezer, from 1994. I was surprised to see a 1994 song, because of the strike and all, but the trivia was about which AL Pitcher threw a perfect game in 1994, so that was Kenny Rogers and was easy.
On the other hand, I was sitting next to a guy who knew even more random baseball trivia than I do! He asked me what the last year was that both leagues' batting champs met in the World Series. I had a pretty good guess, and was actually off by two years, but I didn't actually know. That was pretty cool.
Okay, so anyway, for the most part, today's game was pretty routine. It was just quick and over before you knew it, really. In the bottom of the second inning, though, first Richie hit a single to right, then Carl Everett hit a single to right, and Johjima got hit by a pitch on his leg, all without any outs. Beltre unsurprisingly grounded out, but that scored Richie. Then Lopez hit a huuuuuuge double to right field, after hitting a foul ball that was caught by a kid in the row behind me. The double scored Everett and Johjima. Betancourt popped out and Ichiro grounded out to first, but it was still a good inning, putting the Mariners up 3-0.
Willie Bloomquist led off the third inning by hitting the ball out to left center, where it bounced in front of Scott Podsednik. I'm not sure what possessed Willie, but he rounded first, headed for second, then noticed they'd recovered the ball, and stopped 3/5 of the way there and headed back to first, where he slid into the base and was tagged out on a 7-4-3 play, as Podsednik had thrown it to Iguchi to get him at second base originally. That was pretty dumb. Of course, Ibanez hit an "infield single" next, and though Iguchi made a nice stop and had to throw in at a weird angle, it looked like Ibanez should have been out. Thing is, the net result was the same, because if Willie hadn't run like an antelope out of control, Ibanez's grounder would have been a fielder's choice anyway.
As I said, Ibanez led off the 6th with a home run into the White Sox bullpen, bringing the score to 4-0. Everett also got a double that inning by hitting the ball along the right-field line and into the corner, but everyone else played the Pop Fly game out.
As Washburn approached 100 pitches, Konerko led off the 7th inning with a single to left. Dye took a cue from him and also singled to left. At this point, Crede hit the long low fly ball to center that Willie Bloomquist ran and ran and ran and dived and caught, in a play that will be shown on Great Plays By Kitsap Heroes reels for years to come. But to be fair, on a normal Willie day, that's a double for Speedy Crede and two runs scored for the Sox. Konerko did tag up on the play and made it to third, and Uribe hit another ball waaaaaay the hell out to center field, which almost looked like a home run for a minute, but in another play of Bloomquistian proportions, it was caught at the wall for just a sacrifice fly, and Konerko scored. Washburn left and Rafael Soriano came in at this point to manage Chris Widger, who popped out to Betancourt to end the inning. Soriano also struck out Podsednik and Iguchi in the 8th. He's good.
Uribe dropped a grounder from Ibanez in the 8th for an infield single, and it looked like Raul was going to try to steal, which resulted in him actually going from first to third in a hit-and-run sort of deal instead when Sexson hit a single. Everett hit a long fly ball and Raul tagged up to score, making it 5-1.
And that's where it stayed. Putz started off the 9th inning by walking Jim Thome on four straight pitches, and Konerko singled, but then Dye hit a grounder which Betancourt expertly fielded for a 6-4-3 double play. I stood up, and the guys next to me stood up, and everyone else stayed seated, being as it was about 9:05pm and I don't think they realized it was down to
possibly the last out of the game
. It was probably a good thing anyway, as Joe Crede fouled off a hundred pitches and ended up walking. Uribe tried to do the same thing, only he ended up hitting a fly ball to center field instead, and Willie caught it, and MY OH MY, THE MARINERS WON IT!
Well, or more like, "Whoa, the Mariners won. It's only like 9:15. This is so much cooler than the other night when Eddie served it up."
Weight Watchers:
Adrian Beltre: batting .175, weighs 220
Richie Sexson: batting .224, weighs 235
Juan Uribe: batting .179, weighs 220
Chris Widger: batting .077, weighs 220
Brian Anderson: batting .164, weighs 215
Everett was at .212 before tonight (weighing in at 220) but going 2-for-3 put him up to .232, so he's off the diet temporarily.
I've noticed that the Safeco staff have started playing "All Right Now" by Free after the Mariners win a game. It inevitably always reminds me of the Stanford marching band, but you know, it
is
a pretty good victory song, and definitely a lot more fun to play than "Louie Louie", that's for sure.