The short version: Rain sucks, Putz sucks, Everett sucks, Johjima and Petagine rule, the Mariners
lost 5-4
. But it's time for Marinerds Game Reports to start up again! Yay!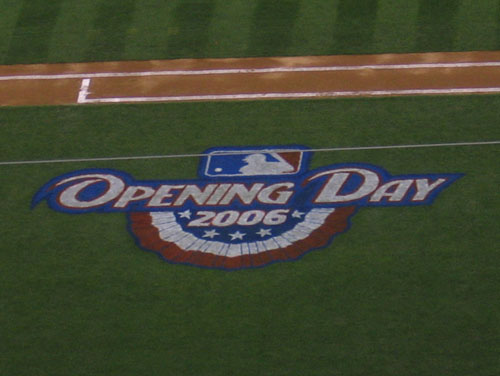 An extra guide for those players who may have forgotten
where the baselines are in the last six months.
The winter seems endless sometimes when you're waiting for baseball season to begin. But the funny part is, once you're sitting in a seat again at the baseball stadium, watching the hometown nine take on the opposition, it doesn't seem like it's been that long since you were last there.
The game today started in a pretty crappy fashion, to me -- first, I ended up waiting outside in the rain for half an hour because my friends who had the tickets were late. I heard Chone Figgins ground out to first while I was waiting in the admission line -- heard Orlando Cabrera get his infield single as I was running up the escalators, scorecard book and pen in hand, hat nearly flying off my head. Got to my seat just in time to see Garret Anderson watch a called third strike go by. Sat down, got comfortable, and then... Vladimir Guerrero launched a ball into the Mariners' bullpen in left-center field. 2-0 Anaheim.
The Mariners weren't particularly encouraging in their half of the inning, as Bartolo Colon struck out the side. I blame them using Olerud's "Ole" song for Lopez's at-bat music.
Betancourt and Beltre showed their defensive skills in the top of the second - we watched Erstad pop a ball into shallow left field, and rather than watching the ball, we realized we should have been watching Betancourt to figure out where it was landing. A bit later, Beltre beautifully snagged a sharp liner from Kennedy to end the inning.
Sexson and Beltre came up and went down. (The board still had Beltre listed as #5, despite wearing #29.) Carl Everett came up, and we'd been debating what to yell or do, but without a consensus, Josh and Ficus just started booing loudly. Ficus in particular really got into it -- he'd brought a pair of gloves he bought in Harajuku last year -- they're very impressive, and since this is vaguely a family blog, I will just provide a link to this
picture of Ficus as he gets ready for another round of booing
Jurassic Carl. Needless to say, Everett popped out to center, but not before swinging so hard at the first pitch he sent his bat flying into the dugout. One of the guys remarked, "That bat was thrown so far back, it was practically in the Stone Age."
The top of the third was entirely the Betancourt-Lopez show. After Orlando Cabrera singled, Garret Anderson hit into a fielder's choice, which was almost a double play. Lopez threw the ball to Betancourt at second, who got ready to throw it to first and seemed to lose the ball in the transfer. The umpire signaled out, then he signaled safe, then he signaled out, then we all went "Huh?" Apparently that's his way of saying that Cabrera was out, but the play was dead and Anderson was safe at first? I dunno. Anyway, immediately after that, Vlad Guerrero hit the ball for what would have been a single up the middle against a team with a mortal shortstop, but Betancourt ran way to his left and scooped up the ball to nab Anderson at second.
Bottom of the third was another 1-2-3 inning for the Mariners batters. By this point, we were saying before every pitch, "Hey, would you look at that, Bartolo Colon has a perfect game going... did you notice that?"
At this point, the grounds crew came out. As soon as the music for "Do the Hand Jive" started, I knew it was going to be another silly dance number -- and sure enough, this time they danced to the Greased Lightning song.
Unfortunately, their dancing did not bring the Mariners good luck, as Darin Erstad bashed a big bouncy ball for a ground rule double. It bounced into the outfield, it bounced over Ichiro, and then it bounced over the right field wall. Casey Kotchman then hit a single into center field. Erstad scored easily, and when Reed threw the ball home, Kotchman tried to take an extra base, but Johjima alertly got the ball and fired it off to Betancourt, who was guarding second base, in time to catch Kotchman there. It was a really nice play.
"Whoa! Awesome! Wait, was that a 9-2-4?" I asked.
"Um, that was an 8-2-6," said Josh.
"Oh, duh," I scribbled. "The oh-so-common 8-2-6 play."
Jose Molina grounded out after that, and in the time between innings, we were treated to a "Growing Up Reed" segment where they had Jeremy Reed and his brother Mark talking about baseball and their family, but the train went by at that point and it was too loud to really hear what was going on. At the end, they had a stunt where both brothers were trying to be the first to throw a ball from shallow center field into a bucket behind home plate. Mark won, incidentally.
Ichiro grounded out to start the 4th inning, at which point we said yet again, "Would you look at that? Bartolo Colon has a perfect game going!". Jose Lopez then hit the ball hard at Chone Figgins, who didn't hold on to it, so with Cabrera having picked up the ball too late to throw to first, they ruled it an infield single. ("You know, if that's the only hit of the game, they're going to appeal to the scorer...") Immediately following that, Ibanez hit the ball to Colon, only he didn't get it either -- it ricocheted off his glove and both Ibanez and Lopez reached the appropriate bases safely. Lopez tagged up on a long Sexson fly to center, but then Beltre grounded into a fielder's choice to end the inning.
Finally, a 1-2-3 inning for the Angels batters came in the top of the 5th, which may have inspired the Mariners to, you know, actually DO SOMETHING.
Everett led off by popping a high foul ball to the third base side that even Chone Figgins had no trouble catching. ("Man," said Ficus, "I really want to catch a Carl Everett foul ball just so I can throw it back. I'd even write 'BOO' on it first.") But Everett aside, the rest of the inning was pretty good.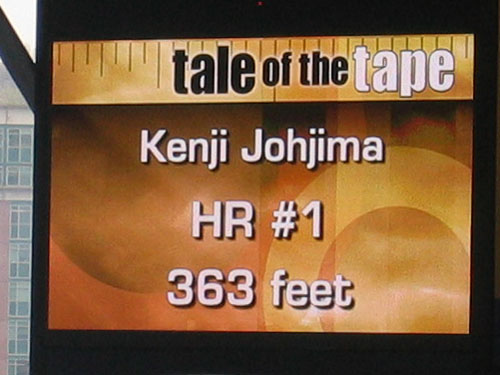 Why hello, Joe.
The folks sitting next to us asked how to pronounce his name, and I said "It's JOH-jeemah", and they remarked something like "Oh, no wonder they call him Joe." I yelled "Kattobase Johjima!", and then on the next pitch, Johjima got hold of a pitch and hit it. Hard. Into the fourth or fifth row of the right-field stands. (♪スタンドまで飛ばせ!♪)
Jeremy Reed followed that up with a long shot into left-center that bounced over the wall into the bullpen for a ground rule double, and advanced to third on what they called a wild pitch, which made it possible for Betancourt to bat him in with a single to center. Ichiro came up next and singled to right, and Betancourt got from first to third on the play. It was actually a fairly close play because he hesitated slightly when rounding second, and Vlad looked sort of pissed that he didn't get him. So when Lopez also singled to right field, Vlad tried to nail Ichiro at third and didn't get him, but Figgins did manage to throw Lopez out trying to get to second. That second out sort of sucked, because after Ibanez walked, Richie Sexson popped up to center field yet again to end the inning.
The score was tied 3-3, though, and it would stay there for quite a while. Vlad tried to get something started in the 6th, but thanks to Betancourt nabbing Rivera for a double play, the Angels went down meekly yet again. The Star 101.5 Music Trivia song was "Crazy Little Thing Called Love" by Queen. ("1981!" I said. "You sure?" said Ficus. "1980?" I said.) As usual, despite how many 1980 songs they seem to have in their mix for this, they still didn't mention anything about the biggest baseball thing I remember in 1980 -- the Phillies winning the World Series. Instead, they asked who the Mariners' leadoff batter was on Opening Day in 1980. (The answer?
Julio Cruz
.)
But I digress. In the bottom of the 6th, the Mariners actually came to life once more. Beltre hit a ball which Adam Kennedy totally booted, so they finally actually scored something an error. We booed Everett when he came up, but he did hit a single, advancing Beltre to second. After a particularly prolonged at-bat for Johjima, where he fouled off about six pitches in a row, I started talking about how yesterday was
Luke Appling
's birthday, you know, and Appling holds the record for the most pitches fouled off in one at-bat - in 1940, he fouled off 24 pitches in one at-bat, when his team was losing anyway and he wanted to see if he could wear out the other pitcher for fun. While we watched Johjima foul off a few more, including one which almost hit the rafters, the guy in front of us said, "Wasn't Appling pissed off at the team for some reason and wanted to waste baseballs?" And then, eventually, the at-bat finally ended with Johjima getting hit by a pitch, loading the bases. That was Bedtime for Bartolo, as J.C.Romero came out of the pen. Somehow I didn't realize he was on the Angels. I mean, last time I saw him, he was signing my copy of Twins Magazine when I was at the Metrodome last fall. I guess the Angels finally decided they wanted a lefty in the pen after all -- and it worked out well for them, as he retired Reed, Betancourt, and Ichiro in order, to end the bases-loaded threat.
Casey Kotchman almost hit a home run to start off the 7th inning, but Ichiro ran back and back and caught it right before the wall. Molina grounded out harmlessly after that, but then Kennedy walked, on what looked like some iffy ball-strike calls. There was a brief mound conference, and then Figgins was up. He singled to left, and then the second mound conference took Moyer out of the game. Rafael Soriano came in, and after a little bit of shakiness with a dangerous wild pitch, got Cabrera to fly out. ("Hey, look at that ball, that was so easy even Ibanez could get it.")
The seventh inning stretched, and Romero dealt to Lopez and Ibanez, before being pulled for Scot Shields. I always feel guilty about Scot Shields because he's one of my favorite pitchers, and is on my fantasy team, and he's a notorious Mariner-killer at that. Sure enough, he struck out Sexson (and the next inning got Beltre, Everett, and Johjima down 1-2-3, which got him the W for the game, even.)
Soriano handled most of the 8th for the M's -- he got Anderson, and then with Vlad at the plate, Johjima came out to the mound for a brief conference, as they both talked into their gloves, which must have Babelfish translators in them. I can only imagine it went something like this:
Johjima: Hikumete naikaku wo nagete kure.
Soriano: Lo siento, no hablo japones.
Johjima: Daijoubu nano. Faasuto wo nagetara, sanshin natteyo!
Soriano: Si, lo lanzare.
Johjima: Sounds good! Let's go!
Whatever they said, we'll never know. But Soriano threw a 94mph ball and Vlad took a huge swing and totally missed. And then Soriano threw a second 94mph ball and Vlad took a second huge swing and totally missed again. He tipped off a slider, and then wised up a bit, hitting what looked like it'd be a single to center, except Jose Lopez caught it, because he's cool like that. Rivera singled, and then Hargrove had to hold the game up some more by calling in George Sherrill. Fortunately, Sherrill struck out Darin Erstad, and that was that.
(Note: I did look over a few sections to see if I could spot PositivePaul, who I was sure would be going crazy with excitement at this point, but I didn't see any obvious Sherrill fans jumping out of their seats.)
As I mentioned, the Mariners didn't do much with their half of the 8th, so we went into the 9th inning tied. I noticed that it seriously didn't feel like it should be the 9th inning already -- despite how the game was prolonged at many points, it still felt like it should only be the 7th or 8th at best. Either way, I suppose because it was the 9th, this is where things started to get ugly. Kotchman walked (though several of the balls looked like strikes from our vantage point), and little Maicer Izturis was put in to run for him - I swear, but putting him (and Cabrera and Figgy to a lesser extent) next to Big Richie, the Angels were just trying to call our attention to the fact that their infield is still stocked with midgets, despite them ditching Eckstein a few years back.
Anyway, Molina bunted Izturis to second, and Sherrill was taken out for His High Putzliness, er, J.J. Putz, who seems to have a life goal of making sure all of Sherrill's runners score. Tim Salmon (!) pinch-hit for Kennedy, grounding out to short, but advancing Izturis to third. Figgins walked and then either stole second or just sort of ran there while nobody was looking, depending on your point of view. It's sort of irrelevant, because Orlando Cabrera singled to center, which let Izturis and Figgins score, for a big 5-3 lead for the Angels. Thanks a lot, Putz. It didn't even really matter that he struck out Garret Anderson, really.
K-Rod, the Goggled Wonder, came out to close out the bottom of the 9th, as people were already filing out of the stadium from the moment Orlando Cabrera's bat touched the ball in the previous half. As Jeremy Reed struck out, it looked pretty hopeless, but then we noticed a pinch-hitter up on the board! Roberto Petagine! Yay! Josh and Ficus and I all cheered, which made the remaining people in our section look at us kind of funny. A few fouls and a few balls later, they weren't looking at us funny anymore.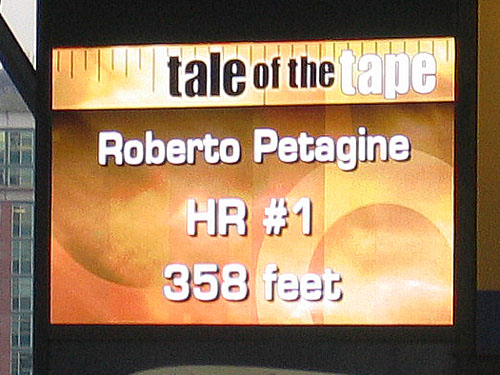 Eeny. Meeny. Petagine.
By the way, as an aside, the "Home Runs That Help" program claims that they pay blah blah whatever per home run a Mariner player hits... that is longer than 350 feet. What? Hello? I'm not sure I've really seen anyone hit one shorter than 350 feet unless they pretty much hit the foul pole. Still, it seems like a somewhat ridiculous qualification for a charitable pledge.
Unfortunately, Petagine's awesome pinch-hit homer only brought the score to 5-4, and Ichiro struck out and Lopez grounded out to short, and that was the game.
Josh and Ficus were driving back home and I was walking back to the office, so we went our separate ways at that point. On my way out of the stadium I ran into the USSM guys and got to chat with them for a bit, so that was pretty cool, since I hadn't really gotten to talk to them at the meet on Sunday.
So, yeah, that was fun.
And wow, it's fun to have a game to write a game report about. I promise these won't all be so ridiculously long.