Yes, a mere 18 hours after arriving back in Seattle, I found myself at Safeco Field. What can I say, I'm an addict. Besides, I was right -- the Mariners obviously needed my karma in order to start winning games again.
Short version: Jamie Moyer got off to a rough start, as did the Mariners' fielding, but he settled down to hold the White Sox to 2 runs in 7 innings. Neither Moyer nor Garland were uncorking a bottle of walks today, and earned baserunners were sparse on both sides, but Garland was generous in letting people drink from the home run fountain, and also made the funniest error I've seen in years. Raul Ibanez homered in the 8th to put the Mariners up 3-2, and Eddie Guardado was one pitch away from clinching the save and letting us all go home at 9:30pm, but then served up a home run to Brian Anderson which tied the game. Fortunately, there were only two extra innings, and due to proper use of Wheelie Bloomquist -- as a pinch-runner, base-stealer, and general Pair Of Legs -- the Mariners were able to punch ahead a run in the bottom of the 11th to
win the game 4-3
.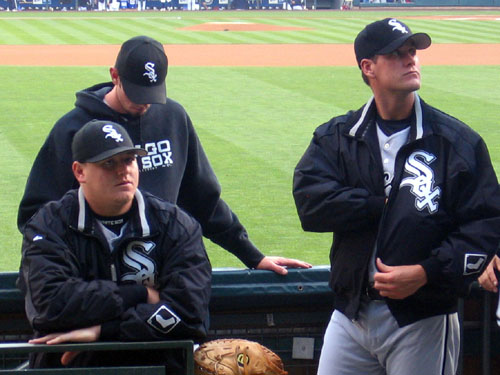 Familiar faces: Bobby Jenks and Matt Thornton (and Brandon
McCarthy in back) hanging out in the bullpen.
I was catching up on stuff at work, and didn't actually decide to go to the game for sure until a little after 6pm, so I basically got to the park just in time to take pictures of Jon Garland warming up. He's actually got a pretty good motion for taking photographs, and I got several good ones, but when I spotted Bobby "the tall and wide guy" Jenks and Matt "the tall and wild guy" Thornton hanging out in the bullpen, I knew I had to try to get a decent shot of them. Also, A. J. Pierzynski would be really cute if he wasn't such a jackass.
Anyway, as I said, Jamie Moyer got off to a rough start. Pablo Ozuna led off with a double to left, and after a pop-out by Iguchi, Big Jim Thome batted Ozuna in with a single. Konerko launched what would be the first of the Almost-Homers for the evening when he got Jeremy Reed to run all the way to the centerfield wall to make a catch. Then Pierzynski hit a double to left field, which was the first exhibit of the evening of the Ibanez Left Field Laughers, as he stumbled around like a little lost sheep in the outfield trying to recover the ball. Fortunately, Big Jim is also Slow Jim, and he only made it to third on the double, and Uribe popped out. 1-0 Chicago.
The Mariners tied it up in the bottom of the first when Jose Lopez launched a HUUUUUUGE home run into deep center field. Brian Anderson ran back to the wall and even scaled the wall in a vaguely Ichiro-esque maneuver to try to make the catch, but to no avail. The score was 1-1 as Ibanez singled and Big Richie and Big Carl left him there on first.
The White Sox scored another run in the second inning, in a way which was very embarrassing to the Mariners. First, Rob Mackowiak (Yay! Whack-o-Mack is Back!) reached base on a bobbling error by Adrian Beltre. Jamie Moyer threw a wild pitch and Mackowiak advanced to second. While Anderson was grounding himself out, Mackowiak advanced to third. Ozuna walked, and during Tadahito Iguchi's at-bat, Rene Rivera missed a Moyer pitch, which rolled past him. So Mackowiak took off from third, and Ozuna took off from first. Moyer came in to cover the plate, and Rivera threw the ball to him, only he missed, and so Mackowiak slid in safely, and Ozuna reached second as well while Moyer was recovering the ball. Iguchi struck out after that though, so it was limited to one ugly and unearned run for the inning.
Big Jim and Little Jamie had a sort of funny showdown in the third inning, where Thome pointed his bat out at the field for a couple of seconds, and from my vantage point it almost looked like he and Moyer were either staring each other down, or maybe even trash-talking, I dunno. Anyway, whatever happened is unknown to me, but Jim stepped back into the batters box, and Jamie immediately nearly knocked his head off. Don't mess with the old man, yo.
The music trivia for today was "Raspberry Beret" by Prince, from 1985. I'm sure you all know that the Royals won the World Series that year, right?
Digital Dave Data was pretty tough, though -- his question was: "Who was the first DH for the first Mariners game in 1977?" I have to admit, I had no clue. In case you're wondering, it was
Dave Collins
.
The Mariners fielded the top of the 5th quite well. Beltre was nearly gutted by an Iguchi line drive but still recovered it, and Lopez fell over trying to pick up a Pierzynski grounder but still made the throw. So obviously this was just to set up the contrast for the spectacular errors Jon Garland made in the bottom of the 5th.
First, Ichiro hit the ball right over Garland's head, and he fell over backwards trying to jump for it, while in the meantime, Iguchi couldn't get it in time to get Ichiro out either. Then, Garland tried to pick Ichiro off first base, except he missed Konerko by a bit and the ball went towards the stands. Even though Ichiro had fallen over trying to get back, he was able to pick himself up and trot to second in the meantime. And right after that came the REAL comedy of errors. I mean, this was one of those Instant Blooper Reel sort of errors. Basically, Lopez hit the ball pretty much straight to Garland, who did what a pitcher normally does in that circumstance -- he paused, planted his feet, and threw the ball to first base. Except there was one tiny problem -- the ball didn't actually go to first base when his arm made a throwing motion. Infact, the ball pretty much fell backwards out of his hand as he went to throw to the bag, and instead of Lopez being an easy out, Lopez was safe at first and Garland was stuck standing there dumbfounded staring at the baseball on the ground, wondering how on earth he'd managed to drop it. Even the scoreboard said it best: "WOW."
They replayed that a couple of times for maximum laugh value, but then Ibanez popped out to third to end the inning. Oh well.
The Mariners put a second run on the board in the 7th, as Betancourt grounded past Uribe into left center. Rivera took a few tries but did manage to sac bunt him to second. Then Ichiro came up, and he hit the ball into left for a single, as Betancourt took off running. Betancourt beat the throw to home plate, but as Ichiro attempted to stretch his single into a double, he got caught in a pretty funny rundown, and was eventually tagged out by Uribe, in what I have marked as a 7-2-4-3-6 play. Lopez popped out to end the inning, but at least another run had scored.
Moyer came out of the game with the score still tied 2-2, and George Sherrill was brought in just to pitch to Jim Thome, who was leading off the 8th. Big Jim hammered his third pitch really way back, and much like most of the other pop flies tonight, this one also looked like a sure homer, but Ibanez got it at the wall. Whew. Rafael Soriano then came in and kept the rest of the inning scoreless.
Jon Garland continued to pitch into the 8th inning, and Raul Ibanez led off for the Mariners, but unlike Big Jim, he actually hammered the pitch way back for an actual home run, although to be fair, if Rob Mackowiak was just a foot taller, he probably would have been able to catch it, as it only landed a row or two back in the stands. Of course, if Rob Mackowiak was a foot taller, he'd be the tallest man in baseball, so it's unlikely he'd be a utility infielder/outfielder.
With the score 3-2, Eddie Guardado came in to close out the 9th. I had a really bad feeling about it. Joe Crede came out to pinch-hit for Alex Cintron, but he hit a high pop up to second. Then Jermaine Dye pinch-hit for Mackowiak, but he struck out. With things down to the last out, and the rookie 9-spot Brian Anderson at bat, things actually looked pretty good, and as the boards flashed "UP ON YOUR FEET!", I stood up like everyone else did, watching the at-bat. And things looked pretty good -- I mean, it was down to 2 strikes, 2 outs -- and then, one pitch away from winning the game, I started suddenly having a bad feeling again in the pit of my stomach, and I stopped packing up my bag and watched. A few seconds later, Brian Anderson lifted a pitch way up -- Raul Ibanez ran back, and back -- and the pitch hit the top of the scoreboard in left field and ricocheted into the stands.
CRAP.
Ozuna singled after that, but was caught stealing for the third out. Unfortunately, the bottom of the 9th inning happened after that. It wasn't supposed to happen! It was 9:30pm, and I wanted to head home to write stuff and sleep, since I'm still jet-lagged, dammit!
At this point, I looked at my phone, and noticed that a friend of mine had sent me an IM, saying "what's up?" We had a conversation that went something like this during the bottom of the ninth, as Cliff Politte took over for Garland:
Him: what's up?
Me: Eddie SUCKS
Him: yup :)
Him: You at the game now?
Me: WE WERE ONE PITCH AWAY OMGWTFVORP
Him: Poor Eddie, you could see him on TV as he said DAMMMITTTTT
Me: I was all ready to go down to get the bus. DAMN YOU EDDIE
[at this point, Jeremy Reed hit an extremely long fly ball to right field]
Him: awww, not quite long enough
Him: at least Eddie didn't walk four guys this time
[at this point, Betancourt struck out]
Me: whooooosh
Me: true
Me: I'm going to be stuck here all night
Me: I hope Johjima bats and hits a homer
Me: they can't have a Johjima vs. Iguchi hawks battle without, well, Johjima
Him: bah
[at this point, Rivera, who was not pinch hit for, flew out to center, ending the inning]
The stands kept clearing out, which was sort of amusing, and I moved up to the front row of my section as I saw Putz come out and take care of business -- he struck out Iguchi, Thome hit another almost-homer that died on the warning track in Reed's glove, and while Konerko buzzed a single past Beltre, Pierzynski struck out (or, as we called it, the AJ vs. JJ battle).
However, the Mariners failed to do much in their half of the inning. Neal Cotts came out to do the lefty thing, and Ichiro grounded out to Crede, Jose Lopez hit a flyball to center, and Ibanez, who was already 3-for-4 with an HR for the evening, struck out swooshing.
I was a little nonplussed about Mateo coming out in the 11th, since the last game I saw him in was the one where he forgot where the strike zone was and walked approximately 42 batters in one inning. It seems he's recovered from his mild case of Steve Blass syndrome though, and this time he came out for a 1-2-3 inning, getting Uribe and Crede and Dye all to pop out.
Sexson lined out right to Crede who was positioned perfectly for it, and then Everett got a single. My IM conversation continued, as they put Willie Bloomquist in to pinch-run for him:
Him: whee, hit
Me: Oh, hey, look, for once bloomquist is coming out at the right time
[and even though every single person in the stadium knew it was coming, Willie stole second, sliding in headfirst ahead of the throw]
Him: now just need one more hit
Me: Reed, maybe. Beltre sucks too
Me: oh MAN
[as Beltre popped out to shallow center]
Him: go Reed!
Him: hahaha
[as they intentionally walked Jeremy Reed]
Him: pinch hitter! please!
Me: they're letting betancourt bat, wow
Him: this IS the Mariners, you know
Me: I guess that's better than putting in Petagine as a shortstop
Him: risk it for the win
Him: yay! go betancourt!
[as Yuniesky Betancourt managed to hit a single into left field and Willie Bloomquist scored and the Mariners won it, oh my GOD, THE MARINERS WON IT!]
Me: now THAT is the proper use of a Bloomquist, yo
Me: okay, it's late, I am totally going to make like a Willie and head for home
Which is exactly what I did. Holy crap, I'm tired.