Last fall, we had Dan Wilson's retirement game on the same night as Fan Appreciation Night, and today, we had the official thing, with all the bells and whistles. 37,904 folks were at the game to celebrate the Dan, the myth, the legend. The ceremony was nice, but the game that followed wasn't, unless you were rooting for the A's.
Short version: It was Felix's 20th birthday today, and
the Mariners lost 3-0
to the A's, tagging Jamie Moyer with his first loss at Safeco Field since October 2004. It was generally a low-hitting low-scoring game, with the A's runs coming off a Kotsay homer, a Scutaro double and Chavez single, and a
awful Bloomquist dive
Kotsay triple and Scutaro groundout. The Mariners offered only one obstacle to a Zito no-hitter when Richie Sexson hit a double deep to center field. Mark Kotsay got the ball and hit the wall and it popped out of his glove, but to his credit, many centerfielders don't even get to that ball. Kotsay's a stud. End of story.
Safeco Field was a vision of Danliness.
The Dan Wilson ceremony before the game was wacky. We got the park following book club (brief
book club recap
in the preceding entry), at about 5:20, and all the "Dan the Man" signs were already gone. The ceremony started at 5:15. There were all sorts of people there -- Dan's family, friends, former coaches, and even former manager Lou Piniella came in, to tell us how when he came here from Cincinnati, he remembered Dan Wilson as a young catcher in camp and advised the Mariners to get him.
One of Dan's daughters recited a poem about how "we miss you when you're away, we love when you're near, we're glad that you're retired so your schedule is clear" or something. It was cute.
Dan himself got up and gave a really long speech, I think it lasted like 15 minutes, though I wasn't counting. Dan Wilson is pretty much the quintessential "good guy", and you can guess what most of his speech went like, thanking all the people who got him to where he is now, etc. To his kids, ("however many there were of you at the time,") he mentioned how "your smiles wipe away ALL of my 0-for-4's", and such.
There was a lot of applause and a couple of tears, I think, and a lot of people with homemade Dan Wilson signs and a lot of Wilson jerseys.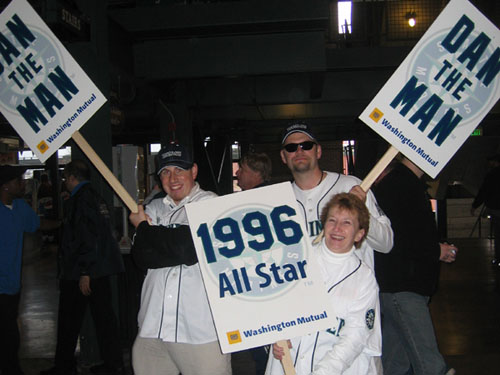 The Dan the Man Fan Clan was out in force tonight.
Anyway, there was also a game. However, this one had even less action than Friday night's game.
Aside from Yuniesky Betancourt almost getting decapitated by a liner from Eric Chavez, the first inning passed entirely uneventfully.
In top of the second inning, Milton Bradley singled with two outs, but then attempted a pretty dumb steal, and Johjima easily threw him out at second. This caused the big board to display the message: "DON'T GO ON JOH".
Big Richie led off for the Mariners with a huge fly ball to straightaway center field, which almost looked like a home run, except Kotsay was tracking it perfectly, and barely caught up with it at the wall. The ball bounced out of his glove and so Richie had a double. He advanced on a wild pitch during Beltre's at-bat which I thought actually hit Beltre's feet -- he was hop-dancing around as if avoiding the ball. But Beltre and Everett struck out and Johjima grounded out to leave Richie on third.
The third inning passed completely uneventfully. The grounds crew did their dance to "Grease Lightning" between the third and fourth innings. The "Ask the Mariners" video question for the day was "What do you think of Dan Wilson?" and pretty much every guy said some combination of the following: "ultimate professional", "class act", "great guy", "nicest guy ever," "very intelligent", etc, except Jarrod Washburn, who would obviously have a different perspective: "I couldn't strike him out!"
After getting around the order, the A's led off the fourth inning by having Mark Kotsay hit a home run into the right field seats. Have I mentioned that Mark Kotsay is a stud? Anyway, not to be outdone, Marco Scutaro followed that up with a hit into deep right field for a double, and advanced to third on a wild pitch through Johjima's feet, though Crosby did strike out. Chavez worked the count to 3-1, and started to walk to first base on the fifth pitch, only to be told it was a strike and to get his ass back to the plate. So instead he hit a clean single to center and Scutaro scored. That was about it for the inning though, on both sides.
More Mariners Favorites!
Sexson - Food to cook: Chicken Parmesan
Beltre - CD: Merengue
Everett - Actress: Angela Bassett
Johjima - Childhood nickname: Joh (gee, big surprise there)
Bloomquist - Food: Clubhouse orange pasta (wtf?)
Betancourt - Ice cream flavor: Strawberry
There was a group holding up Ichiro signs, they had three of them, with "IC" "HI" and "RO", and the "HI" one actually said "HI (mom)", which was sort of funny.
The top of the fifth inning featured Betancourt pulling off a 6-3 double play, snagging a Dan Johnson grounder right by the second base bag to nab a walked Jason Kendall, and then throwing to first to get Johnson as well. The bottom of the fifth inning featured Barry Zito consecutively hitting Johjima in the foot and Willie Bloomquist in the chest, but you know what the Mariners do with two guys on and two outs: choke. Betancourt struck out.
The music trivia song of the day was "Good", by Better than Ezra, from 1995. The first question was stupid: what team was 'good' enough to win the AL West in 1995? Then there were a few other sports questions, and the last one was: "What catcher was 'good' enough to be the Mariners' Opening Day catcher in 1995?" and the three choices were: "A. Dan Wilson B. Dan Wilson C. Dan Wilson".
They also did a Quick Flix of Dan Wilson, and a Noah's Get To Know Us of Dan Wilson, and later in the game, replayed footage of his inside-the-park home runs. They also showed some Dan Wilson old commercials, including my personal favorite, the
Jamie Moyer Killer Changeup
one. "You gonna hit that?"
Anyway, in the sixth inning, Kotsay led off with a triple to center, which probably wouldn't have been a triple if Willie Bloomquist hadn't made a bad dive for the ball and ended up sprawled out on the field. Scutaro grounded out to short, scoring Kotsay, making the score 3-0 A's. Crosby singled, and Chavez struck out, and Moyer passed 100 pitches, so they took him out and brought out Rafael Soriano. Oddly, the first thing Soriano did was walk the Big Hurt on four straight pitches, not intentionally, but then he struck out Milton Bradley, so it was okay. The Mariners' half was yet another 1-2-3 inning, although Ichiro fouled off about ninety pitches to bring Zito's pitch count above 100, and Zen Master Zito did not return after the 6th.
You know, looking at my notes, there's only three more interesting things that happened during the rest of the game:
1) Kendall was hit by a pitch in the 7th and then stole second. Only he stole second on a pitch-out, so Johjima fired the ball to first, and Kendall broke for second, and somehow when Richie threw the ball to Betancourt, something must have gone awry with the tag, because Kendall was called safe. I'd even started to write down "CS, 2-3-6" but had to cross it out.
2) Also in the 7th, Richie Sexson struck out, but the third strike appeared to bounce in the dirt, and Kendall tagged him out. Sexson started telling the umpire that the third strike was a foul tip - and from the deflection into the dirt, I could certainly believe it - and Hargrove even came out to argue it - but to no avail.
3) Joe Borchard came into the game in the 8th as a pinch-hitter for Betancourt, but hit into a 5-4 fielder's choice which narrowly missed being a 5-4-3 double play. Bloomquist went to short, and Borchard stayed in as the centerfielder.
Huston Street pitched a 1-2-3 inning in the 9th and got his first save of the year.
So anyway, you'll note that only four Mariners reached base. Richie with his double, Johjima getting hit by a pitch, Bloomquist walking and getting hit by a pitch, and Borchard's fielder's choice. So technically, Willie had the highest OBP on the team by reaching base twice.
Jason Kendall has been a mad OBP machine in the last two games. In 7 plate appearances, he reached base 5 times, on 4 walks and 1 HBP, scoring one run and stealing a base. Despite only having 1 hit in 17 plate appearances so far this year, he's got an OBP of .389 -- that's just messed up, isn't it?
Also, the Pirates lost yet AGAIN today, bringing them to 0-6. The Phillies were rained out, so they have a doubleheader tomorrow. I just hope they can win one of the two games, or I'm going to cry. Detroit and Milwaukee, on the other hand, haven't bothered losing any games yet. The Tigers mauled Kevin Millwood to ultimately
win the game 7-0
as Chris Shelton, the poor dear, didn't hit any more home runs, just two triples. Milwaukee, on the other hand, carried a 4-4 tied game into the bottom of the 9th, when J.J. Hardy doubled, Jenkins was intentionally walked, and then Carlos Lee centered to Eric Byrnes out in center, who got the ball and threw it so hard he flipped over into a somersault -- but it arrived at the plate too late anyway. You can see a clip of it on the
game recap article
under "Lee's game winner".
I am totally wiped out, so I'm not going to the game tomorrow. Watch, the Mariners will actually win it.