I don't have a lot of time to write a full game report, unfortunately. I'm about 95% done moving from Greenwood to Ballard, and next time I move, I'm hiring movers, dammit. Moving almost everything by myself has just been a huge pain, and even with a few awesome friends who helped out with a U-Haul, it's still just been a mess, and has consumed most of May for me.
However, while I was spending the weekend moving, the Mariners were both moving and shaking. Hell, they were even doing more housecleaning than I was, sweeping the Padres.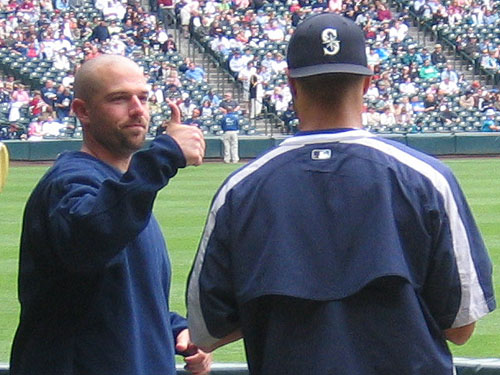 George Sherrill highly approves of sweeping.
I went to today's game. It was pretty fun. I haven't had to scribble a new inning on my scorecard for the Mariners in ages, but they managed to bat around in the second inning. I realize that in theory the lack of extra-base hits isn't great for the team, but when they get SEVEN STRAIGHT SINGLES followed by an Ibanez home run into the flowers behind the center field wall, that's a good recipe for runs. Everett, who originally led the second inning off with a single, followed it up with an even bigger home run, capping an 8-run rally.
They added on two more runs in the 6th when Chan Ho Park ran out of steam; having intentionally walked Ibanez to load the bases and pitch to Richie Sexson (who had struck out two times previously), he ended up... walking Sexson. Everett hit yet another Barfield-dropping single after that to score Ichiro.
For whatever reason, they were still having Lopez bunt. OMGWTFVORP. I just don't get it.
The Padres did chip away enough at the lead to make you worry; Felix apparently sprained his ankle in the third inning but stayed in for six anyway; he threw almost entirely balls in the third inning instead of strikes, and it was sort of scary. Dave Roberts was the big breadwinner for the Padres today; in both the 1st and 3rd innings he walked and was subsequently batted in; in the 6th he came up and hit a home run off Felix into the rightcenter stands. It was his first home run of the year; Dave Roberts is not exactly a power threat, after all. Geoff Blum got on base via a frustrating passed third strike, which should have ended the inning, but instead the Padres went on to score 4 runs.
Still, we went into the 7th inning with the score at 10-7, and Soriano pitched two innings and Putz pitched one, and the only hit at all was when Josh Bard (!) hit a HUUUUUUUUUUUUGE home run into the rightfield stands off Soriano. He almost hit the Hit it Here Cafe, believe it or not; the ball actually bounced off the Canon sign hanging above section 107 or so. It was just gigantic.

Chan Ho Park, welcome to Safe Co Field.
Honestly, it was sort of weird that Park imploded in the second inning like that. Conor and Gomez and I had been wandering around the bullpen area before the game (which is where I caught that awesome Sherrill picture), and I took a whole bunch of pictures of Park warming up, and I thought he looked pretty good. I guess it's all my fault for talking about how well he'd been pitching lately. I seem to have this jinxing affect on teams and players.
For example, I wore my Mike Cameron #44 Mets t-shirt today, and what did Cammy do? He went 0-for-5 at the plate, and didn't really end up with that many spectacular play opportunities. I can't help but wonder if he got a strange sense of deja vu as he kept running back to the Safeco centerfield wall only to watch Ibanez and Everett's home runs sailing over.
Also, I was amazed by how many people kept asking me who I thought was going to win the Mets-Yankees game tonight due to my t-shirt. I would just smile and remark, "Dude, I have no idea. Maybe you should be asking Billy Wagner."
It was Little League day yet again at the stadium, it seems, which means it was full of kids. The beer vendor who looks just like Gil Meche came up to our section and was like "DOES ANYONE WANT BEER?" Then looking out and seeing some little kids waving at him, he was like "Uhh, I mean, does anyone *over 21* want a beer? NO, REALLY, DO ANY ADULTS WANT SOME BEER? Uhhh... I gotta go."
I couldn't find a left-behind Mariners Little League poster though, sadly. I wanted the picture of Johjima.
Also, I continued my campaign for Nick Swisher, Write-In All-Star. I filled out several ballots, all with different themes, such as "Guys With Weird Names, and Nick Swisher", or "The 15 Worst Guys on the Ballot, and Nick Swisher", or "Marks, Mikes, Matts, and Nick Swisher".