This is probably going to be a short report, as 1) the game was pretty short 2) I've been pretty busy today. I'm actually in the midst of moving to Ballard (really close to the 18 bus line, which goes straight to Safeco, yay!), and doing most of the packing/moving myself, so in the next two weeks, there'll probably be several days where I spend the entire evening lifting boxes and don't find myself with copious spare time to find creative ways to make fun of the Mariners.
Short version: The Mariners got 9 hits but couldn't score a run today. Sabathia shut them down good, going 8 innings, walking none, and striking out 4. Washburn pitched pretty great for Safeco, doing his thing and letting guys hit the ball way up into the air so fielders could catch it, going a decent 7 innings and giving up only two runs. Belliard scored a run in the 3rd when he reached on a close infield single, ran to third on a single by Blake, and scored on a sac fly by Grady Sizemore. The second run came in the 7th as Travis Hafner, Destroyer of Worlds, led off by walking, and scored when Belliard hit a huge double into the left-field corner that Ibanez couldn't quite recover. Soriano pitched a great eighth inning, where despite Blake leading off with a walk, and reaching third on a steal and the throw out not being caught by Betancourt, it didn't matter, as Soriano struck out Sizemore, J-Mike, and Peralta in a row. Sherrill pitched the 9th and retired Hafner, Martinez, and Broussard, varying pitches between 76 mph and 91 mph. The Mariners finally strung together two hits in a row in the 9th as Everett hit a single which was almost a ground rule double had it bounced a little higher, and Beltre singled as well, but Johjima grounded into a double play to end the game as the
Mariners lost 2-0
.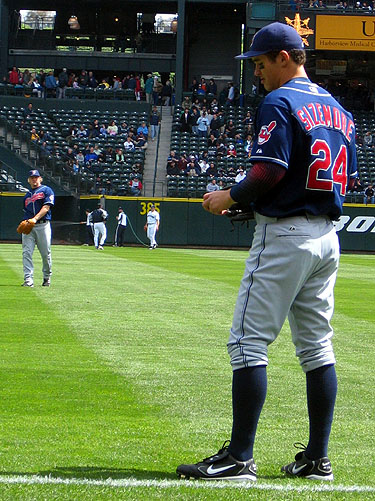 Many Seattle-area Little Leaguers were at the game today.
Yeah, so today was my birthday. I attended the game with a friend whose birthday is tomorrow. I knew the Mariners weren't going to win; they never win on my birthday, but that's okay. At least it wasn't the debacle like a few years ago when Freddy Garcia gave up 10 runs to the Yankees in the 3rd inning of my birthday game. That really sucked.
Today was also apparently Little League Day, which explains the attendance of 35,562. I can tell you for sure that almost the entire crowd was sitting in the upper decks of the stadium, though, with the Little League group rates. Also, the kids were cheering pretty loudly, but I have to admit -- at least these kids knew something about baseball and could follow the game. Sure, they were pretty much constantly shouting, "ICHIRO! ICHIRO!" "LET'S GO, RICHIE!!" "CMON WILLIE!" and so on, but at least they knew what was going on and cheered at the right times, unlike this four-year-old that used to sit behind my season ticket seats last year and constantly cheered nothing but "BRET BOONE! BRET BOONE!" even several months after Boone was DFA'ed.
Ichiro logged the 200th stolen base in his MLB career in the first inning, too.
I have a few other
shots
of
Sizemore
from before the game. He's a really cute kid, and the high socks are a plus.
I honestly can't think of much else to add. Betancourt apparently likes spaghetti with ketchup. That just sounds pretty revolting to me.
By the way, I've
mentioned this before
back when we signed the guy, but there's a major attitude difference between Washburn and certain other pitchers I could name when it comes to his bad luck with run support (from the mlb.com wrap of today's game):
That Seattle pitcher Jarrod Washburn (2-5) was on the mound when the offense struggled was not unusual. The Mariners have scored two or fewer runs in four of Washburn's last five starts and 14 runs in seven starts when he was still in the game.

"He threw the ball well," Hargrove said. "They put their hits together at the right time and we didn't."

Washburn lowered his ERA to 3.61 by allowing four hits over seven innings. He walked two and struck out two. Good numbers against one of baseball's most-feared lineups, but not good enough.

Washburn was asked after the game if he's bothered by the lack of offensive support. He immediately shook his head.

"I know they're trying," Washburn said of his teammates.