I don't think this has shown up in English anywhere, but it totally cracked me up -- my favorite Chunichi Dragons player, Masahiko Morino, who I fondly refer to as "Dragonbutt", has been given a new nickname, apparently --
Mister 3-Run
. At the time that article was written, he'd hit 6 home runs, 4 of which were 3-run homers, and now he's hit 9, 5 of which are 3-run homers. Morino's been driving in so many runs that he's currently second in the Central League in RBI -- the leader being his teammate Tyrone Woods.
Atsuya Furuta, player-manager of the Yakult Swallows,
may or may not have retired as a player
yesterday. He's only appeared in two games this season due to problems with his right shoulder, so he basically deactivated himself as a player for now, possibly forever, and will concentrate on his duties as Yakult manager instead. Regardless of whether he ever does play again, he'll definitely go down in history as one of the best Japanese catchers ever. On the other hand, I wonder if this means I'll never get my hands on a
Daida, Ore t-shirt
(with the excellent slogan "Time! A pinch-hitter is me.")
In other news,
Masumi Kuwata got called up on Saturday!
And in what became even more of a crazy media circus, I'm sure, he actually went in to pitch against the Yankees on Sunday. I absolutely love this picture that the Japanese press got of him: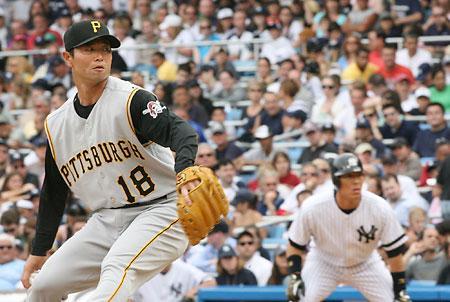 From Jiji press: Two former Yomiuri Giants players, now-Pirate Masumi Kuwata
pitching with a walked now-Yankee Hideki Matsui looking on from from first base.
Unfortunately, in his major league debut, he gave up a two-run homer to Alex Rodriguez. But, hey, for a 39-year-old guy finally living his dream, occasionally there's going to be a few sneezes.
It also dawns on me that Kuwata has been called up just in time to hopefully make it to Seattle with the Pirates next week! If he stays up even just for the next week or two, he'll be doing a gigantic favor to the Japanese press assigned to the Pirates, as they're now facing the Rangers (and Akinori Otsuka), then the White Sox (with Tadahito Iguchi), and then the Mariners (with Ichiro and Johjima), all in interleague.
On the other hand, former Seibu closer Shinji Mori
has been released
by the Devil Rays, from the minors this time.
Munenori Kawasaki has finally returned to the Hawks lineup after being out with a broken finger for a while. That should make an awful lot of people happy.
The Fighters are apparently trying to acquire
Mitch Jones
from the Dodgers. Jones has been pounding the ball this year at Las Vegas, though his
overall minor league career
isn't particularly spectacular. Either way, hopefully he'll work out better than Andy Green.
And in completely bizarre news, I thought I'd been reading all the Japanese articles wrong when they mentioned that former Montreal Expos and Yomiuri Giants player Warren Cromartie was in Japan
to become a wrestler
. I thought he was just around for the Giants promo that was going on last week. He's 53 years old now, but still pretty large (as shown
here
with Fighters manager Trey Hillman), and as I finally found some articles in English confirming, no really,
Cromartie is in Japan to participate in a wrestling event
.
All I can say is
wow
.