Another night, another Pirates game, another
Mariners win, 3-0
. Happy Felix Day. Putz wooo. Kuwata ganbare. Golden Doughnut. Say Bay Eh. Whatever. For once I actually found myself regretting going to a game, which is sort of rare for me.
I didn't bother getting to this game all that early, basically arriving at the end of Pirates batting practice. I got Jose Castillo to sign my ticket and once more failed to get Masumi Kuwata. Jason Bay was out again continuing to be the nicest guy on the planet.
A semi-stupid thing happened: while waiting in my usual spot in section 148 for the pitchers to come out and do long tosses, I got stopped by an usher. Most of the ushers recognize me and my camera by now and know that I have a 16-game ticket plan in section 143, and I always move to my seat by game time, but this guy actually wanted to see my ticket and was going to kick me out of the section... and unfortunately, this time my actual ticket was in the upper deck. For some reason, I never seem to get asked for my ticket when I actually have one in Field, and do get asked for it on the rare times when I don't. I told him I was just going to take pictures and would leave by 6:50, but then John Van Benschoten ended up throwing towards the field instead of the stands anyway, so I just got up and wandered down to the bullpen. The Mariners' side of the bullpen was horrendously crowded for the Felix, so I went over to the bullpen pub instead, and this is what I saw: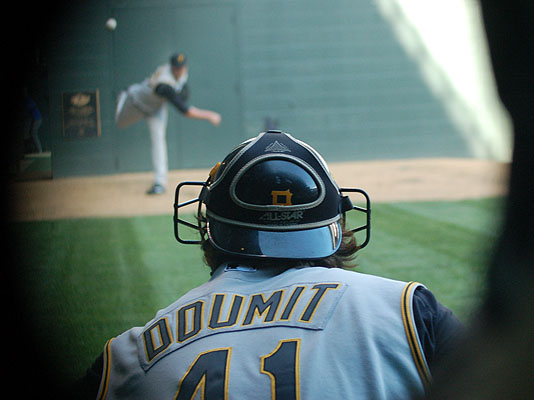 Through the Looking Glass, or is that a Doughnut Hole?
John Van Benschoten is one of those guys you've probably heard of if you follow the Pirates minor leagues, mostly for being what Chris Snelling would be like if he was a pitcher, since he's spent most of his time having reconstructive surgeries done on his shoulders and rehabbing from them. Once upon a time, though, he was a first-round draft pick, back when I was still living in Pittsburgh and didn't really pay attention to the draft. Hopefully he'll manage to accomplish something at the major league level before he gets traded to some other team and becomes awesome, which is the typical fate for Pirates players.
Much like the rest of the charming young men playing for the
Pirates these days, this guy looks too nice to defeat you.
I didn't even spend that much time in the bullpen, going up to the 300 level during the national anthem. I bought garlic-free chicken tenders and fries from Grounders, which was a patently bad idea -- I think they sort of depend on the overwhelming garlic to distract patrons from noticing that the chicken strips are dry and tasteless while the fries are soggy. Blech. I think next time I try a food experiment at Safeco, I'll go for the Mexican food, which I've been curious about but not adventurous enough to try yet.
I was sitting in row 9 in section 329, with a gigantic family all sitting to my left and a bunch of loud blonde girls sitting in the row behind me. One section over there were a few people with Pirates hats in row 9, and a whole bunch of loud Japanese people in row 11. I wasn't actually wearing a Pirates shirt at this point, since it was too hot out to wear two shirts. I just sat there quietly with my scorecard, watching the game unfold. Sometimes I wonder why I go to the park now that I have cable at home and can actually watch the game on TV; though I was right behind home plate, I was way too far up to get any sense for how Felix was pitching besides just watching the batters and some of the radar gun readings.
The Pirates went down 1-2-3 in the first inning on 6 pitches. The scoreboard informed us that we could get "Griffey Returns" commemorative baseballs for $100 starting at 10am Friday in the team store, autographed by Griffey, with proceeds going to Children's Hospital.
The Mariners also went down 1-2-3 in their half of the first inning, though it took 20 pitches, with at least 10 of them being taken by Jose Lopez, who fouled off a bazillion pitches, including one which bounced in a large section of empty seats in left, and ended up back on the field, much to Jason Bay's surprise.
The Pirates also went down 1-2-3 in the top of the second, this time on 9 pitches, Ryan Doumit striking out for his first time of the evening. After the inning, they had a salute to the US Army up on the board and had all past and present Army members stand up and be applauded.
Jose Guillen led off the second with a single, and even got to second on a Beltre groundout that was executed a bit like a hit-and-run, since it would have been an easy double play otherwise, but he was stranded there.
In the top of the third, the Pirates finally got a hit when Jack Wilson hit a ball that hooked fair, then ended up in the corner along the foul line, for a double. The rest of the inning was outs and still only took 7 more pitches for a total of 22 through 3.
Ichiro, wearing high socks, had the sole Mariners hit in the third, a double to left. In comparison, Van Benschoten threw 49 pitches through three innings.
Nate McLouth led off the top of the fourth with a single and was advanced by a Freddy Sanchez groundout, but Felix struck out Adam LaRoche and Jason Bay after that, this inning taking 16 pitches. After that half of the inning, they played yet another Quick Flix spotlight on Ken Griffey Jr, eliciting more cheers from people who actually lived here in the 90's.
Kenji Johjima, NOT wearing high socks, had the sole Mariners hit in the fourth, a single up the middle. After the fourth inning, they showed Today's Groups up on the scoreboard, and I finally remembered to take pictures of a few choice ones that had been there all week. In case you were wondering where half of the Pirates fans in the stadium came from, these might give you a good idea: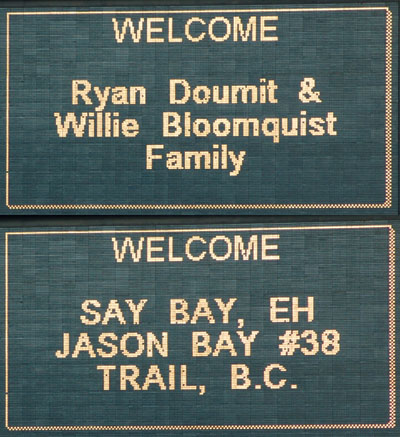 Friends, Cousins, Canadians, lend me your ears...
Ryan Doumit led off the 5th inning by striking out for the second time of the day, in front of his extended family. Poor guy. After that, the Pirates actually managed to chip into Felix for a bit. Xavier Nady hit a ball towards second, and Lopez charged it but the ball took a weird bounce and rather than him grabbing it, it rebounded off his legs, so Nady got an infield single. Jose Castillo singled cleanly to right, advancing Nady. Jumpin' Jack Wilson hit into a fielder's choice which he ran out and minorly escaped being a double play. With runners at first and third, Jose Bautista walked, but then Felix struck out Nate McLouth to end the bases-loaded threat. Despite all of this action, it only took him 22 pitches to get through that inning, putting him up to 60 through 5.
At this point the blonde girls behind me, who had been yelling "GOOOOO HERNANDEZ... COME ON HERNANDEZ, YOU CAN DO IT, SHOW US WHAT YOU'VE GOT, HERNANDEZ" and other various things all inning, started yelling "HEY CAMERAMAN, WE WANT TO BE ON TV", and so they ended up on the big screen. Immediately after that, they called their friends like "Are you watching the game? Were we on TV? We were on the board here! Were we on TV?" I almost turned around to point out that there'd be commercials on TV between innings, but didn't bother. It was kind of weird to me since I'm pretty sure I've rarely ever heard anyone yell anything other than "Go Felix" at the park, anyway.
Since the Pirates had a "big inning" in the top of the 5th, the Mariners had their "big inning" in the bottom of the 5th, only they were a bit more effective. Richie Sexson started off with a walk, and Vidro hit a fly out. Yuniesky Betancourt singled to left, and then so did Ichiro, scoring Richie. 1-0. Right when I was thinking that Jason Bay did a really good job fielding the ball and holding both Ichiro and Yuni to only one base on the play, Jose Lopez hit a shot to left field which took a really weird bounce off of the wall and so Jason Bay had to go chasing after it, and by the time he got the ball back in Lopez had managed a bases-clearing double. 3-0. Raul Ibanez walked after that, but Jose Guillen and Kenji Johjima both popped out after that to end the inning. Van Benschoten threw 35 pitches that inning alone, and was up to 95 through 5.
Freddy Sanchez hit a long fly ball to right which was caught by Jose Guillen in a dramatic running catch, and Jason Bay singled in-between Adam LaRoche and Ryan Doumit striking out (his third of the day, if you're counting). Masumi Kuwata started warming up in the bullpen during that inning, and when the Japanese people sitting one section over
saw that on the board
, they all started yelling excitedly in Japanese about it. Some of the non-blonde people behind me were like "What are they making such a big fuss about?" and I turned around like, "Do you know who Greg Maddux is?" They replied in the affirmative, and I said "Imagine if you were stuck in Japan for several years, and you were at a baseball game, and suddenly Greg Maddux was coming out to pitch. You'd be pretty excited too, wouldn't you?" "Well, yeah..." "That's about the equivalent of what's up with Kuwata. He's finishing up a long and illustrious career here."
Kuwata came out to pitch the bottom of the 6th, and he started out by striking out Adrian Beltre for his first MLB strikeout! After that, Richie Sexson grounded out, at which point Kuwata had thrown 9 pitches, all strikes. Jose Vidro hit the ball up the middle, and Jose Castillo made a diving stop, but couldn't get up in time to throw to first, so he flicked it to Jack Wilson, who made the throw, but it wasn't in time even to get Vidro. Kuwata struck out Betancourt after that, though, throwing 2 balls and 14 strikes on the inning.
What's funny is that I'd brought my Kendall #18 Pirates shirt with me, and right as Kuwata came out I realized it conveniently doubled as a Kuwata shirt, from the front at least, so I put it on during that inning, right as Betancourt was coming to the plate.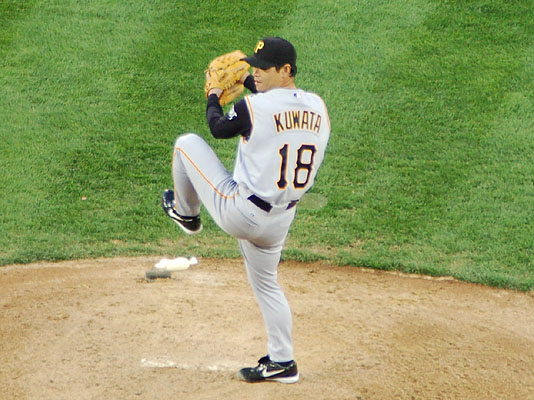 K is for Kuwata and that's good enough for me.
Felix set down the Pirates 1-2-3 in the top of the 7th. He was up to 91 pitches.
Ichiro led off the bottom of the 7th, and Kuwata struck him out swinging, which I'm sure caused about a hundred Japanese journalists to burst with joy over finally having their headlines for the evening. Jose Lopez also struck out, and then Raul Ibanez hit a buntish sort of ball that bounced towards the mound; Kuwata charged towards the baseline, scooped up the ball and threw it to Adam LaRoche who made the out. I know that Gold Gloves are mostly popularity contests in Japan as well, but there's a reason the guy won eight of them, and this showed it. Kuwata threw a total of 26 pitches in 2 innings and struck out 4. Not bad for an old rookie!
Freddy the DH Sanchez got a single in the top of the 8th but that was it for the Pirates in that inning. LaRoche's strikeout to end the inning brought the strikeout count up to 9. Felix threw 107 pitches through 8 innings.
Jonah Bayliss came in to pitch the bottom of the 8th, and despite his cool high socks and all, he was a little wild, though only Beltre managed a hit off him, a huge shot to dead center which missed clearing the fence by about 5 feet, and instead bounced in for a double. LL hero "Red" was shown on the scoreboard with his "I ♥ Beltre" poster. A wild pitch advanced Adrian to third, but Richie Sexson popped out to end the inning.
Putz in, game over. Jason Bay singled, much to the joy of the Trail BC clan, but Ryan Doumit struck out (for the FOURTH time, if you are counting, in front of all of his friends and family), and then Xavier Nady grounded into a really anticlimactic double play to end the game.
The scoreboard operators were running out of room to add K's.
You know what kind of sucks? They made such a big deal over how Ryan Doumit is Willie Bloomquist's cousin, and thus the Bloomquist-Doumit clans were out in force at the stadium cheering them on, but Willie basically only saw one inning of action for the whole Pirates series, as a defensive replacement in the ninth inning on Tuesday. I'm not necessarily arguing that Willie deserves more playing time, but I bet it was sort of disappointing for him and his family. Putting him in against the Pirates is at least a better bet than putting him in against a stronger team.
(I guess this is one time it's nice to figure that nobody actually reads these long game reports, because there's some unwritten rule in the blogosphere that you're not allowed to ever insinuate that Willie Bloomquist should get to play more.)
I kept my Kendall #18 shirt on while walking out of the park. I got to the bus stop at 1st and Union, where I waited for my bus back to Ballard, and an older guy says to me, "Now, see, to me number 18 is Andy Van Slyke," and I'm like "Heh, well, that's slightly before my time, I moved to Pittsburgh in 1994," and we get into a conversation about the Pirates of the 90's, and it actually comes out that he was originally also from Philly, and was a kid back in 1964, and was even at the game that Bunning lost to drop the Phillies out of first place, and it turns out we were both at a game of the 1983 World Series, and we talked some about the Pirates-Braves debacles of 91 and 92, and the Phillies in 93, and then my bus showed up.
I get on the bus and I hear some guy saying something about "that loser Kendall", and I'm like "What?" and it turns out the guy's from near Torrance and says he played baseball for some rival high school when Kendall was there. Strange world.
In case anyone's counting, not that I am, of course, the Mariners are now 11-4 with an ERA of 2.60 in games I've attended. No, I'm not making that up.
I don't expect to go to any of the Reds games this weekend; I'm not really part of Griffeymania, and I'm a little burnt out after going to three games in a row this week. We'll see.