Wow.
Was that a crazy game or what?
Let me explain. No, there is too much. Let me sum up.
- Willie Bloomquist hit a home run!
- Richie Sexson hit a home run!
- Johjima had an RBI on a hit-by-pitch...
- immediately before Guillen also had an RBI on a walk...
- ...and so did Beltre...
-
John Olerud threw out the ceremonial first pitch
!
- Brandon Morrow struck out some people
- Sherrill struck out Big Papi
- JJ Putz struck out the other half of the team, including a pinch-hitting Manny Ramirez for the final out of the game
Poor Kason Gabbard. According to Baseball-Reference, Willie Bloomquist has only hit 6 career home runs, and counting Gabbard,
5 were against left-handers
.
Two of my friends came and visited with me in the 6th inning, right about when Felix got taken out. We chatted for a while, and then they said "Well, it's tied, and last time we got up and walked around, a Mariner hit a home run, so we're going to go." Two batters later, Richie Sexson hit a home run, which brought the score to 8-6. You see, it's not all my luck, though this game did bring my personal Mariners won-loss record this year to 12-4.
This was also my first time seeing Hideki Okajima pitch since last year's Japan Series, which is where I fell in love with him, so I was psyched about that, and even wore my Fighters cap for the occasion. He gave up a single to Kenji Johjima, and before you ask, I don't think they faced each other much in Japan if ever. (Okajima was in the Central League with the Giants for most of his career before coming to the Fighters in 2006, Johjima was in the Pacific League with the Hawks for most of his career before coming to the Mariners in 2006. Interleague started in 2005, but I'd have to poke around a bit for whether or not they faced each other. If you're curious and don't know already, Johjima has faced Matsuzaka more than any of the other current Japanese major leaguers.)
There was a girl on the bus home who was wearing a Red Sox shirt and going on about some Sox player she used to like. "You know... that one with the beard, and shaggy hair, the caveman one? Damion something?" I didn't punch her, but maybe I should have. It's funny, Red Sox fans were kind of fun a few years ago, but now they mostly get on my nerves.
On the other side of the bus, a guy was singing to his kid "You've been Thunderstruck out, struck out by JJ Putz! ThunderSTRIKE THREE", and stuff like that. It was pretty funny.
As is typical when I can't think of anything to write, I'll just put up a few pictures I took today instead...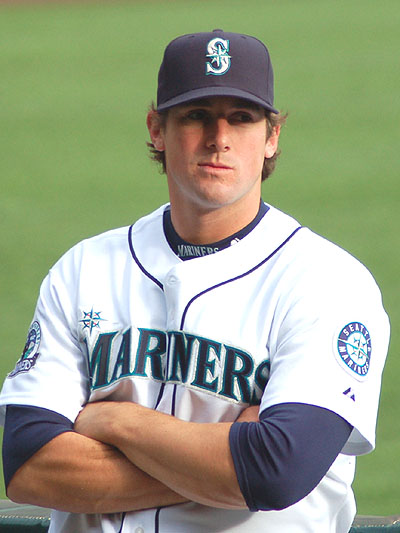 It's portrait day in the bullpen, starting with Mr. Hyphenated Aussie, Ryan Rowland-Smith.
Chris Reitsma hangs out in the bullpen too.
Jon Huber always looks like a sad panda.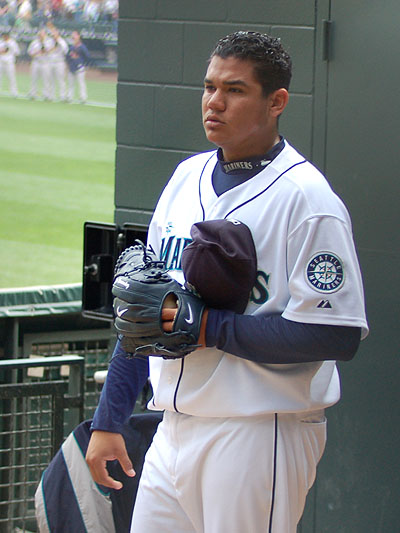 Felix clears his mind during the anthem.
I'm sorry, Mr. Gabbard, but you just aren't that scary.
C is for Catcher and that's good enough for me.
Hey, I know that guy. Didn't he used to play for the Mariners?
Hey keed, don't you mess with the Big Papi.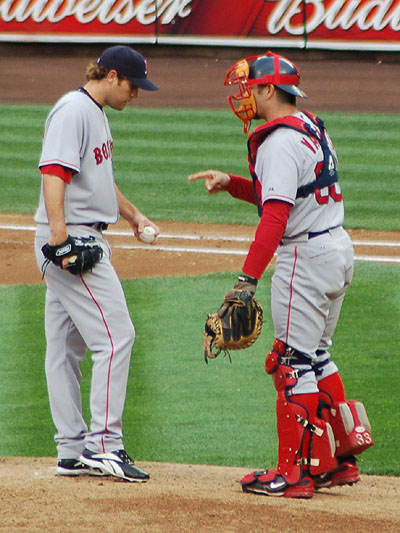 Kason and Jason. Varitek is humbly pointing out that Gabbard
may want to actually, you know, throw a strike one of these years.
Jose Lopez makes an awesome diving catch of a Lowell liner.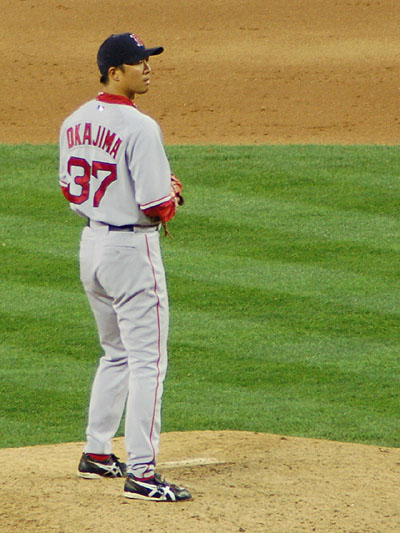 Hideki Okajima! Yay!
Oh yeah, and Brandon Morrow was
rookie of the day
.
I had fun taking pictures in the bullpen before the game, hanging out with Bretticus and Etowncoug from LL, showing off the bullpen pub view and stuff like that, but I also missed John Olerud throwing out the first pitch, so that was sad. Olerud's one of my favorite players ever, in case it wasn't obvious from the sappy message I put when I sponsored his baseball-reference page. It's hard to believe he's not even 39 yet, though it feels like he's been gone a while.
On the other hand, it was pretty funny when Brett yelled to Joel Pineiro, "I hope we see you pitch today!"
Seriously, this was a pretty good game to experience, lots of action going on at all times, without an obvious outcome either way, but it's hard for me to add to the box score. I can tell you that I thought it was funny how the seventh inning stretch started at about 9:45pm, when the last games I'd gone to were both over by that point.
Oh yeah, so my next game is going to be on Saturday -- it's trading card night -- if anyone else is going and wants to try to work out some trades in advance, let me know! I never seem to have time to actually make a complete set, sadly.