Okay, this is not my fault. Blame
MetsGrrl
for planting the idea in my head.
See, for the last two years I've been doing Friday Fotos by putting up random neat baseball pictures that I'd taken but that I hadn't had an excuse to put up before. NOW, I am armed with a mission of finding pictures that I hadn't put up before because I didn't think they were worth it... and adding silly internet meme captions to them. Ahh,
Yuni and your invisible golf cart
, you had no idea what you started.
This is a picture I took on May 1st when the White Sox were in town. It is Rob Mackowiak, which makes it even funnier, because it is a MACK-ro!
I have to admit I'm not entirely sure I get the meme, so I tried two separate tactics. Which do you think is better?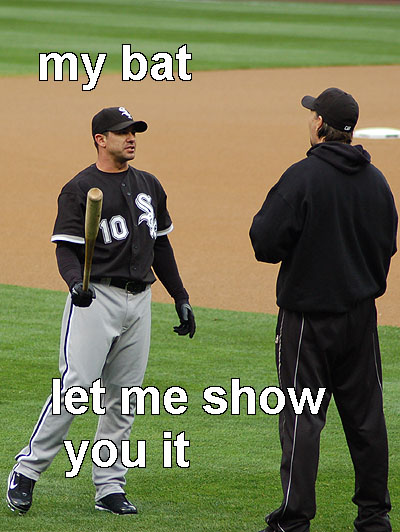 Yeah, so anyway, I'm heading to Pittsburgh later tonight, and I'll be back here on Sunday night. My trip is mostly for the purpose of watching my cousin get married. The Pirates are in town playing the White Sox, but my guess is that I'm not going to go to a game for two main reasons: one,
some big golf event
is going on right outside the city and it's supposedly sort of a mess around town, and two... the Pirates are coming to Seattle next week and I'm probably going to all three games of that series anyway. Three, I'm also betting my family will probably keep me pretty busy. Alas.