In lieu of a "short version" recap, since the game really was amazingly short, I'll just mention several awesome things about this game:
1) Kenji Johjima wore high socks
2) Jason Bay complimented my photography, proving he is the nicest guy on the planet
3) Ian Snell said his hand is fine
4) Richie Sexson hit a home run into the left-field bleachers
5) Raul Ibanez hit a home run INTO THE HIT IT HERE CAFE
6) Oh, and uh... Jeff Weaver got his first win as a Mariner.
A complete-game shutout
. Where the heck did THAT come from?
There was something pretty odd while watching warmups. Weaver and Maholm have both sort of sucked this year, and they also both sort of have about the same pitching repertoire. But did you know that they even both wear the exact same glove model by Rawlings? I only noticed this afterwards while looking at pictures, that the lefty-righty mirror image might have been even more uncanny than I realized: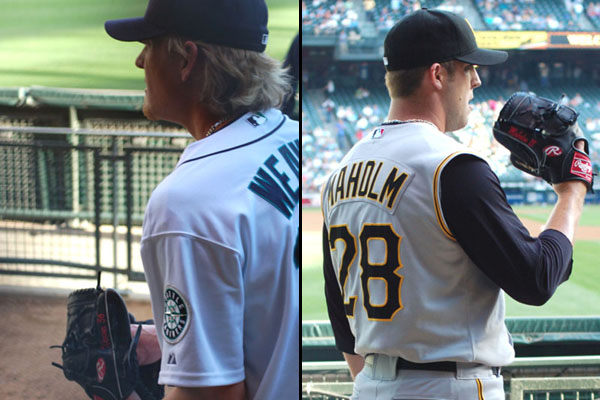 Maybe two pitchers wearing the same model glove meeting each other is like two
wizards with the same wand core in Harry Potter, see. One's got to give.
I think that explains everything. One or the other of these two was going to pitch a complete game shutout today, and the Mariners happened to luck out in that it was Jeff Weaver.
I got to the game pretty early again, wearing my Bay #38 shirt. I managed to find the Say Bay Eh? group down by the front row, and I decided that there was no way I'd miss Jason Bay if he came out to sign stuff again, because that would make me sad. I'd actually printed out on photo paper a few pictures I took on Tuesday; namely the
Kuwata
and
Bay
ones, hoping to get them signed.
So we watched Freddy and Jason and Doughnut take batting practice. Some guy tells me that Brandon Morrow is signing stuff over on the Mariners side. I go over and look; I get halfway there and realize that it's actually Willie Bloomquist. I wonder if the guy was pulling a prank or just honestly didn't know. Pretty funny either way.
I go back and stand amidst the Jason Bay fans. We've actually got a pretty large contingent of crazy people wearing Bay jerseys and shirts, holding up various signs.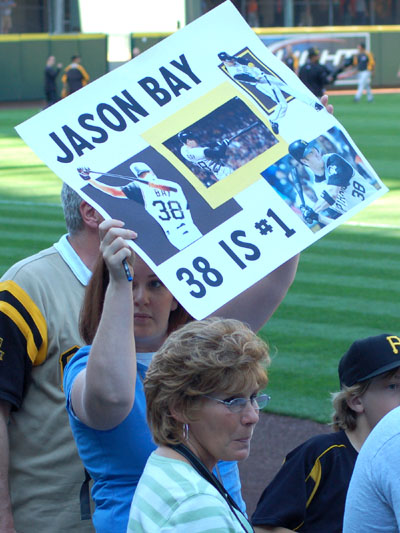 This is the kind of new math they teach in Pittsburgh nowadays.
Jason eventually finishes up his batting practice and sees the huge group of fans there. I half-expect him to get scared and run away, but no, he comes over with a huge smile and just starts signing things and shaking hands and posing for pictures and talking to kids. Now, I've observed a whole lot of teams in batting practice before, and usually the biggest star on a team is going to be the hardest one to get to sign stuff, or will seem impatient with fans and all. But no, the reputation Bay has as being one of the nicest guys in baseball is for real. Maybe it's just because he's a local guy (lives in Kirkland, grew up in BC, went to Gonzaga), but I swear he stayed for at least 10 minutes going down the line talking to people.
When he came to me, I had just lent my pen to a little kid to get their glove signed as usual, and then I got Jason to sign my picture.
Me: Can you sign this picture of mine?
JB: Sure. This is a really nice shot! Did you take this?
Me: [babbling] Yeah, I took it of you during warmups yesterday, actually, and printed it up...
JB: [smiles] Wow, that's a quick turnaround!
Me: Thanks so much, Jason! Good luck today!
I get out of the way and step up a few rows waving the picture to let it dry, and I've got this gigantic grin on my face like "Jason Bay just complimented my photography! Holy crap!" Yeah, I'm a dork, and I'm sure he was just being nice, but that made my day. Seriously. I've been a Jason Bay fan for several years and had never met him at PNC Park, so this was pretty special.
This actually helped me a lot when Kuwata came over to sign stuff and yet again he just stayed in one spot so the only way to get to him would have been to elbow into the big throng of people and thrust stuff at him, and I just don't do that. I was sad, but then as I replaced the picture in my scorecard I saw the Jason Bay picture again and started grinning like an idiot.
Ian Snell
was over by the dugout signing things so I got him to sign my ticket. After he threw it back I called out, "How's your hand? Are you okay now?" and he just said "don't worry, it's fine." In my brain I was yelling "THEN WHY WERE YOU NOT PITCHING HERE IN SEATTLE, YOU MADE ME SAD", but outwardly I just said "Thanks Ian," and walked off.
Oh, and speaking of "by the dugout", here is a picture I took of Ryan Doumit. Does he look like Chris Snelling or what?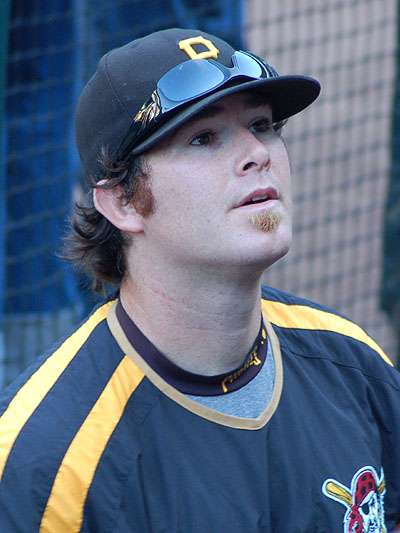 I may have to start calling him Doylenut instead of Doughnut.
I watched Maholm and Weaver warm up, as I mentioned. It seems that in the last few days, rather than doing long tossing out by the bullpen in center field, the Mariners starters are now doing long tossing over on the grass by first base, nearer to the dugout and the stands, which is why the opposing pitchers have been warming up in center field. Maybe they've seen me taking pictures over by the foul pole and are now on to me, and that's why they moved over. Hmm.
An usher actually came up to me and was like "Are you sitting here?" and I explain that I have a ticket for Field, but not here, I'll move over after the warmups are done, really, and he's like "Oh, no, that's not why I'm asking. If you really ARE sitting here, I have to explain to you all of the rules about interfering with balls in play. Are you aware of them?" and I'm like "Oh! Actually, yes, I know the rules, but I'm not staying here during the game, honest, so don't worry about me."
The Mariners' side of the bullpen has really become the place to be for both current relievers and DL'ed relievers, I think. I swear I saw Chris Reitsma, Jon Huber, Arthur Rhodes, and even
Mark Lowe
hanging out there. I took a few pictures there too, but then Brandon Morrow spied me and my Pirates shirt and actually pointed at me and shouted something, so I ran off. Oh, and Eric O'Flaherty carried the pink backpack to the bullpen, if anyone's counting.
The Pirates relievers are sadly nowhere near as interesting.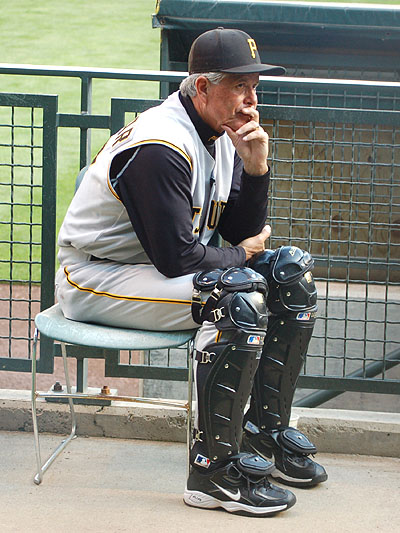 Bobby Cuellar probably wishes he was a Mariners coach again.
So yeah, there was a game. Freddy Sanchez, in case you are wondering, is pretty good. Infact, when you think about it, the Pirates actually do have several good players, and one wonders why they lose so much. It's probably due to the pitching; the four guys who have started most of their games average 24.5 years old and are mostly left-handed. On the hitting side, Adam LaRoche has been pretty bad this year relatively, and Xavier Nady still can't hit righties. Jason Bay has been down a little from his normal awesomeness but is still pretty awesome, and Ryan Doumit has been hitting more like a catcher ever since he started getting a lot of playing time at that position, but yeah, in general, it's not like this lineup is regularly starting a whole bunch of .150 hitters like certain other teams I could name.
Which of course, makes it all the funnier that they were four-hit by Jeff Weaver, I guess.
But yeah, since there's not much to talk about on the Pirates offense for the evening, let me give props to Freddy for getting two hits when nobody else could muster any aside from the 8th and 9th hitters, Ronny Paulino and Jack "You can't bench Jumpin' Jack Flash" Wilson. And Jumpin' Jack Flash got himself picked off first base, too.
The Mariners, on the other hand, started laying into Paul Maholm in the second inning. Johjima singled to third, kind of, and Bautista made a crappy throw that bounced off into the stands, so Johjima took second. He faked a steal or two, and then Adrian Beltre singled to left. Johjima ran home on that, and the ball got away from Paulino at the plate, so Beltre kept running. Adam LaRoche had come around to back up the play, so he got the ball and threw it to third, where Jack Wilson was covering, but Beltre slid in safe and Wilson didn't get the ball anyway. Bautista was backing up the play though, and so that's all that happened. I marked it down as Beltre taking third on a 7-2-3-6 play.
I also couldn't help but notice that Johjima was rockin' the high socks. When he was at-bat I couldn't quite tell because he had a shin guard on, but then
standing at second
it became a lot more obvious. And then when he ran home he looked just like Ichiro in a flurry of dirt!
Johjima slides into home plate with his high socks for the first Mariner run.
Ichiro wanted to score a run too, so when he singled in the 3rd inning, he ran to second on a wild pitch, immediately stole third, and then was able to score on a Lopez groundout. Ibanez added another run that inning to make it 4-0, and when Richie Sexson slammed a funk blast into the leftfield bleachers to lead off the 4th inning, that made it 5-0.
The music trivia of the day was Flashdance, by Irene Cara, which I immediately got (and the year, 1983 -- which isn't hard to remember if you know when the movie came out). So they ask who won the World Series that year and I very bitterly say, "Baltimore ORIOLES," and the lady in front of me is like "Sounds like you really know that one, huh?" and I explain that it was the only World Series I ever got to go to.
In the meantime, the people behind me have been talking about Jeff Weaver the whole game, saying how sucky he is, things like "Give me 8 million dollars and I'll go out there and be that bad too," and such. Suddenly, it dawns on them that Weaver hasn't actually given up a run yet.
The top of the fifth starts, and one guy's like "So do you think today it'll happen? Jeff Weaver's first win of the year?"
I turn around like "Hey, do you guys think it'll happen right now? Jeff Weaver's first strikeout of the game?"
About 10 seconds later Xavier "I can't hit righties, even bad ones" Nady struck out. And then Paulino whiffs two batters later. And then somehow Jeff Weaver goes on to get 5 strikeouts in the last 9 innings and get that complete-game shutout after all, getting through most innings 1-2-3, allowing 6 runners all game.
And despite the Mariners getting hits, Paul Maholm actually works fairly fast and there's only one pitching change for the Pirates, when Danny Kolb comes out for the eighth, and Raul Ibanez launches that aforementioned monster of a home run which actually goes into the finally-aptly-named Hit it Here Cafe. The 7th inning stretch started at 8:44pm and the entire game is over at 9:20pm.
Jeff Weaver got a standing ovation when he left the mound in the 8th and an even bigger one when he came out to pitch the ninth, with strains of "Stayin' Alive" playing in the background. Despite that I'm sitting there in a Pirates shirt and cap, I've got this dorky grin on my face as I'm watching Jeff Weaver actually finish out the game, and I even stood up for the last out as I usually do, thinking how ironic it is that I had been joking that my winning record at Mariners games (now up to 10-4!) was mostly due to having skipped all of Weaver's starts. The board briefly flashes "Leave it to Weaver" and they play "Dream Weaver" as well as Mariners are high-fiving on the field. I'm sure the scoreboard folks have been waiting ALL YEAR to use that!
Afterwards one person, the lone female in the group sitting behind me, is like "Why were you guys saying Weaver was so bad, if he just pitched a whole game shutout? Was that really his first win?"
I'm packing up my scorecard and camera and I look up and remark, "It's 9:20 now? I think this is the first time this season he's left the mound with an ERA lower than the time."
"...oh."