I spent 8 years living in Pittsburgh, from 1994 to 2002, before I moved to Seattle, and man, did the Pirates suck when I was there. People here talk about 2001 with a tone of wistful awe, and I think of 2001 as the year we got that amazing new stadium and then proceeded to lose 100 games in it.
Either way, last night my college (Carnegie Mellon) had organized an alumni event at Safeco, and despite that I had a feeling it wasn't going to be a very good alumni event (it wasn't), they'd gotten a block of 40 tickets in Field Seating, and I couldn't really turn down a $24 ticket to sit in a $38 area -- especially since at the time I thought Ian Snell was pitching, but then he had to go burn his hand grilling over the weekend.
I showed up around 5:50pm, wearing my red Sunday Pirates shirt, with a big Sanchez #12 on the back, carrying my camera. I started running around taking pictures immediately, of course, watching some batting practice, watching the relief pitchers warming up, etc. There was a SURPRISING number of Pirates shirts around, mostly Bay #38, but also a lot of Clementes, and even a couple of Doumits.
This isn't such a weird thing when you realize that Ryan Doumit is from Moses Lake, is Willie Bloomquist's cousin, and grew up watching the Mariners in the Kingdome and was a gigantic Buhner fan. Jason Bay lives in Kirkland, is from Trail BC, and went to Gonzaga. Both of these guys had huge groups of family and friends at the stadium for the game apparently (I am pretty sure I saw part of the
Doumit-Bloomquist family
by the dugout, and in left field there was a huge section of fans with signs like "Trail BC Loves Jason Bay", "Say Bay, Eh?" and such).
I was standing with a whole bunch of people along the left field line when the relief pitchers came by to do some running, and about five of us spotted a particular Japanese pitcher and all shouted "KUWATA!!! GANBARE!!!!" at about the same time. I doubt he was all that surprised at the number of Japanese fans in the stadium, but he looked up and smiled and waved at all of us.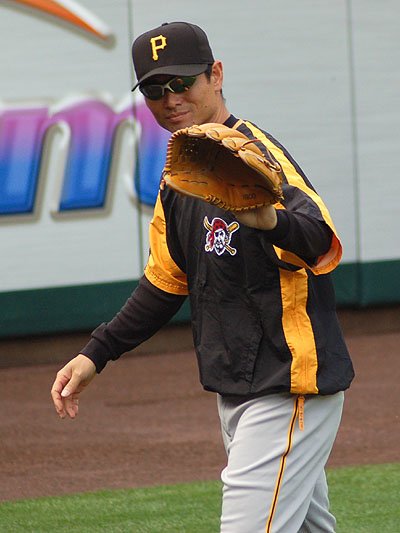 Masumi Kuwata
That was pretty cool. It had occurred to me a few days ago that the Pirates pretty much called him up just in time to face the AL teams with Japanese players on them. Given the big deal that the media made over Kuwata chatting with Ichiro after BP, or just the sheer number of Japanese fans that were there watching him warm up, I think it was a good call on their part, regardless of whether it was done deliberately.
Conveniently, Jim Colborn is currently a pitching coach for the Pirates, and he used to be the Japan scout for the Mariners, and supposedly speaks fluent Japanese. (Reportedly, Kuwata's English is really good, though I haven't actually heard him speak.)
After BP, three Pirates came over to sign stuff. I didn't even catch who one of them was because I was more interested in trying to get Kuwata, who was one of the others. Chris Duffy was the third. Sadly, Kuwata signed for a while, but he never actually moved down the wall, he just stood there and so people kept coming up and pushing in and shoving stuff out to be signed, and those of us who waited patiently for a while got screwed. I was standing with a guy with an oldskool Yomiuri jersey, a lady with a Japanese autograph paperboard, and a guy with a "桑田がんばれ" sign. Alas. Kuwata ran off, apologizing as he went, "gomen ne, gomen ne". Duffy, on the other hand, was having a long conversation with some guys in the stands, so I ended up getting his autograph instead.
桑田さん,これをサインお願いします...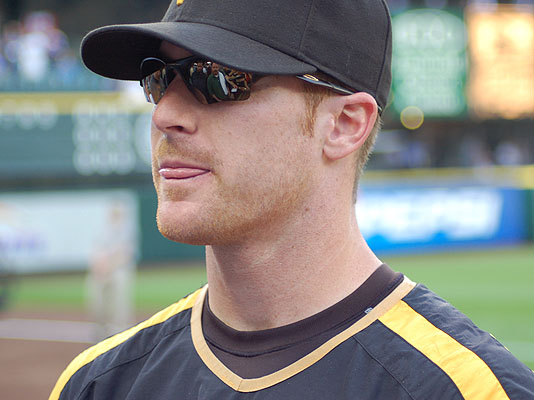 Chris Duffy!
The odd part was when some guy got Duffy to sign a Freddy Sanchez card. No, I'm not making that up. I wonder if it was the only Pirates card he had.
A little while after that I saw a few people who were there for the alumni event, but I was wearing my big camera and running off towards the field corner, so I didn't stick around. I ran into Bretticus, who had put a "Free Adam Jones" sign up in left field. And then I sat around watching Tom Gorzelanny warm up. Sadly, unlike most visiting pitchers, who pitch towards the infield stands during warmup, Gorzelanny threw towards the outfield, mostly doing long tosses. I'm not even sure I saw Miguel Batista warming up at all on the field before the bullpen, and maybe that's why.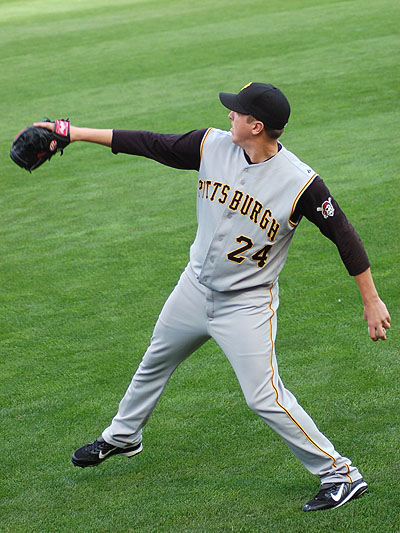 Tom Gorzelanny, one of the Pirates' many lefty starters
I took more pictures and then I finally went to sit up with the CMU group. I really thought it wasn't such a great idea for an alumni networking event, and if they were going to do it as such, they should have either gotten seats in the upper deck where it's okay to goof around and switch seats, or maybe gotten the beer garden, or something like that. But no, we were in Field on the third-base side because the lady in the alumni office at CMU insisted that "it's where foul balls go". I didn't even bother trying to explain how where foul balls go mostly depends on the handedness of the pitcher, but whatever.
The group was about half people who graduated in 2006-2007, and then a couple of us people who graduated several years before that. As a result, I don't think anyone actually talked to anyone who they didn't already know. I pretty much spent the whole time talking to two of my friends who sat next to me, and to another friend and his family who were sitting behind us.
So, we were all cheering for the Pirates, due to the Pittsburgh connection.
Surprisingly, so was a lot of the rest of the stadium, relatively.
The Trail BC Jason Bay fan club was sitting in left field. Unfortunately for them, Jason Bay was DHing, and so they were treated to an evening of Xavier Nady fielding instead.
In the left-field bleachers, I saw a whole bunch of guys in Steelers jerseys waving Terrible Towels. That was pretty funny. In our section we saw a few more Steelers jerseys, even a Roethlisberger. I swear that I don't even remember seeing that many Phillies fans out when the Phillies were here two years ago, honestly.
Also, while I don't think this was the first time they've played it before a game, it was particularly ironic that they were playing the Pirates of the Caribbean music in the time space between the national anthem and the game beginning.
Oh, so the game. The Pirates mauled Miguel Batista in the first inning. Batista struck out Bautista (heh), but then Nate McLouth reached base on a fielding error by Richie Sexson. Freddy Sanchez popped out foul to Beltre, and then Adam LaRoche, who hasn't been hitting significantly better than Richie Sexson, singled to right to bring in McLouth. 1-0. Jason Bay singled to left to advance LaRoche, and then Xavier Nady walked the bases loaded. And then... Miguel Batista also walked Ryan Doumit, scoring LaRoche. 2-0. Ronny Paulino struck out, but Batista threw 34 pitches in a ridiculously long inning. I realized there was a pretty good reason I had not been to a Batista start yet.
Gorzelanny let up a few scattered hits in the first few innings, though the Mariners only scored a run in the second, when Johjima was hit on the foot by a pitch, advanced by Beltre, and singled in by Ichiro. Xavier Nady also made a "web gem" diving catch of an Ibanez hit to left field, though it's unclear whether he would have had to dive if he'd gotten an earlier jump on the ball. Still, it looked cool.
Amidst my jokes of "Hey, remember when Jack Wilson was good?", the score stayed 2-1 until the top of the 5th, when Bautista singled off Batista, stole second on a close call, and was doubled in by Freddy Sanchez, making it 3-1. They added another run in the top of the 6th, when Nady walked and Doumit singled. Paulino hit a long fly to right, and Nady tagged up and ran to third, also on a close call, which then turned out to mean nothing as Jack Wilson walked to load the bases. After 105 pitches the Mariners finally took out Batista and threw in Sean Green, and Bautista immediately grounded out but scored Nady. 4-1.
The top of the 7th was pretty crazy. Freddy Sanchez singled, and Adam LaRoche walked. That was the normal part. After that, Jason Bay hit the ball up towards the left side, and Betancourt managed to stop it, but his throw to second was either late or timed poorly, either way when LaRoche got there the ball bounced away from Lopez, so when the dust cleared, Bay was on second, LaRoche was on third, and Sanchez had scored. 5-1. Xavier Nady struck out, and then Ryan Doumit was intentionally walked, loading the bases for a double play.
And then the Mariners pulled off a 5-2-3 double play
. I'm not making that up. Paulino grounded to third, Beltre threw home for the force on LaRoche, and then Johjima threw to first in time to get Paulino, who just isn't all that fast.
Despite the fact that Gorzelanny was up to 100 pitches at the end of the 6th, they didn't take him out, and the Mariners scored a run in the 7th, Betancourt leading off with a double into the gap that McLouth had trouble chasing down, advancing on an Ichiro grounder and scoring on a Vidro sac fly to right, which Doumit actually fielded pretty well and it was a close play, but Yuni was safe. Gorzelanny was up to 121 pitches after that, and they still had him go out in the 8th inning to retire Raul Ibanez, before finally pulling him after
123 pitches
. Yow. I looked it up and Gorzelanny's been averaging 111 pitches his last 7 starts.
Jonah Bayliss (high socks!) came in to pitch, and Richie Sexson took the second pitch he saw and BASHED it 404 feet into the left field bleachers. It was just a monster of a funk blast. Bayliss did manage to strike out Johjima, but after Beltre singled and Lopez walked, the call went to the bullpen again, for Masumi Kuwata! Kuwata got a pinch-hitting Ben Broussard to ground out, and that ended the inning. It was only one batter, but it was still really cool to get to see Kuwata pitch a little.
JJ Putz struck out the side, LaRoche/Bay/Nady, in the top of the 9th. He is good.
Damaso Marte came out to pitch the 9th for the Pirates, and wasn't as good, walking Ichiro, but then Vidro hit a pop fly to center. Shawn Chacon, much to my friend's family's chagrin, came out to pitch after that, but he struck out Guillen and Ibanez and that ended the game, the
Pirates winning 5-2
.
I don't know whether to count this as a win or a loss for my record, since technically, I went to the stadium, rooted for a team, and they won, except it wasn't the Mariners.
We started calling Doumit "Doughnut" about halfway through the game. It was kind of funny. I ask, does this guy look like he's related to Willie Bloomquist? He's too cool to be, honestly.
Dunkin' Doumit!
And while I'm at it, here's an adorable smiling Jason Bay. I love Jason Bay.
Say Bay, Eh?
I'll put up a photo set after the series, I think, since I intend to go at least tonight and take more pictures, and then possibly on Thursday as well, we'll see.