My computer just crashed and ate my entry. I'll try to rewrite it in the morning, I'm tired as all heck -- got to the park at 4pm for the Season Ticket Holder early BP thing, and didn't get home until after 11pm. So here is just me pointlessly bragging: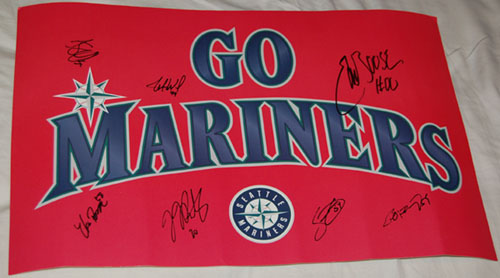 I couldn't think of anything good to bring to get signed, so I brought this. I pretty much got the whole bullpen to sign it -- Sherrill, Woods, Baek, Putz, Green, O'Flaherty (!) and the Moose. Neat, huh?
I have a
bunch of pictures
that I took. (edit: I've thumbnailed them now.) I highly recommend
Doyle
or
Richie
or
Meche
.
More report tomorrow. I own the Red Sox.