PSA:
If you are coming to book club and want to see the game beforehand, it may actually sell out!
There were 44,277 people there tonight, and by the time I went to buy a ticket for the Saturday game, they had already sold out all the bleachers and big sections of the rest of the park! So order online or get there early, if possible -- and don't forget
the I-90 closings
for Seafair! If you're at the game, keep an eye out for me; I'll be stalking around with a big camera and wearing a Pirates #18 Kendall shirt.
I got home from the game at 10:30pm and sat there playing with the 300 pictures I took for the last three hours. You know, the funny part is, the up-close shots are a lot higher quality, but the far shots still suck, and so I don't really have any game action shots to show for my effort; I think I definitely need a different lens to do that. On the other hand, shooting pictures in the bullpen is actually a lot easier with this new one, and I got some reasonably good shots of Washburn and of Blanton, who was throwing for the hell of it before the game. I also got several good ones of Shane Komine, who is short, but friendly.
Here's a couple of the pictures, cropped/etc
.
I'm tired and I actually didn't take that many notes during the game because I was trying to take pictures instead, so this entry may be a little bit scatterbrained.
J-Rod says, "Airplanes in the sky sound like home runs."
I got to the game super-early to play with my camera, but the light sort of sucked because of the whole sundown thing. Watching BP and the pitchers warming up is always fun just for the hell of it though. They were all sort of being silly, and at one point Huston Street even jumped on Justin Duchscherer's back and
rode piggyback
for a while. Then there were a whole bunch of A's fans yelling things like "DON'T GO TO THE YANKEES, ZITO!!" when he was warming up, and then this one extremely drunk guy kept harrassing Brandon Buckley, and I kept telling him to shut up.
Thomas and Chavez signed stuff in the dugout for a little bit, and then Swisher came out and literally just went from one end to the other signing anything thrown at him, for like 5-10 minutes. Most people threw baseballs or shirts or such, though one person threw their
mini-hydroplane
at him, and he was just like "Uhhh, dude,
what the hell
do you want me to do with this?" Originally I just wanted to take a few pictures of him, but eventually he got down to my end and nobody was throwing anything; I smiled at him and he pointed at me, so I passed him my ticket stub and he signed it (though somewhat illegibly, you can see the "33"). So, I'm glad I finally got a Swisher signature, but sad that it's illegible and that I didn't actually really get that close to him. On the other hand, this makes me even madder that the A's didn't have any Swisher shirts in stock when I was down in Oakland, because then I would have been able to get him to sign that!
Okay, I promise, I'm done crushing on Swisher for this entry now, because he didn't play in 90% of the game. Of vague lineup weirdness, Mark Kotsay started at first base instead, and Marco Scutaro started at shortstop in place of the now-DL'ed Bobby Crosby. The former change didn't make such a difference, but oh, did the latter!
"Short" version:
In all honesty, Barry Zito wasn't at his best, and from my vantage point it looked like he and Washburn were struggling about the same amount, but the Mariners didn't take advantage of it. The A's drew first blood with a run in the second after Willie Bloomquist (why was he playing CF instead of Adam Jones? This isn't a platoon here, AJ's a righty) first didn't get to a Payton fly ball, and then the throw drew Betancourt away from the bag so he couldn't get Payton at second. With two outs, Scutaro walked, and Ellis singled in Payton. Kendall also walked, loading the bases, but Kotsay grounded out. The Mariners would even it up in their half of the third when Willie Bloomquist ran out a grounder that Scutaro couldn't retrieve from the hole fast enough, advanced on an Ichiro single and a Lopez double play, and Ibanez eventally singled him in.
The A's immediately started attacking again after that with three straight hits. Chavez singled, Kielty singled, and then Scutaro almost hit a home run that bounced off the back wall for a double, scoring Chavez. Ellis was hit by a pitch, loading the bases. Jason Kendall did ground into a double play at that point, but Kielty still scored.
Jose Lopez led off the bottom of the 5th with an infield single that was really a very nice stop by Mark Ellis that just wasn't in time to be fielded. And since Lopez immediately went and got himself thrown out by a mile stealing second, it was a moot point anyway.
With Washburn nearing 100 pitches, Kendall was hit by one (from my vantage point, I didn't think he was actually hit, but god knows, you don't argue with Jason Kendall about that sort of thing), and advanced on a wild pitch before Kotsay flew out to left and Bradley grounded out. Then the Big Hurt came up and hit the ball out to left, which may have been a double for a non-gimp but was a single for him; still, Kendall scored. Zito and Washburn both came out after 7 innings with the score 4-1 A's.
Jake Woods took over pitching for Washburn in the top of the 8th, and he was doing just dandy, and for whatever unknown reason, Hargrove brought in Mateo to pitch to Marco Scutaro, and you know, earlier today I bet that Scutaro was going to hit a home run in tonight's game -- and sure enough, Scutaro took the second pitch he saw and launched the ball 373 feet into the A's bullpen. BLAM. Duchschchcherererer pitched the 8th and 9th for Oakland, without much difficulty. Lopez led off the 8th yet again by singling, and this time getting tagged out by Mark Ellis wasn't his fault so much as it was Beltre's, in a tagout 4-3 double play. Richie Sexson did hit a home run in the 9th that barely cleared the A's bullpen wall and got Huston Street to start warming up, but Dukes struck out Broussard and Johjima and then Betancourt hit a high pop fly which Mark Ellis caught to end the game as the
A's won it 5-2
.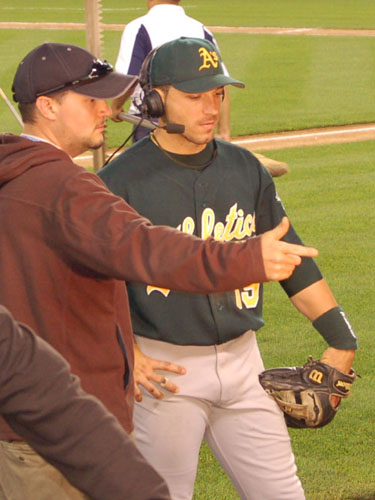 "Now, Scooter, just look into the camera like it's a Julio Mateo pitch."
A while back, I joked on Lookout Landing that I find A's-Mariners games a lot more tolerable if I become a temporary A's fan. (Apparently somebody at Athletics Nation thought that was funny enough to pick it up as their signature, and I'm honored.) The thing is, this game was entirely indicative of why that's so true. The Mariners were struggling to get anything together -- and it's not like they weren't getting on base, what with 9 hits, one less than the A's got -- and with 2 walks, one less than the A's got -- but they just weren't putting those hits together, and with the exception of Sexson's home run, none of their hits were for extra bases.
I seriously think Marco Scutaro has some insanely high batting average in games that I've attended. It always seems like he's kicking ass, either hitting triples or batting in a ton of runs or basically doing whatever sort of stuff you don't expect a funny little dude like him to do, which is why I even
wrote a song
about him last fall. Today he was 3-for-3 with a walk, a double, that home run, and 2 RBI. And that home run was just plain awesome. Scutaroni Power, scutards!
There were a whole bunch of funny things that came about from the people sitting around in my section, such as "Where does Joh-jee-moe come from?" or "So do you like the Angels?" (from the girl next to me, who was unaware for the first 3 innings that Oakland is the A's, not the Angels), but the one that stuck in my mind was this exchange with a slightly older couple sitting behind me:
Guy behind me: Look at that guy with that red hair! It is so red!
Guy's wife: Do you think it's natural? I mean, I could never make my hair that color.
Guy: He looks so young, doesn't he? Look at him run! These players these days are so young.
Me, turning around: Actually, Kielty's birthday is tomorrow. He's turning 30.
Wife, excitedly: Oh! Wow! It is? How did you know, are you friends with him?
Me: No, but, um, [pointing] they list the players' birthdays on your scorecard.
Wife: Oh.
They then went on to ask how old I was and then excitedly exclaim that they would have thought I was at least five years younger as well. At least they didn't ask whether my dull brown hair is natural or not.
The "Baffle the Broadcaster" trivia question was undoubtedly one of the best ones I've heard this year so far (especially given that the broadcaster doesn't get the multiple choices to choose from):
Q: Which baseball player is the only one in history to get caught stealing twice in the same inning?
A: Don Baylor
B: Ty Cobb
C: Rafael Furcal
It did completely baffle Rick Rizzs, and even for a minute there I wondered if Baylor was supposed to be the "gimme" answer or a clever decoy. My first instinct was correct, though, and
he was the right answer
, even though those circumstances are bizarre -- caught stealing with an error and then caught stealing home, same out, not part of a rally.
Also, despite that I spent the last few weeks not saying or typing Chase Utley's name or the word "streak", apparently with my veiled anagrammatical reference to him in my last post I
DID jinx him
-- and I feel terrible for it. Because if there's a baseball player out there that I love more than Nick Swisher, it'd be Chase Utley. I knew it was unlikely he'd go much longer, but I'm still sad to see it end.
Anyway, I suppose I'm heading back to Safeco in a few hours. Hopefully I'll have more opportunities to play with my camera in better light.