Whee. Long day.
First, important announcement: the next book club will be on September 9th. A bunch of people showed up today and we had a great discussion about Fantasyland (unanimous opinion: it rules, it's absolutely hilarious, go read it) and fantasy baseball (unanimous opinion: since Conor was lucky enough to GET David Wright and Miguel Cabrera on his fantasy team, he better freakin' keep them both), and for next month, the book club book is going to be
The Ticket Out: Darryl Strawberry and the Boys of Crenshaw
, by Michael Sokolove (unanimous opinion: book club is fun, and y'all should show up!), suggested by
Zach
.
I'll write an actual review of Fantasyland sometime -- I should probably also review the book I finished reading last week, "The Chrysanthemum And The Bat", but that'll also have to wait until I have some time.
Anyway, on to the game report!
I didn't get there as early as I'd like, but batting practice was still going on, and I took more pictures of players, almost all A's. I think Joe Blanton thinks I'm stalking him now. After most of the pitchers had left the field, Barry Zito was still out there running sprints, and I was standing there with Conor Glassey, and I was like, "I'd love to go watch Komine and Loaiza throw in the bullpen... or go chase down Halsey for a signature over there... but... it's BARRY ZITO GODDAMNIT AND I'M NOT MOVING BECAUSE IF HE COMES OVER TO SIGN STUFF AND I'M NOT HERE I'LL CRY."
Soon enough, Zito came over and signed stuff, and was immediately swamped with people getting stuff signed and getting pictures with him. We were in the front row but not really poised to move over ten feet to where he was, but eventually he finally got over to us, and I got him to sign my ticket stub. It's legible, although, Conor noticed that Barry was signing stuff with his right hand -- that's kind of odd, isn't it? I mean, Billy Wagner throws lefty and writes righty, but
he's got a good excuse
. Conor didn't have anything to get signed, but he was like, "Hey Barry, you wanna hear some good music? My friend's band..." and offered up his headphones, but Barry was a little too busy and smiled and ran off.
We ran over to the bullpen after that. I shot a ton of pictures of Danny Haren warming up (which, amazingly, came out well), and then a few of the rest of the A's bullpen guys and a few of the Mariners bullpen guys. After Haren's warmup was done, Justin Duschcherer, who was being goofy in general, yelled something out to the crowd like "Hey everyone, that's our great bullpen catcher! Brandon Buckley!" and started applauding.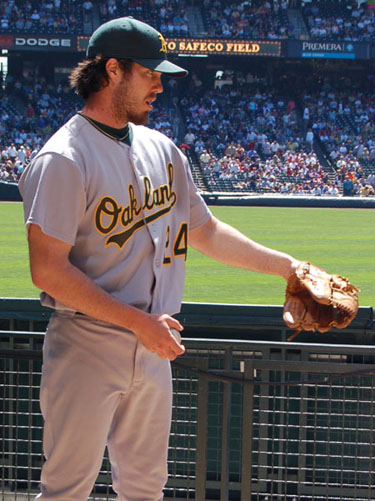 Hairy Haren Hurls Heat.
I ran up to my seat in the upper deck just in time to get there for Jason Kendall's leadoff at-bat. There was an older-ish guy sitting behind me who REALLY had it in him for Kendall -- and I was wearing a Pirates Kendall shirt. This guy wouldn't shut up about what an overpaid scrub he thought Kendall was, and how lousy the A's were with someone like him on the team. He later started ranting about Scutaro and Ellis as well ("stupid little skinny twits"), and Frank Thomas ("what a gimp, he's more like the Big Pain"), and so on. After the third inning when Adrian Beltre hit a home run, the guy actually punched me on the shoulder -- not hard or anything, but still -- so after that inning break, I got up and walked three sections over to where Conor and his dad were sitting and sat with them for the rest of the game instead, which was a lot more fun. Conor has Danny Haren on his fantasy team, and I have Nick Swisher, which made for some pretty funny moments ("Why couldn't they have tagged out freaking Payton instead?!?!").
Anyway.
"Scutaro-sized" Version
: First, the Mariners were playing the A's. Second, the A's had Danny Haren starting and we had Joel Pineiro starting. Third, the Blue Angels were performing over I-90 as part of Seafair. So, why the heck did anyone bother coming to the park today? It's almost like rewatching Titanic and hoping that maybe, maybe, this time they won't hit the iceberg and sink. Right.
Yes, Kendall started off the game by striking out and making the dude behind me really happy, but two batters later, Milton Bradley doubled to left, and right after him, Frank Thomas singled to right. Ichiro's throw was actually pretty dead on as Bradley came running home, but today Rene Rivera was catching, and he couldn't hold on to the ball as Bradley collided with him. The Mariners accomplished very little in their half of the first beyond a Beltre walk, and then Pineiro just let the A's walk all over him in the second inning. Payton led off with a single, and then Swisher walked. Scutaro hit a low blooper fly ball a bit past shortstop, but everyone knows that there's no such thing as "out of Betancourt's territory", and he ran back and caught it. Ellis almost hit a home run which was instead caught at the wall, and then with two outs, the A's reeled off three straight hits -- Kendall singled, scoring Payton; Kotsay singled, scoring Swisher as the throw home was way off, and then Bradley doubled yet again, scoring Kendall. Frank Thomas walked, loading the bases, and then, with me beginning to panic that I'd have to rewrite my scorecard if the team batted around, Eric Chavez struck out.
Payton led off the top of the third by grounding to shortstop, and Betancourt threw the ball but it sailed over Richie and hit the wall of the stands; they ruled it an error on the throw, though in all honesty, Richie was sort of poised low to get the catch and may not have missed it if he'd stood up. Scutaro doubled after that, much to the chagrin of the guy sitting behind me. They intentionally walked Ellis to load the bases; Kendall popped out on a high fly ball to second, and they decided to take Joel out after 2.2 innings and 76 pitches, which is just embarrassing.
Ellis pulled a Betancourt to catch Ichiro's leadoff fly ball in the bottom of the third, but then Lopez hit a clean double to left, and then Adrian Beltre hit a ball that cleared the scoreboard by a few rows in left field for a home run. That brought the score to 4-2 as Swisher almost fumbled a grounder by Ibanez, and Chavez was charged with an error on a Sexson grounder, though in all fairness, it looked like the ball hit Chavez really hard and flew off him.
Things coasted for a while, mostly. Haren struck out the side in the 6th, which was pretty funny. Jake Woods did pretty well for three innings after coming in for Pineiro, until the 7th. Payton reached base on a Sexson error which I actually didn't see, but it must have been pretty good, because Hargrove came out to argue for a bit. After that, Swisher walked again, and Hargrove came out to replace Woods with Mark Lowe (yay!). Scutaro, for whatever inexplicable reason, sac bunted; I originally wrote it down as 1-3 for some reason, until Conor pointed out that Beltre had charged it and actually thrown to Lopez, who was covering first as Sexson also charged in. Ellis walked again after that, loading the bases again. With Kendall up, Mark Lowe threw a wild pitch (or a pitch got away from Rivera, whatever), and Payton scored as Lowe covered the plate and didn't get the tagout. Then Kendall grounded to third, and the throw home got Swisher (which evoked my earlier quote about Payton). Lowe struck out Kotsay after that, preserving his perfect ERA, and Payton wasn't an earned run for Woods either, so I guess it was okay.
Kiko Calero pitched a perfect eighth and Huston Street pitched a perfect ninth, though, and that was it as the A's completely and unexpectedly managed to
beat the Mariners 5-2
.
Well, at least this guy got his wish.
You know, I'm not sure I have a lot to add to that. There was a really funny moment to me in the sixth inning when Frank Thomas had been on first base, and Eric Chavez grounded into a double play, and as Thomas ran to second, he saw that he was going to be out. He immediately not only stopped running, but he also ducked down to get out of the way of the play.
Mark Lowe is fantastic. He really is. You know, I can't remember where it was, but recently I had read some article about the Mariners' lousy drafts, especially 2004 when they paid Tuiasosopo first-round money in the third round of a draft that included guys like Huston Street in the first round. But here's the thing -- Mark Lowe was drafted in the fifth round that year. Mark Lowe is from Houston; Huston Street is from Austin. Lowe pitched for the UT Arlington Mavericks; Street pitched for the UT Austin Longhorns. They're two months apart in age and both throw devastating sliders. So maybe we don't have Huston Street on the Mariners, but so what? We may have our very own version of him, only a little bit taller and without all the hype.
Today was Bobby Kielty's birthday, and I guess his present was getting a day off. I feel bad for the nice A's fans I met in the stands before the game that had a bunch of birthday signs for him, though. It was also John Olerud's birthday (and
many others
, including Carl Crawford, Eric Hinske, and Mark Mulder. Crazy day).
I may or may not go to tomorrow's game, depending on when I wake up and whether I decide to go ahead and buy that zoom lens I'm thinking about. We'll see. I'll also finish putting up this game's pictures sometime tomorrow, I think.