So, I shot about 250 pictures tonight, and if I go through them before I write this entry, I'll never write this entry. I'm going to try to crop-resize-upload some before I go to sleep tonight, but we'll see.
Tonight's game featured these two lefty pitchers facing off against each other: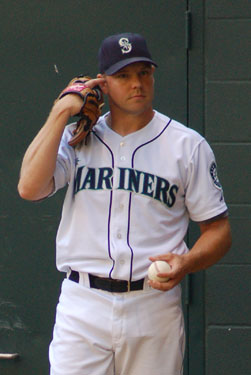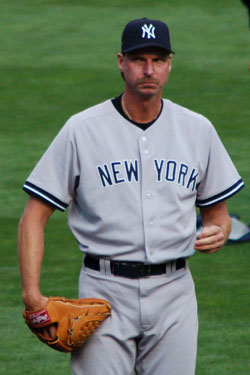 Cute vs. Ugly
Now, if you didn't watch the game, and I told you that one of these two guys pitched 6.1 innings, struck out 9, walked 2, and gave up 2 runs, which one would you think I was talking about?
Made you look!
Seriously, J-Rod the Washburninator was on fire. He had 7 K's after the first three innings, and picked up two more in the fourth and fifth. He did hit a few guys, and a couple of them got hits off him, but in general, Jarrod was dealing. It was pretty awesome. It probably didn't hurt that the lineup was LRLLSLSRR, with Jeter and Wilson being the only big lefty-mashers, but still. Aside from a Johnny Damon home run off Washburn's last pitch of the night, his 108th, and a run scored by Wilson, Damon, and Jeter all getting singles in the 3rd, that was all the Yankees really could do in terms of offense.
The only other inning in the entire night that more than 4 Yankees batters came to the plate was the 4th, where Posada was hit by a pitch, and Cano singled, and then the most awesome pickoff ever happened -- Cano was just plain sleeping, and Johjima nailed him with a throw at first. Wilson did walk and Green was hit by a pitch, but with the bases loaded, Johnny Damon hit a low line drive to left field, and CHRISTOPHER DOYLE SNELLING ran it down for the most awesome catch ever, which Ibanez totally would have never gotten. Good thing he and Beltre had the night off.
I got up and yelled, "WAY TO GO, DOYLE!", which got me a lot of funny looks from around me.
At this point, I need to digress in the recounting of the game and explain why this night was awesome and why I don't have very many game notes in general. People ask me why I bother going to games alone, and tonight is exactly why. Yeah, sometimes you get stuck by yourself the entire evening, but I seem to end up getting single seats next to some of the most interesting people on the planet.
The two guys sitting to my left were late-30sish, and they seemed pretty into baseball, and they thought it was pretty neat that I was keeping score and could answer questions about the recent roster moves, and really knew my baseball stuff, and they were impressed by my camera, and so on. One mentioned he was in town for the week from LA, and thought Safeco was a lot nicer than Dodger Stadium. Well, we get to talking about different stadiums and whatnot, and it comes out that I'm from Philly and grew up in Veterans Stadium, when one of the guys lets out this bomb:
"Oh, did you ever make it to a Scranton game? I played for the Red Barons way back in the day."
My jaw drops. "You WHAT?"
"I was a minor league player for the Phillies back in the early 90's."
I immediately stop paying attention to the game for the most part for most of the next half hour as this guy and his friend start recounting all these stories about the guys in the system back in the day; he was apparently reasonable friends with Mike Lieberthal and Mickey Morandini and just bunches of random players who I totally was in love with once upon a time. Heck, he was even Kevin Stocker's roomate! Through some weird coincidence of life, I've now met two of Kevin Stocker's former roomates (the other is former Blue Jays farmhand Brent Lutz, who roomed with Kevin at UW, and whom I worked with at Amazon), and still have never met Stocker himself. (I had the biggest crush on Stocker when I was like 16. Blame the 1993 World Series.)
At first, I wondered if he was kidding, even though it sounded way too bizarre to be making it up out of nowhere. I asked his name -- Ken Sirak -- and sure enough, I'd never heard of him. That's not surprising, because I barely followed the minor leagues at all until fairly recently. So when he and his friend Scott went off to get more beer a bit after that, I got out my web-enabled phone and Googled for him.
And here's his Baseball Cube page
. He ended up quitting baseball after the 1993 season, because the Phillies wanted to trade him to the Reds, and he was a shortstop/utility guy and didn't really want to be blocked by Barry Larkin.
I probably spent a good half of the game just talking about the Phillies of my high school days with Ken, and then a good amount of time trading baseball trivia questions with Scott, and it was just a blast. Ken kept calling me "Baseball freak!" and Scott kept going on about how he'd never ever met a girl who knew as much random baseball trivia as he did, and meanwhile, I'm just trying to not totally act like a complete and random dork because I'm sitting next to someone who not only actually knows who Kevin Stocker is, but was his former roomate.
(I mentioned how Steve Carlton was one of my favorite players when I was a kid, too, and Ken started talking about when he and Carlton's son were both in single-A ball, and how bad he was. Man.)
So, yeah. There was a game.
Ichiro was amazing in center field. Snelling was amazing in left field. Bohn was not amazing in right, but he wasn't really hit anything that was difficult to get -- while I was initially disappointed that Snelling wouldn't be in RF, which meant I couldn't take ninety billion pictures of him during the game, it makes sense to put the stronger outfielder in left field with a lefty starter, as half the lineup will be batting righty and the other half might not be pulling the ball as hard as usual.
Seeing Mateo come out was not particularly heartening, but seeing Sherrill mow down Giambi/Posada/Cano in the next inning WAS particularly heartening.
All of the Mariners' scoring happened in the first and third innings. In the first, Ichiro led off with a double, and advanced on a Bloomquist sac fly, which isn't hard to do when he hits to center and Johnny Damon's throwing it in. Lopez singled him home after that.
In the third, Snelling led off with the nastiest double I've seen in a long time; the ball was barely fair and didn't roll foul until it was out near the left-field ball girl, which is just a pain to go get. He moved to third on an Ichiro grounder, and then Willie Bloomquist laid down the nastiest bunt I've seen in a long time; the ball pretty much rolled down the first-base down line and just plain stopped; a bunch of Yankees were just staring at it on the ground as Willie ran past first base. After that Lopez hit another RBI single, and then Sexson hit the ball way into the left-center gap and confused the heck out of Melky Cabrera for a double. This put the score at 4-2, which is where it'd stay until Damon's home run later on.
T.J. Bohn finally did something besides make an out today when he walked in the 7th inning! Woooo!
The ninth inning was probably the most perfect way you could possibly end a game like this, too. J.J.Putz comes out, and Melky Cabrera hit a hard grounder towards first, where Ben Broussard nearly bobbled the play but recovered it in time to throw to Putz covering the bag. One down. Bernie Williams pinch hits for Craig Wilson, and the crowd's getting louder, as he grounds up to second, where Lopez makes the throw. Everyone stands on their feet; the stadium is just rocking, with Mariners fans yelling, Yankees fans yelling...
...and Alex Rodriguez comes out to pinch-hit for Nick Green.
I didn't think the stadium could get louder, but it did, as all the Mariners fans who weren't yelling before got up and started booing. Cheers, yells, boos. Alex swings and misses the first pitch; he takes the second one for another strike. It's 0-2-2, and the next pitch is up a bit; the crowd boos louder. A-Rod fouls off the next one, and the next one nearly hits him in the head, and then... and then, he swings and misses the next offering. Strike three. Game over.
I'm not sure you could end a Mariners-Yankees game -- nay, series -- any better than that.
So on that note, I'm going to leave you with one last picture that I quickly cropped, and then I'm going to try to go through a whole bunch of these quickly. Because, dude, look who I saw running around in the outfield before the game?
To sum up: I own the Yankees. And meeting former Phillies minorleaguers is COOL.
Also, they had an announcement on the board that Mark Lowe will be at the Seattle branch of US Bank on Tuesday from 11am-noon -- it's at 1240 5th Avenue, which should actually be around the corner from where I work, so I'm going to try to stop by, if I can get more details before then.
Photo post is up!