I went to today's game, but I didn't bring my scorecard book for the first time in years.
Every time Joe "Cupcakes" Blanton comes
to Seattle, he becomes "Cake Walk".
I bought a 70-300mm lens this morning before going to the game, so all I did was wander around for 4 hours taking pictures. I took over 500 pictures. No joke.
The
A's won, 7-6
. I'd say it was a close game, but I honestly couldn't tell. I spent about half of my time behind the bullpens taking pictures of pitchers. I spent the rest of the time walking around the stadium taking shots of the game from various angles.
The above Blanton picture was actually taken through one of those little holes in the wall in the Bullpen Tavern; somehow the green against green just made Blanton look totally evil in a way I hadn't anticipated.
At one point, an usher told me I couldn't use my lens and that they might take it away from me if I didn't switch to a smaller one. Oddly, about 15 feet to my right was a guy shooting with a lens twice as big as mine, so I'm not sure I get it; maybe only some ushers are strict about it and others aren't, or maybe some of them can actually tell good lenses from crappy lenses. I know some places have rules about using pro lenses if you're not with the press, but my lens is pretty much the cheapest zoom lens I could get for my camera, and I almost shudder to think what it's going to be like trying to use it in night games.
Your closer's a dummy.
Immediately after the game started, Brandon Buckley took out that hitting dummy from the bullpen and put an A's hat and sunglasses on it. I couldn't figure out what he was doing, except then he added a Huston Street jersey and a towel with a hand drawn on it. Then he set it up behind the bullpen bench... and Huston came out and was like "WTF?!" It was really funny. I've got more pictures of the entire process, but again, need time to actually crop/etc them.
About halfway through the game I just planted myself in the bullpen area. I got to watch Sean Green warm up, and then Kiko Calero, and Brad Halsey, and Justin Duchscherer, and Rafael Soriano, and even George Sherrill! Only problem with Sherrill was -- he and Mateo were warming up at the same time, and Sherrill was actually TOO CLOSE FOR MY LENS. So I went down to the far end of the bullpen to take pictures of him and J.J.Putz. Which was COOL. Except that in the midst of those guys warming up, Huston Street had warmed up and gone onto the field, so I missed him. Grumble. (I had forgotten that unlike Mike Hargrove, Ken Macha might actually put his closer in for the 8th inning if it was important to.)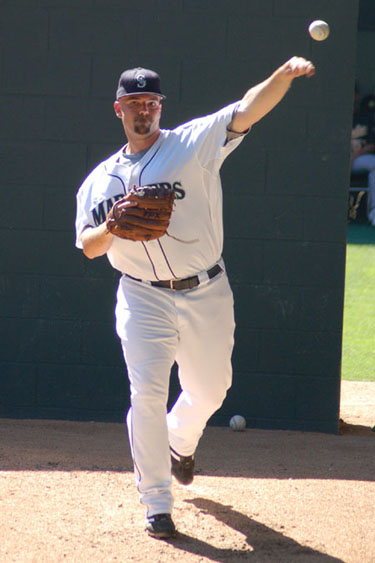 This picture is for Paul.
I ended up going back to the infield for the ninth inning, so I could capture things like Willie Bloomquist striking out to end the game, because that's certainly exciting! I missed Saarloos and Flores warming up, but oh well. I've got plenty of pictures of Los Kirk and his spiky hair anyway, so it's all good.
For the record, all of the pictures in that set were taken from the concourses; I didn't sit down at all during the game, or at least, not in actual seats. By about halfway through the game I was starting to figure out how to keep my right eye in the viewfinder and my left eye on the game, so I could see when the pitcher was throwing the ball and would know when to click the shutter at the plate for a swinging shot. It was really easy to do that from the third-base side since the mound was to the left of the plate from that angle, but from the first-base side it was nearly impossible. Guess it's a good thing a lot of the batters I like are left-handed.
You know, I think being an actual professional sports photographer might be pretty awesome, although I'm sure they would just have one spot on the field and take shots from that angle, and not run around so much like I did today to get different angles. I personally literally circled the stadium at least three or four times today and ran up and down the stairs to the bullpen area about five or six times. It was actually pretty neat, and a totally different experience than I usually have at a game (I'm the sort that plants themselves in a seat for the first pitch and doesn't move until the end of the ninth inning).
And really, I could watch pitchers warm up forever. It's really fascinating to me, getting to see them close up, seeing how they throw the ball and how it travels. I suck at throwing, so it's neat to watch people who are good at it and try to figure out their mechanics and whatnot.