Hey, so I'm in California. I haven't been paying attention to this weekend's Mariners games; all I know is that they had a great win yesterday and a stupid loss today. I send you over to
Lookout Landing
if you want to read some pretty funny recaps.
Me, I went down to the McAfee Coliseum today to take in the A's-Diamondbacks game. It sucked. I wore my Pirates Kendall #18 shirt, which earned me a "Hey! Look at you, you've got a shirt from when Jason Kendall could actually HIT!" from some guy in the stands.
Short version: Brandon Webb pitched a complete game, in which he basically owned the A's. Frank Thomas hit a solo home run. Byrnes scored a run in the 4th inning after walking, and things were in a 1-1 lock until the 9th inning, which Barry Zito still pitched despite having thrown 104 pitches already. Single. Double. Groundout. Intentional walk. Walk. Sac Fly. Finally, Huston, but it didn't matter as the
A's lost it 3-1
. Game, set, match, sweep. Mark Ellis was pretty awesome in the field, though.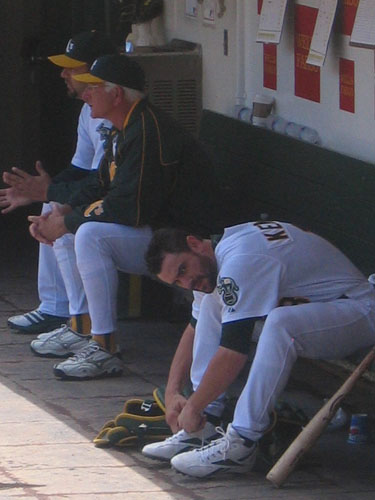 It's okay, Jason. *I* know you can still hit. You don't have to glare at me.
This game was pretty frustrating for me, because I have Zito and Swisher on my fantasy team, and I think extremely highly of both of them, but Swisher has become Slumper The Elephant these last few days, and he had yet another 0-for-4 today with two strikeouts.
I was ready to cry when Zito came back out to pitch the 9th inning. Huston Street was warming up, and yet, for whatever reason, Macha left Zito out there to bake. He shouldn't have started the ninth, and if he did, he should have been pulled after that Johnson-Ellis-Zito error. If not, he definitely should have been pulled after Conor Jackson hit that low liner into the left-field corner for a double.
The only thing that's vaguely amusing about the ninth inning is that the A's won a game the other night when the Padres intentionally walked Eric Chavez, loading the bases, to get to Antonio Perez, who also walked, bringing in the go-ahead run. Today, they intentionally walked Johnny Estrada, loading the bases, to get to Shawn Green for a double play, who then... walked in the go-ahead run.
I'm not sure what was up with the home plate umpire, honestly. Maybe the sun got in his eyes. I saw him call a ball that bounced in the dirt a strike for Brandon Webb, and I also saw him call some obvious strikes balls for Barry Zito, which may explain why Zito had 5 walks and 3 strikeouts for the day. Swisher looked like he ducked back from an inside pitch that was a called third strike for him in the ninth inning.
Brandon Webb, by the way, is an insane groundball-generating machine, though I'm sure you all know that already. Byrnes and Green must have been getting pretty bored out there in the outfield -- out of 31 batters faced, 7 struck out, 15 grounded out to the infield, 4 popped out to left field, one walked, one blooped a single over Webb's head, one singled to left, one singled to right, and one was Frank Thomas's home run. In other words, only 7 balls left the infield, and only one of them was fieldable by someone besides left fielder Luis Gonzalez. Yow.
Poor Bobby Crosby. He wasn't charged with an error for it, but in the 7th inning, Luis Gonzalez hit a high fly ball to shortstop territory in left field, and as Swisher and Kotsay ran in as backups, Crosby waved them off... got ready to catch the ball... and it fell about 5 feet behind him. Oops. Maybe the sun got in his eyes too. At least he stole a base. I think he's the only A's player that ever does.
On the other hand, hot damn, Mark Ellis! He made a ton of plays where the ball would be on a low arc, looking like it was sure to land in shallow center, and Ellis would just dash back there and make the catch. One time, he even did it in a running leap. It was pretty cool.
My friend and I were having a conversation that went something like this, when Frank Thomas came up to bat in the second inning:
Me: "Whee, Frank Thomas. You know, he's available in my fantasy league."
Him: "Isn't he only able to play Util?"
Me: "Yeah, which makes him somewhat useless to me, because I'm carrying two catchers."
Him: "You should ditch one of your catchers and pick up Thomas."
Me: "Well, he does hit an awful lot of home runs. But my catchers are McCann and Mauer--"
*THWACK*
Frank Thomas chose that moment to launch a home run into the corridor near the scoreboards behind the left field wall. Everyone stood and cheered, including us.
Me: "See, didn't I just say he hits a lot of home runs?"
Him: "Uh, weren't you just saying he was useless?"
Me: "Useless to ME! TO ME!"
Bobby Crosby, who I have dropped from my team, but my friend still has on his, came up next and struck out.
Him: "Crosby! You're useless!"
Anyway, aside from the ridiculously short game, and the fact that I got sunburnt as red as Bobby Kielty's hair, I did have a good time getting to see the Oakland Coliseum for the first time. We had pretty fabulous seats a few rows back from the A's dugout, bought only an hour before the game. I got to admire Mount Davis, and see batting practice, though I wasn't able to corner any players to sign stuff, sadly. It was pretty weird seeing Bob Melvin out there. Also, the Diamondback uniforms are really stupid.
I didn't walk around that much of the stands -- saw a bunch of interesting food places right behind home plate. There was such a long line for sausages at Saag's that I ended up getting a pulled pork sandwich at a stand near that. It was really good, and only $6.
The only thing that really, really, REALLY pissed me off is that I couldn't buy a Swisher number t-shirt, because they were completely sold out.
I'll be back there on Tuesday for the Tigers-A's game, Haren vs. Verlander. Should be fun.