Alright, I'm back in Seattle. I attended the A's-Tigers game this afternoon, though, which was pretty interesting.
Short version: Danny Haren and Justin Verlander were locked in a 1-1 tie for the first 7 innings of the game before giving way to their respective bullpens. Each of them had exactly one rocky inning -- for Verlander it was the first, where Kotsay led off with a single, advanced on a Thomas walk, and Payton hit a two-out RBI single. Verlander faced 20 batters in the next 6 innings. Haren didn't really have a rocky inning per se, but he gave up a solo home run to Vance Wilson in the 5th, which would have been a 2-run homer if Chris Shelton hadn't gotten himself caught stealing immediately before. Kiko Calero and Huston Street matched Joel Zumaya for two more scoreless innings, although the A's did manage 4 hits off Zumaya's 100mph heat. Ron Flores and Chad Gaudin managed the top of the 10th, and in the bottom of the 10th, against Fernando Rodney, Bobby Crosby and Frank Thomas walked, and Jay Payton singled in Crosby to immediately end the game as the
A's won it, 2-1
.
You know, I have to wonder whether games in Oakland are always really short, or what. My flight back home tonight was out of Oakland at 8:15pm, and the A's-Tigers game started at 2:05pm. With an average "Human Rain Delay" game in Seattle, and our generally inefficient pitching staff, I'd expect it to last at least 3 hours, but in Oakland, I was seriously worried there'd be another 2-hour game, and I'd have the choice of either spending 4 hours in the airport, or taking BART somewhere for an hour or something. Fact is, Danny Haren doesn't waste time, and neither does Justin Verlander.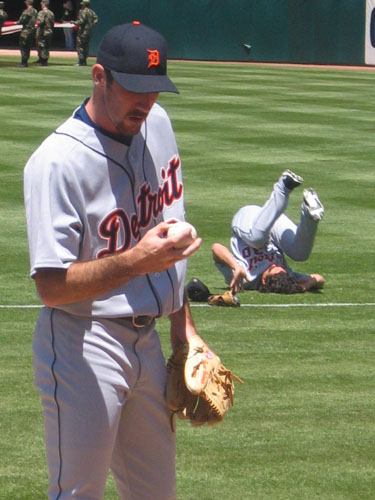 Justin Verlander ponders his grip, while Magglio Ordonez assumes a new catching stance.
(Honestly, I took a bunch of warmup shots of Verlander, was looking for a good one to crop, then noticed Ordonez in the background of this one and thought it looked funny.)
Verlander's a machine, by the way. I'd never seen him throw before. He can throw 98 or 78 and it'll look exactly the same; in one inning he had Eric Chavez completely off balance and striking out on a 98 mph pitch, and immediately afterward he did the same exact thing to Frank Thomas with a 76 mph pitch.
Apparently Nick Swisher
was sick today
, which is why he didn't play. Get better, Swish!
Today, they asked what people would rather see highlights of - the Angels-Mariners massacre, the World Hot Dog Eating Contest, or the Germany-Italy World Cup game. Surprisingly, people chose the World Cup rather than Hot Dog Eating, though the hot dog contest was shown during a later inning anyway.
I think the reason the Tigers may win the World Series this year is that they have an abundance of guys wearing high socks on their team. Everyone knows that the real secret behind the 2005 White Sox was Joe Crede's high socks, so I think Brandon Inge has since stolen the socks and is hoarding the magic for himself. And Chris Shelton just looks like a classic first baseman in every way, from his build to his socks. Curtis Granderson also wisely wears the high socks for extra flair in the outfield.
Otherwise, it may be because Joel Zumaya is a radar-defying speed demon. His first four pitches when he came out, to Mark Ellis, were 100, 100,
103
, and 99 mph, according to the radar guns at the Coliseum. That's just unreal. He kept up the velocity, too, with at least 15 of his pitches registering as being 100 mph. Yes, I'm doubting the gun, but I'm not doubting that Zumaya is a hard thrower.
The fifth inning, as I mentioned, was particularly lucky for Haren. Chris Shelton hit a clean single to center, and then he ended up getting caught stealing second, with a great shot from Kendall to Ellis. During Vance Wilson's at-bat, Haren threw a pitch that would have either been wild or a passed ball, but either way, it went to the backstop, which would have put Shelton on third, if he'd been at second, and then threw a second one that almost escaped Kendall. Then Vance Wilson hit that huge shot to left which bounced off the John Muir Health sign, right above the yellow line of the scoreboard, and the umpire made big circles with his arm, signalling that it was a home run. Had Shelton not gotten out at the point he did, it would have been 2-1 Tigers with one out at that point rather than 1-1 with two outs.
Frank Thomas, by the way, must be out to destroy a ton of bats. In the 6th inning he fouled off a ball and half of his bat on the way to a strikeout. In the eighth inning, the game was still tied 1-1 with two outs and runners on first and second. It was one of those moments everyone loves in baseball, where the entire game momentum can be decided with one swing. Thomas seemed to be timing Zumaya's heat -- I vaguely wondered whether he still had the bat speed to catch up with some of those fastballs. The count ran up to two balls and two strikes. The next ball sped across the plate, but must have been enough inside or outside to be called a ball. Then, a foul. Another foul. The noise got louder.
And then, Thomas popped up the ball and 65% of his bat into the infield. The bat didn't get to Carlos Guillen, but the ball did, and the game went tied into the 9th inning.
Me, I was personally hoping for a few more extra innings, to be honest. As I said, I brought my luggage and stuff to the game, stashing it in my friend's trunk. The break-even point on where it would not have been worth it to run back down to Fremont to get my stuff was about 5:45pm, since by the time I took BART back, I'd pretty much have to turn around immediately and head back up to the airport.
Of course, the game ended at 4:56pm. Go figure.
After the first half of the 10th, my friend was complaining he was cold -- and to be fair, we'd been sitting in the shade the entire game, where it was a bit windy and chilly, wearing jackets. We saw a few more people grab their stuff and leave the game from a few rows in front of us, so we went down there to sit in the sun for a bit to thaw. Fernando Rodney came out to pitch the bottom of the 10th, and I mentioned that he wouldn't sign my ticket when I was stalking players before the game (infact, the only player I managed to get was Kirk Saarloos), so he would obviously have a bad outing. Then I took off my jacket; I was wearing a Crosby #7 t-shirt. A bit later, Crosby walked.
"He's going to score," I said. "Why can't these guys make the game go slower for me?"
Chavez struck out, but just like in the first inning, Frank Thomas moved the runner into scoring position by taking a walk. So with Crosby on second and the Big Hurt on first, Jay Payton hit a single to right field. Magglio Ordonez ran in to charge the ball and get it on a bounce, and he fired it in to home plate, but the ball arrived about the same time Crosby did, and there was a collision at the plate and Vance Wilson dropped the ball anyway. And that was the game.
I have to admit, I really didn't fully experience the Coliseum, and I feel sort of stupid for that. I didn't really wander anywhere except the areas behind the infield on the first level. I should have probably at least checked out the eastside and westside lounges and whatnot, and maybe the bleachers. The problem is, once the game starts, I *never* leave my seat if I can help it. I also still didn't have the patience to wait for Saag's sausages -- today I got the fish'n'chips, which was actually really good, and great value for the money, so kudos to whoever on Athletics Nation recommended that to me.
And now I'm back here in Seattle. Watching fireworks from the plane as we were landing was pretty cool, though getting stuck in Fourth of July traffic trying to get home was not quite as cool. In theory, I'd like to go to the Angels game tomorrow, but I might have too much stuff to catch up on. I'm definitely stalking the Tigers again this weekend, though. I know it sounds crazy, but I'm beginning to actually believe they are as good as they seem, and such a far cry from what they were just a few short years ago.