Tonight's game was really sort of weird for me. I kept spacing out and forgetting who was actually winning, for some reason. Lots of runs were being scored, and lots of really nice plays were made, and as the sun went down and the temperature started to drop in Seattle, it was even pretty pleasant to be sitting in the upper decks at Safeco with the winds blowing around.
"Short" version: If Reed Johnson hadn't gotten himself thrown out on the first play of the day stretching a single into a double, it might not have been scoreless when the Mariners started a rally of sorts in the second inning. Casey Janssen threw a ton of pitches and ended up walking Ibanez and Sexson; Carl Everett hit a single to right and the bases were loaded. Johjima hit a liner to right, and Ibanez almost hesitated long enough for Sexson to pass him on the base path near third, but they both scored, Everett making it to third from first as well. A wild pitch scored Everett and Johjima, and then Adam Jones (!) singled to left, scoring Johjima. With the score at 4-0, one out, and a runner on first, Ichiro hit a fly ball to the gap in right center, and Reed Johnson managed to snag it on an awesome diving catch, and get up and throw to first in time to double up Adam Jones.
The Jays strung together a few singles to put a run on the board in the 3rd, and then Eric Hinske hit a huuuuuge solo home run in the 4th -- I mean, the kind of home run where Ichiro takes about three steps and says, "Oh geez, screw THAT." and stops. Johjima answered it with a home run of his own in the bottom of the 4th, following a Richie Sexson ground rule double over the CF wall. 6-2, and that was it for Janssen, and indeed, that was just about it for the scoring for the game, as well. Eric Hinske hit a second home run in the 6th inning -- a lovely shot right over the wall in straight center field -- and the Mariners tacked on a run in their half of the 6th as well, when Carl Everett was both responsible for batting in Ibanez and for ending the inning practically all on his own. More on that in a second.
Sherrill and Fruto pitched three scoreless innings and the Mariners
won the game 7-3
.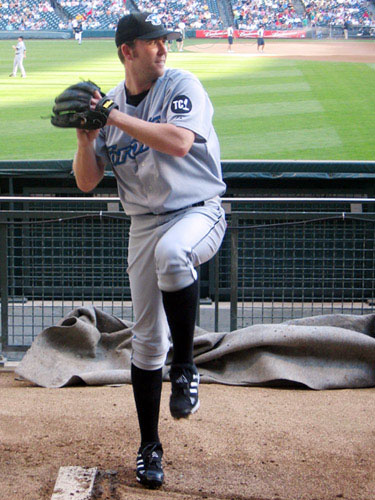 Casey Janssen rocks the high socks.
Vernon Wells was in the lineup originally but was scratched at the last minute for Eric Hinske, which seems to have worked out well for the Jays.
Carl Everett was featured in one of those "Beyond the Baselines with Shannon Drayer" movies, twirling a baseball bat sort of like a baton, drum major style. Now we understand where he learned the fine art of tossing bats.
But beyond that, the 6th inning was really stupid on the Mariners' side of things. Ibanez led off with a single, and Sexson walked. Then Carl Everett singled to left, and Frank Catalanotto fielded it cleanly and fired it back to the infield. Ibanez scored easily, and Richie Sexson was trying to get to third from first on the play. Troy Glaus, the cutoff man, got the ball, and rather than throwing it anywhere, saw Richie Sexson running to third, so he just ran into the baseline himself and tagged out Sexson, who couldn't really stop himself anyway. It was funny, though, because Glaus practically ended up hugging Sexson, and it almost seemed like Sexson's reaction was "Who is this guy, and why is he standing in my path with a baseball?" They changed pitchers to Jeremy "Oh crap, I'm in the American League now" Accardo, and after a few pitches, Carl Everett tried to steal second base and failed miserably. Worse, he failed miserably as Kenji Johjima struck out, effectively getting Accardo two outs for the price of one. Oddly, we didn't actually see Johjima strike out, so we couldn't figure out why Everett's CS ended the inning, at first. "Aren't there only two outs? Why is everyone leaving the field?" "The Japanese dude struck out while you were watching Everett pretend to be fast." "Oh."
Reed Johnson rocks the high socks, and he also just plain rocks. Not only was he 3-for-5 at the plate with a run scored, but he really did make an amazing diving catch on that hit in the 2nd inning, and the fact that he doubled off Jones is even cooler. It was just a nice play.
And Eric Hinske, man. I mean, both of his home runs were CRUSHED. That first one -- I could tell the minute it came off the bat that it was heading for the back rows of section 107. Johjima's home run was not so sure -- he apparently was really just trying for a sac fly anyway because Sexson was on third with one out -- so we were like "Is it foul? Is it foul? I don't think it's foul, do you? Hey, look at that. Cool."
Is it bad that I'm so used to excellence from Ichiro that I just take it for granted at this point?
You know, it feels like I haven't actually seen George Sherrill pitch in person in a really long time. He was tossing slow crap for his first few pitches, too, and they were swinging at it. I was thinking that he was doing a pretty good Jamie Moyer imitation for a bit there, and then he started actually having to attack the righties. Either way, good on Hargrove for leaving him in there for several batters, and good on him for getting them out.
Ibanez honored the Canadian team by switching back to Rush's "Tom Sawyer" as his at-bat music today. Adam Jones seemed to actually have a song CALLED "Adam Jones" as his at-bat music, but I can't seem to figure out what song it actually was.
The Star 101.5 music trivia song was "Hey Jealousy", by the Gin Blossoms, and I was pretty sure it was from 1993, which it was. But, I expected the baseball trivia question to actually deal with the fact that the Blue Jays won the World Series in 1993 (grrr Joe Carter grrr), and it didn't (it was "who was the AL ROY in 1993?"). Sheesh. However, I did see a woman wearing an oldschool Pat Borders #10 Blue Jays jersey. THAT was cool.
You know, I don't ever remember Troy Glaus being the best-fielding third baseman or anything, but he was impeccable tonight, snagging liners, stopping the ball in the dirt, with his quick thinking as cutoff man, and everything else.
The "Ask the Mariners" question of the day was "What is your soap opera name?" being one of those things where you take your first pet's name and the street you grew up on. Some of the answers were pretty funny -- Raul, for example, was "Skipper Forty-Nine", and George Sherrill was like "Goldie Lee. [pause] Hey... that's not bad...", and Joel was like "Sparky Arpegio!" It seemed like an inordinate number of guys had first pets named Max, too.
I think I'd feel great about Pineiro's outing -- the 6 IP with the 0 BB and 5 K -- if not for the 10 hits and the two HUGE home runs. After Hinske's second home run, the one that went over the wall in straight center, the next two batters -- Aaron Hill and John McDonald -- pretty much hit long fly balls to the exact same spot, only theirs fell a few feet short of the wall. I almost wondered if it was going to hurt Hargrove to leave Pineiro in for that whole inning, but I guess they lucked out.
Anyway, tomorrow is Stitch'n'Pitch night, and it's also Roy Halladay vs. Gil Meche. I'm quietly one of Gil's biggest supporters in the blogosphere, I think (heck, I sponsor his
baseball-reference page
), and I'll be stitching and hopefully not bitching about Meche's pitching. Ironically, Meche also got the start at last year's Stitch'n'Pitch, against Cliff Lee, who was having a stellar season. It was also Yuniesky Betancourt's major league debut, and in his first at-bat, he tripled. He also introduced us to the "Yu District" concept of fielding everything within a hundred feet of shortstop. So tune back in tomorrow, and serving as the blogosphere's Designated Knitter, I'll be sure to spin some yarns about the game.