First off:
THAT'S THE GOING TO THE JAPAN SERIES TWO YEARS IN A ROW HAM FIGHTERS TO YOU, SIR
優勝できました!最高です。しんじられ。。。ました???
This week has been insanely busy for me, which is why I hadn't written more here. Go figure that I finally move to Japan and can barely actually watch any games since my busiest work hours are 6-10pm. But, that's ok. Here's what my last few days have been like, baseball-wise:
Sat: Oct 13th
I have work from 11am to 8pm. Baseball schedule for the day includes the PL 2nd Stage Game 1 at 1pm, Fighters vs. Marines (Darvish vs. Kubo), and the CL 1st Stage Game 1 at 6pm, Dragons vs. Tigers (Kawakami vs. Shimoyanagi). One of my students who is in both my 1pm and 2pm classes loves baseball, so we get out our cellphones and check the score between classes. Fighters are up 4-1! Woohoo! By the next time I check in it's 5-2, still winning, still Darvish. The Fighters
win 5-2
in the end, Darvish keeping the complete game. Nice.
I check in on the Dragons game between my last two classes, at 7pm, and the Dragons are up 3-0 and Kenshin's pitched something like 3 perfect innings so far. By the time I leave a little after 8pm, it's already
7-0 Dragons
, so I don't really follow it, while having dinner with one of my coworkers down in Shinjuku. I'm riding the train home around 10pm and I notice I have a cell email from my friend Jeff saying "Hahaha! Dragons ownage! 7-0 and the Tigers finally got a runner to second base." So I write back "Wooooo Kenshin." Then I actually look at the box score and my eyes bug out.
Morino hit a 3-run homer! "Mr. 3-Run" strikes again! Yaaaaay Dragonbutt!
Watching the sports highlights that evening was pretty awesome, what with the Fighters win, Dragons win, and general awesomeness by players I like. It should be noted that Tyrone Woods also hit a home run in the game in his first at-bat -- just a few days too late...
(I suppose I hadn't mentioned it here yet, but I got
Tyrone Woods's autograph
before the 10/7 game in Yokohama, by using my secret English superpowers to talk to him. He was supposed to hit me a home run that day, but alas.)
Sun: Oct 14th
Fighters vs. Marines (Masaru Takeda vs. Hiroyuki Kobayashi) at 1pm, Dragons vs. Tigers (Nakata vs. Uezono) at 6pm.
One of my friends from college had managed to get himself sent to Tokyo for two weeks or so for a business trip. His wife, who is also my friend from college, came along, as well as their 16-month-old daughter, who quickly figured out that Japanese
baseball noisemakers
are pretty awesome. None of them have much interest in baseball, though, so we spent the day wandering around various parts of Tokyo, seeing things, shopping, eating interesting foods, singing karaoke, and all of the sorts of things you do when you're hanging out with old friends in Tokyo.
Around 3pm, I'm sitting outside a bookstore in Jimbocho with my friend. His daughter is asleep in the stroller and his wife is shopping in the store. So, I show off my cool Japanese cellphone by turning it into a television set and put on the Fighters game. It's 4-1, Satozaki and Ortiz having hit back-to-back homeruns in the 2nd. Immediately, Saburo responds by ALSO hitting a home run, making it 5-1. Yikes. I watch the Fighters be ineffective in their half of the inning and then my friends and I go elsewhere. By the next time I check in, it's 7-1, and the Fighters eventually lose the game
8-1
and my friends tell me I need to stop watching the game, it's just bad luck.
My friends and I part ways around 8pm and I check on the game again and it's 5-1. I go to Yamashita Books by the Tokyo Dome and buy the 2007 All-Star set of baseball cards, and then I find a place to sit down and watch the game on my cellphone TV. The Tigers manage to get in a few runs to make it 5-3. A little bit after that, I'm waiting for the Dragons half of the inning to start with Morino leading off... and it's 8:54pm so of course the TV feed cuts out. DAMMIT Japan. I'm riding home on the train after that and I get the cell email from Jeff saying "TIGERS EXTINCT!" and I see that
the Dragons won
, which means the Tigers are done for the year, and I send an apologetic email to a Tigers fan friend like "I'm sorry. If the Dragons beat the Giants too, all is forgiven, right?"
That evening I go home and open the All-Star card set. I'm admiring the Dragons ones in particular -- Ibata's and Kosuke's are rather nice, and Morino's got his look of "whoa, did I hit another home run?", and Ochiai's got his look of "You think I am being a brilliant strategist, but in reality I'm debating whether I want miso katsu for dinner," and so on. Then I get to Tyrone Woods's card in the set and it turns out that they
SPELLED HIS NAME WRONG
. No joke.
Incidentally, if you care, yes, all of the Rakuten players in the PL set had the special "Fan Selected!!!" logo on their cards, even though the only ones deserving of that honour were Takeshi Yamasaki and Masahiro Tanaka.
Mon: Oct 15th
(Fighters vs. Marines, Ryan Glynn vs. Shunsuke Watanabe, at 6pm)
I go back to Jimbocho with my Mariners blogosphere friend, Tokyo Sam. Sam actually knows which bookstores are worth going into, and even in the very first one I see a ton of awesome baseball-related magazines and books, and pick up the 2006 Fighters Victory book and a book about Japanese stadiums.
We go into a baseball card shop and I'm just like a kid in a candy store. We look through tons of boxes of old cards and it's just a fantastic amount of fun. I swear we came across at least 20-30 cards where Sam was like "I wonder what this would get on Ebay?", of players who are now in the MLB. In the end I bought a bunch of old Fighters cards, including a Shimoyanagi. In more amusement, they had a signed Ichiro baseball in the shop selling for 75,000 yen, and a signed A-Rod baseball selling for 30,000 yen. Japan is funny.
I found another store with Shukan Baseball magazines going back to 1976 and I ended up buying two issues of Pro Yakyu ai from 1997. All I've got to say is: 20-year-old Johjima is the cutest thing on the entire planet. They also had pictures from when Inaba and Johjima went to the Hawaiian Winter League... in 1996. One has a poster of Ichiro in it as well. So cute!
I digress. I made sure to get home by 6pm so I could watch the game. I watched the first hour on Yahoo Douga, then the next two hours on Channel 12 on TV, and then when the TV feed cut out, I went back to Yahoo. I also spent the entire time being the token Fighters nutcase in the
chatroom on japanesebaseball.com
, which wasn't hard to do because the
FIGHTERS KICKED BUTT AND WON 7-0
. I got to make jokes about how "Glynn was the best pitcher in the Central League, too." I did feel bad that Shunsuke Watanabe had to lose the game, since I adore him so, but... can't be helped, Fighters trump submariners. It was fun to watch him pitch as always, though.
The Fighters treated me to an excellent show of defense, too -- starting with what I'll forever refer to as Naoto Vs. The Cameraman. Basically, Daisuke Hayakawa lofted a foul ball over towards the third base side, and Naoto Inada made a run for it. A BIG run. And it didn't stop at the edge of the field, but instead he just kept going and dived... into the media well where all the photographers were. He went flying over the wall, a cameraman had to dodge out of his way, and a few seconds later Inada stands up with the ball in his glove and a huge grin on his face. That's going to be on the highlight reels for a while, seriously.
Here's an amazing shot of Naoto Inada
actually GETTING the ball in his glove, and
here's his legs
sticking up in the air as he goes flying over the wall. They replayed it about five times on TV from different angles and the funnier part was watching the cameraman get out of his way like "OH CRAP THERE IS A THIRD BASEMAN RUNNING AT ME LIKE A MADMAN HEEEEEELLLP MEEEEEE".
Ryan Glynn pitched really well, don't get me wrong -- but he was definitely helped by a few awesome defensive plays. Besides Naoto's crazy dive, Atsunori Inaba (RF) also made a running catch to get a low fly off of Saburo to end the 6th inning (with two runners on), and then Takahito Kudoh (LF) made a catch off Hashimoto to end the 7th inning (also with two runners on), running back to the wall and crashing into it after making the play. The next time there was a runner on in the top of the 8th, Kensuke Tanaka (2B) made a diving catch of a low drive off of Saburo, also to end the inning. All amazing, but none quite so amazing as Naoto Inada's play. For that and for kicking off the two-out 6-run rally in the 7th inning, they made him a co-gamehero with Ryan Glynn.
"How did you feel when you were going after the ball?" they asked him.
"I ran after the ball like I was a hungry wild boar and it was a piece of food," Naoto replied.
At the end of the game we're told that the starters for Tuesday are going to be Sweeney for the Fighters and Ono for the Marines. It's an interesting gamble by Bobby Valentine, which makes perfect sense if you think about it -- if you believe Naruse is a definite win, sure, you HAVE to win the 4th game, but if you use Naruse then, who is going up for the 5th game? Why not save your "definite win" for then? If you win the 4th game only to lose the 5th, it's no different than losing the 4th, really, so.
Tue: Oct 16th
(Fighters vs. Marines, Brian Sweeney vs. Shingo Ono, 6pm)
I had work, of course. I checked on the game early on, but it was 0-0 when I started my 7pm class.
The next time I got to check the score was 10pm. I intuitively knew that the Fighters had lost. Why? Because if they'd won, I would have had at least a few emails on my cellphone of "SHINJIRARENAI!!!!" or something similar.
I was wearing a Fighters shirt around that day for good luck and probably looked pretty depressed after work. Alas.
Wed: Oct 17th
The starters for Thursday's game were announced as Darvish vs. Naruse. Yikes. Naruse's the "Boy who couldn't lose", but Darvish has been "Mr. October" for the Fighters. Still, for some reason I was incredibly worried and depressed about the game all day. Several of my students even asked me about the series. One guy came in late to a class, and pretty much said "I'm sorry for I am late!", paused a second, and then said "Do you think the Fighters will win tomorrow?"
I got home that evening and realized what I had to do.
See, last year, all October, I walked around Seattle wearing my Fighters hat every single day until they won the Japan Series. And as some of you might remember, I also put up a
Fighters shrine
in my computer room.
I didn't have room to make a shrine in my tiny apartment here in Japan, so instead I made something else: a Fighters
omamori
.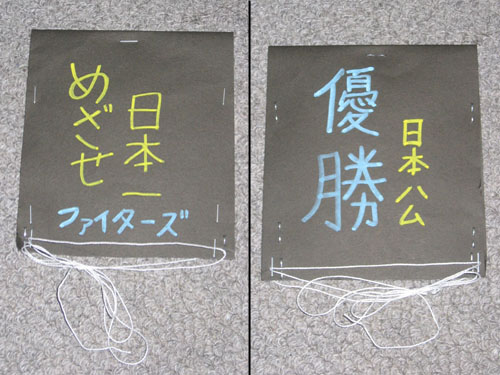 "優勝日本ハム Victory Nippon Ham - めざせ日本一ファイターズ Aim for Nippon Ichi Fighters"
Keep in mind I have no clue how one really makes a mamori, but I had to do SOMETHING. I used black thick paper and wrote on it in blue and gold, stapled it together and tied it with white strings, to use the Fighters colors together. And inside it -- rather than cardboard with prayers on it -- are two baseball cards, a 2007 Fighters Team Checklist card and a Yukio Tanaka card from several years ago. I figured if anyone embodied the spirit of the team, it was Yukio.
Thu: Oct 18th
(Fighters vs. Marines, Yu Darvish vs. Yoshihisa Naruse, 6pm. Also Giants vs. Dragons, Tetsuya Utsumi vs. Takashi Ogasawara, 6pm)
I wore my Fighters hat, my Tsuboi oldskool Fighters t-shirt, I had my BB bear keychain hanging on my bag, my Fighters strap on my cellphone, and the omamori in my bag as well. I thought about bringing my Inaba home run ball back with me to school as well but decided against it.
I also remembered that last year I was doing crazy things like eating dragon rolls and katsu and stuff to help the team, so I also went and got a funny lunch from the tonkatsu place in the station. I had some hirekatsu, and I also had a Hokkaido potato croquette. I figured that was about as good as I was going to get.
Despite it being a crazy day, I finished all of my lesson planning as quickly as possible so I could at least tune into the chat room and get the play-by-play from Westbay for the first hour or so of the game. Of course... once again... it was scoreless by the time I had to start class at 7pm.
Between my 7 and 8pm classes, though, I had an email on my cellphone from Westbay: "Seguignol 3-run!" I checked the score and not only were the Fighters winning, it was 6-0!!!!
I was really happy and hyper for the rest of the evening's classes, of course. When I finally finished with my 9pm class, I looked at my phone, and sure enough I had several emails saying that the
Fighters had won 6-2!
(And I also had one saying that the Dragons had
beaten the Giants 5-2
too! Tyrone SMASH!!!)
I had to stay at work to do some paperwork and talk to some people (we had a manager there today, and even HE said to me in Japanese, "I heard the Fighters won, that's great!!"), so I got home around 11:30pm and just started flipping around the different channels. I saw about three different highlight shows, though the best was on channel 8, I think -- they not only showed the game highlights, they also had the after-party.
I need to find pictures from that, because it was just too funny.
- Hichori was dressed up in army gear and running around
shooting people from a watergun
filled with beer
- Kaneko was
wearing a hat
that basically was a beer mug over his head with a curly white wig. It was hilarious. So the reporters are interviewing him and Naoto Inada runs over yelling something crazy about "beer-head" and dumps an entire traffic cone of beer on Kaneko, which also sploshes onto the cameras and the screen goes blank
- Fernando Seguignol was actually talking to the cameras in Japanese... so they ask him to give a message to the fans and he just yells "どんだけ~~~~" and runs off.
- They tried to interview Trey Hillman, who said a few things in English, but then his translator got covered in beer, so Hillman yelled "SHINJITEMASHITA!!!!! Hokkaido no minnasan wa sekai ichiban! sonotoori! MACHIGAINAI!!" and he picked up the interviewer chick and ran over to some other players who soaked her in beer as well.
A little while later they had Fighters pitchers Masaru Takeda and Hisashi Takeda on the show, not covered in beer, just dressed in street clothes, and they talked about the season and the game and all. It was, for lack of a better word, AWESOME.
I started to write this post but eventually fell asleep, so I'm actually finishing it Friday morning. Wheeeeee.
So, the funny thing is, Nov 3 is a holiday for me, so I have an actual three-day weekend then. The 6th and 7th games of the Series, if they happen, will be in Hokkaido. Should I start trying to find game tickets and plane tickets?