Dragons 8, Swallows 7
Japan generally doesn't schedule baseball games on Mondays, except for makeup games and national holidays. September 17th was a national holiday, so there were Monday games. Hooray. I had originally thought I might even go to both Rakuten @ Seibu AND the Dragons game, but realized I'd probably be pretty wiped out by the end if I did that, plus I didn't really care about seeing the super-compelling pitching matchup of Domingo Guzman vs. Kazuyuki Hoashi, if you know what I mean.
I got to Meiji Jingu stadium around 5pm for a 6:20 game; bought a ticket for outfield unreserved, and wandered up to the Dragons cheering section in left field, which was already pretty full of people, but there were plenty of empty seats, so I just went and sat down about 3-4 rows back from the front of the section, which was still 20 rows back from the field because reserved outfield seating is in front of it.
Chilling out in the so-called "Morino Seats".
I was decked out in my Morino jersey, carrying my Morino towel, and intending to act like a big Dragondork.
Fortunately, Masahiko "Dragonbutt" Morino was actually out there catching fly balls, and right in front of us, because he usually starts in left field these days. Of course, I was way too far back to really do anything. I didn't bring my big camera because I know Jingu sucks due to the big thick fences, so of course I couldn't take any pictures of him... and then over in the bullpen, Kenshin Kawakami and Masa Yamamoto started throwing, and a bazillion people went over to watch, and of course I stayed still, because there was no point in running over there. It was actually sort of depressing. That's the crapshoot of going to games alone; sometimes I'll find cool people to talk to, sometimes I'll just end up by myself feeling pretty silly.
Anyway, about 30-40 minutes before the game they announced the starting lineups and then I had stuff to do -- cheering for the players and singing songs, and then writing my scorecard, and so on, and people actually completely filled in the seats around me, so it was pretty packed by game time. Somehow, every time I have gone to a game at Jingu, the Swallows starting pitcher has been Kazuhisa Ishii, and this game was no different.
And just like the S-D game on the 9th, the Dragons exploded in the first inning. Ibata led off with a hit before we could even get to "misero yo Ibata". Araki meant to bunt him to second, but instead nearly hit into a double play. Still, Araki stole a base during Nori's at-bat, so it was about the same result. Nori Nakamura walked, and then Tyrone Woods also walked, so it was bases loaded, one out, when Morino came up to bat.
I held up my Morino towel and yelled "MORINOOOOOOOOOO!!!" several times, until we started singing his cheer song. A few people laughed at me, but when Morino hit a bases-clearing double to center, they stopped laughing and instead started singing "Moe yo Dragons" and high-fiving me and everyone else around. Whee!
Hidenori hit a home run shortly after that, which gave the Dragons a 5-0 lead coming out of the top of the first.
Since I was so close to the leftfield foul pole, it was pretty far away from the main cheering group out closer to centerfield. A lot of times we'd be trying to cheer and be completely out of sync with the rest of the cheering section; eventually one guy near the front of our area decided to be the self-appointed syncmeister for us all and so he'd be looking over at the other cheering section to get the timing and we'd all be looking at him. (It mostly looked really funny when we were totally out of sync on the "T"'s for Tyrone Woods, or the waving for "sore-sore-kattobase-Norihiro!")
Daisuke Yamai started for the Dragons, and had a rough first inning, giving up back-to-back home runs to Alex Ramirez and Aaron Guiel, but that's all the Swallows picked up to bring it to 5-2.
In the second inning, with Ibata and Nori on base and Morino (who is also known as "3-Run Otoko", or "Mr. 3-Run", since he has hit an inordinate number of 3-run homers this year) at the plate, we started yelling "THREE-RUN HOMERUN MO-RI-NO!", but alas, he walked. That happens a lot.
Kazuhisa Ishii nearly hit a home run in the bottom of the second. I'm not joking, Lee basically kept running back and back and back, and he made the catch just short of the wall, and then hit the wall and fell over, but was still holding the ball when he got back up.
In the top of the 4th, Araki singled, tagged up to second on a fly out by Nori, and so with two outs, they intentionally walked Tyrone Woods to go for the lefty-lefty combo on Dragonbutt. He obliged by hitting a towering fly ball to left field. You know, that kind where it just goes up and up and up, and the outfielder should have about ninety years to get under it and catch it. It sailed out towards us in the stands, and we all started to sit down for the end of the inning, expecting Ramirez to catch it.
Except, uh, he didn't.
The ball landed on the ground, and Araki and Tyrone scored, making it 7-2 as Lee struck out. So Morino was mostly responsible for 5 out of the 7 runs scored now. Gooooo Dragonbutt! More yelling! More high-fives! Wheee!
Alex Ramirez got his revenge a bit later, though. With Manaka and Aoki on base, Rami-chan hit a HIGH fly ball out towards left field. Morino ran in for it, Ibata ran out for it, and... Morino fell over trying to get it. Ibata had to help Morino stand up, and Lee threw in the ball, and somehow that didn't get called an error as the Swallows brought the gap to 7-4. If that's how the Jingu scorer calls things, that might explain part of Ramirez's 200+ hits this year...
Araki doubled to lead off the top of the 6th, advanced on a wild pitch, and Tyrone Woods doubled him in. Morino and Hidenori both walked to load the bases, but Tanishige lined out to pitcher Kamata to end the threat.
Yuuichi Matsumoto, who I have since discovered is really named Daniel and is half-Brazilian, led off the bottom of the 6th with a single, and was driven in when catcher Ryohei Kawamoto hit a 2-run home run, garnering a collective "WTF?" from the folks in the stands, and signalling to Chunichi manager Ochiai that it was about time to take Yamai out of the oven, since he was about done. 8-6. Ryuji Miyade struck out to end the inning and swung so hard he fell over; it seems he actually broke his finger doing so. Oops.
Around that time, everyone got out their balloons and sung the Dragons fight song. Whooosh.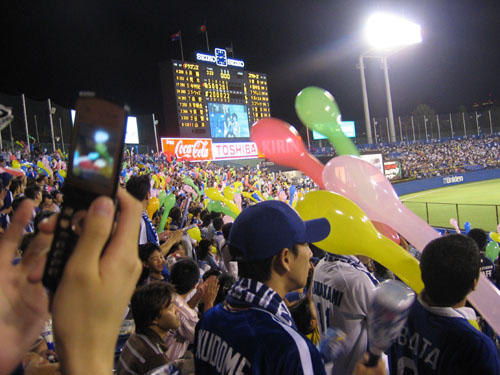 Uh, it looks kind of like Koshien, except with lots of Dragons fans.
Masafumi "Not Ken" Hirai came in to pitch for the Dragons and Swallows star Norichika Aoki signalled his approval of the change by launching a home run a few rows back in the left-field stands, bringing the score to 8-7, which is where it would stay.
A few Motos (Hisamoto and Okamoto) later, it became the bottom of the 9th and Chunichi closer Hitoki Iwase came out to get his 150-somethingth career save. Except, of course, when Kawamoto grounded out to third, Norihiro Nakamura decided to punt the ball instead of fielding it. Watarai singled after that, so suddenly there were two guys on and no outs, rather than one guy on and one out. Ugh. Iwase hung in there though, and struck out Aoki, and then off of Hiroyasu, the Dragons infield managed a Norino double play! For the win!
(I say "Norino" because it was Norihiro to Morino to Watanabe. Usually I call the 6-4-3's or 4-6-3's "Ibataraki" or "Arakibata" double plays, but Ibata actually came out of the game in the 7th inning for some reason.)
I'd been yelling and cheering for Morino all game, much to the amusement of the people around me, so when he was named the game hero, people were like "Hey, it's your guy!"
He's MY hero!
So yeah, that was pretty cool. After the hero interview, despite that the Jingu staff were actively trying to get people out of the stadium, and turning off the lights and all, the Chunichi fans kept singing fight songs and player songs anyway, and yelling "MORINO! MORINO! MORINO!!!" and so on. Fun stuff. I had one of the people sitting next to me take my picture holding up my Morino towel, because, hey, why not:
Yume ni egaita ichida wo, Morino Masahiko hanate yo!
I was starving by the time I got back to my neighborhood, and it was around 11pm, so I stopped by the ramen shop on the way home which is full of Giants posters and baseball newspaper clippings, still wearing my Chunichi jersey. I ordered miso ramen, and one guy asked me incredulously, "you're a Dragons fan?" "Yeah, kinda..." "Did you go to the game?" "Yeah! They won! 8-7 against Yakult! They got 5 runs in the first inning!" The TV was actually showing the sports daily review by then, so we talked about the Giants-Tigers game as well.
Oh, and the miso ramen was really good too. I always have to eat something miso-related after Dragons games, it seems.