(I am trying to catch up on writing up some old games I went to. This one seemed like a good idea given recent events.)
Dragons 7, Giants 5
This was a pretty fun game to go to. It involved Morino being awesome and Arakibata being awesome and OCD being terrible and the Giants losing. You know, all of those things that usually make for a good game. Well, except Kazuki Inoue sucking, but I'll get to that in a second.
I went to this one with my friend Shinsuke, who I'd last seen at a college reunion several months ago. I'd threatened back then to drag him to a game if I managed to move to Japan. He thought I was kidding, but of course I wasn't. After realizing that we were both big anti-Giants types, and looking at our schedules, this seemed like a good one to go to, so I could cheer the Dragons and we could both hate the Giants.
He knew I was a big baseball fan, but I don't think he realized exactly how big a fan until we got to our seats and I took out my scorecard book and my Dragons noisemakers and my Morino towel and jersey and my printout of the Chunichi ouenka. Of course, by then we were already in our seats in the middle of a packed row in the upper deck of the Tokyo Dome and he couldn't really run away screaming.
13th row of the upper deck; a view remarkably similar to
my old Safeco season ticket in section 334 row 14.
Before the game started, we grabbed dinner at the "Baseball Cafe", a restaurant in the Tokyo Dome City courtyard somewhere. It was pretty wacky; sort of like what would happen if you showed a Japanese person some pictures of an Applebee's and told them to make a baseball-themed restaurant that looked like that. Except, of course, you never actually send this person to America to see a real one, and just let them do some sort of interpretation of it. As a result, they got the whole "tons of random crap all over the place" aspect of those sorts of restaurants done right, but the random crap itself was a bit bizarre. Our table, and others that I saw, had clear surfaces in the table with various baseballs under them. For some reason, the wall next to our table had a random smattering of the ugliest baseball cards known to man, the Fleer 1991 yellow-ugly set. All of the waitstaff were wearing MLB-style jerseys, but they weren't always of actual MLB teams. Also, despite being the middle of September, the place was also full of Halloween decorations. When they led you to your table, they gave you an inexplicable bucket of popcorn.
The oddest part, though, was when you paid to leave, you had to walk under this gigantic bizarre papier-mache statue of Tommy Lasorda. No, I'm really not kidding: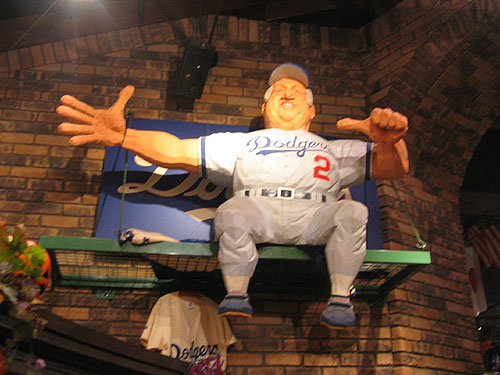 If this doesn't frighten you into paying your bill, nothing will.
Anyway, Shin and I sat around in our upper-deck seats babbling in English for a while, which probably confused everyone around us, but that's okay. We just talked about random baseball crap while waiting for the game to start, and it was actually pretty nice. We looked at the starting lineups and both did the "goddamn Giants stealing the entire PL" rant, compared stats for starters Yamai and Kisanuki, and exchanged Giants-hating stories. Always a nice way to start off an evening.
The game starts, and from the get-go I yell and sing a lot of random crap. Of course, I'm singing Ibata's cheer, and it gets to the end, and we yell "Kattobase Ibata!!" and then people yell something else before starting the next iteration. I of course have no idea what they're yelling, but it doesn't really matter. Ibata gets a single to right and I start telling Shin how totally awesome Ibata is in general, and then Araki also singles, this time to right, Ibata running to third.
"And this is Kazuki Inoue," I explain. "I don't know his cheer song, because he sucks."
Inoue obliges me by striking out.
"This'll be pretty funny," I say before we start Tyrone Woods's intro. Except... instead of doing the normal song for him, the oendan strike up one of the chance music themes, which I guess makes sense. So instead of making a "T" with our cheer sticks, we're just yelling a lot of "ute! ute! ute! ute! ute ute uchimakure!" Tyrone eventually ends up walking, which loads the bases.
And of course at that point as Dragonbutt's walking up to home plate, I hold up my Morino towel and yell "MORINOOOOOOOOOOO!!!!!" which gets a few laughs from the people around me and a wide-eyed OMG look from the little kid sitting next to me. Shin thinks this is pretty funny and also yells "MORINOOOOOOOO!!!" We get drowned out by the chance music for the most part anyway.
Morino singles to right, which scores both of Arakibata! 2-0 Dragons! I stand up and sing Moeyo Dragons and do a banzai and high-five some people around me, including the little kid, who seems slightly less frightened of me.
Chance music starts up again, but Byung-kyu Lee grounds into a 5-4 fielder's choice, and then Hidenori hits a fly ball out to center to end the inning. Still, that's not a bad start, though less dramatic than the last two Chunichi first-inning explosions I'd seen, for 4 and 5 runs respectively.
In the bottom of the first inning, OCD came up with Tani standing on first, and he hit into an Arakibata double play! I started babbling again about how damn good Chunichi's middle infield is, the two-headed Double Play Monster.
About halfway through the second inning, I remarked, "Okay, so what exactly are they saying after 'kattobase'? It sounds like 'Kyojin taose yo'," (meaning "Defeat the Giants!!") and Shin said "I don't think that's exactly what they're saying, but it's a nice sentiment!" I started shouting it anyway because it was fun to yell.
Seung-Yeop Lee led off the bottom of the second inning by hitting a long fly ball to left field, which sailed a bit behind Kazuki Inoue but he should have had plenty of time to get to it... except that instead of getting to it, he tripped over his own feet and fell over and eventually Byung-Kyu Lee had to recover the ball and throw it in, as the other Lee got to third base on the play. I fully expected it to be called an error, but NO, the scorer called it a TRIPLE. Ugh. Nioka grounded out to Araki after that but Lee scored. 2-1. Abe struck out and Takayuki "Go West" Shimizu also grounded out to Araki.
Next inning, Araki strikes out and then Kazuki Inoue comes up to bat.
"KAZUKIIIIIIIIIII!!!!!!" I yell really loud, like several other people do to cheer his name.
"...you *SUCK*!" I yell slightly quieter.
Shin and I crack up. Fortunately nobody around us has any idea what the hell I just said, and Kazuki grounds out to second anyway.
The next time anything major happens is in the top of the 4th inning. Morino leads off but sadly hits a fly out. Then Byung-kyu Lee singles to center! Hidenori hits into a fielder's choice, replacing Lee at first base. Tanishige singles, so when the pitcher Daisuke Yamai comes up to bat, there are runners at first and second, and two outs. Shin asks me, "What do you think of the DH anyway? Is it better or worse for a baseball game to have a pitcher come up and always strike out?"
And at that moment, Yamai took a 0-2 pitch and grounded it back to the mound. Except rather than fielding it and throwing it to first, Kisanuki booted the play and the ball went flying up in the air. So Yamai was safe at first, Tanishige at second, and Hidenori at third, and THEN we had Ibata coming up with the bases loaded. Misero yo Ibata! He singled to center, scoring Hidenori and Tanishige, so even when Araki hit a pop out after that, the Dragons had gone up 4-1.
The Giants weren't having any of that though, and Yoshitomo Tani led off the Giants' half of the inning with a double to left. Ogasawara struck out (yay!) but then the other Lee, Seung-Yeop, hit a ball over the left-field wall for a home run. Whoooosh. And just like that, the lead was cut to 4-3.
Kazuki-you-suck-Inoue started the 5th inning by grounding out to first, but then Tyrone Woods singled, and Hara decided that he'd seen enough of Kisanuki, so there was a pitching change. He brought out the left-handed rookie Norihito Kaneto to face the lefty-batting Morino. It worked, Morino hit a pop fly out to left.
During Byung-kyu Lee's at-bat I saw the funniest thing I've seen in a looooong time.
Tyrone Woods STOLE A BASE!
NOBODY expected that. Kaneto wasn't holding him on the bag, they weren't pitching for a pitchout, nothing. One second Lee's at bat and Woods is just kinda standing there on first, and the next thing you know, he's running.
"Wait, why is Tyrone running?" I said, thinking that, like, nobody had hit the ball, so why wouldn't he be standing on his base? I mean, this is TYRONE WOODS, he doesn't steal bases, you know?
Sure enough, that's pretty much what everyone else in the stadium was thinking. Catcher Abe suddenly realizes, "Wait, that big dude is running to second and I think it's my job to throw the ball there to get him out," and he throws it there too late. Most of the people in the stands are all either laughing or cheering or saying things like "OMG, TYRONE STOLE A BASE! HOLY CRAP!!"
Kaneto was so shocked by Tyrone stealing that he walked Lee, and then Hidenori hit a single which scored Tyrone. 5-3! Another pitching change at that point brought in Shintaro Yoshitake, who intentionally walked Tanishige to get to Daisuke Yamai, who obliged by grounding back to the mound.
Wakiya hit a geniune triple off the back of the CF wall in the bottom of the 5th -- it was even almost a home run -- and a few batters later Tani singled him in, before OCD grounded out to Araki. 5-4.
Araki, by the way, was playing in his 1000th career game. For some reason completely unknown to me, the moment where they decided to announce that and bring him a big bouquet of flowers was right after the end of the 5th inning.
#30 Nishimura pitched the 6th and 7th innings for the Giants and gave up two more runs on five more hits, including a triple by Yoshinori Ueda, who scored when Ibata grounded to second and barely beat out the throw on a headfirst slide into first base, which had me yelling a whole slew of obscenities in English about "some BEEPers who don't realize exactly how BEEPing dangerous that can be." 7-4. In the meantime, #30 Ishii pitched the 6th and 7th innings for Chunichi and had two no-hit innings, aided by an Arakibata double play after a walk, and two strikeouts in the 7th.
No Dragons game is really complete without a pitch-hit appearance by Kazuyoshi Tatsunami. Everyone stood up and started cheering madly when he came in, but he grounded out to start off the 8th inning. MORINOOOOOOOOOOOO finally got a second hit, but it didn't really matter.
Things progressed on to the bottom of the 9th inning, where Hitoki Iwase came in with a score of 7-4 to get the save for Chunichi. Hiroyuki Watanabe came in to play first base, and I complained to Shinsuke that I couldn't write 渡邉 because the second kanji is too complicated. He assured me that I don't suck at writing kanji, and said that even he has trouble with names like that (and that he actually knew a DIFFERENT complicated kanji for "nabe"), and that most Japanese people are just lazy and write the simple version, so that's pretty much what I did.
Seung-Yeop Lee swung his bat so hard on the 1-1 pitch that it went flying into the Giants dugout. Players scattered but I think it actually hit Wakiya, since I saw someone basically helping him walk down to the tunnel behind the dugout. Oops. Lee singled to left, but was doubled up on another Arakibata double play, the third one of the night. Shinnosuke Abe managed to hit a home run into the Giants cheering section in right field, 115 meters, but that was it for the bad guys as the
Dragons won 7-5
.
"I wonder who will be game hero?" I said. "I hope it's Morino... he did get the first RBIs of the game, and aside from the fielding of Arakibata I can't think of anything else that was fabulous this game."
We waited about 5 minutes. The Chunichi oendan went through all of the player songs. There was no media stage being set up, but rather there were fans in Giants jerseys coming out to the mound to do something. It seemed like there might not be a hero interview. Do the Giants just not allow away teams to do them or something?
"We should leave," said Shin. "I've barely ever stayed for the end of a game in my life, let alone stayed afterwards for this kind of thing. The subways are going to be a nightmare, anyway."
So, we walked out of the stadium and walked down towards the subways and stuff around Suidobashi, and found our respective subways and went home.
When I got home I chatted on AIM with another friend (who is a huge Dragons fan and posts comments here as "Firearm"), since he had taught me half of the Dragons ouenka in the first place, and I asked what the heck the deal is with the "Kyojin taose yo" cheer after each player. He forwarded me
this YouTube video
from last year at the Tokyo Dome and explained that it's very specific -- you yell "YOMIURI TAOSE WO!!" after the batters, but ONLY at the Tokyo Dome and only for the Giants, which is why I had never seen or heard it before at any of the other Dragons games I'd attended.
This is particularly poignant now because I was really hoping to go back and yell it a whole lot in the CL Playoffs, but alas.
That video's also worth watching for pure Doala hilarity, though, to be honest. I think Doala might be my favorite mascot in Japan, though it's a little unfair because I've still never seen the Fighters BB bear in action. I need to go to Hokkaido, dammit.