So, the Japan Series starts in about 24 hours. I still don't know how or if I'll be able to watch it (if worse comes to worst, I can bug a friend in Nagoya to shoutcast the local radio to me). But hey, I am READY.
This entry is brought to you by the utter coolness of
Bob Timmerman
, who went to Japan last week and got to actually see the Pacific League Playoff games in person! Well, he mentioned that they gave out these red and white placards at the games that folded out to a team poster. And he went to two games, so he had two, so I innocently asked what on earth he would ever do with TWO placards, and well, today I got a package in the mail from him...
...containing one of the placard posters, the sports daily newspapers from the day after the Fighters won the playoffs, a ticket stub from playoff game 1, photocopies of Bob's scorecards from both playoff games, and a 2006 Fighters wall calendar! COOLEST PACKAGE EVER! Wow!
Well, I figured that I was now OBLIGATED to actually put together a small Fighters shrine in my computer room, what with all this awesome new stuff: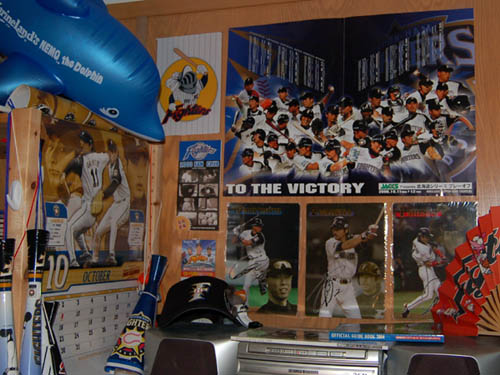 That's Pacific League Champion Ham Fighters to you, sir.
It's a mix of old Fighters junk and new Fighters junk -- the big team poster is the placard, the calendar is the one Bob sent me -- isn't it great that Yu Darvish is on October?, the dolphin is the one I was given when sitting in the Fighters cheering section at Seibu (It's
Ogasawara-related
), the noisemakers are ones I bought this year and in 2004, there's a BB Bear keychain sitting next to the hat, there's photos of Morimoto, Ogasawara, and Shinjo, and an oldskool armor-suit Fighters sheet as well, a Fighters 2003 Fan Club application, a subway ad for the team, an orange Fighty-bird Fighters paper fan, and the team guide books from 2004 and 2006 are sitting there. I'm going to have to work on finding wall space for some of the other stuff, too.
(They changed their entire team image and mascot and whatnot when they moved from Tokyo to Sapporo before the 2004 season. It's a lot better now.)
Anyway, I'll work on writing a bit more of some Japan Series preview stuff, which I would have been doing if I hadn't gone crazy when I opened the package, of course.