Dragons 8, Fighters 1
Glynn had a disastrous 4th inning, getting a lot of questionable ball-strike calls, and then Nori Nakamura doubled in a few runs, and then Yoshikawa walked in a run, and... we were hurt by the lefty batters on Chunichi, with both Morino and Lee getting home runs, and all the Fighters really did about it was another Seguignol home run. Kenichi Nakata did a pretty good job out there, although I had expected him to get more strikeouts than he did.
I'm going to be honest and tell you that I don't really remember about half of last night's game. But, on the other hand, I watched it in Fighters heaven, eating and drinking way too much with a bunch of other Fighters fans.
I went to Yakiniku Erika, which is the restaurant owned and operated by Fighters centerfielder Hichori Morimoto's parents. Basically, Hichori's old fanfare went: "焼き肉エリカ 日暮里駅前 歩いて5分の一等地", which essentially means "Yakiniku Erika, a five-minute walk from Nippori Station, the best place in town". I finally hunted it down last weekend, and this weekend actually went there to eat dinner and watch the Series game. My friend Pau came with me; I was really nervous about going there alone.
(Actually, Pau took me to the Keio-Waseda Soukeisen big rivalry college baseball game earlier in the afternoon, but that's a completely different story. Keio's Mikinori Katoh won in 12 innings, and yes, I saw Saitoh Yuki pitch, among other things.)
We arrived around 5:30 and it was pretty empty. We were greeted by Hichori's father -- I recognized him immediately -- and were told that yeah, we could watch the game there, but the first few tables were reserved. And then I looked around and OH MY GOD the place was just FILLED with Fighters stuff and it was SO AWESOME you have NO IDEA! I asked Morimoto-san if I could go around and take pictures, and he just laughed like "Of course you can!", so I did. There's only about 8 tables there, it's pretty small: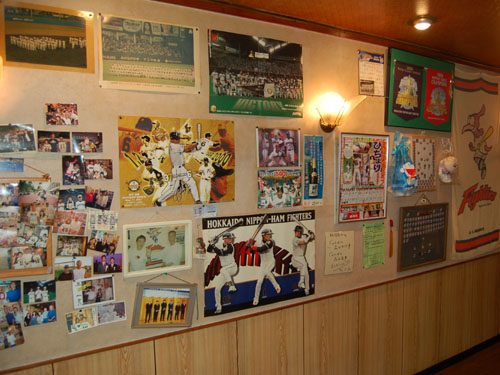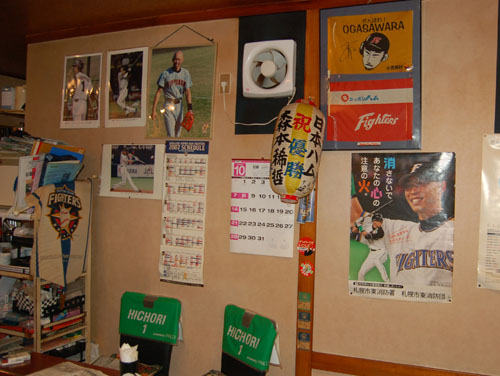 The "Hichori #1" seats are where Hichori's parents sit to watch the games.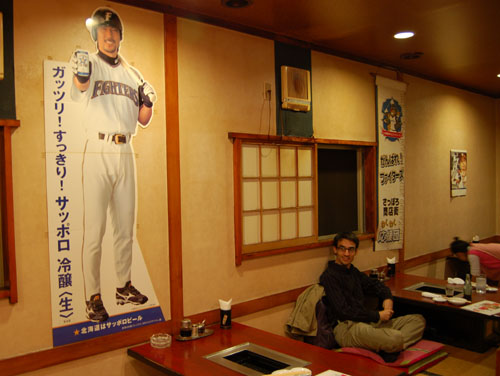 I had to try really hard not to be bitter about the Ogasawara poster.



During the game.
I should probably clarify right now that the only times I was speaking in English was when I was talking to Pau (who is fluent in Spanish, English, Japanese, and some other languages); all other conversations were in Japanese. I really do speak Baseball Japanese a lot better than I speak normal Japanese. Funny how that works.
Another guy showed up shortly after us and had to sit at the table behind us. Turns out he was from Sapporo, in Tokyo on a business trip, so he brought the Sapporo sports dailies for the Morimoto family. And then ANOTHER guy showed up from Sapporo and also sat at the table behind us -- he had brought a Hichori inflatable microphone from the Sapporo dome for them. And a woman showed up who was ALSO from Sapporo! And then two more younger women showed up who we also later discovered were from Sapporo! It was crazy! None of them actually knew each other beforehand, either, which was probably the craziest part.
I wore my old Fighters jersey from when they played in Tokyo, which resulted in the Sapporo crowd all calling me "Sempai", which totally cracked up Pau. I had a
picture of me with the old Fighters mascot
from several years ago on my cellphone, so when we were all getting out our cellphones and showing pictures -- like, one guy had an Inaba signed ball, and so I showed him my picture of catching an Inaba home run ball, and someone else had all these awesome pictures of the Sapporo Dome, and of BB, and various stuff, so I was like "Uhh... well... here's me with Fighty?" and they all said "WOW!!!" They all became Fighters fans since the team moved to Sapporo, so they never saw them in Tokyo. But I said that I'd never been to Sapporo, so I was very jealous of them! The one guy had been to about 50 Fighters games in the Sapporo Dome this year! How awesome is that?
A few innings into the game, when the Fighters were down about 3-0, Hichori's mother came to every table and gave us each a bottle of Jinro, which is some sort of Korean liquor, about 25% alcohol. I'm not sure whether it was for the "if we're drunk the game won't be as depressing" factor or the "let's drink and cheer for the Fighters!!" factor:

Honestly, this stuff tasted terrible, but it was REALLY potent.
It had the latter effect, anyway... somewhere in the midst of the 4th or 5th inning, our gang in the back of the restaurant all started singing all of the Fighters ouenka. It was great. I think it had to be the 4th because it started with us doing a rousing "Oi, Oi, Hokkaido" and a Banzai after Seguignol's home run... and since the Sapporo woman's favorite player was Shinji Takahashi, I started singing his ouenka, and it just exploded from there, I guess.
In the 6th, Hichori led off with a single, and was moved to second, and so Hichori's mother, who had gotten up a bit before to say "You guys are amazing!" while we were all doing the Hichori ouenka, also got up to make sure we weren't going to do the Inaba jump, since the restaurant is on the second floor of the building :)
Oh, incidentally, I finally got the story on that. The Inaba Jump is ONLY done in Sapporo, apparently, which is why I had never, never, ever EVER seen it. I knew there was a jump for Naoto Inada, so I had thought people were just confusing Inaba and Inada, which happens often, but no, the Inaba Jump is a Sapporo oendan thing. See, this is why I have to go to Sapporo for a game someday so I can learn all of the current customs there.
Anyway, the Fighters were down by a whole lot of runs and we were all getting pretty drunk off the Jinro, so I think I spent the last 3-4 innings of the game mostly chatting with the Sapporo people, and trading some baseball cards with them and with Pau (whose idea it was to bring cards in the first place), and taking pictures of all of us being silly. I had been saying how I used to love Ogasawara, he was my favorite player, then he went to the Giants and I hate him now, and the woman from Sapporo was like "ME TOO!! I FEEL THE SAME WAY!!!" and I said "Yeah, that's why I really, really, really hate the Giants!" and she said "YEAH! ANTI-GIANTS PEOPLE UNITE!!!" and so we all took a picture together, and then switched around, and... yeah.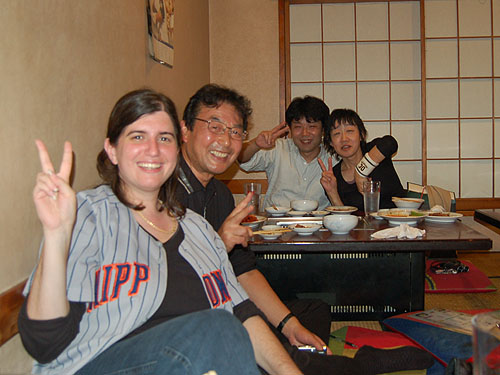 Me with the Sapporo gang.



We hate the Giants!!!!!



This guy went to 50 Fighters games this year. He was really funny.

I had to remember not to sing Dragons cheers. That was pretty funny, though I kept saying "T!" at Pau just to annoy him, since he's a Hanshin fan and Tyrone Woods really killed the Tigers this year. But since the ones like Morino and Ibata and all are deeply ingrained in my head, I'd just start humming and be like "Wait, no, Dragons bad, not today." And then Morino got a 2-run homer and I'm thinking "MORINOOOOOOO!" but outwardly saying "Dammit!"
I also spent some time investigating the pictures on the walls, which were just amazing, things like a picture of Hichori with the other Fighters draftees from his year, or pictures of various fans with Hichori, or Hichori in various games and stuff, and even a plaque from when he went to Koshien with Teikyo HS. And there were pictures of other Fighters players, and just all of this crazy awesome stuff. It was like Fighters heaven, seriously.
Even the bathroom at this place is decorated with Fighters stuff. They had a whole ton of stickers of team logos of every team EXCEPT THE GIANTS. It was just too funny.
The Fighters did manage to load the bases in the 9th inning -- and Yukio Tanaka even pinch-hit! YUKIO!!! WHEEEE! We did the Yukio cheer, and then after when Shinji Takahashi got a double, we did the Shinji song several times too. And we sang the chance music too, and were still singing it when a pinch-hitting Tsuruoka grounded out to end the game a few at-bats later.
We settled up our bills and left the restaurant. I asked if I could get a picture with the Morimotos, but Hichori's mother said "I don't like being in pictures, but I'll take your picture together!" So, I have a picture of me with Hichori Senior :)

Thanks so much, Morimoto-san!
He gave us his business card and said "Next time you come here, call in advance and make a reservation," so maybe I will go there to watch some Fighters games next year too! The food was really good and the place was really friendly and you can't beat being surrounded by Fighters stuff. It's not a sports bar by any means, but still pretty awesome. I was worried that it'd be packed and that they wouldn't want random people coming there during the Series, but I guess I was completely wrong on both counts. So, yay!
Nippori is only a few stops away from me on the Keihin-Tohoku line, so it didn't even take me that long to get home. It wasn't until I tried to ride my bike home from the station that I realized how much alcohol I'd had, though; I couldn't actually ride in a straight line, so I took side streets home to minimize the chances of getting hit by a car. I watched the sports shows that evening to see the highlights, and I swear I didn't even remember half of the game. I mean, I sort of remembered that the Fighters lost, but that's about as far as it went. Good times.