I woke up super-early to go look for Japan Series tickets, which were supposed to go on sale today. Yahoo ticketing said that tickets would be sold at Pia and Lawson, among other places. I wanted to try to get tickets to the games on 11/3 and 11/4, since I have 11/3 off from work and a 3-day weekend which I could use to go up to Sapporo finally.
I was at the Lawson near my house at 10am and the ticket machine said "sorry, you can't buy Series tickets here, you have to use the online Loppi site to buy tickets", so I figured I'd go to the only Pia place I know near here, which is in Parco Ikebukuro. I arrived there around 10:50am... only to see a guy in a bright yellow Hanshin Tigers jersey (with 兄貴 #6 on the back, awesome) arguing with the lady at the counter about "why the hell do you have it listed on the board here if we can't buy tickets here?" and sure enough, he's also trying to get Japan Series tickets. Turns out that of course Pia will only sell Japan Series tickets either online or over the phone. I tell the clerk, "I suck at talking on the phone in Japanese, can you help me with it?" She predictably replies, "No."
I guess when the sites say "you can get them at Lawson's or Pia or..." they really mean "you had to pre-order them weeks ago to get them there, OR you have to call to order them and pick them up there, OR maybe you can buy them on the internet and pick them up there," but you can't apparently go to the actual ticket seller and buy them there. And since I don't have appropriate accounts to buy things online or over the phone, I'm pretty much screwed.
The Tigers fan turned out to be a Fighters fan as well, who's only seen soccer in Sapporo, not baseball. He told me I should go to Hokkaido anyway, but I think that's a bad idea.
I did get tickets to the finale of the Konami Cup, so I'll almost certainly see whoever wins the Japan Series there. But that STILL doesn't change the fact that this all sucks.
Last weekend I found Hichori Morimoto's parents' yakiniku restaurant (people who've cheered for the Fighters for a few years might recall his old fanfare of "Yakiniku Erika, a 5-minute walk from Nippori Station"), though, so maybe I'll go there to watch some of the games. We'll see.
I'll try to write some Deanna-flavored Japan Series preview in the next few days.
In the meantime, this is what the Fighters goods' selection looked like at the Tokyo Dome shop on Monday: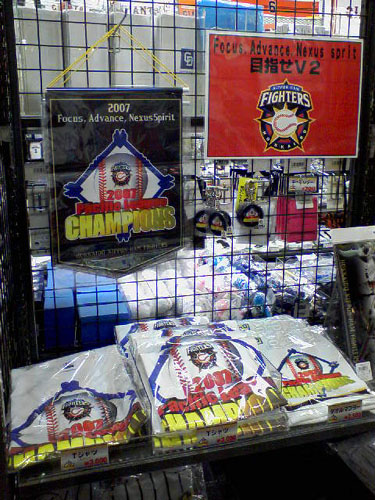 I bought a real mamori and a Fighters PL 2007 champs folder... I held off on spending $30 on a t-shirt because if they win the Series I want to get the Japan Champion 2007 shirt instead. BUT, of course, they might sell out the PL 2007 champion shirts in the meantime. Argh. I had been thinking I'd be going to Hokkaido so I could just get lots of great Fighters goods there, but now that's looking really unlikely anytime soon (and I think it's a better idea for me to go to Hokkaido next spring for games, rather than just going for the hell of it sometime over the winter, though if there's a Fan Fest or victory parade on a Sunday I might reconsider). I guess I'll go back to the Tokyo Dome shop sometime in a few days either way and pick up some stuff. We'll see.
Oh, on one last note:
October 25th is Michihiro Ogasawara's birthday. I want to just take this opportunity to point out that LAST year he was winning a Japan Series game on his birthday. This year, his clean-shaven doppleganger is sitting at home in Chiba on his birthday. THAT'S what you get for switching teams, dude.