Now that Koshien for kids is over, Koshien for adults, aka the Intercity Baseball Tournament, has started! 32 corporate teams from all over Japan get together at the Tokyo Dome for almost 2 weeks of a big single-elimination baseball tournament! Just like Koshien, the teams bring all of their
students
employees to come cheer for them, and their brass bands and ouendan and dancing cheer girls and all, just that everyone is 10-15 years older than the Koshien kids, and rather than school uniforms, all the people in the stands are wearing suits and bright colored towels from their company. Also, it is played indoors at the Tokyo Dome rather than outdoors under the sweltering heat. But other than that, it's about the same.
I mentioned a few weeks ago that I went to the
bracket drawings
for this, though at the time I was already vaguely planning to be out of town for the first weekend of it, so even at that time my thought was "The first game I can get to is Toshiba's. At least maybe I can see Waizumi and Urushibata play again."
So with that in mind, I headed down to the Tokyo Dome on Tuesday night, first stopping at the McDonald's by the dome to get a
Tsukimi Burger
combo. (Tsukimi Burger is a seasonal thing every September, basically a bacon-egg-and-cheese burger. It is fantastic and the only reason I will go to McDonald's voluntarily rather than "it's the only choice at this time and place" or "I want
WBC folders
".)
The home plate entrance was relatively empty, but you should have seen the ridiculous line snaking around the stadium for the Toshiba employees and fans. Toshiba is located in Kawasaki City, a half an hour or so from the Tokyo Dome, so they basically get their entire company to "work overtime" for the evening, by which I mean "come to the Tokyo Dome and cheer for the baseball team". Toshiba has also sent a ridiculous number of players to the pros (right now the Fighters have Hirotoshi Masui and Tomochika Tsuboi from there, but you've likely also at least heard of Naoyuki Shimizu and Hisanori Takahashi and Hiromitsu Ochiai as well as probably Kiyoshi Hatsushiba) so it stands to reason that they also have a reasonable number of fans beyond just the employees who come.
Whereas their opponent, Tokai Rika, is from Toyokawa, Aichi Prefecture, a few hours away even by Shinkansen. And where Toshiba has been in the Toshitaiko 32 times and is one of the best-known teams, Torika has been in it 4 times ever, and 3 of those times were the last 3 tournaments.
So first, I was inadvertantly 40 minutes early for the game; due to the 2nd game of the day going into extra innings (with Mitsubishi Yokohama
winning 3-2 in the 11th
over Oji Seimei), the Toshiba-Torika game was moved to a 6:30pm start to give the bazillion Toshiba employees time to get into the stadium. I bought a balcony seat for 700 yen, since this is my only opportunity to sit in the cushy balcony seats at the Tokyo Dome usually... and the Toshiba side was PACKED, no empty seats to be had short of the outfield. I gave up and went to the Torika side and got a seat in the front row right behind the ouendan, behind 3rd base. I like watching the ouendan to begin with, which is half of the reason I wanted to sit in the front row.
But well, the Torika ouendan was way outmatched by Toshiba. Torika had 6 cheer girls and 5 male ouendan, and then an assortment of about 10 other dancers who came out occasionally, and one guy and one girl who were in charge of yelling/singing into a microphone. They didn't have a particularly huge brass band, and I didn't see many cheer guys in the audience trying to get the crowd fired up, though at least they DID have inflatable cheer sticks for people to bang together.
Toshiba, on the other hand, had a BASE unit of 8 cheer girls whose main job was to hold up letter signs that spelled out "TOSHIBA" on one side and "KAWASAKI" on the other. Then they had another 20-person dance group of men and women, with varying costumes, another 5 men who seemed to be the "ouendan" types, then MORE dance women who were only in the stands, and then a troop of around 40 guys whose job was to run around in the stands and get the crowd fired up, waving uchiwa fans and yelling a lot. Their brass band was huge, they had several mascots, and they also had a bunch of people on "yelling/singing" duty as well.
Seriously, you could have gone to this game just to watch Toshiba's ouendan and probably not come out disappointed. Unless, of course, you were sitting on the Torika side.
Let me show you what I mean, anyway. For example, these two photos were taken in the 5th inning:
Tokai Rika side, seen from behind Toshiba ouendan. Note all the empty space.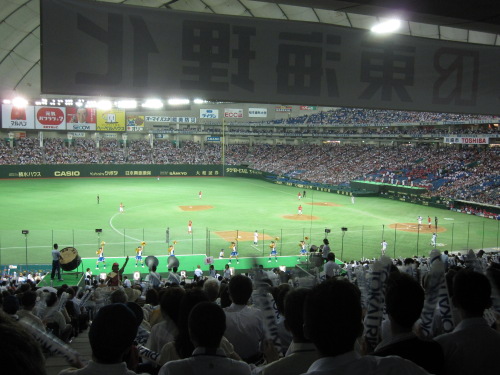 Toshiba side, seen from behind Tokai Rika ouendan. Note that even the OUTFIELD and SECOND FLOOR are PACKED. Toshiba employees continued filing into the stadium well into the middle of the game.
So beyond the obvious geographical constraints in rousing up a huge audience, let's talk about these bands for a minute.
Torika had three main problems IMO:
1) Lack of people. Perhaps due to the size of the company more than anything, but there is only so much you can do when your ouendan is that small, and the ouendan does depend on how many people at the company exist to join it in the first place.
2) Lack of variety. Seriously, everything their brass band played is something you will hear being played by every high school band as well.
3) Lack of brass band repertoire even so. Almost half the time they didn't even have the brass band play, but instead played music over a tape for their cheer girls or dancers to dance to.
For example, this is one of their early innings. If you are familiar with high school baseball here, you will recognize all of these songs:
And when the band wasn't playing, they had two other dance groups; one was girls in black leotards and tutus who seemed to be hopping around and baton-twirling to pop stuff like Arashi, and then there was a more traditional Japanese group of dancers:
Here's a video of them doing Soran Bushi, which is a very very old Japanese fishing-related dance:
To be fair, they are at least as good at the Soran Bushi dance as my junior high school students who dance it every year for our Sports Day...
Anyway, for what they have, they do okay, I suppose. But they can't compare to the ouendan kickass of Toshiba, who come out in full force for this event.
One main thing is that Toshiba actually has a sort of standby "Toshiba" cheer, distinctive and with an actual tune to it, where girls hold up TOSHIBA signs that spell something else on the back. I saw a version on YouTube that were "VICTORY" on the other sides, but this is what they had for us: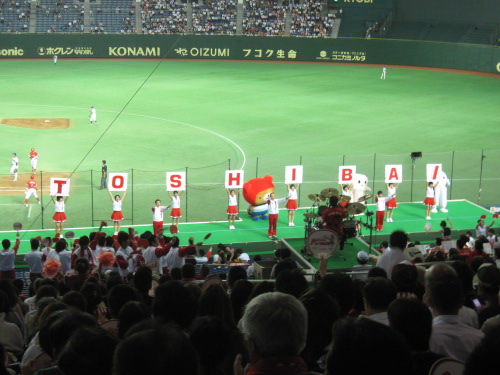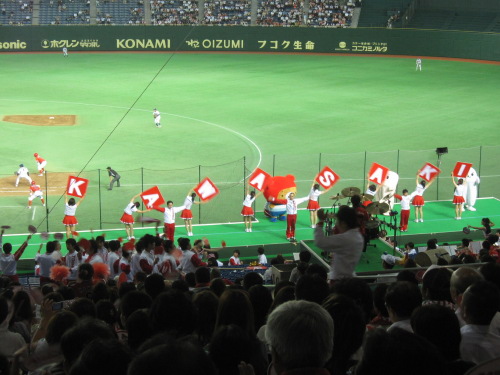 And here, after the brass band does a riff of Footloose, they are actually doing that TOSHIBA cheer:
I feel a little bad for the girl holding the A, who kept getting confused about where she was supposed to be facing at any given time.
Here are two other videos I took of the Toshiba ouendan:
Dance routine.
Flag routine. Ryuta Matsunaga hit a double during this, which is why all the cheering suddenly.
Anyway...
The Toshiba band solidly defeated the Torika band, and well, the Toshiba baseball team also defeated the Torika baseball team.
Lefty Teruo Kawawaki started for Tokai Rika, and righty Takashi Fujita for Toshiba. It was actually a pretty close game for the first 5 innings, scoreless, although that was mostly due to Toshiba's guys batting into two double plays in the 2nd and 3rd innings, and then running themselves into a failed sac bunt in the 5th.
But then the floodgates opened in the 6th; with one out Ryoichi Adachi singled to center, and Masaya Iseki followed it with a single to right -- the throw came to third but Adachi slid in JUST safe there. Shota Fujiwara hit a sac fly to right and that scored Adachi to make it
1-0
. Keiji Ikebe, a loan player from ENEOS, singled to right as well to advance Iseki, and Tokai Rika changed pitchers to Yuta Murai... and Ryuta Matsunaga singled again to drive in Iseki, making it
2-0
.
And that was pretty much the game, aside from a Torika fireballer named Masaya Kanemaru who walked two guys in the bottom of the 8th before Ikebe lined into an unassisted double play (shortstop catches the ball and steps on 2nd base for the force).
Toshiba won 2-0, and Torika got two hits the entire game, both by right-fielder Tomoyuki Ishikawa, who I was actually pretty impressed by, even if he's no Ichiro. Toshiba's Fujita got a CG shutout with 5 strikeouts, no walks, 2 hits, facing 29 batters, throwing 84 pitches. Not bad at all.
Official score here
.
Only sad thing is that the college players I was hoping to see didn't play. I'd actually seen Matsunaga before when he was in college at Toyo, but it was a little different. I am heading back to the Dome though for Toshiba vs. JR East, so we'll see.