Game 1: Reigning champion Keio University COMPLETELY CRUSHES Tokyo University and nobody is surprised:
Actually, Todai was holding its own for the first 3 innings behind the reasonable-but-not-spectacular pitching of their captain Yoshihiro Maeda. Then he came out of the game and BLAM the floodgates opened. But they even loaded the bases against Keio's starter Daisuke Takeuchi, in the 3rd inning... but once they were losing, they stopped trying to fight at all, it seemed.
The highlight of this game was that I got to see the college debut of Akihiro Hakumura!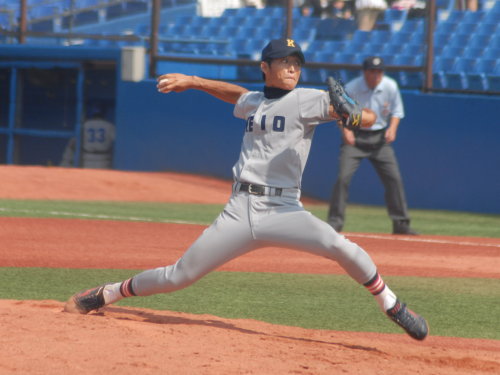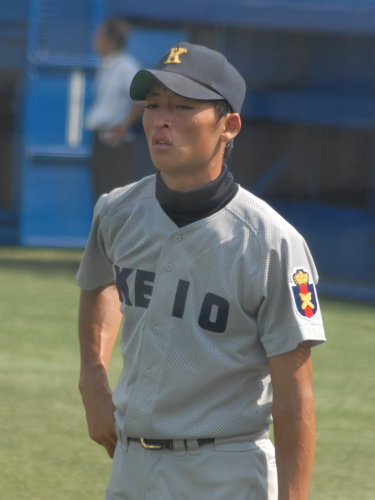 Hakumura, if you haven't heard of him, is a freshman at Keio currently. When he was in high school he was clocked throwing 147 km/h, which is around 91-92 mph, and he's HUGE, like 187cm tall, which is around 6'3". A ton of teams were scouting him in high school, but he said "Nah, not now, I'm going to Keio University", which was a pretty big deal when he announced it.
Well, he hit the 150's on the Jingu radar gun, which is notoriously a few km/h fast... and he also struck out 5 of the 6 batters he faced. Though, they're all Todai batters, so it will be interesting to see what he can do against a real team later on in the semester.
Still, that was pretty exciting.
Game 2: Kisho Kagami, Hosei's ace pitcher, and noted Waseda-killer, pitches a complete-game win against Waseda.
Of course, the news display on the subway later just says "Yuki Saitoh loses his first game of the semester". Thank you, Japanese mass media.
I was sitting in the front row of the Hosei side, so of course this game was pretty awesome for me. And of course, HE was pitching right in front of me between innings...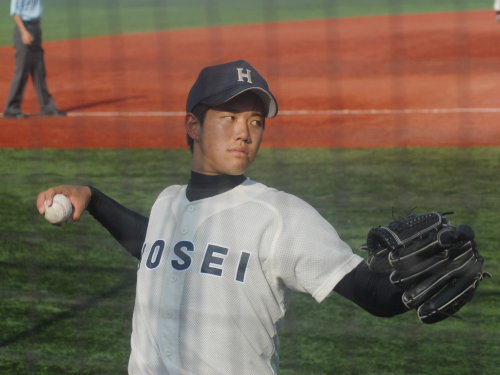 Also, something I noticed in this game was that Kagami TOTALLY had his changeup working. He's had some games in the past where he tries to fool batters and instead ends up walking them, so here's a photo of our hero throwing a changeup: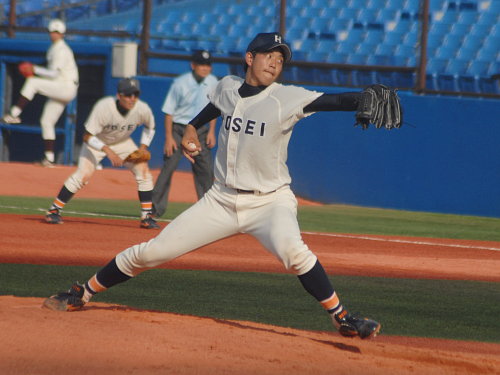 As for what happened, most of the offense was led by our OTHER hero, sophomore shortstop Hiroshi Taki, who is also a pile of awesome. (I've noticed that a lot of my Hosei win stories involve Kagami and Taki, come to think of it.)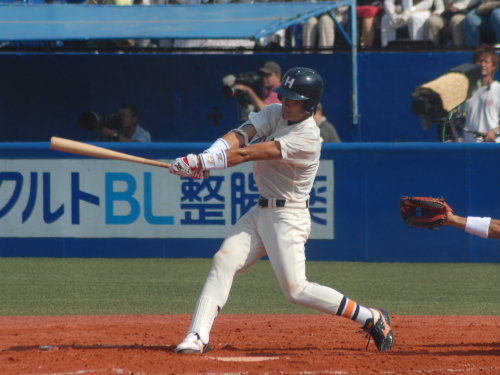 Taki hit the first Big 6 home run of the year in the second inning off Yuki Saitoh.
1-0
. It was also Taki's first home run during college! So that was very exciting to see, and when I saw him after the game I said "congrats on your first college home run! It's even better that you got it off Saitoh!" and he burst into a huge grin, which is pretty rare for Taki, he's a fairly reserved guy.
Hosei got 3 more runs off Saitoh in the 4th inning, starting with Kanji Kawai walking, Taki singling again to move Kawai to 3rd, and Shohei Doi singling to bring in Kawai,
2-0
. Tatebe sac bunted Taki and Doi to second and third, and then Kota Imamura hit a grounder to second. Waseda's Koji Udaka charged the ball and threw home, but Taki had a great jump on the play and managed to score to make it
3-0
, and Imamura was also safe. Captain Seiya Ohyagi then singled to right, and that brought in Doi to make it
4-0
.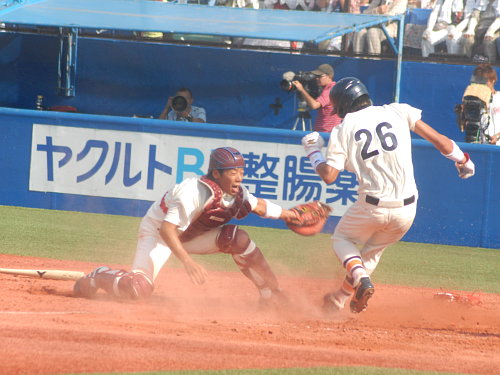 Taki running home around the tag from Waseda's Daisuke Ichimaru. Actually, you may remember Ichimaru if you watched Koshien 2007, as he was the catcher for the championship Saga Kita miracle team.
In the bottom of the 4th, Waseda's first baseman Shota Sugiyama slammed a 2-run homerun to dead center. It barely barely cleared the wall and didn't even clear the yellow fence, but that made it
4-2
.
Fortunately that's all they'd get. Kagami threw a complete game, striking out 9. He's awesome. Can we just draft him now and get it over with?
Saitoh lost the game and only threw 5 innings at that; lefty Kensuke Ohno threw two innings and then Tatsuya Ohishi finished out the last 2 innings, striking out 2, but only hitting 149ish on the Jingu gun. There were a ridiculous number of people in the camera well on the 3rd-base side, and every time Saitoh or Ohishi threw a pitch you could hear the click-click-click-click-clicks. It was actually somewhat frightening.
I still like Ohishi but being that I'm kind of anti-Waseda these days, I'm not quite outwardly as big a fangirl as I used to be. ESPECIALLY not when he's pitching against Hosei.
After the game I went and talked to a bunch of the Hosei guys; got Mikami and Imamura to sign photos, chatted with Mishima for a while, and congratulated Taki. Naturally, Kagami was completely and totally swamped with fans and reporters so I couldn't really get near him, but on his way out I shouted an otsukaresama at him and said he pitched a great game and good luck this semester, and he was in a hurry but stopped for a second to bow and smile and say thanks. He's a pretty nice guy. And a damned good pitcher.
And then in the evening, two of my friends had invited two Meiji University players out to dinner, Kumabe and Ueda, and also invited me along. Ueda's birthday was Thursday so this was apparently a birthday dinner for him. It was really interesting to talk to those guys; I learned a lot of things I can't really repeat here. Though one thing I can tell you is... remember a few months ago I mentioned that the Meiji team has a cat named
Tama
? In their blog they wrote that Tama is technically a 3rd-year member of the team, so the underclassmen are supposed to speak to the cat using formal speech. Well, Ueda confirmed to me that it was a total joke, and infact the cat doesn't like guys much and is a lot nicer to girls. And that being mean to the cat is considered tantamount to "bullying" a team member.
It was a pretty bizarre day all around.
And hopefully I'll repeat it on Sunday! Whee!