On Saturday night, we saw Norichika Aoki get his 198th hit and 199th hit of the season... and get hit by a pitch in his last plate appearance. I said to Kozo, "Does this mean I have to come back tomorrow too? I'm watching ice hockey in Yokohama tomorrow with Simon..."
Naturally, Kozo said, "Drag him here too! Come late if you need to! We'll save seats."
So, that is exactly what I did -- Simon and I went straight from the Shin-Yokohama Skate Center to Meiji Jingu Stadium, with a brief stop to get raincoats, and we arrived at the top of section D right after the Chunichi Dragons scored their first run of the game on an RBI single by my favorite Dragons player, Masahiko Morino, aka Dragonbutt.
The important thing is, we were there for Aoki's first at-bat of the game. I had a feeling it would happen like this -- just like in October 2004 when my friend Brian and I rushed like heck to get to Safeco Field for Ichiro's first at-bat when he got his 257th hit of the year, and then broke the single-season record on his next at-bat. You just kind of know that if you're not there, you'll miss it.
Anyway, Aoki comes up to bat, he's the leadoff man for the Swallows. It's sprinkling rain, but everyone who has something 200-hit-related has their posterboards ready to hold up. So we're cheering and yelling and cheering and yelling, and on the third pitch, BLAM, Aoki hits a low line drive fly ball to right field. It's going, and going, and HEY IT ENTERED THE STANDS AND AOKI'S 200TH HIT OF THE SEASON IS A GAME-TYING HOME RUN!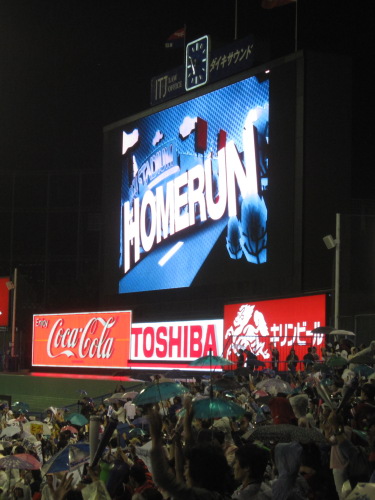 Homerun!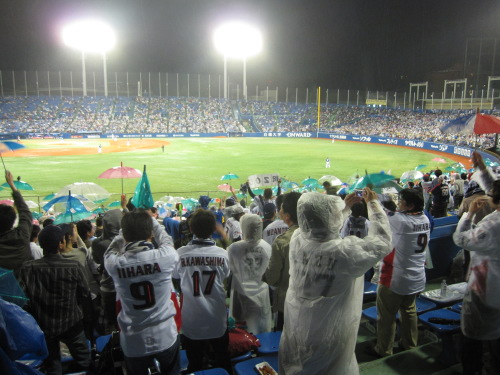 People hold up signs and start high-fiving and getting out umbrellas for Tokyo Ondo and all.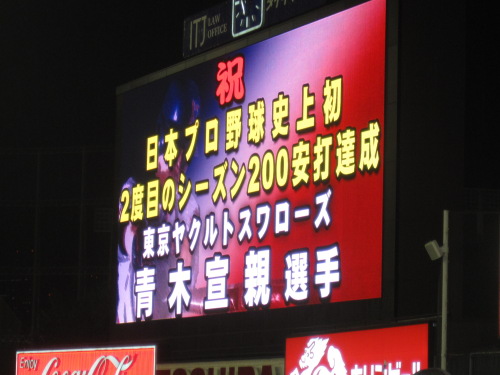 They don't stop the game exactly but they do announce the feat and put this up on the board for a bit -- it says, basically, that it's honoring Aoki's achievement of hitting 200 hits in a season for the second time.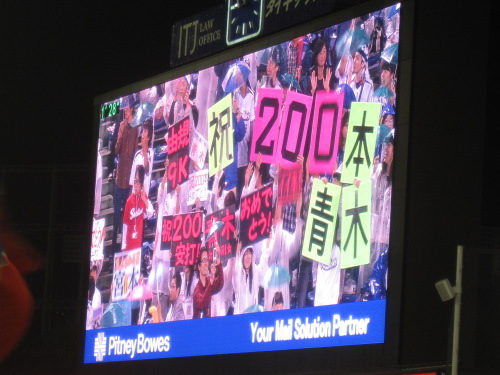 This is actually from the 7th-inning stretch but should give you an idea of some of the stuff people had prepared in the stands for this game.
After that, Ryosuke Morioka, a former Dragon, came up and got a hit, and was driven in by Jamie D'Antona to make the score
2-1
.
Morioka also got a hit in the 2nd inning... and as the Swallows were preparing to take the field for the top of the 3rd, and the Dragons were getting ready to bat...
...the rain started falling a bit heavier, and the umpires called a rain delay.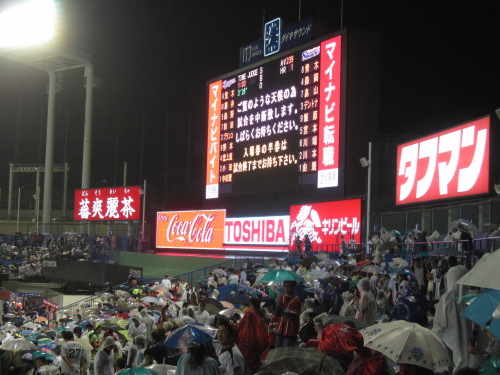 Kozo apparently spent the entire rain delay singing pop music that was playing over the loudspeakers (he claims that he got in a good 10 minutes of "Don't Stop Believin"), while Simon and I chose to go wander around the concourse and eat food and talk about Yoshinori, who started the game for the Swallows.
The rain delay lasted about 30 minutes, and the game got underway again with rain still falling, but not falling particularly hard. We got the impression that perhaps they were going to do their best to get in at least 5 innings so the game would become official and Aoki's homerun and 200th hit would stand. (If the game got called, everything would be wiped from the records, and he would be back at 199 hits.)
Of course, the joke was that we needed to keep going "for Morioka's sake", to keep HIS two hits.
As it is, Yoshinori managed to pitch SIX PERFECT INNINGS after the rain delay, and handed the ball over to Chang-Yong Lim for the 9th... and with the score becoming
3-1
on a solo homer by Shinya Miyamoto in the bottom of the 6th, the Swallows hung on to win the game. Hooray.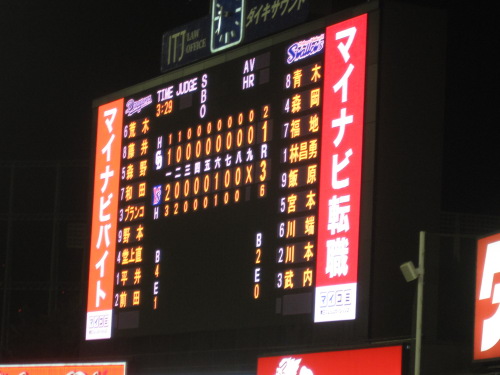 Final score.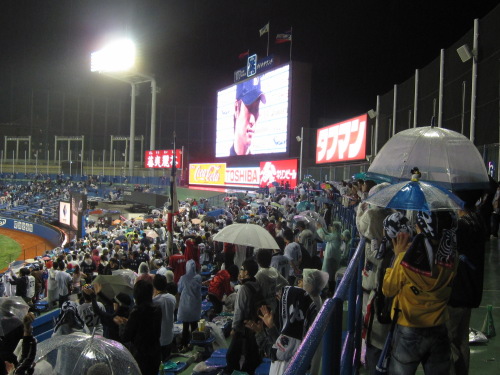 I like to title this one "God looks down on the masses". No, just kidding, it's Aoki's hero interview.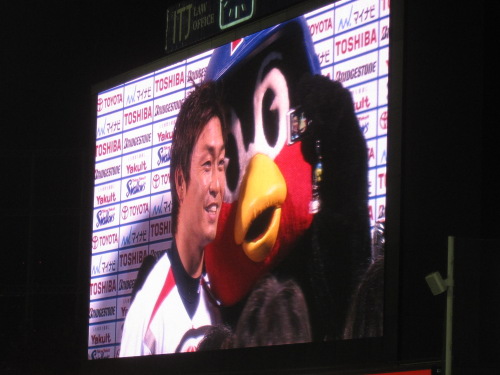 Tsubakuro butts in to take a photo with Aoki. Too cute.
I feel a little bit guilty cheering against the Dragons, but basically, I'm a Fighters fan first and foremost, and an anti-Giants fan. After that, I'm not that picky, and Jingu is my second home, after all. (And to be fair, I still sang Morino's cheer song even from the other side, much to everyone's chagrin.)
Also, while I'm at it, did I mention that we watched some hockey? Despite that Simon is too busy to update his
blog
, he's still pretty much up-to-date on what's going on in Asia League hockey. Me, I've become vaguely familiar with the players over the last 3 years, but since I'm not a hockey expert, it's hard for me to really analyze what the hell these guys are capable of, besides that I can clearly see some guys score more goals than others and some goalkeepers are more insane than others.
So we watched the Tohoku Free Blades take on the Nippon Paper Cranes (another one of those unfortunate company names like the Fighters, the company is Nippon Paper, the team is not the "Paper Cranes", appropriate as that might be). The Free Blades just formed last year in the wake of Seibu's ice hockey team going away, and they were horrible last year, but the team we saw this time started off strong and we seriously thought they were going to win -- they were up 3-1 at one point -- but then the Cranes, veteran championship team that they are, came back to
win 4-3 in overtime
.
It seems that basically the Free Blades added a few new foreign players, including a new Korean kid right out of college named Hyeok Kim, and also a few new players in general, in addition to picking up the Kawai brothers (Takuma and Ryuichi) mid-season last year, and now filling out the rest of the Tanaka Brothers Set (Go, Sho, and Ryo; Go is the team captain and he spent last year playing in Germany), and then had more time to train together as a unit... they definitely looked more cohesive than last year. And goalie Michio Hashimoto seems to be as solid as ever.
The Cranes seem to be the same team that have been beating up the rest of the Asia League for the last few years, give or take 2-3 players. Notably, I noticed that Darcy Mitani got released and is now playing for the Korean High1 team in Chuncheon. That kind of sucks. But other than that, they looked largely the same as I remember them, with Itoh and Obara and Chris Yule leading the way; Masahito Nishiwaki was in the game a lot but not nearly as aggressive as I expected. The Cranes' goalie this time was Kiyokawa instead of Ishikawa, too.
I didn't really take notes at this game, so I'm just going to throw some photos up that I took with my little point-and-shoot camera: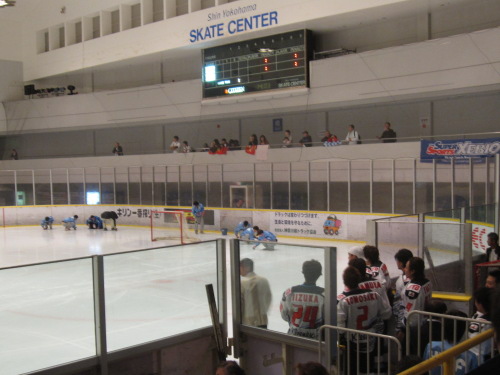 Face-off was supposed to be at 2pm, but there was some kind of Zamboni Error. Here a bunch of the Cranes players come out to see what's going on, as some staff try to fix the ice.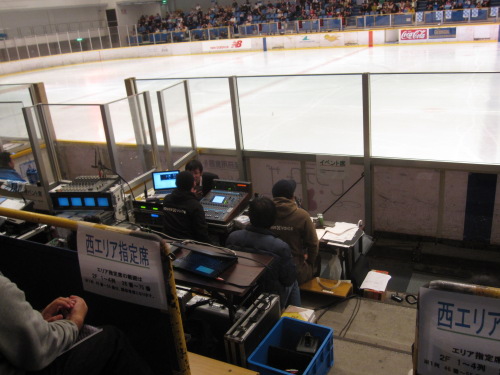 We were sitting right behind the announcers and scorers. I really enjoy being so close to the rink at games in Japan.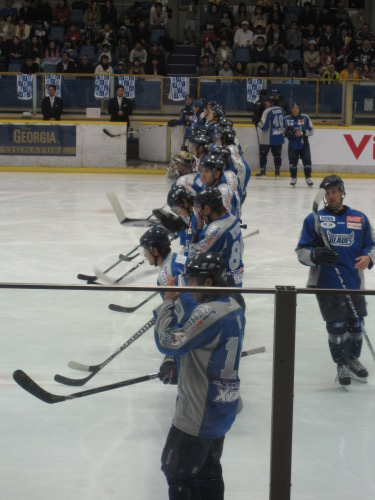 Free Blades line.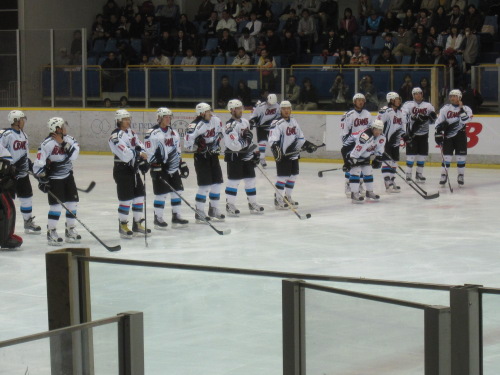 Cranes line gets ready on the other side.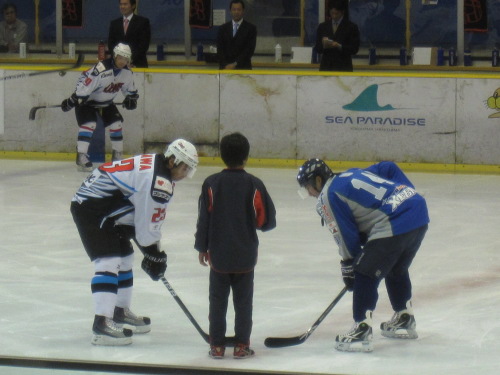 Ceremonial First Puck. This kid was apparently the first person to enter the arena that day.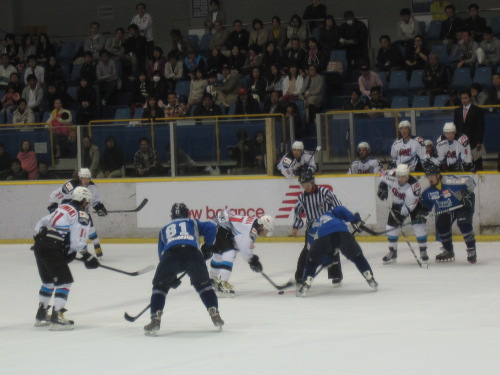 And a real face-off.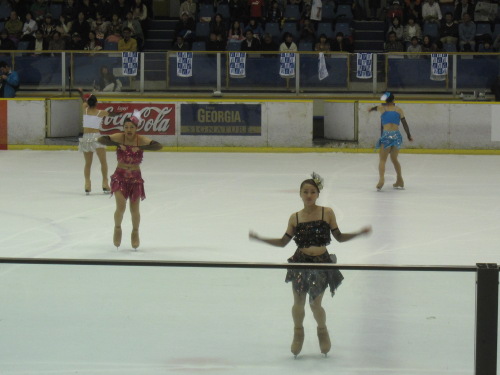 Here's the entertainment on the ice between the first two periods, some figure-skater dancer types.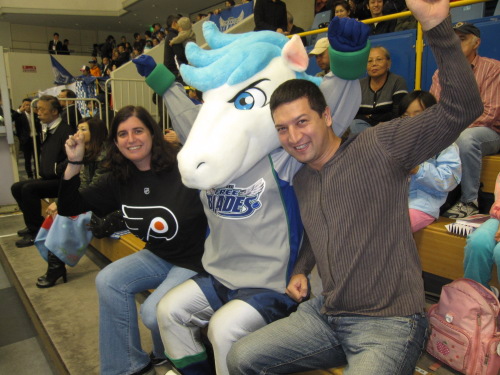 Also during that first break, the Free Blades mascot was sitting a few rows ahead of us (it was technically a Free Blades home game even though we were in Yokohama instead of Tohoku somewhere), and a few people went up to try to get photos of the mascot with their kids, so I was like, "Simon, we gotta go up there too!"
So we did.
The dude behind Simon's arm is a guy from Washington DC, and he gave me a lot of crap for wearing a Flyers shirt, like "What the hell do I have to do to escape you bastards, I come halfway across the planet and I still find Flyers fans?" Rather than admit that I'm just Philadelphia-born, haven't lived there since 1994, and can probably only name like 3 current Flyers players off the top of my head, I just let Simon do the talking since he follows hockey and actually knows about the Capitals and all. But this DC dude actually yelled "Flyers suck!" at me when he saw me later. Sheesh. It's pretty standard to just wear any hockey gear you have at all to games in Japan, and I'm hoping to get up to Nikko later this year since they actually wear orange and black as their colors, so the Flyers shirt will fit in better there.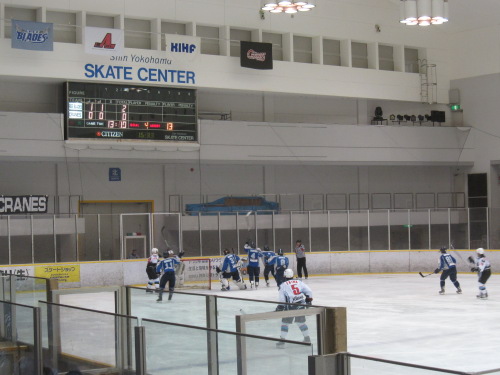 Blades are up 2-0 in the second period. Amazing.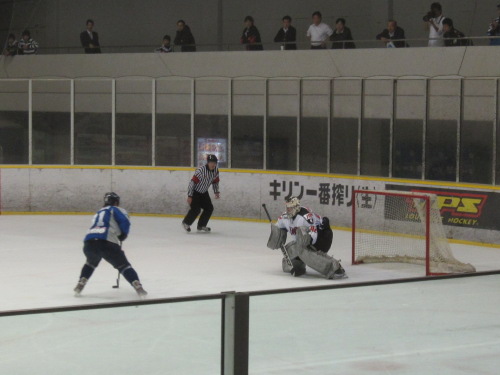 The slowest penalty shot known to man.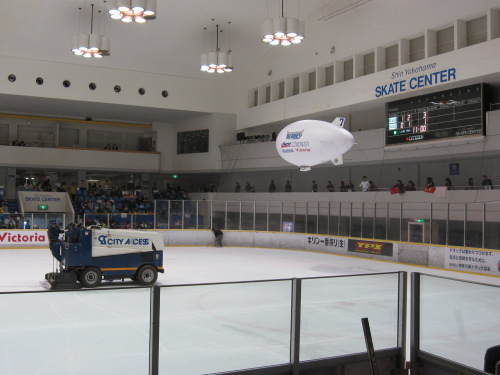 A zamboni AND a remote-controlled blimp advertising the Xebio sports store chain! Whee!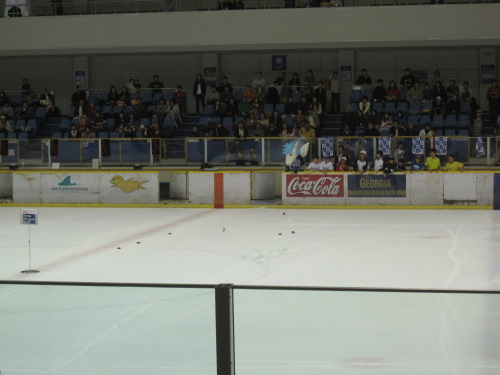 Puck-throwing, which was the entertainment between the 2nd and 3rd periods -- a bunch of kids tried to hit a sign in the center of the ice. I dunno. We went off to get Simon outfitted in a Free Blades t-shirt at that point anyway.
Simon came back a bit later with this -- nori-covered shoyu dango sticks labelled as the "Tanaka Three Brothers" dango. And it had been signed by two of the three Tanaka brothers (Go and Sho; Ryo is the youngest so we're pretty sure he didn't come with the team this time). This is funny because of a song from a while back called "
Dango Sankyodai
" -- or "the three dumpling brothers", that was a hit in Japan about 10 years ago. I had no idea at the time that several years later I would meet the singer Kentaro Hayami at Kamagaya, when he started doing all of the Fighters songs for them. Go figure.
Anyway, the dango themselves were just average-tasting, but since Go Tanaka is the team captain, it was kinda cool that Simon got the signed label thingy. There are a LOT of brother pairs in Japanese hockey... it makes sense, really, that the most elite players would probably be kids who grew up skating together from a very young age. Like how Takuma Kawai says that at the age of 3 he just started following older brother Ryuichi to hockey practice, and grew up with the sport.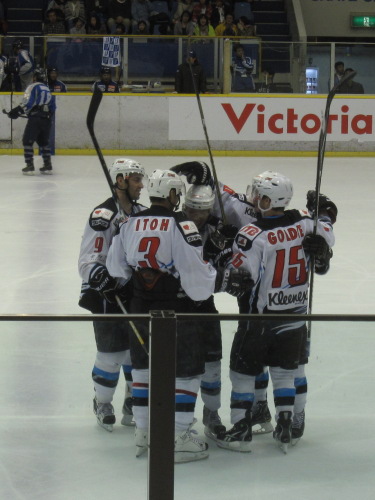 Cranes celebrate scoring a goal.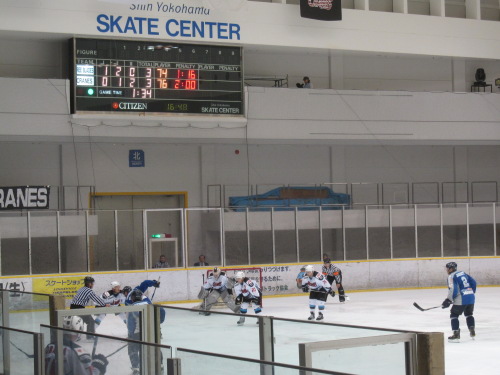 Tie game, two guys in the penalty boxes, and less than 2 minutes left on the clock. Oh, the suspense!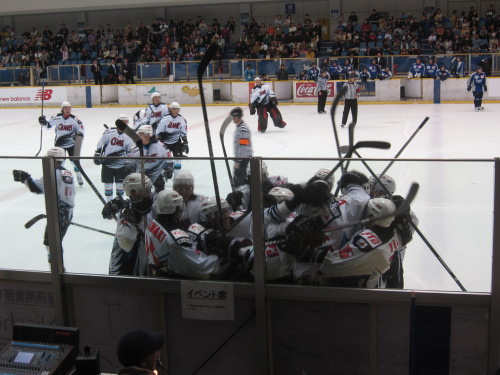 Cranes pileup right in front of us after captain Ohsawa shot the winning goal a few minutes into overtime.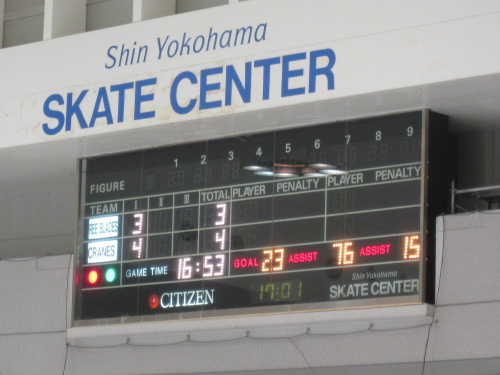 Final score.
It really was a very close game, and Simon kept saying he was impressed by how the Blades looked out there. We figure they just ran out of steam, and the veteran Cranes team kept their momentum going and didn't give up when they were down a few points, but found a few openings and took advantage of them.
I'm hoping to do a few hockey roadtrips before I leave Japan this winter. Koriyama is a definite, and hopefully Nikko. We'll see. Nikko signed
Yutaka Fukufuji
this year, it would be kind of neat to see him play here.
I've taken some much better hockey photos in the past (like
this set from the Seibu-Cranes championship Game 7
from the 2008-2009 season) with my real camera but haven't really put a lot of them online, usually due to timing. I should, at some point.