Game 1: Waseda vs. Hosei
After losing the home opener, and after getting lit up in his hometown of Ehime at the Matsuyama All-Star Game, Yuya Fukui manages to throw a complete-game win against Hosei, striking out 11.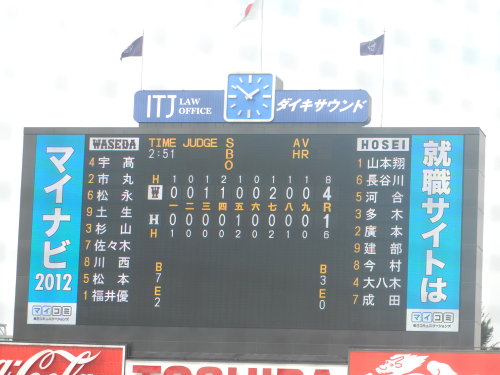 I thought it was rather appropriate as both starters were wearing #11 that he got 11 strikeouts. It would only have been better had the game been on the 11th instead of the 12th, but what can you do.
Waseda starter Yuya Fukui.
Hosei starter Tomoya Mikami.
This game started off kind of slow; it was hot and both starters seemed to be taking their time out there. Both teams scattered a few runners in the first two innings, and in the 3rd inning, Waseda pushed ahead a run. Yuya Watanabe walked to lead off, and Daisuke Ichimaru bunted, with the force throw to second failing and both runners being safe. Hiroki Matsunaga grounded into a double play, moving Watanabe to 3rd, and Shohei Habu's single to center brought him in.
1-0
.
They added another run in the 4th inning, Toshiki Yamada leading off with a single to short. Keisuke Kawanishi bunted him up, and two batters later Yuya Watanabe came through with a single to left to bring Yamada home,
2-0
.
Tomoya Mikami came out of the game and was replaced by Ryoto Yoshikoshi, a 3rd-year lefty pitcher making his second-ever appearance at Jingu. Yoshikoshi got out of the 4th inning but then hit Matsunaga to start off the next inning, and was the victim of another failed attempt to get the leader on a bunt, so he came out in the next inning and freshman Kazuki Funamoto came in to get a 4-3-2 double play out of Yamada to end the inning.
Hosei finally added a run of their own in the bottom of the 5th when Kento Tatebe singled to lead off, moved up on a bunt and moved up on a wild pitch to captain Ohyagi. Kyosuke Narita came in to pinch-hit in the 9-spot and singled to right to bring Tatebe home and make it a closer game,
2-1
.
Kazuki Mishima took the mound for Hosei after that. Mishima was the Big 6 ERA title winner last semester; he's a little guy (5'9") who throws a big fastball (95mph or so). His control is only so-so though, and so he ended up walking Ichimaru, and then Shohei Habu hit a 2-run homer to left to make it
4-1
. Bizarrely, that means that Mishima gave up more earned runs in this game (2) than he did all last semester (1).
Fumiya Kitayama and Shoya Yamamoto pitched the last two innings for Hosei, and Yuya Fukui finished out his complete game on 152 pitches, and that brought the series to an equal 1 game each
Waseda won 4-1
.
The ouendan implored everybody to please take off work or skip classes on Monday and come to Jingu and cheer for the third game of the series. I, naturally, did not take off work, but I did follow the game between classes and whatnot. Kagami and Saitoh had a rematch. Once more, Saitoh only went 5 innings, but this time Kagami was knocked out after 4. Tatsuya Ohishi also gave up his first earned runs of the year. While Waseda took a lead early and Hosei slowly clawed their way in, they never QUITE caught up, and so Waseda
won the third game 6-5
and took the Series Point. Bleh.
Anyway, here are a bunch of photos from Sunday's Hosei-Waseda game:
Some more Tomoya Mikami. Dear god he's tall.
Ayuki "Keijiro's little brother" Matsumoto trying to bunt.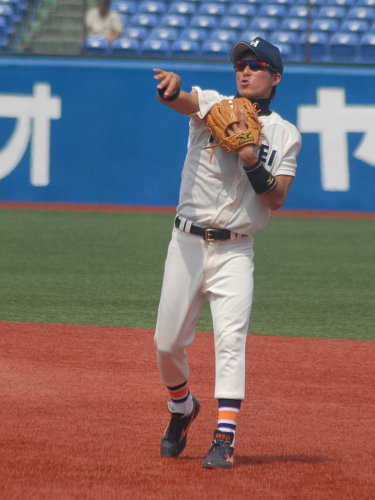 Hosei second baseman Masashi Nanba.
Hosei catcher Shohei Doi.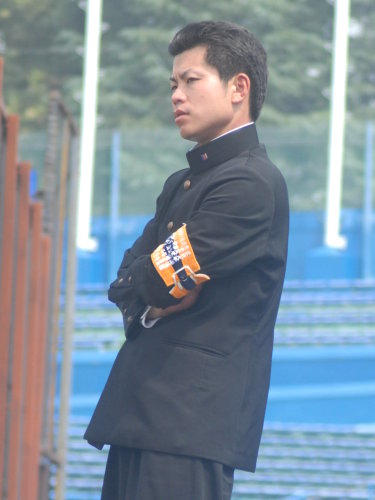 One of the Hosei ouendan leaders, Takahashi. I met him in Matsuyama.
Ryoto Yoshikoshi.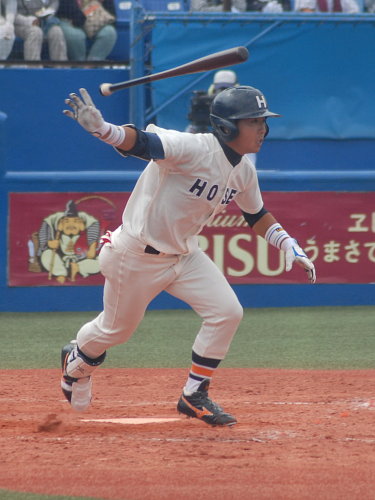 Kyosuke Narita bats in the only Hosei run.
And the reaction back in the dugout.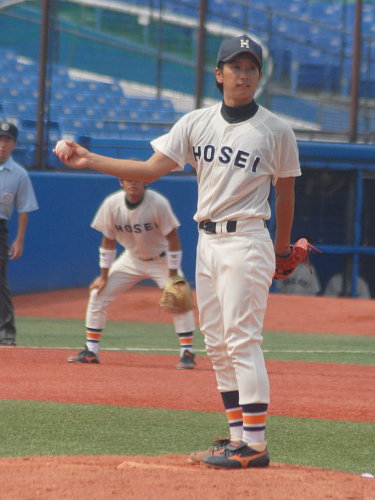 Kazuki Mishima.
High-fives at the Waseda side after Habu's homerun.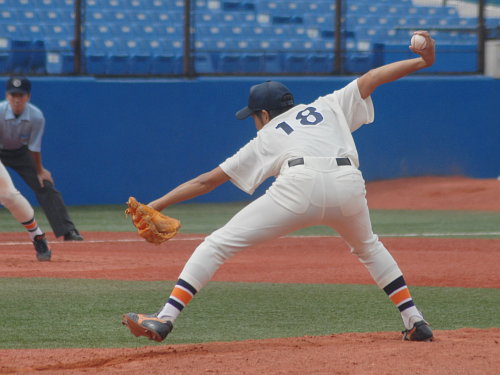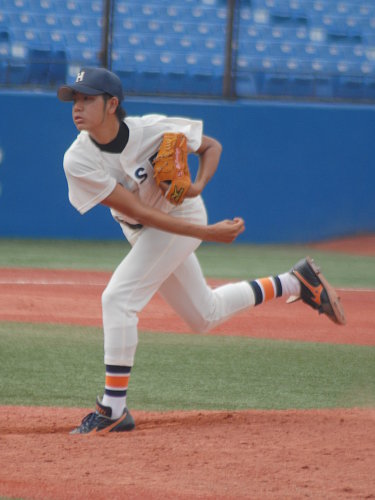 Sidearmer Fumiya Kitayama.
4th-year lefty Shoya Yamamoto.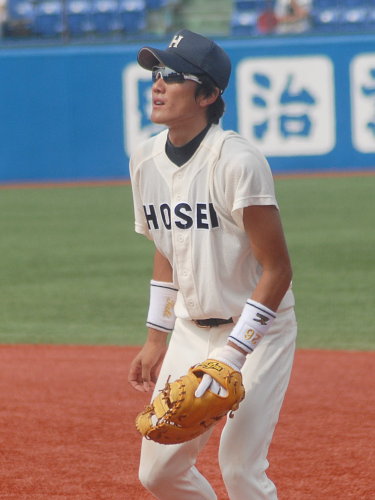 Hiroshi Taki playing first base for a change (he usually plays shortstop).
Game 2: Keio vs. Todai
Keio beat Todai 4-0 in the second game with Fukutani pitching a complete-game shutout. However, this game was closer than the normal Todai bloodlettings are, mostly due to reasonably strong pitching from Todai freshmen Shota Suzuki and Shunsuke Kimura.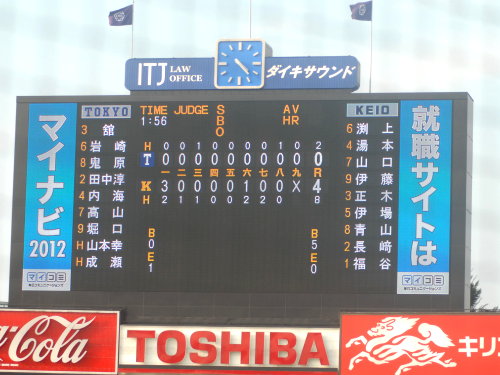 It was really hot out this weekend and I'd picked up a pretty nasty sunburn during Saturday's games, so I was hiding in the concourse between the two games on Sunday, putting on more sunscreen and deodorant, buying the Big 6 baseball card set, getting another Coke, and basically avoiding the sun for the 20 minutes or so. As a result I had no clue who would be starting the game until I came out and saw the lineup.
Yes, somehow I managed to be sitting on the 1st-base side for 4 righty starters. Go figure. Keio's starter was the ever-solid sophomore Koji Fukutani, and Tokyo's starter was a freshman making his first ever appearance at Jingu named
Shota Suzuki
. Suzuki is majoring in Spanish, bizarrely, and says that his dream is to go back to his high school, Jishukan, and be the baseball club manager and take them to Koshien. (For the record, Jishukan hasn't gone to Koshien since 1953, and that was Senbatsu anyway, and being in Aichi they would have to go through a ton of powerhouses to get there.)
Keio starter Koji Fukutani.
Todai starter Shota Suzuki.
I am, of course, partial to Todai starters named Suzuki, after my former favorite player on the team, a tall lefty guy named Yuichi Suzuki who was a really good pitcher until he blew his arm out pretty much throwing EVERY day.
This Suzuki did not start off particularly well; he walked the Keio leadoff man Hitoshi Fuchigami, and then captain Tatsushi Yumoto singled to right. A fielder's choice by Hayata Itoh two batters later put runners at the corners with two outs; Itoh stole scond and Takao walked to load the bases for Takayuki Matsuo, who hit a bases-clearing triple to right to make it
3-0
. To be fair, that "triple" would have been a single or maybe even an out with a competent right fielder, and Aoyama hit a pop fly out to end the inning.
Bizarrely, that was all Keio scored for quite a while, as Suzuki settled down. They had two runners on base in both of the 2nd and 3rd innings but didn't bring them in, and then the bottoms of the 4th and 5th innings were both 1-2-3, with Shuhei Iwasaki making some fine plays at shortstop.
In the 6th inning, Keio brought in another run on an RBI double by Masahiro Nagasaki to make it
4-0
. Nagasaki was thrown out at home two batters later on a somewhat ridiculous play where first baseman Yohei Tachi booted a grounder and it went off him into right field. Understandably, Nagasaki took off from second base and was running on the play, and you can't blame anyone for running home on the Todai arms, but for once Hiromasa Horiguchi managed to actually fire the ball home in time to get Nagasaki at the plate and end the inning.
What was funny about this is that one inning later, Keio found themselves victims yet again of an unexpectedly good play by a Todai outfielder; with runners at first and second and one out, Yasuhiro Takao hit a pop fly to left, and Hisanari Takayama not only caught the ball but managed to throw it to second in time to double off the runner coming back, who had clearly not even expected a Todai fielder to be able to catch a fly ball in the first place.
So sidearming Shunsuke Kimura not only prevented two inherited runners from scoring in the 7th, but also pitched a scoreless 8th.
Of course, this is all somewhat irrelevant as you might notice I haven't mentioned the Todai offense at all. The reason for this is that there was none; they had exactly two baserunners the entire game, both on singles, and Horiguchi even got himself picked off first, so Keio's pitcher Fukutani faced only 28 batters total, one over the minimum, throwing his complete game on 103 pitches. The game lasted just under two hours.
Still, I have to wonder if maybe this semester we'll actually see Todai win a game? It's been two years, surely they must be due for one again sometime.
More photos from Game 2:
Some more of freshman Shota Suzuki.
Koji Fukutani, a little closer up.
Fukutani at bat, for a change. Although he didn't get a hit in this game, he actually looks like a pretty reasonable batter at the plate -- and he even hit a home run last semester off Rikkio's Okabe.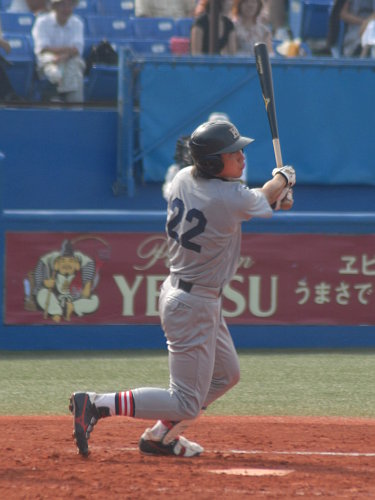 Takayuki Matsuo batting in the first few Keio runs.
Keio ouendan 2nd-in-command Kitada. I met him in Matsuyama too. But he didn't have this weirdo hairstyle then.
Masahiro Nagasaki reacting to striking out. (He wasn't happy about it!)
Nagasaki getting thrown out at the plate in the 6th inning.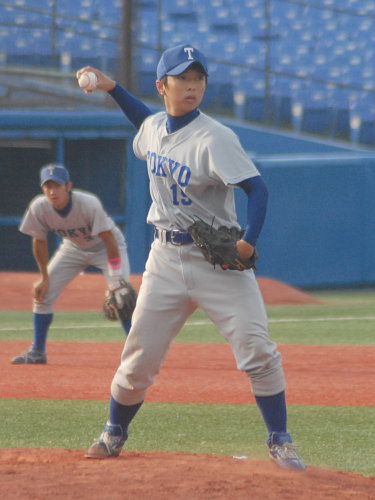 Todai freshman pitcher Shunsuke Kimura.
Day 2: The after-game antics...
I went outside Jingu with two of my friends to wait for the players to come out. My friend Kobayashi wanted to get her Big 6 box set baseball cards signed, though I decided I would rather get photos of mine signed since they're bigger (and quite frankly, the photography isn't so great in this semester's card set, IMO). I was really shy about bugging the Keio guys at first so eventually Kobayashi was like "Let's go over there. I'm going to kick you into asking Fuchi for his signature." So we did. In the end I managed to get signatures from Hitoshi Fuchigami, Hayata Itoh, Kazuma Takeuchi, Daisuke Takeuchi, Masahiro Nagasaki, and Koji Fukutani, and got photos with a few players too. I'm actually astounded that I managed to get a signature and photo with Itoh. I love Itoh, he's an amazing ballplayer, easily the best pure hitter in the Big 6 league right now and also a solid outfielder as well with great range and a great arm. I'm kind of afraid of him because I don't think he seems like a particularly nice guy, but I think he's just really, really good at baseball and love watching him play.
I did not, however, get photos with Nagasaki or Daisuke, which is a little sad, maybe I will try to get the courage to bug them some other time. Daisuke is one of my favorite players these days even if I think he thinks I'm stalking him. I gave Nagasaki a photo of him that I took at Botchan Stadium, but couldn't tell if he liked it or not.
Oh, a funny thing, too. When I went to ask Koji Fukutani for his autograph, it went sort of like this, him first being surprised that I even knew who the hell he was, I think:
Me: Umm, Fukutani-kun...
Him: Err, yes?
Me: Would you sign something for me, please? (I'm not sure how to properly translate the polite way of asking for an autograph, which is really more like "Would it be okay for me to receive your signing this?")
Him: Whaaa? Me? Really?
Me: Yes, you.
Him: Are you sure you want MY signature?
Me: Please! You pitched a good game today.
Him: Thanks. [signs the photo]
You have to understand something about Fukutani. He is a freaking GOOD pitcher. The kid is like 6' tall, can hit 94-95mph on the Jingu gun, is a sophomore... he pitched a great game in the All-Japan tournament this summer and in Soukeisen last semester as well. I don't talk about him nearly enough, but that is not because he doesn't rock, trust me.
Well, maybe he will get an ego by the time he's a senior :) Daisuke's also a sophomore and already has a bit of an ego, but he's allowed.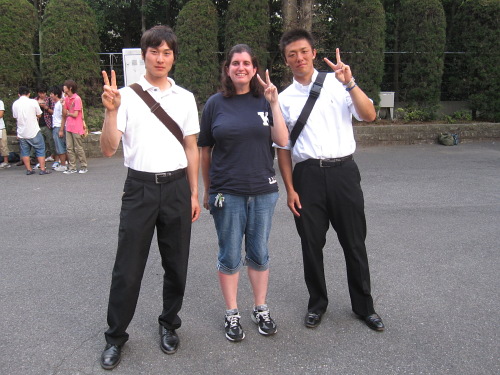 With two of the tallest guys on the Keio team, Hitoshi Fuchigami and Kazumasa Matsumoto.
Keio's Hayata Itoh, aka Mister Clutchy McClutchitude. His arms are HUGE.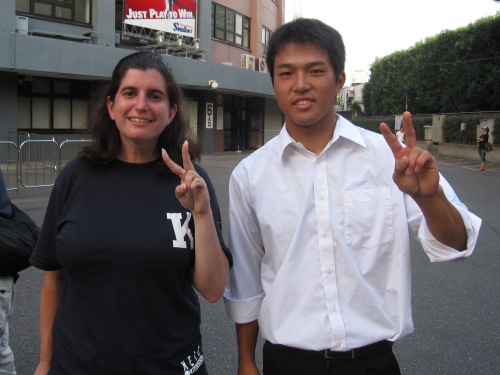 Tokyo University 3rd-year infielder Shuhei Iwasaki, who was hanging out with the Keio guys. He's probably one of the better players on their team, I'm betting he'll be the team captain next year; I remember seeing him play in the rookie tournament as a freshman.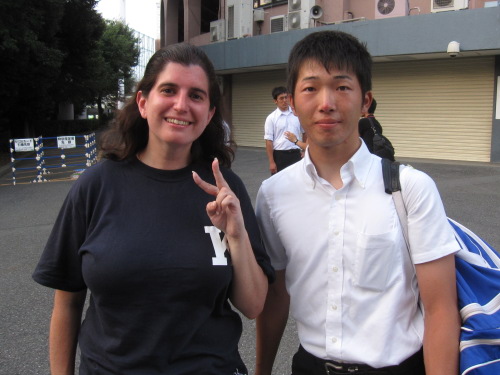 This guy is Yoshihiro Maeda. He's the Tokyo University team captain and theoretical ace pitcher, by which I mean he's kind of okay at pitching but he wouldn't be starting games if he went to any OTHER university in Big 6. I think we're about the same height.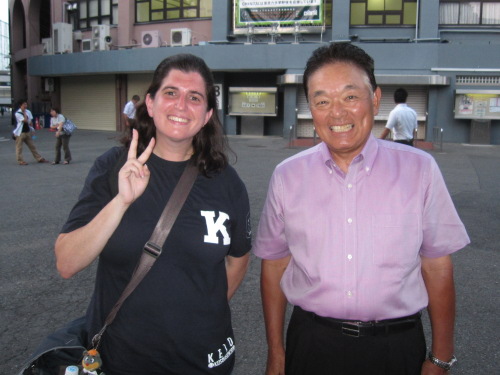 Now THIS older guy is Shozo Etoh. He's the Keio manager. And unlike the other current Big 6 managers, he actually played in the NPB for several years, for both the Yomiuri Giants and the Chunichi Dragons, before being a coach various places. He just came to Keio to manage this year and they won the spring championship, so I wasn't sure what to expect from him -- like would he be a "I am this great former big leaguer and championship manager" type, or what? But when I asked him for a photo together he basically said something to the effect of "Certainly, if you're willing to be seen in a photo with a crazy old man like me!" So the consensus was that he also seems like a nice guy.
(Honestly, I should probably find out sometime why Hosei's manager Koji Kanemitsu turned down Kintetsu when they drafted him out of college in the 1st round, besides just "they're not the Carp"...)
And one last story from Jingu...
On the train in the morning on my way there, I saw this guy on the same train as me and I could have SWORN he was Kitada, the Keio ouendan leader that I met in Matsuyama. But he had this CRAZY-ass hairstyle, like shaved on the side and wavy/permed on top, which he didn't have there. So I was like "hmm... maybe that's not him..."
Well, after Etoh-kantoku left, the Keio ouendan dude walked by us, and one of my friends says "otsukaresama!" to him, since she was in the Keio ouenseki. And he stops and chats with us a bit. My friends were joking about how funny his hair looked, like "WTF ouendan style is this, you can't dump water on your head and keep THAT style..." and he started going on about something like how he did his hair different ways for different ouendan occasions, like spiked hair during the All-Japan tournament.
And I'm like "Okay, dude... you WERE in Matsuyama, right? And we got a photo together in front of the castle?"
"Yeah, that's me."
"Were you on the same train as me this morning?"
"I was. I noticed you too but didn't say anything. Then I saw you in the stands during the game today."
"So it WAS you! But your hair was different and I was tired so I thought 'nah... that can't be the same guy...'"
"It's me. Will you come cheer with us in two weeks?"
"Uhh... sure!"
Well, at least it's nice to be remembered.
Anyway, it was a fun weekend at Jingu. I'll probably only be going to one day next weekend, but this semester is looking to be interesing, to be sure.