Oh man, where to start with this one.
I think there are two major things I took out of this game:
1) JR East's ouendan is freaking awesome!
2) Toshitaiko tie-breaking rules are freaking retarded!
If you don't already know, JR Higashinihon, or JR East, is the Japan Railways arm that runs all the passenger trains in the Tokyo area and up through Tohoku. (Wikipedia actually has a
reasonable explanation
of the JR evolution.)
I think that in order to properly talk about this game I have to start at the end and work back to the start.
So I went to the Tokyo Dome on Thursday night for a game in the Intercity Baseball Tournament, and saw
Toshiba beat JR East 8-6 in 11 innings
.
If you don't really know Japanese, you'd look at that box score like "What's the big deal? Toshiba scored 2 runs in the top of the 11th and won. So what."
Well, there is a line there that says 連盟規定によりタイブレーク, or "League regulation tie break".
I don't know whose brilliant idea this is, and it wasn't the first game in the series to have it happen -- the 11-inning 3-2 walkoff win by Mitsubishi Yokohama that moved back Tuesday night's game was also on a "tie break".
But basically, after 10 innings, the game effectively enters sudden death mode. Each team starts their offense with the bases loaded and 1 out.
So in this game, Toshiba led off the 11th with Katoh, Igawa, and Ichikawa on base already; Ryoichi Adachi hit a double to right and that scored 2 runs right there. JR switched pitchers from Katayama to Takumi Kon, who struck out the next batter, walked another and then got a groundout to end the inning.
JR came up in their half of the 11th with the same thing, Keiji Fujita leading off with Tsukuura, Matsumoto, and Genki Satoh on base and one out. Unlike Adachi, Fujita leads off by hitting a grounder up the middle, which shortstop Adachi promptly grabs, steps on second base, and throws to first to complete the double play. Game over.
It just felt like a really anticlimactic end to what really was a very exciting game.
Basically, I sat on the JR East side for this one, for a few reasons. First, I had already seen Toshiba's ouendan and wanted to get a good look at JR's, which I heard was top notch. Second, JR East has several players that I saw play in college or followed through college, and I was especially hoping to see Shuhei Ishikawa and Takuya Tsukuura play again.
This game was also moved back from 6pm to 6:45pm after the earlier games in the day went long, so by getting there around 5:30pm, I was actually downright early; some nice JR employees gave me a big green JR uchiwa fan and a player's list on my way in, despite that I wasn't in employee/team seating, and I actually got to watch the ouendan setting up from the beginning! Like, several groups of people in green happi coats got together to do vocal warmups and then set up their piles of signboards, while others were raising the JR banner, and others were setting up stage and the brass band and so on, and more interesting props as well. Infact, I wandered downstairs to get something to eat, and saw this in the basement concourse behind the JR area: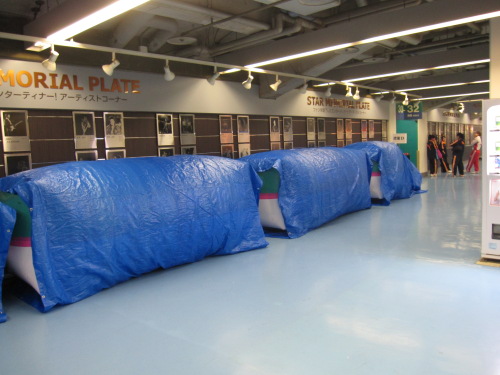 This is the JR East huge inflatable train that comes out a few times during their performances. It is QUITE a sight to behold when it does: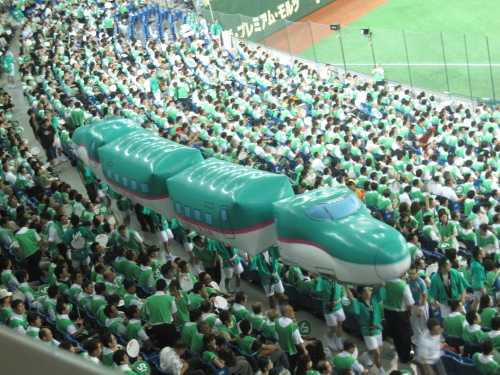 That is not just a train sitting there on a whole bunch of people's shoulders, either, that is a fully mobile train unit that goes running through the stands. I took two movies of it, one while their brass band is performing YMCA and "Can't Take My Eyes Off You":
And the other is later in the game and an actual train-themed song, "Galaxy Express 999":
Truly a sight to behold.
I also watched the ouendan get all of their groups together, and they had some greetings, during which they explained a little about their group, introduced the leaders of the various factions (the dance group, the brass band, the men's ouendan, etc) thanked everyone for participating so far, and begged us all to please yell and scream as loud as possible to support the team with our cheering.
Then they sang the company song with everyone present, and even got out their flags and set off the steam engines on the stage (these things were cool, every time they scored a run they set them off):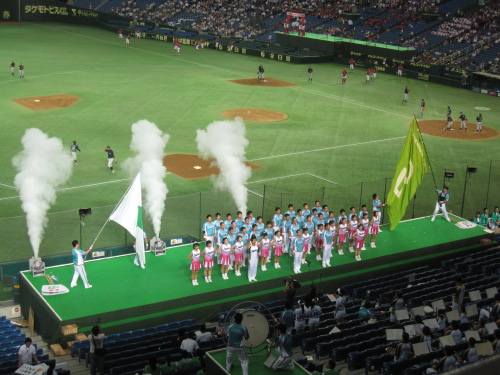 And then a representative from the Toshitaiko organization came out to present them with an award! Apparently they had gotten some sort of honors from the "ouendan competition", for filling their side of the stadium with people, getting them all to cheer, and especially for the JR Logo wave in the outfield (more on that in a second):
By the time the game got underway around 6:45pm, the entire 3rd base side was filled with JR employees. Looking down from the balcony, it was just a huge sea of green: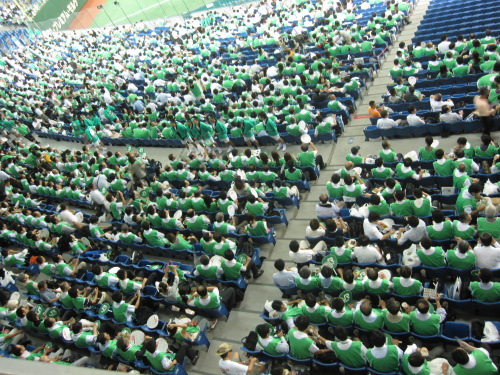 There were several places where a bunch of ouendan gathered in front with signs to coordinate the crowd yelling to the music; there were groups on either side of the stage, and then another group out by the outfield as well. The signs largely said things like "Ganbare Takashi" (for starter Takashi Saitoh) or "Kattobase [player's name]" for the batters, or a lot of "GO! GO! JR!"
These, for example, say "Katsuzo Tokyo", which means "Win, Tokyo!"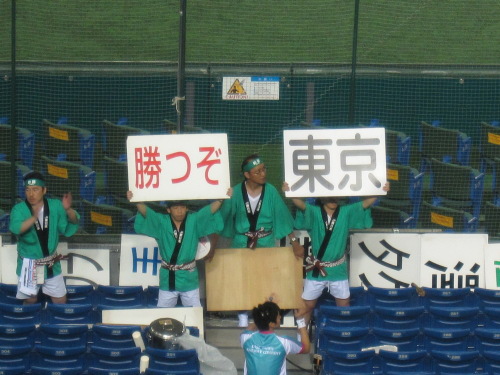 And then, something else that rocked, but there was a big group of JR people who had filled up two full sections in the outfield way before the game started, and I assumed they had something to do with the ouendan but I wasn't sure what.
It became clear in the 3rd or 4th inning when they all whipped out ponchos to wear and suddenly the left field cheering area had a JR logo showing:
Of course, the Chiben Wakayama
Big Red C
has nothing on this JR Logo.
Why? Because this logo could also DO THE WAVE when the team scored a run!
And I present two more videos of the JR East ouendan just for the heck of it:
This video, starting about 20 seconds in, is the song "Train Train" by The Blue Hearts. I just thought it was so appropriate that the Japan Railways ouendan was playing "Train Train". Though the reason I started filming at the moment I did was because it was Shuhei Ishikawa's at-bat; while at Hosei we cheered for him as "Ishikawa", they cheer for him as "Shuhei" with JR, so that's what they're yelling as one of the cheers.
This is during the first inning; a pretty generic cheer, I was just filming for the heck of it, and then Takuya Tsukuura launched a home run into the left-field bleachers! (That moment is about 2:10 in this video.) So everybody went totally crazy afterwards.
Wheee.
For the record, Toshiba's ouendan did pretty much the exact same routine they did on Tuesday night, so it wasn't nearly as impressive the second time. It's true that JR's might not be as impressive a second time either, but they had catchier tunes and that train riding through the stands is pretty amazing, I'd totally like to see that up close sometime.
So ouendan aside, I guess there was some baseball going on too. Infact, it was just exciting all around, gamewise.
Righty Hayato Arakaki started for Toshiba, and aforementioned lefty Takashi Saitoh started for JR. And things got off to a very good start for our train heroes when Tsukuura slammed that two-run homer to left to make it
2-0
in the first. Tsukuura also took a diving leap into the field seats in the top of the 2nd to catch a foul ball for the 3rd out.
JR added another run to their total in the bottom of the 4th when Keiji Fujita doubled to right, and Tatsunori Saitoh hit this fly ball that went to shallow left... and managed to land right between the left fielder and the shortstop, whose hat had gone flying. Still, neither of them managed to get the ball in until Fujita had crossed the plate and Saitoh found himself on second.
3-0
.
Takahiro Kudoh led off the top of the 5th for Toshiba with a home run to left that landed in almost the exact place as Tsukuura's to make it
3-1
. Jun Yoshida hit an infield single that I'm still not sure wasn't really an error, but whatever. Ryoichi Adachi followed that with a clean single to right, moving Yoshida to second. Masaya Iseki hit a grounder to second, and it almost ended up being a double play, but the throw to first went wide, and so Iseki was safe and Yoshida scored, making it
3-2
, before Shota Fujiwara lined out to short to end the inning.
Toshiba's Ryuta Matsunaga singled with one out in the top of the 6th, and Masato Ohkawara followed it with another single to put Matsunaga on 3rd base, and that's when JR pulled starter Saitoh for Taku Sakaue (or Sakagami if you look at some sites, but he had "Sakaue" on his jersey so I'm sticking to that)... who promptly gave up another one of these "it might have been a DP if we were slightly faster" grounders, and so Matsunaga scored to tie the game at
3-3
.
Hiroshi Satoh took the mound for JR in the top of the 7th, and got a groundout and then got taken yard, as Ryoichi Adachi hit a ball to left that actually looked foul from my perspective, but was apparently a home run, making it
4-3
in favor of Toshiba. Satoh came out of the game and was replaced by lefty Yoshio Karasawa, who gave up a single to Iseki and walked Fujiwara, and also earned himself a trip back to the bench, with lefty Junichi Katayama replacing him. Katayama got a grounder to third out of Keiji Ikebe, but Kazuya Takeuchi bobbled the ball and it got to first base a split-second late, so the bases were loaded.
This is what they call a "dai pinch", in Japanese baseball language.
Katayama struck out Matsunaga to make it 2 outs and bases loaded, but then Ohkawara slammed a ball to left, and everyone was off running, and by the time the dust cleared, he was on second, Ikebe was on third, and the other two guys scored.
6-3
. Ouch.
It didn't look promising for JR, especially since at that point Toshiba starter Arakaki had managed 10 strikeouts in the first 6 innings without a single walk (and was about to notch his 11th), but Tatsunori Saitoh managed to lead off with a single to left, and catcher Shoji Tanaka (he replaced Shuhei Ishikawa behind the plate in the top of the 7th) followed that up with a double to right, moving Saitoh to third.
So, Toshiba took out Arakaki and put in Kazuo Kido.
And Fumiaki Sawa came to the plate as a pinch-hitter...
...and hit a 3-run home run to left field, almost right to the JR logo!
6-6
!
But Kido stayed in anyway, got the next two outs, and then the two teams and two pitchers (Katayama and Kido) stayed in a deadlock for the next several innings. JR got runners at 2nd and 3rd in their half of the 8th but couldn't bring them in. Toshiba had two runners in the top of the 9th (there was a really bizarre play where Ikebe grounded to the mound, and rather than throw to first or third, Katayama just RAN to the runner, Sudoh, who was stuck between 2nd and 3rd... and yet somehow Sudoh got back to the bag without getting tagged, and Ikebe was also safe!) and also couldn't bring them in. Kido struck out the JR side in order in the bottom of the 9th. And so we went into extra innings.
Katayama pitched a 1-2-3 inning in the top of the 10th, and then Genki Satoh led off the bottom of the 10th with a single! Daisuke Ikushima went to bunt him up... and hit a really poor bunt that Toshiba's catcher fielded and fired to second base to get Satoh on the force. Tsukuura hit a big fly ball to right, but it wasn't out of the park, and then, for all the stupid ways for the 10th inning to end, Ikushima got himself caught stealing second for the third out.
And then the *%$#@$!!ing tiebreaker thing happened, and well, you know what happened there.
8-6 Toshiba.
Game hero was, unsurprisingly, Adachi, for his go-ahead homer and then for his go-ahead double later on, AND he executed the double play that ended the game as well. Not a bad night for him, really.
(If you want to see game action photos from this game, actually, take a look at
JR's team site
.)
Also, incase you've never been in the Tokyo Dome balcony seating... this year they have the WEIRDEST thing I've ever seen up there:
I mean, I think the idea is that you're supposed to feel like you can shake hands with Wonder Boy himself, but to me, the hand just looks CREEPY. Seriously.
There were some very, very sad penguins outside the Tokyo Dome...
And I was actually so bummed out about the game that I took the subway most of the way home instead of JR. Of course, there's a Toshiba memory card in my digital camera that took all of the photos and videos for this entry, but that's beside the point.
By the way, at this point, Toshiba has made it to the finals; the final match is Tuesday night, Sept 7th, at 6:30pm at the Tokyo Dome, Toshiba vs. JR Kyushu. I don't think I'm going to go, as the Fighters are in the Seibu Dome for their last Kanto series of the year.