This is a massive post detailing the entirety of Week 2. I was only at one out of the five games, but was doing my best to follow the games all weekend...
Day 1, Game 1: Todai vs. Meiji - The Freshman Continues To Be Fresh
Meiji 5, Todai 2
Unfortunately, I had to work on Saturday morning, so I missed the first game. 3rd-year ace Yusuke Nomura started for Meiji, and freshman apparently-new-ace Shota Suzuki started for Todai. I've talked about Nomura extensively on here; he came within 2 innings of winning Koshien 2007 with Koryo HS, was already a regular starting pitcher as a freshman at Meiji, and in his sophomore year became the anchor of their rotation. Suzuki, I just saw him for the first time last week, but he doesn't entirely suck, and has a lot of guts for a freshman. Also, apparently, they had him wearing #18 this time (not the #11 he wore opening weekend nor the #34 that he's listed with in the player book).
My friends that attended the first game were glowing about Suzuki during the second game, like "Tokyo really tried their best in that game, and it was a 1-0 score for the first 6 innings while Yusuke and Suzuki were pitching against each other!" Of course, Todai's offense is still fairly unlikely to get much off of Nomura when he's on, and he struck out 10 of them over those first 6 innings, only giving up 3 hits. It sounds like Suzuki came out of the game due to the manager worrying about his stamina more than anything else, which may actually be a good sign that they aren't going to kill him before he even turns 20 years old.
Naturally after Suzuki came out, Meiji scored 4 runs (only 2 earned) in the top of the 7th to make it 5-0. But it took 5 Meiji pitchers to get through the last 3 innings, and of them, only Gota Nanba had actually logged significant innings in league games before; Mizuno and Mochizuki were making their league debuts, freshman Sekiya pitched one game in the spring, and Shogo Shibata pitched once at Jingu back in spring 2009. So, Todai managed to get 2 runs off those guys, but still not really come anywhere close to winning.
Day 1, Game 2: Hosei vs. Rikkio - Hosei's Offense Shows Up, and Kagami Changes Up
Hosei 6, Rikkio 2
I got to Jingu just in time for the start of the second game. A friend of mine left me a free ticket with the Hosei cheerleading girls, so after a little bit of confusion finding the person with the ticket, I came in and sat with the Hosei ouendan for the first 7 innings of the game (which is why I have no photos; you're not allowed to take photos in the ouendan area and I didn't bring my big camera anyway). I spent the last 2 innings in the front row with my usual group of friends, and by dumb luck ended up meeting a guy who was the Hosei ouendan leader in 1959.
Anyway, this is, infact, the only photo I took while sitting in the ouendan area, because the cheer girls in front of me weren't looking: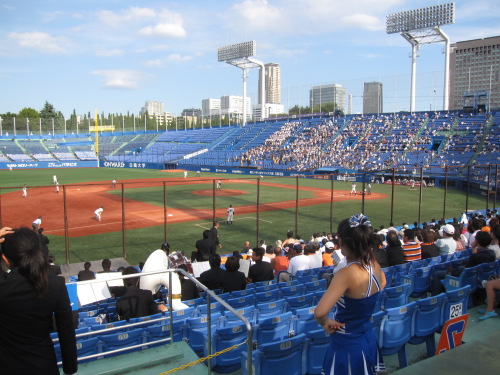 Kenya Okabe started for Rikkio, and Kisho Kagami started for Hosei (he is the reason I spend every Saturday at Jingu).
I was super-worried that the actual problem would be no run support for Kagami, being as Hosei's offense has been HORRIBLE this year, but in the 2nd inning, the Hosei batters Kyosuke Narita, Shohei Doi, Kota Imamura, and captain Seiya Ohyagi hit 4 consecutive singles to bring in a run.
1-0
. (It's like the Kansas City Royals joke from a few years back of "Four hits equals a run!", but worse). With the bases still loaded, Kagami himself hit a sac fly and brought in Doi;
2-0
.
Rikkio's Yuki Maeda hit a solo home run in the bottom of the 3rd to make it
2-1
. I hate to say this, but Kagami's biggest weakness is that he always seems to give up one home run per game.
But in this game it was irrelevant as Hosei added 4 more runs in the top of the 4th. Shohei Doi led off with a single, and stole second two batters later as Seiya Ohyagi struck out. So with two outs, Kagami came to the plate, and singled to center, bringing in Doi!
3-1
. Yusuke Hasegawa was hit by a pitch after that, on his left side, and then Kento Tatebe slammed this ball to centerfield, all the way back to the wall, and by the time the Rikkio outfielders recovered it, Tatebe was standing on 3rd base for a triple and Hasegawa and Kagami had scored.
5-1
.
Rikkio changed pitchers from Okabe to former ace Masahito Nihira after that... and Kanji Kawai followed it up with a single to bring in Tatebe.
6-1
. Taki grounded out after that.
Rikkio's next pitcher was a freshman named Yuho Yabe ("Yabe!" being a male-speech phrase that is generally uttered to mean "Oh crap!"), who made one appearance in the spring, gave up 4 runs to Waseda in less than an inning, and was never heard from again. This time he fared much better, going 3 scoreless innings, striking out 4, and only walking 3. Hayato Saitoh (the pitcher, 斎藤隼, not to be confused with the outfielder, 西藤勇人, who batted 2nd and played right field in this game) finished out the last inning for Rikkio.
In the meantime, Rikkio managed another run in the 6th when Koichiro Matsumoto led off with a single, moved up on a groundout, and scored on a single by Keisuke Okazaki, which is what made it
6-2
-- and that would be the final score: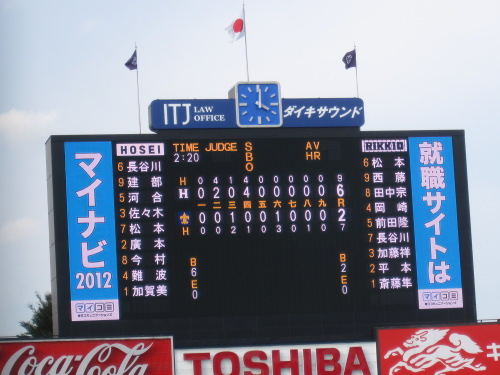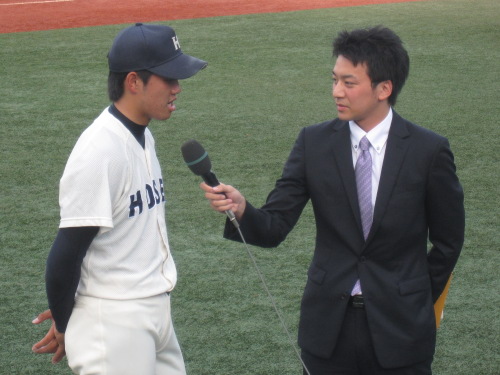 Kisho Kagami was, of course, the game hero, being as he pitched a complete-game win over Rikkio on 132 pitches, striking out 8... AND he also batted in two runs!
Since I could see but couldn't hear his real interview, here I'll translate his interview on the
Nikkan Sports Hosei Blog
:
- Let's look back at today's game.
It's good to win on a Saturday one way or another.
- You pitched a complete game win...
Well, because a starter should always be aiming for a complete game shutout, that was good. With that in mind, you try to pitch each inning without giving up hits.
- What's your impression of Rikkio's lineup?
There are a lot of power batters. So I was trying to be careful because a bunch of those guys can knock one out of the park at any moment... and one guy unfortunately did.
- Which batters were you most cautious of?
Koichiro Matsumoto, Soichiro Tanaka, and Keisuke Okazaki.
- What was your best pitch today?
My changeup.
- You also had a few RBIs as a batter...
It was after I gave up a run, so I was happy that I could get us back one or two runs on my own too.
- How are you looking ahead to your next start?
It could be tomorrow or the next day but I'll be ready whenever!
Now see, there was a Yakult-Chunichi game at Jingu in the evening, which I wasn't attending (quite frankly, after getting up at 6:30am for work, and then doing that plus 7 innings of yelling and clapping with the Hosei ouendan, I was completely zonked). But it meant that Jingu was really crowded outside after the game with people arriving for the pro game, as well as the college game fans filtering out as well.
Still, my friends and I waited for the players to come out, and they still did schmooze with people a bit.
I had some new photos from opening weekend that I wanted to get signed (most of the ones from
this post
). I got new autographs from Taki and Mishima (Taki with his new uniform number, and Mishima actually changed his signature!) since I know them well enough to bother them. I also tagged Kyosuke Narita and Ryoto Yoshikoshi, who were both like "...you want ME to sign something...? Really?" I was asked if I had photos of Kitayama the sidearmer and Shoya Yamamoto the senior lefty, but I hadn't printed those. Whoops. (They actually wanted to see; apparently my camera has a reputation among Hosei pitchers now.)
I also chatted up Kota Imamura and Naoki Harada for information on some current/former teammates, because we've been wondering what happened to former student coach Naoki Satoh (sounds like he's busy trying to graduate and start a job next year) and to former outfielder Shingo Kamegai, now with Toyota, who apparently broke his arm while in practice during the Toshitaiko. Whoops.)
And... having not actually heard any of Kagami's interviews, and not realizing he'd actually been saying his changeup was working for him recently and all, I went up to Kagami with
this photo
in hand, and said, "Because your changeup has been so awesome, can I get you to sign a photo of you throwing a changeup?" He laughed and said thanks, said it was a nice photo, and signed it.
Unfortunately after that I tried to actually ask him about some other stuff and he suddenly pretty much just excused himself and ran off. I don't really know if it was that he didn't want to talk to me, or what. I was a little freaked out at the time, wondering if I annoyed him, but I've been trying to remind myself that first, it was CROWDED out there, and second, he is very much in demand these days being as he's a likely high draft pick next month, and probably doesn't have time to just chat. One of my friends said to me, "I saw you get him to sign something and you must have said something really nice because he had a huge smile on his face... I don't think he's angry at you. I bet he's just busy."
If only I hadn't been terrified to talk to college ball players two years ago when I adored him and he was just some lanky sophomore kid who was striking out Waseda batters left and right. These days I have a lot more confidence in my ability to not sound like a complete moron in Japanese, at least. I'm not sure people realize how much nerve it takes me to go up to these baseball players and talk to them.
Day 2, Game 1: Rikkio vs. Hosei - Sophomore Deathmatch Ends in a Tie
Rikkio 1, Hosei 1
I wasn't at Day 2 at all, because I was at Olympic Stadium in Nagano watching the
Shinano Grandserows beat the Niigata Albirex
instead.
Sophomore righty Kazuki Mishima did get the start for Hosei after all (he'd mentioned it was a possibility on Saturday, that it would be either him or Mikami). Rikkio's starting pitcher was sophomore lefty Masato Komuro.
And it ended up being a pitcher's duel, basically. Mishima pitched 8 innings, striking out 8 and only giving up one run, a solo home run to Ryuichi Maeda, and giving up 5 hits total. But Komuro did even better, giving up exactly one hit and one walk in 7 innings. And they were both to Shohei Doi.
The scoring went as such: Maeda's homerun made it
1-0
in the 2nd inning. In the 5th inning, Doi led off with that walk. Sasaki grounded into a fielder's choice but both runners were safe as Doi reached second. Matsumoto then bunted up the runners, and captain Seiya Ohyagi hit a sac fly to centerfield that scored Doi,
1-1
. And that is it. Literally.
Actually, Rikkio's Kazuki Utsui pitched the last 2 innings, and he walked the bases loaded in the bottom of the 9th but then struck out Doi and Sasaki to end the game in a tie after 9 innings according to league regulations; the rules of the Tokyo Big 6 League are such that on a game day where Yakult is using Jingu in the evening, the morning game starts at 10:30 and games end in 9 innings regardless of whether they're tied.
(
According to Wikipedia
, the tie rules for normal days without pro games afterwards are such that a game is called a tie in 12 innings if it's the 1st or 2nd game in a series, but at the 3rd game and later, it won't be called a tie until 15 innings. Which explains travesties like
this
.)
So the Hosei-Rikkio series would go on to a 3rd game on Monday.
Day 2, Game 2: Meiji vs. Todai, More of the Same
Meiji 7, Todai 2
One of my friends who is a Meiji fan actually texted me the game events as they progressed, so I was following this one slightly more closely. Tokyo captain Yoshihiro Maeda started for them, and tall lefty vaguely-draft-hopeful Kazuki Nishijima started for Meiji.
Things sailed along at 0-0 until the Tokyo infield fell apart in the bottom of the 3rd inning. Katsuya Kawashima led off for Meiji with a walk, and Uemoto bunted him up to second. Masataka Nakamura grounded to third, but third baseman Yamamoto booted the ball and so both runners were safe. Yajima hit a pop out, and then Sho Nishi came to the plate and launched a 3-run homer that put Meiji ahead
3-0
. Fumiya Araki then got on base via another error, this time by shortstop Iwasaki, but the inning ended when Abe hit a pop fly out to first.
In the meantime, Nishijima sailed through the first 4 innings perfectly, and gave up one hit in the top of the 5th to Iwasaki that was immediately erased on a double play.
However, in the top of the 6th, Shota Utsumi led off for Tokyo with an infield single to short, and one out later, pitcher Yoshihiro Maeda followed that with a single to left. Hiromasa Horiguchi also hit an infield single and that loaded the bases for Takashi Kihara, who grounded out to second base, Utsumi scoring on the play.
3-1
.
Meiji took back a point in the bottom of the 6th; Kenji Kawabe led off with a double to left, Nishijima bunted him up, and then Kawashima hit a double to center to score Kawabe,
4-1
. Maeda came out of the game at this point and Todai's freshman sidearmer Shunsuke Kimura took over and got through the next two innings unscathed.
Gosuke Hiraizumi would not have the same luck, and Meiji hit him up for 3 runs in the bottom of the 8th to make it
7-1
, on an RBI double by Yuma Miyatake and a 2-RBI double by Masataka Nakamura.
It took Meiji 3 pitchers to get through the top of the 9th (Morita, Serizawa, and Oka) and Tokyo managed to get one run off of them, on an RBI double by Atsushi Tanaka. The game ended at
7-2
.
Meiji took the series point for this as expected, and Todai still has no wins to their name, but aside from the slaughter during the very first game on Opening Day, they have actually been putting up a relatively good fight.
Day 3: Hosei vs. Rikkio, Kagami Leads The Way Again
Hosei 2, Rikkio 1
I wasn't at this game either because I was at the
Kamagaya Festival
watching the
Fighters ni-gun beat the Swallows ni-gun
. It was a pretty difficult decision for me, but Kamagaya would most likely be the last Fighters event for me in 2010 (It'd be nice if they made the playoffs, but I don't want to get my hopes up too much). Plus, I sat in the front row at Kamagaya with Ojisan, who happens to be a Hosei alum, so during the Fighters ni-gun game, he kept checking the Fighters ichi-gun game score and telling me, and I kept checking the Hosei-Rikkio game score and telling him.
Hosei's Kisho Kagami and Rikkio's Kenya Okabe were the starting pitchers for this game again, just like Saturday. Hosei got a run off Okabe right away when leadoff man Nakao doubled, Nanba followed it with a single to put runners at the corners, and Tatebe hit a sac fly to left to bring in Nakao,
1-0
. Taki also got a hit, but Narita grounded into a double play to end the inning.
Hayato Saitoh (西藤勇人) hit a solo home run in the bottom of the 3rd to make it
1-1
. It worries me that Kagami gives up one home run pretty much every game.
On the other hand, Kagami actually HIT A HOME RUN HIMSELF to lead off the 7th inning and make it a
2-1
game. I nearly dropped my phone when I read that update! (The home run was off Masato Komuro, for the record.)
So yeah, he not only pitched ANOTHER complete-game win, he also hit the game-winning home run. How cool is that?
His interview on the
Nikkan Sports blog
this time is a little more sparse, but they have a picture of him receiving his home run ball, at least...
- Let's look back on today's game.
It's great that we won the series point!
- How was your condition today?
Relatively good.
- What was your best pitch today?
My fastball.
- Which Rikkio batters were you most cautious of?
Matsumoto, Tanaka, Okazaki.
- In the 8th inning, Hayato Saitoh, who'd hit the earlier home run, came up to bat with runners on and a very good chance to tie up the game. How did you feel when you pitched to him?
I absolutely did not want to give up a run at that time, so I had to really give it my all, I thought.
- Your fastball was clocked at a personal best of 153 km/h, how does that feel?
Honestly, I feel happy.
- How are you looking forward to your next start?
I want to win another series no matter what it takes!
And that's how Hosei managed to get their first Series Point of the season.
I want to point out something that's somewhat frightening, and that would be the
league pitching stats
for this semester so far. We're only two weeks in, but Kagami's already had 4 starts and pitched 3 complete games -- his 31 innings and 3 wins is already more than some guys had all SEASON in the spring. And he's also pretty much putting up the exact same rates he did last semester -- walking 5% of the batters he faces, striking out 20%. I just hope his home run rates go down from here on in. (That is, home runs given up. I wouldn't mind getting to see him hit another one in person someday!)
But last fall, when the draft was looming, Kazuhito Futagami went from being Hosei's Saturday-Monday pitcher to being the Sunday-only pitcher. I kind of hoped/expected they would do that for Kagami this year too, but apparently not. I wonder whose choice it was in both cases...