I took this picture almost by accident today: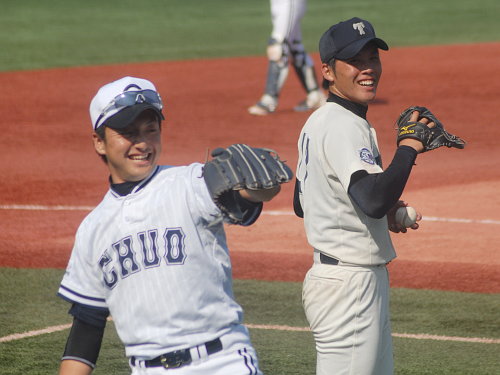 The two guys are Chuo University's righty ace pitcher Hirokazu Sawamura, and Toyo University's lefty ace Takahiro Fujioka. Fujioka had just pitched a complete-game 11-inning 13-strikeout 150-pitch shutout against Kokushikan University, and Sawamura was warming up for the Chuo-Aogaku match... but wasn't actually scheduled to start today's game. However, these two are two of the best-known college guys in the country. Sawamura is widely considered to be the #2 or #3 prospect in this year's draft; he has hit 98 mph on the radar gun at Jingu (notoriously fast, but still) and has generally been Chuo's ace almost his entire time there. Fujioka is going to be the #2 or #3 guy in the draft NEXT year; he just pitched Toyo University to the All-Japan Championship title, defeating Tokaidai's ace Tomoyuki Sugano in the finals (and Sugano is almost definitely going to be the #1 guy next year). I'm not sure what they're laughing about but when I saw Sawamura go over to Fujioka I was like "OMG MUST SHOOT THAT".
Anyway, in a few years when those two are starting against each other in the NPB All-Star game, I will have to dig this photo out again and smile.
As for the day... yeah, I skipped going to Chiba and cheering in the heat. Instead I went to Jingu because the Tohto League opening week was on a weekend for once; usually they play weekdays, and I can never go anymore now that I work normal hours. I was worried it might be crowded and I might not be able to just go to the front row and take photos, but... no, even with it on a weekend, and even with these guys being some of the best college ballplayers in the country, still nobody comes to Tohto games. Although the heat might have hurt them; the covered areas behind home plate were actually pretty full, but I basically could go sit behind the dugout in the very front row and it was pretty much empty around there.
I showed up at 1pm, so most of the way through the Toyo-Kokushi game -- which was tied 0-0 at the time. But then Takafumi Sakai hit a 2-run homer and that pretty much won the game for Toyo. Still, I got to see Fujioka pitch a few innings, which I wasn't expecting since I was so late.
The Chuo-Aogaku game... I was on the Chuo side, but Sawamura wasn't pitching, and so Aoyama Gakuin University basically clobbered them. Infact... Aogaku's starting pitcher was a kid named Yuto Fukushima. If that name sounds familiar to you, then you also watched Koshien in 2008, because he basically pitched Osaka Toin to the championships. Well, or more like, he was their pitcher when they stomped their way to victory. Anyway, he still rocks; 9 innings, 145 pitches, 12 strikeouts, and he had a shutout going into the 9th, when Chuo scored 2 unearned runs, BOTH on errors (one was the second baseman taking a liner to the stomach and falling down and losing the ball, and the other was the right fielder simply dropping the ball).
Aoyama won the game 5-2
. They scored their runs on a 2-RBI single by Shota Koike in the 3rd inning, an RBI ground-rule double by Manabu Kino in the 5th inning, a solo homer by Koh Shimozuru, and then Hiroaki Masano scored on a wild pitch by Chuo's Yohei Kagiya.
Kagiya also gave up the home run to Shimozuru, which is amusing to me because the last time I saw Kagiya pitch, he was a senior at Hokkai HS, pitching at Koshien 2008 against Toho HS. I was almost late for work because I was watching that game; but the most memorable thing was that Yusuke Yamada launched a homer off of Kagiya on the very FIRST PITCH of the game, and Toho eventually
won 15-10
. Yamada is now at Rikkio and another Toho boy from that game, Shogo Wada, is now at Hosei. This is what makes HS and college baseball so interesting; these guys always seem to resurface.
What I love about Aoyama Gakuin is that they got relegated into the 2nd-level league after finishing in last place in the fall of 09, which was the first time they'd been relegated in like THIRTY YEARS, so in the spring of this year they basically said "Screw that" and DEVOURED the rest of the 2nd league. Fukushima himself was 6-1 and the team was 10-1 and then went through Rissho to get themselves back up to 1st League.
As such, though, they literally had absolutely no ouendan, which was kind of pathetic; there were a bunch of guys from the baseball club there, and a small group of Aoyama alumni, and that was IT. No cheer girls, no guys in black gakuran suits yelling, no brass band. Chuo had its ouendan in full force, so it was kind of sad how Aoyama was beating the crap out of Chuo and yet all the cheering was coming from the Chuo side. Even in the 7th inning, the Chuo ouendan played their school song and sang it solemnly, and on the Aoyama side, one of the baseball club guys got up and led everyone to sing their school song, but you could barely hear it from the other side of the stadium. At the end of the game, too, the losing team Chuo had a big "fure fure Chuo" thing going on, and Aoyama had no answer for them, like "What do you want? We have 50 people sitting here. We can't match your 1000 people and brass band, sorry."
One other interesting thing about this day is that I saw the three top college catching prospects in the country in Aoyama's Koike, Chuo's Sameshima, and Toyo's Satoh. Koike and Satoh have been on the national collegiate team for a while and Sameshima is a solid guy and also Chuo captain this year. I look forward to seeing who gets drafted out of Tohto this year; there are always a bunch of intriguing prospects floating around there.