The story behind this photo is kind of funny.
See, it was raining pretty hard during the morning and afternoon on Wednesday, hard enough that my school had to cancel after-school sports because our schoolyard was a mud pit. But the game itself was fine, the seats were wet when we arrived but no rain fell at all during the game.
Anyway, the Swallows were down 3-1 in the bottom of the 4th inning, after starter Shohei Tateyama gave up two runs in the 1st inning on an iffy double and a wild pitch and whatnot. Yakult's Shinichi Takeuchi hit a home run to right field and Yomiuri's Shinnosuke Abe answered it with one of his own.
But we had D'Antona and Takeuchi leading off the 4th, and there was this STELLAR sunset going on -- it was really beautiful, really bright pink over the left-field stands. I said to Kozo, "Hey, wouldn't it be awesome if Jamie or Takeuchi hit a home run RIGHT NOW so the umbrellas would come out and I could get a shot of them in the sunset?"
Unfortunately, Kentaro Nishimura walked them both.
Fortunately, Ryoji Aikawa hit an RBI single to score D'Antona, and rather than getting out my umbrella, I got out my camera and took photos!
Even more fortunate, right after that Shinya Miyamoto ALSO hit an RBI single, scoring Takeuchi and tying the game 3-3. I got out my umbrella for that one. The Giants changed pitchers to Masumi Hoshino, who got the next two outs but then hit Aoki with a pitch and gave up a grounder to Kazuki Fukuchi which turned into an error and scored Aikawa. Swallows up, 4-3!
Shohei Tateyama hit a walking double to lead off the 6th -- yes, the pitcher -- and then he got himself tagged out when Aoki lined out to short. Worse, it turns out he injured himself twisting to get back to the base. Ugh.
Fortunately, Yakult handed off the ball to their bullpen of Masubuchi, Matsuoka, and Lim, who totally got the job done -- 9 Giants batters up, 9 Giants batters down. Woo.
This is not a real final score photo because Jingu sucks and REFUSES TO SHOW THE SCORE AFTER THE GAME SHEESH: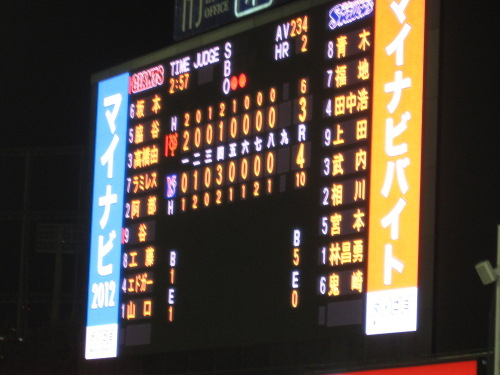 But, two outs in the 9th and then Tani hit a pop fly out to end it.
The Swallows won 4-3.
The game heroes were the bullpen, who looked thrilled to be up there:
Good fun. Anything that involves beating the Giants is great in my book.
I waited around for the entire postgame cheering stuff, hoping they'd put the damn score back on the scoreboard, but they never did. Screw you, Jingu -- why do you ALWAYS insist on taking the score off the instant the game ends, or not even bothering to put it on at all? Really -- I love Jingu, it's my second home, but this is one thing that has majorly pissed me off since they got their new scoreboard.