On Wednesday morning, I had two ideas for what I was going to do after work:
If the Keio vs. Toin Yokohama game in the All-Japan College Tournament was going to start at 5:30pm or later, I would go to Jingu and watch it.
If it wasn't, I would go up to Saitama and watch a movie since Wednesdays are cheap movie days.
Given that I'm writing this post, you can guess which one happened.
The Keio game was scheduled to start at 4:30pm originally, but that depended on the first 3 games of the day actually starting and ending on time. College ball takes less time than pro ball on average, but scheduling 2 hours per game is always a little optimistic.
Well, the 3rd game of the day was Chuo Gakuin vs. Kanazawa Gakuin. It was supposed to start at 2pm, but thanks to the first two games running long, it didn't start until 2:40pm or so. And then it went into extra innings! It was tied 3-3 in the 8th inning when I left work, and was tied 4-4 in the 10th inning when I arrived at Jingu, so I even saw the end of that game. I sat with some other college baseball fans I know from attending the Big 6 games. We thought it was funny that in our group of 5 people, cheering for Keio, we had one Keio HS fan, one Keio University fan, one Meiji fan, one Waseda alum, and one Hosei fan.
Actually, when I first walked into the stadium, half of the Keio team was gathered by one of the TV screens in the concourse, watching the 3rd game to see when it would end. A couple of them looked up at me like "OMG a gaijin," and I looked back like "OMG the Keio team" and even said out loud, "おー、竹内だ," because Daisuke Freaking Takeuchi was standing right there with them. I didn't recognize most of the other guys by face; with Keio I know a few of their faces quite well and most of them not at all.
I also got totally gaijinned while hunting down a tournament program book, but that's neither here nor there.
I caught the last inning of the Chuo-Kanazawa game. I only brought my little camera, since I wasn't even sure I'd be going until the last minute.
Chuo Gakuin pitcher Akiyoshi, who got the win.
Final score. Chuo won on a sayonara squeeze bunt, IIRC.
So, after a bit of warmup time, the Keio-Toin game got underway around 6:30pm. Taiki Tomei started for Toin Yokohama -- he also threw a complete-game 110-pitch 1-0 win against Aichi Gakuin on Tuesday. I noticed that Tomei also threw like 69 innings this year and was personally 7-0 with one save as his team was 10-3, and thought that was pretty nuts until I looked at the stats for the
Kanagawa League
and saw that Kanagawa University's team captain Keigo Kimura threw 86 innings and was personally 4-5 with 1 save for a team that went 6-7-1. That's seriously like 8 or 9 complete games there -- including starting 3 days in a row including 2 complete games during the weekend of April 24-26 against Toin. WTF.
Don't get me wrong, though, I really liked Tomei as a pitcher. I think the highest I saw him throw was 146, but he threw some good stuff, it looked like he was hitting the corners really well, and he managed to strike out 11 Keio batters over the course of the game.
But I was there to cheer for Keio. Keio's starter was Koji Fukutani, who I have become inordinately fond of this year. He is really tall and throws very fast and has a funny head twitch in his delivery (kinda like
this
), although his hat doesn't come off. He tops out at 151-152 and was sort of overpowering the Toin batters more than anything. A lot of Keio batters were fouling off Tomei's pitches and striking out looking and/or checking, but with Fukutani he got a lot of swinging strikeouts. Fukutani, like Tomei, ALSO struck out 11 batters over the course of the evening.
It was like a normal evening game at Jingu, that meaning, since it was past 6pm, drums weren't allowed in the cheering section. So the Keio marching band sounded a LITTLE weird without the drums, but it worked out okay. The reported attendance was only 3000, but they made plenty of noise.
Anyway, it was a classic pitcher's duel for the first 6 innings or so -- it was 0-0 then, and Tomei even had a no-hitter up to that point with two walks.
Toin scored a run in the top of the 7th as Ryo Sasaki walked with two outs, advanced to second on a single by Junichi Shiozaki, and then during Yuki Saitoh's at-bat (no, really not making that up, this kid is named 斎藤優樹, unfortunate), Sasaki stole third. THEN a few pitches later, Shiozaki took off for second. Keio catcher Nagasaki threw to second, and as he did, throwing high, Sasaki took off for home and completed a double steal, stealing home to make it
1-0
.
But Keio scored an equally improbable run in their half of the 7th: Naoki Yamaguchi singled with one out, moved up on a single by Hayata Itoh, and then Takao walked to load the bases. Ren Yamasaki struck out, and then Tomei hit Kazuma Takeuchi in the leg with a pitch. With the bases loaded. So Keio scored a run to make it
1-1
.
Toin got a runner all the way to third in their half of the 9th but couldn't bring him in, the inning ending as Sasaki hit a foul pop fly back to the screen and Masahiro Nagasaki made the catch.
Having already thrown over 130 pitches, and 240 in two days, Tomei came out to pitch the 9th, and his velocity was pretty down, and Hayata Itoh led off with a single to second, a hard-driven ball that the second baseman dropped. Takao bunted him up. Yamasaki grounded out to short such that Itoh couldn't advance, and then Kazuma Takeuchi came up again, and hit a definitive double to left. Itoh was off on the crack of the bat and was pretty much home before someone could even recover the ball, and Keio won
2-1
.
As always, if someone is going to make something happen in the 9th, it's going to be Hayata Itoh. He's so clutch that he's always in 5th gear. Or something like that.
However, Jingu sucks and so I don't have a shot of the final score. They literally made it go away less than 2 minutes after the game ended. This is all I have:
Koji Fukutani was the game hero:
And uh, a bonus picture. I actually am not positive who this is, but I think it is Ryo Sasaki: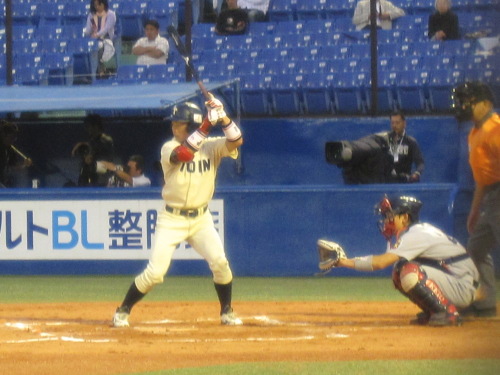 My friends wanted to wait for the Keio players to come out after the game, so we did. I was too nervous to ask any of them for a photo, although I did say "Daisuke! Ashita ganbatte yo!" to Daisuke Takeuchi when he came by. I saw Yumoto, and Fuchigami, and Itoh, and a bunch of other players I didn't entirely recognize. And then my friends wanted to go talk to Masahiro Nagasaki, so I went along for that and chatted for a bit. He seems like a nice guy.
Well, we ended up following Nagasaki and another guy in a gakuran back to Gaienmae by random chance (they were still outside the gates when we left a few minutes later), and Hayata Itoh was also walking with a group of cheerleader girls until he veered off to walk with Nagasaki and the other guy.
One of the two women I was walking with had been asking me about who my favorite players were on various teams as we walked. "I like Ohishi on Waseda... I like Ikenaga on Meiji..." "Ikenaga?! Shibui! Who's your favorite player on Keio?" and I pointed at Itoh's back a few feet ahead of us and said, "it used to be Urushibata but actually now, it's him..." So she's like "OMG why don't you say something to him?!?" and I'm like "I CAN'T say anything to him!" My other friend breaks in, "She's so shy around these guys that she might as well be Japanese. It took her forever to get up the guts to say hello to Kagami."
We ended up standing next to the three guys on the subway though, so the other two women were still talking to Nagasaki. I listened, nodded, laughed, and asked one or two things like which team were they playing tomorrow, etc. Though even until the end, I never managed to say anything directly to Itoh. Alas. He seemed uninterested in talking to us anyway, he spent the subway ride fiddling with his phone. I said goodbye and good luck to the players when we split from them at Shibuya station.
Nagasaki is really sweet though, he bowed and thanked me when I said otsukaresama and all.
Anyway, as I finish writing this, Thursday's games are about over and the Best 8 have been decided: Tokai, Doshisha, Chuo, Keio, Hachinohe, Hokkaido, Toyo, and Soka. AND two of the Best 4 have been decided as well -- Saturday morning's game will be Tokai vs. Keio. You can bet I am going to be there. I just hope I actually get to see Tomoyuki Sugano pitch in person again, although of course I will be cheering for Keio.