I went to Jingu on Tuesday night yet again and all I got was another lousy rainstorm. Oh, and the Fighters won. They clobbered the Swallows 10-2.
But first, in vaguely related Fighters news, I wanted to congratulate Brian Sweeney for
making it back to the big leagues!
(Thanks to
Edwin
for the pointer.) Apparently the Seattle Mariners DFA'ed Ian Snell and put Brian on the roster in his place. Now I just have to hope he sticks in the bigs long enough for me to say hi when I'm back in Seattle for a bit next month!
I sent email to a couple of the Japanese friends I cheer for the Fighters with, saying "OMG SWEENEY-PITCHER IS BACK IN THE MAJOR LEAGUES WITH THE MARINERS!" basically, and unanimously got back emails of "That's awesome! I hope he does well! Yell a good 'Ganbare Sweeney!' on my behalf when you're back in Seattle!"
And on another other-game-related note, thanks to Tony Blanco hitting a gyakuten 3-run homer off Takeharu Katoh in tonight's Dragons-Fighters game, Dragons closer Hitoki Iwase got his
250th career save
by shutting down the Fighters. Being as I moonlight as a Dragons fan, at least when they are here playing against Gomiuri, I feel a bit of a swell of pride with this news too.
Anyway, Jingu. The weather was actually pretty nice when I first got there; not hot, not cold, not raining, just kind of average:
But by the fourth inning, this is what it looked like in the stands:
Hirotoshi Masui started for the Fighters and came out after only pitching one inning. Apparently he had shoulder troubles before the game. Ryo Sakakibara replaced him and ended up getting the win.
Shohei Tateyama started for Yakult, which seemed completely and totally unpromising from the left-field stands; I was expecting to have another one of those
"Why can't we steal THEIR Tateyama, please?"
evenings, but instead, their Tateyama found himself being roughed up pretty fierce by the Fighters. By the time I had to stop keeping my scorecard in the 5th inning due to rain, the Fighters were already up 3-0 on the Swallows due to two Atsunori Inaba solo home runs in two consecutive at-bats, and then an RBI single by Dai-Kan Yoh after Yoshio Itoi hit his first double of the evening.
The rain started and never let up. I don't know if maybe the Fighters learned their lesson from the day before or what, but just as all the luck seemed to be on the Swallows' side on Monday, everything went right for the Fighters on Tuesday. They had a rain-filled rally in the 5th inning, scoring 5 more runs on a Yoshio Itoi RBI double, a Makoto Kaneko 3-run home run that landed literally 10 feet away from me, and an RBI single by Shinya Tsuruoka to make it 8-0. (And in the middle of it all, Tateyama balked, supposedly at least; I think the ball might have just slipped in the rain, but what can you do?)
Atsushi Fujimoto hit a homer off Masanori Hayashi (what else is new?) to make it 8-1.
Eulo De la Cruz made his Swallows ichi-gun debut and hit 158 on the gun at Jingu (that's the fastest one I saw at least). He didn't strike anyone out but he did pitch two scoreless innings.
I wasn't all that excited to see Takeharu Katoh pitching for the Fighters, but when I spotted Mikinori Katoh warming up in the bullpen for the Swallows, I nearly fell out of my seat (not too difficult given how flooded the bleachers were anyway). I was a fan of his when he was at Keio University, still am a big fan, and I think this might have actually been the first time I ever saw him pitch at ichi-gun, not counting preseason games!
And it turned out he hadn't given up any runs yet this year in 5 appearances so far, either...
So naturally Mikinori goes out there and gives up a home run to Takayuki Takaguchi to make it 9-1 :)
Yoshio Itoi hit a double off him -- his fourth of the game and fourth in four consecutive at-bats, making him 5-for-5 on the evening -- and Yoh singled Itoi in to make it 10-1.
Something really stupid though: the Fighters ouendan leader actually FORGOT that Takaguchi hit a home run. When the Fighters came out to the field in the bottom of the 9th, he led a Yoh call and an Ohno call, and no Takaguchi call. My friends and I called out "OI, OUENDAN, DID YOU FORGET TAKAGUCHI'S HOMERUN??" and ourselves were holding up Takaguchi signs and yelling "NICE HOMERUN TAKAGUCHI!!!!" but to no avail. One of the women in our group loves Takaguchi, and she had actually come up to Tokyo from Kobe on a business trip and came to the game with us, so she was particularly put out by the omission.
(I forget if I've mentioned it, but basically, when the Fighters take the field, we call out the names of each player who had RBI hits in the previous inning and yell their name and clap until they acknowledge us with a bow or a wave or something. Some guys just take off their hat, or wave, but Inaba is adorable, he pauses, faces the stands, and does a really deep bow for a full 2-3 seconds. Hichori always does crazy things like pumping his fist or turning a cartwheel or something.)
The Swallows took back a run in their half of the 9th off our Tateyama, so I put my towel over my face so I couldn't see anything -- I wasn't keeping score anyway -- and it worked and he struck out the last guy to end the game at 10-2.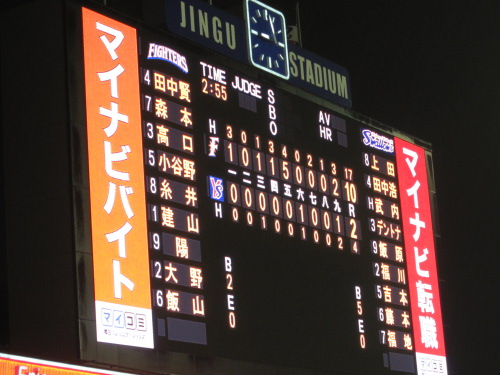 Sakakibara was the game hero for some reason. I fail to understand this; sure he was the winning pitcher, but he only threw 2 innings. Why not Inaba who hit 2 home runs, or Itoi who hit 4 doubles?
The ouendan apologized in the postgame cheering for forgetting about Takaguchi's home run, at least.
Also amusing is that the rain pretty much stopped exactly when the game stopped, so our postgame cheering was pretty free, but I never was able to resume my scorecard during the game itself.
There were three white dudes sitting in the top of the stands in the ouendan leader area for the first half of the game, not wearing any Fighters stuff at all and not doing any of the cheers. Several people asked me if I knew them, but I had no clue. It was odd because I would never dare sit where they were sitting; I know my place in the cheering ranks. (I almost worried that someone on the ouendan was going to come ask me to explain things.) But then the rain started. Everyone else got out their rain gear, since we prepare for the event of having to sit out and cheer in the rain for several hours. The white guys were not prepared, and disappeared shortly thereafter and were not seen again.
It made me both thankful for the connection I've built up with the Fighters fans, and yet at the same time I couldn't help but think how there are a lot of things I can't do specifically *because* I stick out and everyone knows me.
Anyway, on the way walking to Shinanomachi with my friends, I spent a while chatting with one of the guys in our gang who also moonlights as a Baystars fan, mostly talking about Toshihisa Nishi,
who retired last week
after spending some time in the Atlantic League. I was trying to explain how the Atlantic League relates to the MLB system, which is kind of difficult -- the variations in independent leagues and industrial leagues and so on in Japan isn't quite the same, especially since the Atlantic League tends to have ex-MLB guys trying to make it back, and the indie leagues here tend to have guys hoping to make it to the NPB, and not so much on the ex-NPB types.
So on a different note, I think I'm going to go up to Niigata on the 26th to see the new stadium there and catch some indie ball. Woohoo!
(And for the record, yes, the title of this post is supposed to be a pun between Spanish, English, and Japanese...)