As usual, I could either write about this one or post pictures of this one, and since I spent all my time on pictures...
(Sho Nakata hit a home run straight out of Kamagaya stadium at the preseason game against Chunichi -- it hit a drink machine by the training facility. So they put up a special Memorial Out-Of-The-Park-No-Really Home Run vending machine there with a plaque.)
On Monday, May 31, I went down to the Fighters minor-league stadium in Kamagaya to see a minor-league matchup between them and the Rakuten Eagles. Thanks to having to work Saturday and Sunday this coming weekend to help out at my JHS's Sports Day, I had a 3-day weekend last weekend, and the Fighters happened to have a rare Monday game going on. I prefer weekday games, but obviously haven't been able to go to many since I started working a normal 8-5 M-F job.
I spent most of this game socializing (while, of course, still taking photos and keeping score). I caught up with a few Kamagaya regulars that I hadn't seen in a while; met a guy who also is a huge Imanari fan AND a huge Tokyo Big 6 nerd and talked to him for an inning or so (he was like "I saw you at Jingu, you love Kagami, right?" which was both cool and freaky), sat with Ojisan for half the game, AND I also sat with Buddy Carlyle's wife and daughter for an inning or two.
After the game I also hung out and took photos with a bunch of players, got a few signatures, etc. It's nice on a weekday because it's less crowded. More on that afterwards (including how I stuck my foot in my mouth several times)
As for the game itself, the Fighters won 9-5. Both teams used a bazillion pitchers -- the Fighters used 8 guys and the Eagles used 5. Mitsuo Yoshikawa started for the Fighters and Ryohei Isaka started for the Eagles, not that it mattered as neither of them pitched more than 2 innings.
For the Fighters, 7 out of those 9 runs came from homers:
Takahiro Imanami hit a 3-run homer in the 1st inning off Isaka.
Atsushi Ugumori hit a solo homer in the 3rd inning off Ryuhei Terada.
Manabu Iwadate hit a solo homer in the 5th inning off Tomohiro Tsuchiya.
Atsushi Ugumori hit his SECOND homer of the game in the 6th inning, a 2-run shot off Kazuya Takahori.
For the Eagles, Taishi Nakagawa hit a homer off Masaru Nakamura, but that was it. The rest of their runs came in the 7th and 8th inning off some shaky fielding and whatnot.
You can see an English box score
on the NPB site
. I was away from my camera for a few innings, but I managed to catch most of the guys who pitched and most of the batters too at one point or another, so here you go.
I've organized this post into Home Runs, Eagles, Fighters, and After-Game.
Home Runs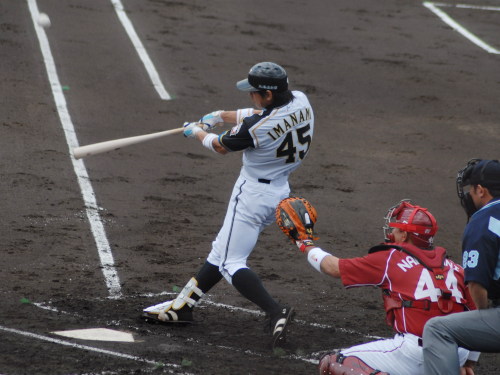 Takahiro Imanami hits a 3-run in the first inning, and high-fives runners Murata and Sugiya and coach Kawana back at home.
Atsushi Ugumori stands in at the plate in the 3rd. I had specifically walked over to the 3rd base side to take photos of him...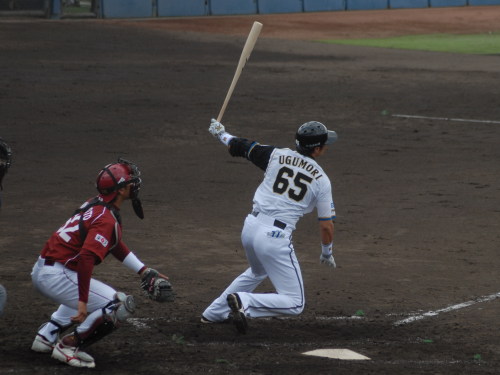 Ugumori hitting his home run.
High fives back at the dugout (the little kid is Carlyle's son).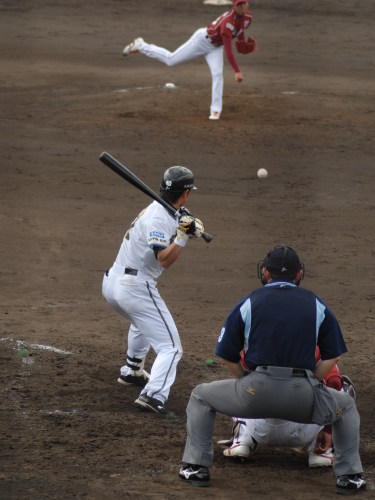 Manabu Iwadate in the 5th inning.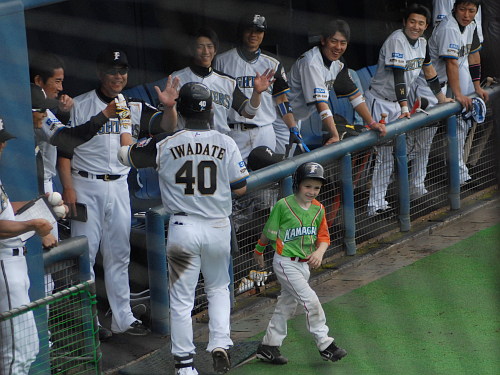 More high-fives back in the dugout.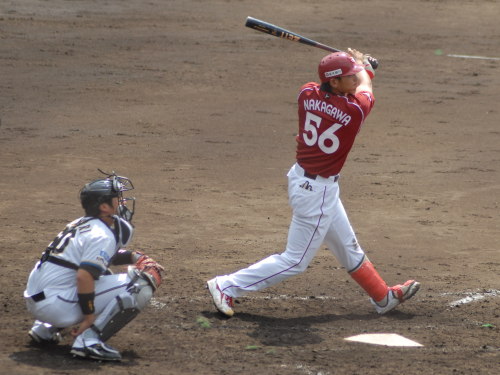 Rakuten's Taishi Nakagawa.
Eagles Players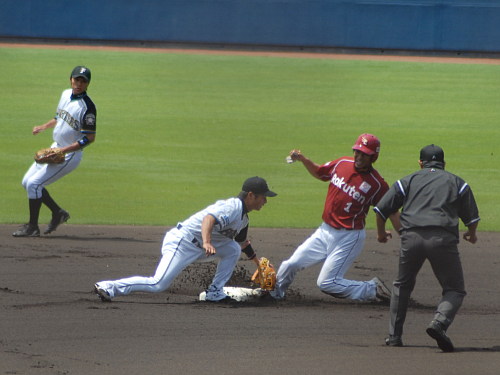 Tatsuya Shiokawa getting caught stealing second.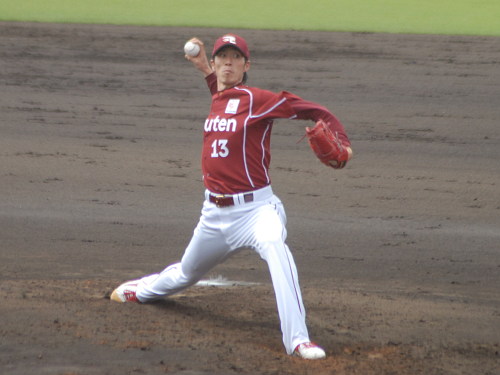 Ryohei Isaka.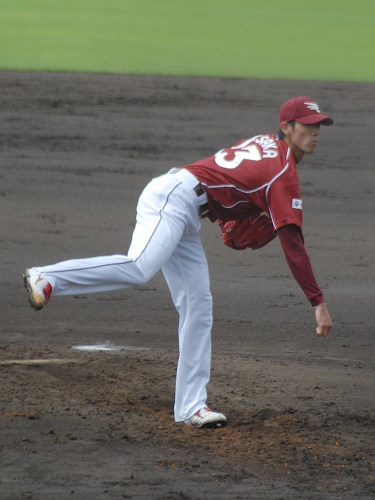 Isaka again.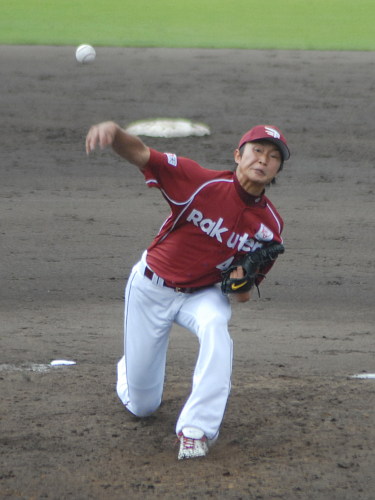 Ryuhei Terada.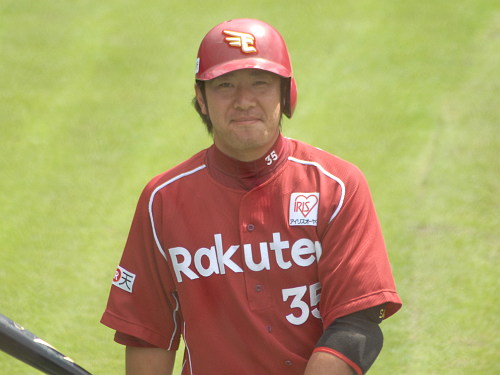 Shoji Ohiro.
Jobu Morita... I am mostly amused by his name thanks to the movie Major League. "Jobu can't hit a curve ball..."
Koji Matsui, who the Eagles took in the ikusei draft, so he wears #121.
I actually saw Matsui play last summer for the Nagasaki Saints, too.
Here's a photo from that game
.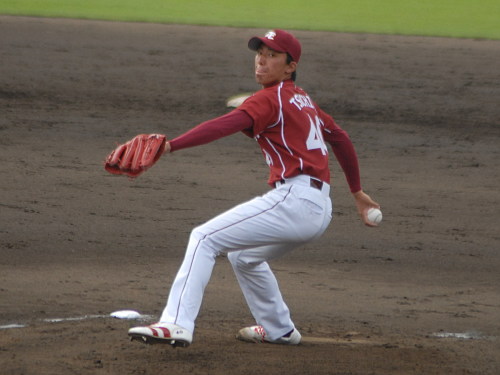 Tomohiro Tsuchiya, not to be confused with the other Tsuchiya on the team... oh wait, Teppei doesn't USE Tsuchiya as his name anymore.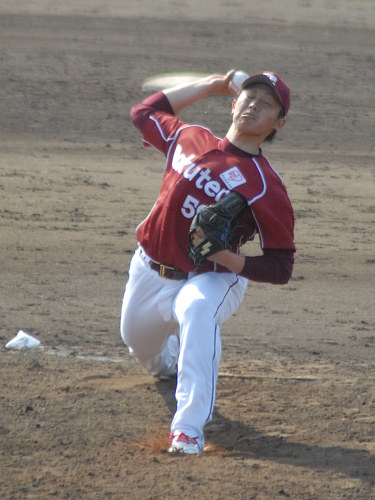 Yasunori Kikuchi.
You know what is odd? I had a whole bunch of shots of Fuminori Yokogawa, but didn't end up including any of them here. Weird.
Fighters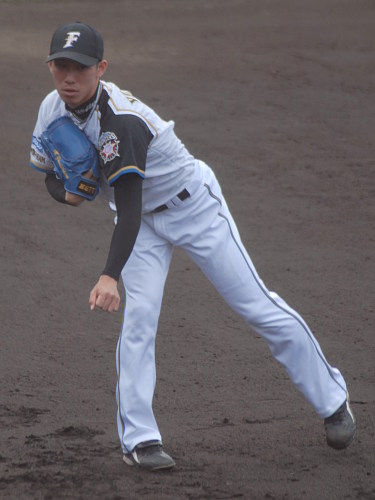 Starter Mitsuo Yoshikawa.
Yoshikawa with batterymate Yuji Arahari.
Kenshi Sugiya.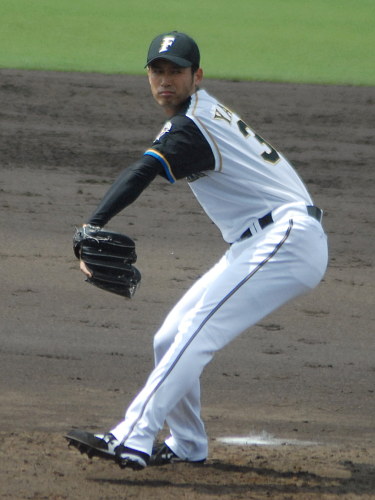 Toshiyuki Yanuki.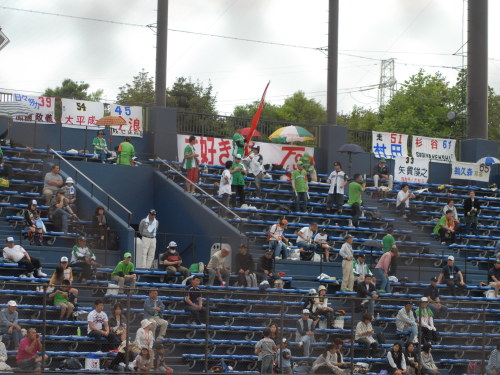 A random crowd shot I took. It's sparse but actually pretty good for a weekday -- good enough to have an ouendan, even.
The Carlyle family on bat boy duty.
Buddy Carlyle.
His son as bat boy.
And as ball boy.
Yuji Arahari.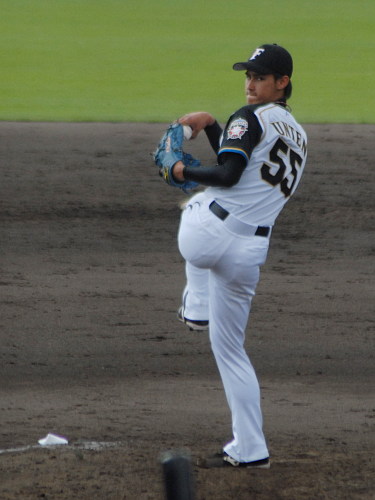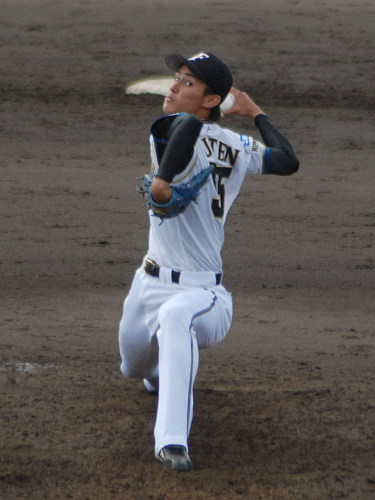 John Clayton Unten, the half-American kid from Okinawa. This was my first time seeing him pitch.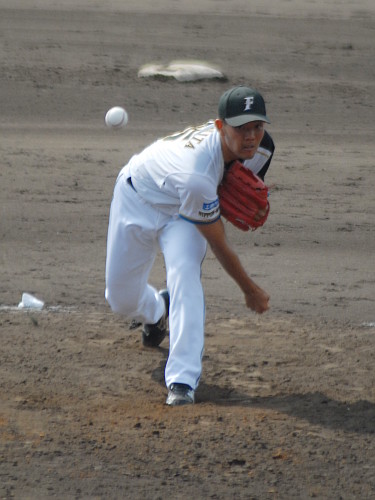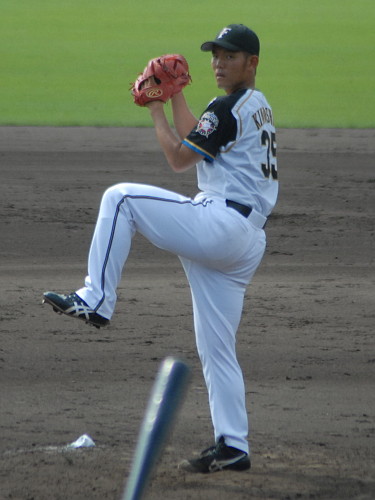 Tatsuo Kinoshita. Hadn't seen him in a long time.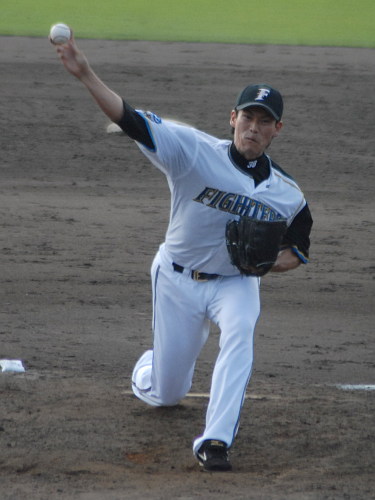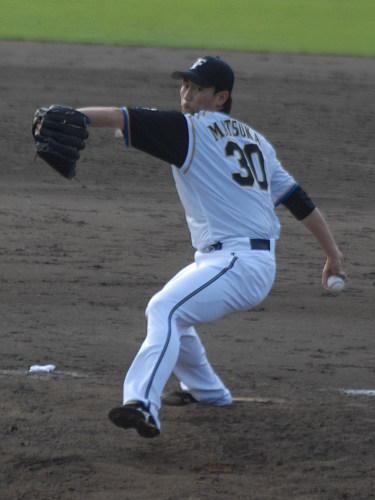 Takahiro Matsuka, the Tokyo University graduate.
Final score.
After the Game
Went to hang out with the usual suspects, saw a whole bunch of players as they were finishing up after-game meetings and BP and all. I got manager Igarashi's autograph but no photo with him. Ojisan took the rest of these as I bugged him and the guys...
Seiichi Ohhira, OF/DH, #54
I actually couldn't remember if I have a photo with him before, so I figured why not.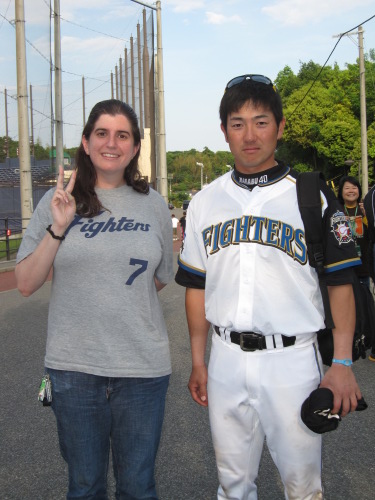 Manabu Iwadate, IF/DH, #40
We got him from the Giants this offseason, I'm not sure why exactly. He's been playing first base while Nakata and Ichikawa and basically everyone else is injured. Seemed nice enough I guess, but I'm thinking if he doesn't make it to ichi-gun this year he'll get cut and retire. He did hit one of those home runs though.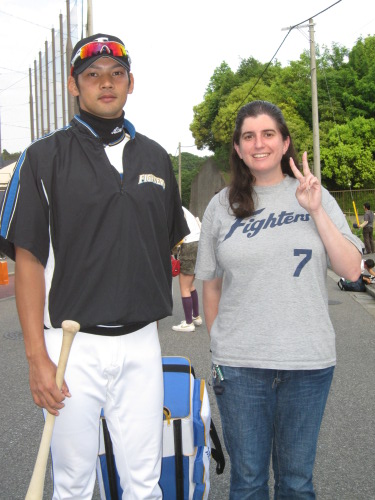 Atsushi Ugumori, OF/DH, #65
Ugumori is awesome, actually. He is tearing up the Eastern League right now to the tune of .388/.435/.713 and leading the Fighters ni-gun with 6 home runs. Ugu also hit 20 home runs last year in like 77 games... he's also a pretty good outfielder and just an all-around good young player (and he's like 6'3", too!). There just isn't really a place for him on the Fighters ichi-gun team right now, sadly.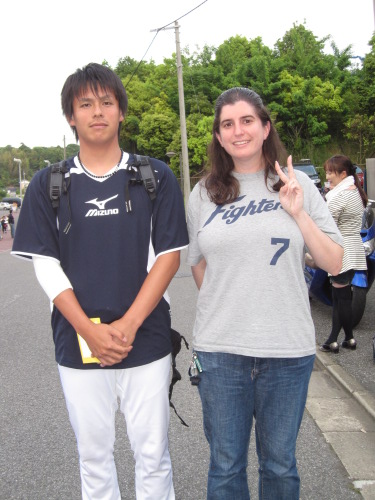 Yutaka Ohtsuka, pitcher, #14, 2nd-round draft pick this year
I got a photo with him and Ojisan said "She was a fan of yours in college!" and he's like "Uhh, really?" and I said "Yeah, I saw you at the All-Japan tourney last year... in the game with Soka against Fuji..." and he said "Shit, we lost that game." Everyone laughed, I was like "Oh crap... you did... but it wasn't YOUR fault, dude... you didn't START that game..." and he kind of laughed and ran off.
Later, I showed Ojisan that I actually had a photo on my phone of Ohtsuka from that game and Ojisan made me send it to him, he's like "Next time I see Ohtsuka-kun I will show him this picture and tell him that no really, you were a fan of his in college, this was on your phone, I think he'll be happy to hear that even if he seemed pissed off at you today."
Still, embarrassing.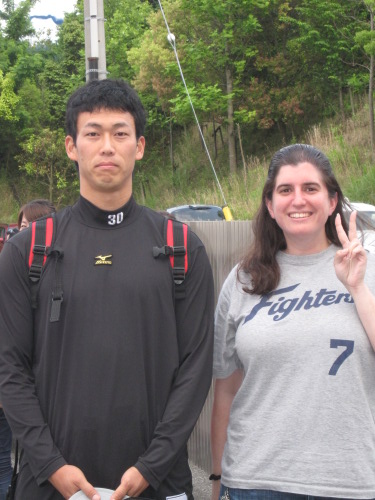 Takahiro Matsuka, pitcher, #30
...and the fourth guy EVER to graduate from Tokyo University and actually play baseball in the big leagues here. I was really psyched about him coming to the Fighters in the trade this offseason. Though, he seemed a tiny bit weirded out by a crazy gaijin fan like me.
And this next one is the reason I waited around...
I have wanted a photo with Yukio Tanaka for freaking forever. He IS "Mister Fighters". He is a big part of why I became a Fighters fan, because my first game ever, 8 seasons ago now, when he was still a regular, I learned his ouenka and the Yukio Jump and it was so much fun. He played his entire 21-year career with them, got over 2000 hits, is in the Meikyukai, and now he is a minor-league batting coach, and the last few times I was at Kamagaya he was pretty much untouchable, he ran past everyone like "busybusybusy too busy to talk too busy busybusy", but today I was like "Please please please please please just one second a photo please?" and he relented, with kind of a "OMFG crazy girl okay!" reaction. The photo isn't very good because Ojisan screwed up my camera and took it at ISO 1600 instead of something sane, but -- I have a picture with Yukio Freaking Tanaka! How cool is that??