Well, so despite the rain never actually stopping at all today in Tokyo, the Fighters and Swallows played a game at Meiji Jingu Stadium tonight, and I went, and didn't even remotely bother trying to keep a scorecard like I usually do.
Infact, I consider it a testament to how long I've been in Japan that this morning I looked at the weather forecast and packed my messenger bag with necessities for this exact sort of game:
- Fighters jersey (my Hokkaido one since I don't want to get my signed one wet)
- Fighters neck towel (the one that's falling apart, so no big deal to use it to wipe off seats or anything else)
- Fighters cap (which I rarely ever wear)
- plastic poncho raincoat
- umbrella
- extra jacket
- big plastic garbage bag to put my messenger bag in
- smaller plastic bags to put my scorecard book and meikan and all in so they stay dry even if my outside bag does get wet
- snacks to share with people (individually wrapped in plastic of course)
The only thing I forgot was cheer sticks, which isn't such a big deal, although my hands got awfully cold and tired by the end of the evening from clapping so much.
Only thing is, since I didn't keep a scorecard, I don't really remember a lot of the exact things that happened in the game. I even got bored during the Yakult innings a few times and did something I rarely do, which is to just go for a walk around the outfield and watch the game from several different vantage points.
See, in the first inning the Swallows got up like 4-0 right from the get-go as Jamie D'Antona hit a 3-run homer and then a whole bunch more guys walked and/or singled, so after the top of the 2nd I went to get food and watched the next half inning from the bowels of Jingu, which are so much nicer now than they used to be:
And then I spent a bit of time up at the top of the centerfield bleachers admiring the mist patterns in the big lights:
And I came in for an inning and cheered from above the raincoat-clad masses:
And then I sat in my seat for a while with my normal group of friends, although since we were all either wearing raincoats or huddled under umbrellas, it was a really weird mood during the Yakult inning halves. Half the time if you wanted to talk to someone you had to make sure you really had their attention, because people either had raincoat hoods up over their ears or were kind of zoned out under the umbrella and not really listening to others, or whatever.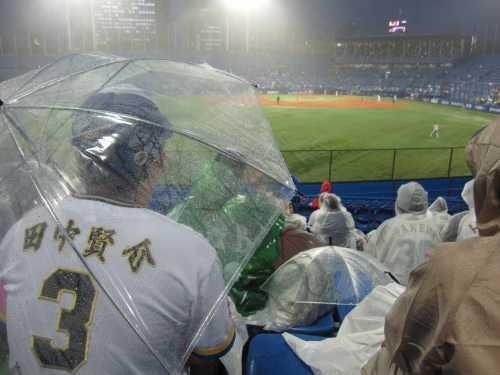 Jamie D'Antona hit another freaking home run in the 4th inning to make it 6-0.
The lone Fighters run of the game came in after Atsushi Ugumori (Uguuuuu!!!) pinch-hit a triple to right -- that really looked like it shoulda been a home run, but maybe I don't understand what the rules are for where over the wall a ball has to hit in order to be a home run at Jingu. Kensuke singled him in after that to make it 6-1.
It pissed me off greatly that the Fighters had bases loaded with nobody out in the 7th and the ouendan didn't bother to play a freaking chance theme at all. Seriously, everyone was wondering what the hell was going on. I know nobody wants to do Chitty Chitty Bang Bang in the rain because it might be dangerous, but we have like 5 chance themes, why haven't we done ANY of them recently? Sheesh. That is one thing that has kind of bugged me about the Fighters ouendan this year, that with the exception of one or two leaders, we don't tend to do all that much that is INTERESTING anymore while cheering. I mean, certainly we all still enjoy the camaraderie of being at the game with our friends and supporting the team and all, but it would be nice to have some variety and some new songs; we shouldn't have games where half the lineup uses the "We don't have a song for this guy" song. While I've often said I'm a little intimidated by some groups like the Seibu ouendan who literally have songs for everyone including the minor-leaguers, and several chance themes, and a lot of stuff involving hand motions or walking or dancing, so it's a bit of a ramp-up to learn the entire repertoire, at least there's a lot more variety in what they do.
(And "We suck this year" is not an excuse either. I thought it was awesome when the Yokohama ouendan made up the "Behind" chance theme in 2008, which was basically sung "in the 8th inning if we're behind, which we usually are", and consisted of lyrics like "Let's go Bay, even though we suck")
On that note, though, we did get to do the new cheer song for Yuji Iiyama once, although I still think it's retarded. Takahiro Imanami had an at-bat and singled before we could do his song (which is apparently recycled from Shigeyuki Furuki; I wouldn't have even noticed if Firearm hadn't pointed out the Earthbound tune).
One of my friends and I started singing Naoto Inada's song for Dai-Kan Yoh as a joke, just because it's also so simple: "La la la la la la, Yoh Dai-Kan home run..."
Don't get me wrong, I love my time in the cheering section and wouldn't give it up for anything. (Yet.) It's just that I feel like a few years ago the cheers were so much more interesting for the Fighters, when we had the Yukio Jump and the Seguignol Wave and such.
Uh, anyway, eventually the Swallows won 8-3. Takehiko Oshimoto pitched the top of the 9th and made us all very sad, despite that the 3-by-3 trade that gave Yakult Kawashima and Oshimoto and Hashimoto and left us with basically nothing at this point was now over 2 years ago, so Oshi hasn't been a Fighters pitcher since the 2007 season, but whatever, we still miss him.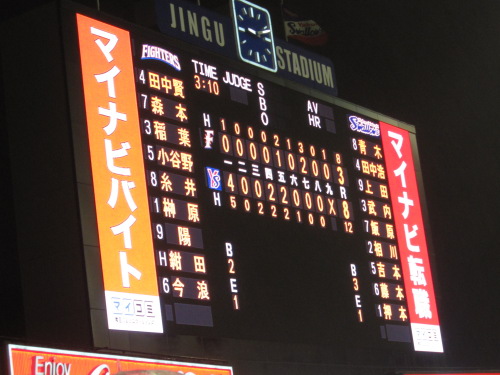 You know what's weird? Kyohei Muranaka started for the Swallows and Masaru Takeda started for the Fighters, and I could have sworn Muranaka struck out way more Fighters than Masaru struck out Swallows, but looking at the box score now it seems Masaru struck out 6 in 4 innings and Muranaka struck out 5 in 6 innings. I guess Muranaka just seemed more effective since Masaru was giving up lots of hits and home runs and whatnot; also of course I'd notice Fighters striking out more than Swallows.
(Plus one guy and I kept yelling at each other, mimicking the loudspeaker, "STRIKEOUT!" "JUST PLAY TO WIN!" every time a Fighters batter struck out.)
Another crazy thing is that Inaba was starting at first base tonight (I guess we're playing around with the lineup since Shinji's out for a bit). He made an error, although that could be partially attributed to the weather and partially to him taking a silly route to first base. Still, I'm not even sure half of us even noticed he was AT first until that error. I barely got to my seat in time for the first pitch, and wasn't keeping score, so I certainly didn't look THAT closely at the lineup.
What else is weird is that this was my 16th game at Jingu this year, but only my first actual pro game, not counting the preseason. I've begun to joke that I pretty much live at Jingu, given how much college ball I watch there.
Yahoo reports the attendance for this game at being
6202
, which seems about right -- I actually thought there were less people than that there.
Anyway, I suppose now we know which last-place team is truly last-place, as the Swallows have now taken 3 out of 4 games from the Fighters. I'll be back at Jingu tomorrow night, which means we'll probably lose again. Hooray!