Similarities between this game and
Game 5 of the 2009 Japan Series
:
- Shugo Fujii was one of the starting pitchers (but this year he's a traitor)
- The game was really close and the Fighters held a narrow lead for most of it
- The Giants won the game on a walk-off home run
- The walk-off home run was given up by Hisashi Takeda
- Was sitting in the Fighters cheering section with Team 52.. but we were all split up all over the place
- Went to a nearby izakaya after the game in a big group, got mocked by Giants fans
Seriously, Fujii has been pretty good this year, but what do you expect when you are playing for a team that is likely to turn the game around with a 3-run homer at any minute?
The Fighters' starting pitcher was Takayuki Kanamori, making his first start of the 2010 season (usually he's been used in relief). A lot of people thought that Darvish was going to start Friday's game; it would make sense given the schedule and the rotation, but it seems that maybe he'll be starting Saturday instead.
You know what ROYALLY sucked? Just as I missed seeing Imanari play at ichi-gun because of Jingu getting rained out,
he got sent down
just before this game too. ARRRRGGGGHHH. I even made special cheering signs to bring to this game; I ended up holding them up during the Lucky 7 interlude anyway. People were calling me "Imanari Taicho".
Uh, anyway, the best way to sum up this game, at least the Giants half of it, is: Homerun! Homerun! Homerun! Homerun! Hit batter! Homerun! Fly ball! Fly ball! Homerun! Homerun! Hit batter! Homerun! Fly ball!
No, really:

             PA  BB  HB  K   H  HR    FB  GB 
Fighters     39   1   1  8  10   2     7  11
Giants       37   0   2  6  11   5    15   3

The other Fighters out was Kensuke Tanaka getting caught stealing in the first inning, and the other Giants out was Hisayoshi Chono getting his retarded ass picked off first base in the 8th inning.
Anyway, this is basically what happened:
Kensuke got caught stealing, and then Inaba hit a "whoa, it went over" home run to right in the 1st inning.
1-0
.
Yoshinobu Takahashi hit a much more decisive home run to right field in the bottom of the 1st.
1-1
.
Shinji Takahashi walked, stole second (!), and scored on a double by Shota Ohno.
2-1
. Why on earth they were pitching to Ohno with two outs and the pitcher up next is beyond me, but Kanamori singled anyway... unfortunately Ohno couldn't score on it.
Shinnosuke Abe led off the bottom of the 2nd with a home run to right.
2-2
.
Michihiro Ogasawara hit a huge homerun to center in the 3rd.
3-2
.
Kensuke Tanaka got hit by a pitch in the 5th, then Hichori Morimoto TRIPLED to center, tying the game as Kensuke scored.
3-3
. Koyano doubled to center and scored Hichori,
4-3
. Then Yoshio Itoi hit a 2-run homer to right, scoring Koyano too and knocking Fujii out of the game.
6-3.
Shinnosuke Abe hit another solo home run to right in the 6th, off reliever Masanori Hayashi.
6-4
. Chono-baka singled and advanced on a wild pitch after that, and scored on a single by pinch-hitter Masakuni Odajima.
6-5
.
Yuya Kubo and Kiyoshi Toyoda and Tetsuya Yamaguchi filled in the second half of the Giants pitching without giving up any more runs, although Kubo got into a bases-loaded pinch in the 6th before striking out Inaba to end it.
Hayashi pitched two innings for the Fighters, and Naoki Miyanishi pitched an inning and an out, and then Hisashi Takeda came into the game in the 8th inning with one out; Chono singled and then Hisashi picked him off first, which was pretty funny.
Hisashi stayed in to pitch the bottom of the 9th, and save the 6-5 game. He struck out Ryota Wakiya leading off, which was promising, but then Seung-Yeop Lee pinch-hit, and was apparently hit by a pitch (from the outfield it always looks weird). Takahiro Suzuki pinch-ran for Lee at first base...
...and it didn't matter as Hayato Sakamoto slammed a huge fly ball to center. The outfielders chased it back and the ball landed about 5 feet beyond the centerfield wall and bounced back onto the field for a walk-off 2-run homer, and the Giants won the game
7-6
.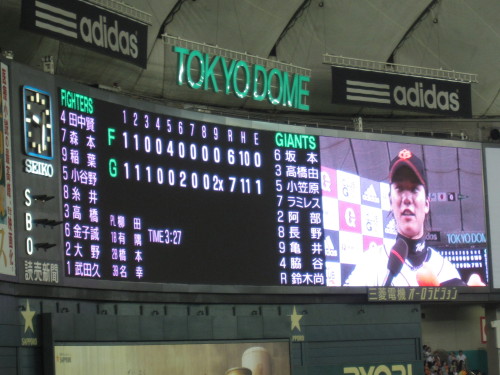 I have now been to 8 Fighters season games this year, and they have not won a single game. However, I believe they have won every single pre-season and minor-league game I went to. WTF?
I'm stuck at work again today (Saturday), and don't have a lot of time to write this, and will head off to the Tokyo Dome again tonight, so let me just leave you with another photo and a movie:
This is a Yomiuri news flash about halfway through the game. These are normal, but what amused me here is:
The first part is talking about Eri Yoshida's uniform and hat from her debut with the Chico Outlaws being sent to the Baseball Hall of Fame.
The second part is talking about Japan having a new prime minister, Naoto Kan.
Apparently these are equivalently important to Japanese people.
And this is an Inaba Jump in the 5th inning or so, from behind the ouendan. I should try to film an Inaba Jump in as many stadiums as possible...