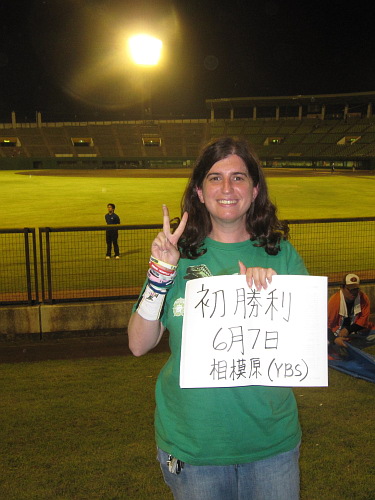 Only took me like, 2 or 3 months, but I finally experienced a Fighters ichi-gun win for the first time in 2010. They never lost a preseason game I went to, nor did they lose a single minor-league game I went to, but they lost EVERY BLOODY NORMAL GAME I WENT TO this year so far, all 10 of them.
After spending Sunday helping to make sure 200 teenagers survived our school's Sports Day event, I had Monday off and decided to trek down to Sagamihara for the Fighters-Baystars game. Sagamihara itself as a township is kind of in the middle of nowhere to begin with, and the stadium is about a 30-minute walk or 20-minute bus ride from Fuchinobe station on the JR Yokohama line. I was there
last year
for a minor-league game; it's kind of lacking in amenities for hosting a major-league game, really. For the minor-league game the outfield stands were closed, but for this game they were open... and just like Omiya Stadium, the entire outfield is grass seating: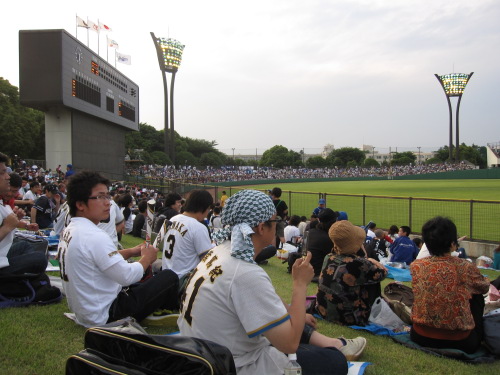 If you are in the outfield, as far as I could tell, you had exactly one choice for acquiring food, which was a stand behind the centerfield scoreboard selling KFC nuggets and drumsticks and stuff, and bottles of soda, and cans of beer. There was a huge line for it, of course:
Not that you really WANT to eat food if you are sitting in the outfield -- it is COVERED with bugs. COVERED. We put down plastic sheets and blankets and whatnot, and they were shortly covered with bugs as well. Although, bizarrely, the bugs all disappeared about half an hour after sundown.
A bit after I arrived, I saw Terrmel Sledge doing fielding practice with Shingo Nonaka. I went down to the field fence, ran into two friends of mine there, and since there were a ton of little boys yelling "SUREJJI! SIGN KUDASAI!!!" I yelled, "TERRMEL SLEDGE! COME BACK TO THE FIGHTERS KUDASAI!!"
On the third time I yelled it, he turned and saw me and waved hello.
"No, really!" I yelled. "Come back, we miss you!"
"I miss you guys too! The Fighters fans were great!" he yelled back.
"We're still cheering for you to do well!" I said. "But not today!"
He laughed and went back to fielding practice.
Around 5:40pm, a few more of our friends showed up to the stadium to find out that the OUTFIELD TICKETS HAD ACTUALLY SOLD OUT. How crazy is THAT? I mean, a Monday night, Baystars vs. Fighters game, in the middle of nowhere, in an outfield covered in bugs, and it SELLS OUT? Worse, there was absolutely no re-entry, no handstamping or ticket stubs, so we couldn't even try to sneak people in. And since the infield and outfield are actually separate structures, you can't go from one to the other at all. So our friends bought infield unreserved tickets and sat as close to the outfield as they could.
Bobby Keppel started for the Fighters and Naoyuki Shimizu started for the
Marines
Baystars. And in the first inning, the Baystars took a quick 1-0 lead on some smallballing and I was already starting to think that maybe coming out there was a bad idea, that I shouldn't have jinxed the team.
But then the Fighters launched an onslaught in the top of the 2nd. Koyano hit, and Itoi hit, and Kaneko hit, and Tsuruoka hit, and Kensuke hit, and when the dust cleared (literally -- Kensuke's hit was a liner to left field that Sledge dived for and missed by inches) the Fighters were up 4-1.
Tatsuya Shimozono hit a 2-run homer for the Baystars in their half of the second to make it 4-3, but that was the last thing they would accomplish at all for the evening. Period.
Whereas the Fighters were just getting started...
Kaneko hit again in the 4th, and Tsuruoka hit again, and even Bobby Keppel got a single which scored Kaneko to make it 5-3 before Kensuke grounded into a double play.
Former Fighter Shintaro Ejiri took the mound for Yokohama in the top of the 6th... and the first thing that happened was Jose Castillo dropped a grounder, allowing Tomohiro Nioka to reach base safely. Kaneko bunted him up, and then Tsuruoka got ANOTHER HIT to score Nioka, 6-3. Keppel bunted, and Tsuruoka slid in at second ahead of the tag, so both runners were safe. Kensuke followed that up with another hit to load the bases, so ammidst the strains of Chitty Chitty Bang Bang, Hichori came to the plate, and... grounded to short. Kensuke was out at second but Hichori beat the throw for the DP, and Tsuruoka scored, 7-3. Inaba doubled to center, and made it to third on a bad throw as Keppel and Hichori scored, 9-3.
My friends were like "Seems you'll finally see your first win, huh?" but I said "It's only the 6th inning, I'm not going to celebrate until the very last out."
We were also joined by some Kamagaya friends who have a 2-year-old kid named Shintaro who wears an Ejiri jersey, and by "wears" I mean "swims in". The general consensus was "I'm glad we scored runs off him but I'm also glad there was an error so it doesn't affect his ERA."
The next Yokohama pitcher was Atori Ohta, who I've been a fan of since Koshien 2006, including the
craziest Koshien game EVER
, where Chiben Wakayama beat Teikyo 13-12, with 13 runs being scored in the 9th inning between both teams. Man, 5 kids from that game are now in the pros and another I've seen playing regularly for the last few years too (Kameda) at Hosei. Pretty nuts. And I saw Atori play last time I was in Sagamihara too. Either way, this was Atori's first ichi-gun appearance this year, which was also exciting!
Atori is, at the ripe old age of 20, still a little inconsistent -- when he's on, he's ON, and when he's off... case in point, he struck out Nioka and Kaneko, and had a quick 7th inning.
But then, umm... you know how I said seeing Shinya Tsuruoka hit a home run is a once-per-year experience? Apparently I was wrong, because Tsuruoka hit ANOTHER home run to lead off the 8th inning. Given, the homerun barely cleared the right-field wall, and infact we didn't know for sure it was a home run until we saw the umpire signalling. But that made it 10-3, and just started another avalanche. Atsushi Ugumori had just been called up today and got to pinch-hit after that, and he singled to center. Kensuke hit into a fielder's choice, Hichori walked, and
Inaba
Yoh lined out...
...and then Eiichi Koyano ALSO hit a home run, this one to center. Ugu, Hichori, and Koyano all scored. 13-3. Atori then struck out Itoi to end that inning.
All's well that ends well, and my worries that the Baystars would suddenly score 10 runs in the bottom of the 9th were unfounded: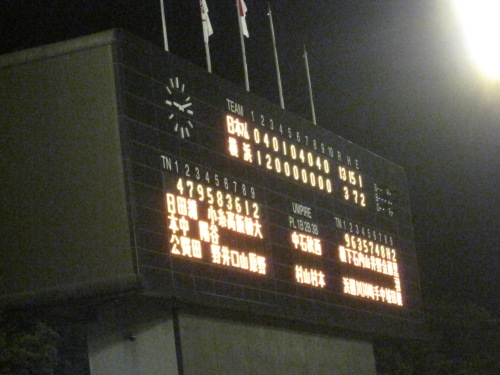 And so the cops made us all round up by the ouendan for post-game cheering, which we did for about 15 minutes before being evicted from the stadium.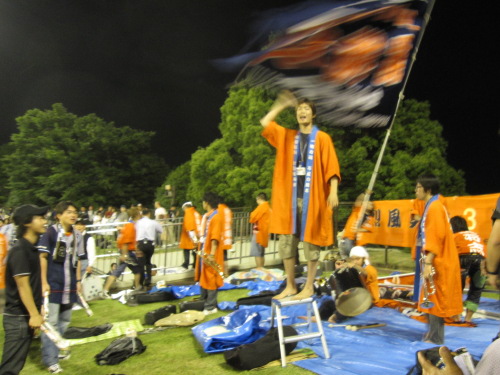 In addition to doing normal cheers, I also learned the new ones for Yuji Iiyama and Takahiro Imanami.
I scribbled "first win, sagamihara, june 7th" on a paper in Japanese and had a friend take the photo that's at the top of this post, right before we had to leave the stadium. Woohoo!
Then on the way to the bus stop, we walked by the players' parking lot and saw Inaba get into a super-nice car and drive off.
Exciting.
Here are a few videos from the game:
Terrmel Sledge's dual ouenka. The Baystars were playing both his new song and his old song (from the Fighters ouendan). I've never heard that before so I had to assume it was just for Fighters games.
Cheering for Kaneko. This was amusing because the ouendan lady was like "Okay everyone... PUT YOUR RIGHT HAND UP! NOW PUT YOUR LEFT HAND UP! NOW WAVE THEM AND YELL 'HOME RUN HOME RUN KANEKO!'"
Yuji Iiyama's new cheer song for 2010. I think this is basically the new Naoto song since Naoto is on the Baystars (we saw him in the pregame too). That is, it's a fairly simple song for a player that has been around a while and barely ever plays but that is inordinately popular anyway. The main thing being that the call changed from "Kattobase Iiyama" to "Kattobase Yuji". But wow, are these dumb lyrics. You'd almost think this was a Lotte cheer:
裕志 裕志 かっ飛ばせ裕志 
ラッララーラララ ラーラーラー かっ飛ばせ裕志
Yuji, Yuji, Kattobase Yuji
La la la la la la, Kattobase Yuji!
(Kattobase, Yuji!)
(Naoto's old song was "La la la la la la la la, Naoto home run", basically.)
This is the new cheer song for infielder Takahiro Imanami, which we were practicing even though he is currently at ni-gun. It's pretty complicated and kind of annoying to fit all the syllables in, I haven't gotten the hang of it yet... then again, after 5 years I still haven't gotten the pitcher's cheer song down yet either, to be honest.
飛ばせ今浪グランド 狭し走り回れ 
今、お前の力で チャンスを呼び込め
Tobase Imanami gurando semashi hashiri maware
Ima omae no chikara de chansu o yobikome
(Kattobase, Imanami!)