Photos are at the bottom, but here's a teaser: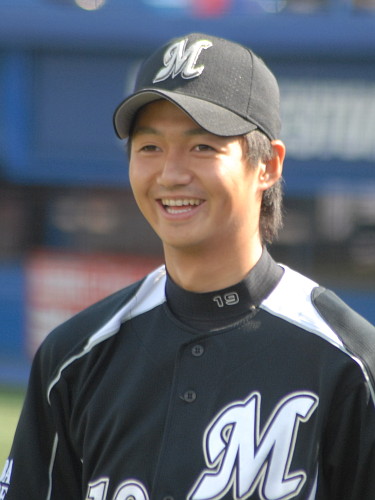 (Yuki Karakawa is legally an adult, but he still looks like Harry Potter when he laughs.)
This is the 1000th post to this blog. How weird is that?
Anyway, today I finally went to a baseball game! Hooray! It was a preseason game with the Chiba Lotte Marines vs. the home team Tokyo Yakult Swallows, at Meiji Jingu Stadium. Despite the snow in Tokyo last night, the forecast for today said it'd be sunny and go up to around 16 degrees C. It only half-lied: it did get sunny today for quite a bit, but the temperature barely hit 9 if that, so I was freezing at the stadium. So was everyone else, though.
I got to Jingu around 12:30pm, went in, found a seat in the front row behind the camera well on the Marines side, got out my camera, and went nuts. Karakawa-kun was starting for Lotte, so I went to watch him warm up, and ran into one of my friends who's both a Meiji alum (he played football for them like 50 years ago) and a Kamagaya geezer. So he ended up sitting with me for most of the game. Bizarrely, I also ran into two women I know from Kamagaya as well, who had come to heckle Kiyoshi Yamanaka, who used to be a ni-gun bullpen coach for the Fighters for years and is now the ichi-gun pitching coach for Lotte. ("Why are you here?" "We're here to heckle Yamanaka-traitor. Why are YOU here?" "...I have a crush on Hiroki Ueno.")
Honestly, I didn't want to really talk about Lotte with anyone. It was really weird being at a Lotte game and not seeing Bobby, or Larry, or Frank, or Paul, or Benny, or any of the other people I had gotten to know so well over the last two years. Even the ouendan is completely different now -- all of the ouendan leaders I used to know were part of MVP, and they all quit as a gesture of solidarity. All the OUENKA has changed, even to the extent where sometimes they're using the same tunes, but completely different words (like for Imae and Saburo and Fukuura). I wonder if they felt a need to change it so the MVP people couldn't complain? In all honesty -- I think that this pretty much seals it that I won't be cheering for Lotte at all this year, being as I really don't feel like learning an entire new set of songs.
On another note, I think I decided that Yakult is going to be my #2 team to cheer this year. They are vaguely lacking in players that I swoon over, but they are conveniently located, and I even joined the fan club today because it is the best deal in baseball, period. You pay 5000 yen to join, and you get a messenger bag and ticket holder, and then after that all of the preseason games are free, AND you get 5 free outfield bleacher tickets during the season, as well as discounts so that outfield tickets after your first 5 cost 1000 yen each instead of 1500 yen. How completely ridiculous is that? All you have to do is go to 5 games over the course of the season and it pays for itself. Add to the fact that the
Tsubamegun
guys are a lot of fun to hang out with, and that I brought my green umbrella back with me to Japan, and I foresee a lot of "KUTABARE YOMIURI" in my future.
But for today, I was on the Lotte side, mostly for the purpose of taking photos -- I was waiting for Hiroki Ueno to come out and throw in the bullpen. Which took a while, as both the starters went 5 innings.
Tony Barnette started for Yakult and had a pretty rough time of it. In the first inning he hit Takashi "The New" Ogino with a pitch, and then right after that Tadahito Iguchi launched a home run into the left-field stands to make it
2-0
. Shoitsu Ohmatsu followed that immediately with a back-to-back-crack to make it
3-0
, to the exact same spot in the left-field stands, no less. In the 3rd inning, Iguchi walked and Ohmatsu grounded to first, where Jamie D'Antona booted the ball into right field, Iguchi getting to third on the play, where Saburo hit a sac fly to score him.
4-0
. Tsuyoshi Nishioka hit a two-out single in the 4th, and The New Ogino hit ANOTHER home run to the same spot in left-field to bring it to
6-0
.
Karaage-kun finally ran into some trouble in the bottom of the 4th when he led off by walking Fujimoto (yes, the dude from Hanshin) and Aoki (yes, wearing #1). Then D'Antona grounded one up the middle which Iguchi misjudged and made a bad dive, so it went to the outfield and Fujimoto scored, Aoki running to third.
6-1
. Aaron Guiel grounded out to score Aoki,
6-2
, and another groundout later D'Antona found himself standing on third, and scored on a Ryoji Aikawa single to left,
6-3
.
At this point I noticed Yasutaka Hattori warming up in the Lotte bullpen and started getting distracted, and I eventually headed out there in the 6th inning, after half the lineup got changed around, because Ueno was warming up. He didn't actually come into the game -- the Lotte pitchers for the day were Karakawa, Itoh, Bill Murphy, Yasuhiko Yabuta (!!!) and Hiroyuki Kobayashi, and all of the rest of them held down the fort after Karakawa came out.
Hye-Chun Lee actually pitched the last 4 innings of the game after Barnette, and gave up 3 more runs, two of them being scored by The New Ogino. In the 6th inning The New Ogino reached base while Nishioka was getting his butt caught in a rundown; then TNO stole second and scored on an Iguchi single.
7-3
. In the 7th inning, Saburo led off by walking and Minami pinch-ran; Fukuura also walked and Kohbe pinch-ran; Takehara hit a fly ball to right and Minami ran to third on it, and then Satozaki grounded to third, where Shingo Kawabata charged the ball and threw home, but Minami was safe.
8-3
. Then in the 8th inning, The New Ogino reached base on an error, and Shunichi Nemoto sac bunted him to second, and Minami hit a double to left which scored TNO to make it
9-3
.
Seriously, this is my first time seeing The New Ogino play, but he reached base 4 out of 5 plate appearances and scored all 4 times, and also made some amazing catches in center field. It appears that his batting average in the preseason is a mere .150, which is a bit discouraging, but I think I like him so far. Plus, "TNO" is a kind of fun nickname to bestow upon him.
(If you're wondering why he's "the new" Ogino, there's another guy named Tadahiro Ogino who also plays for Lotte, a pitcher who was drafted from Hitachi and was the closer for a while. Takashi Ogino was drafted this year out of Toyota and is an outfielder.)
Anyway, the Marines won, and the ouendan sang a weird Nishimura song, and it was... weird. Yeah.
I took a lot of photos, but due to the nature of black uniforms and sunny-then-cloudy-then-sunny days, some of these have kind of weird contrasts. Enjoy anyway!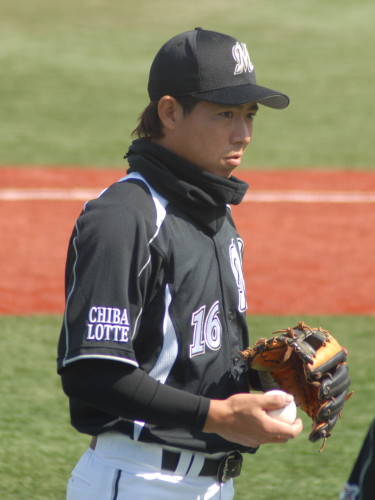 ♥Hisao Heiuchi♥! Now sporting #16, changed from #52 last year.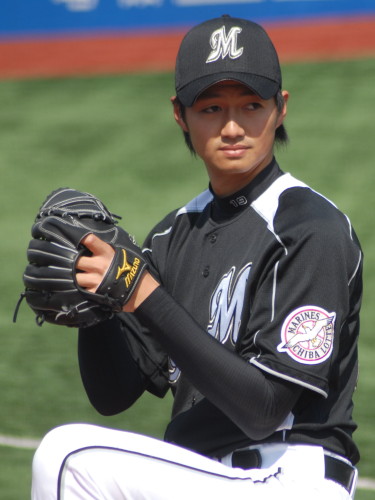 Some warmup shots of
Jailbait
Kara-age
Karakawa-kun. He's precious.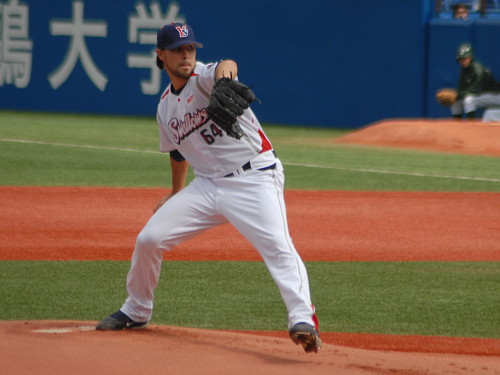 Tony Barnette, welcome to Japan. I recommend not giving up so many home runs in the future.
Oh, did I mention Makoto Imaoka is now on Lotte, which is weird, as the only Hanshin merchandise that I own happens to be an Imaoka #7 jersey from 2003 when he was godly? And now Imaoka is wearing #2 and hitting lots of pop flies?
It's really weird seeing Aoki #1. I still don't get why they had to change him from #23, besides to sell more jerseys.
Yuji Onizaki. Man, Yakult's going to have a major logjam in the left infield, if only all of their dudes could stay healthy.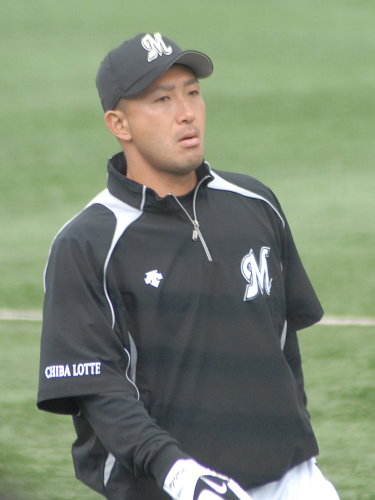 Naoki Matoba! Matoba is 2 days younger than me, and I've been a closet fan of his ever since he was Kazumi Saitoh's personal catcher after Kenji Johjima left the Hawks. I knew he was doomed due to his inability to actually hit a baseball with a bat, but my friend was psyched to see him because Matoba is a Meiji alum (1999). Go figure.
The New Ogino high-fives The Old Morozumi at the plate following his home run.
More high-fives at the dugout.
Oh yeah, another fun thing was getting to stare at Noriyuki Shiroishi's 3rd-base-coaching butt for 4 hours. Which may actually be more time than I've seen him on the field total in my time here; I can't remember the last time I saw him play before his retirement game last year. But I'm happy he's a coach, even if I'm sure Pellegrini isn't.
The amazing running Jamie D'Antona!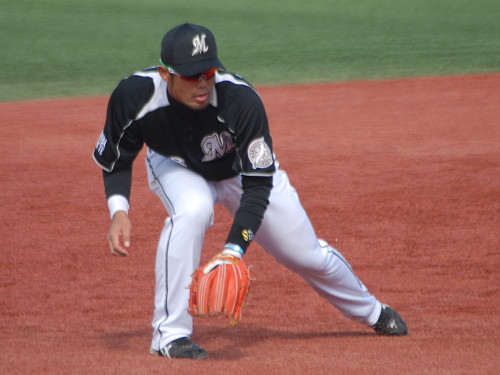 Gori Punkbutt Imae being all cool over at the hot corner.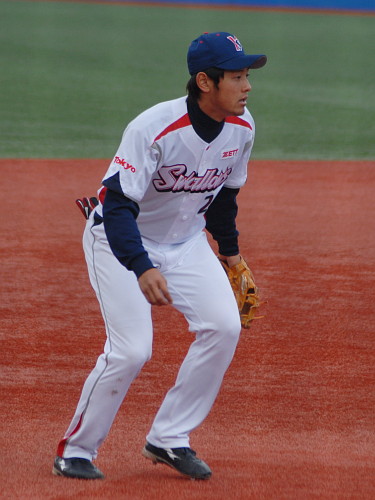 Takahiro Araki! Dude, I'd never seen this guy close up before, but he's awesome and I'd admired him from afar for a while when he was in college. I may have to adopt him as my Yakult player, depending on the aforementioned Left Infield thing. (Araki-Keizo? One can only wish...)
Hye-Chun Lee, who must be immune to cold.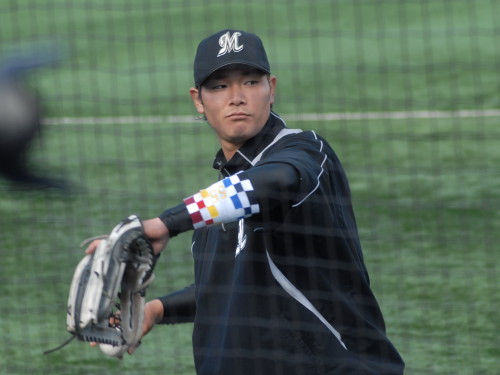 Takumi Kohbe. Yes, I still have a crush on him too. Shut up.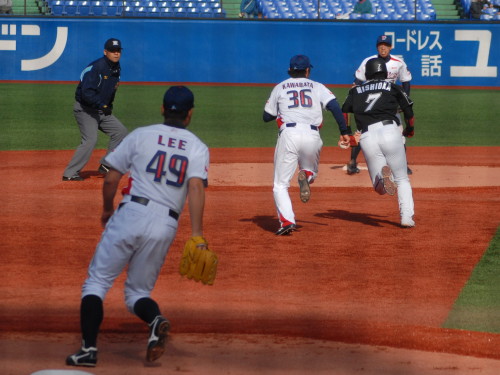 Nishioka gets himself into a rundown. Whoops.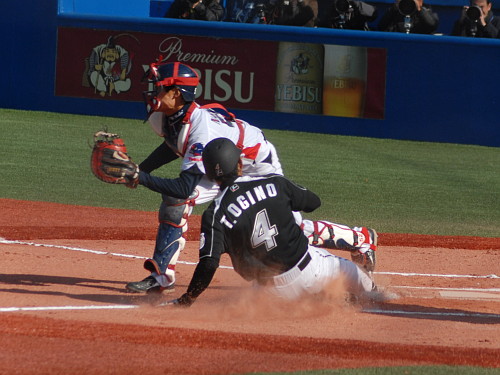 TNO slides into home in the 6th. Wheeeeeee.
Yoshihiro Itoh. Hisashiburi.
Bill Murphy, one of the new Lotte gaijin.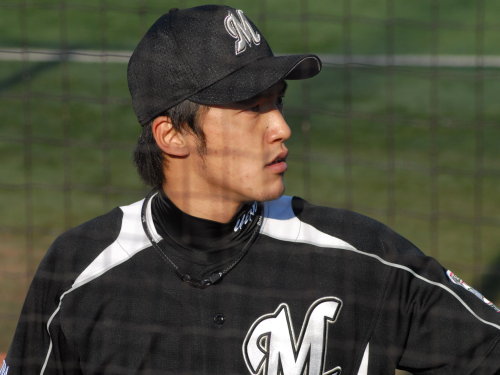 Sadly, my Ueno-kun was pitching from the inside of the bullpen, which is annoying to take photos of, very difficult to get without the fence in your way. Grar. Still, I got to see him throw for like 2 innings, which was wonderful. Would have been more wonderful if he'd actually gone out to the real mound, but I'm sure I'll see him pitch for real eventually. And he still has the same glove he did in college! Only now it says "#15 HERO" instead of "#18 HERO". (It's a pun on his name. I remember reading one college ball magazine where his nickname was listed as "Hirokichi" though, which made me crack up.)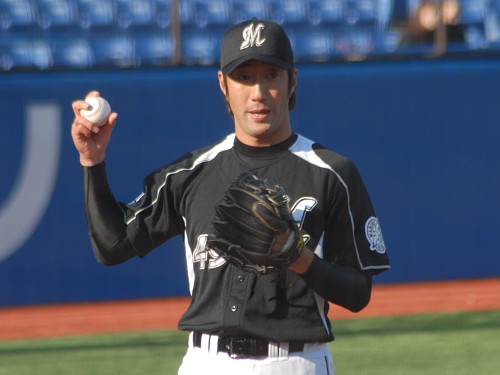 Look! It's Yasuhiko Yabuta! He's back in black! (I wonder how much English he picked up with his two years with the Royals...)
And in further nostalgia, we have a Kobayashi closing for Lotte again, apparently, only now it's Hiroyuki.
Final score.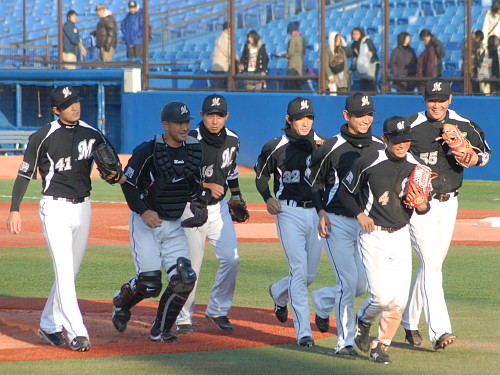 The guys who finished out the game come off the field together. They seem happy.
And on that note, it's late and I better get to sleep so I can go down to Yokohama tomorrow to see the Fighters! I'll be in the outfield for this one, though, I believe, so no photos again for a while, though I may try to get some videos of the new Fighters ouenka so I can learn them.