Thursday the 11th was my first Fighters game of the year, as I trekked down to Yokohama Stadium to see them take on the Yokohama Baystars in a preseason game. I hadn't been to Yokohama Stadium since LAST March's preseason, nor did I actually see the Baystars in a single official season game last year. (I did watch the Shonan Sea Rex, their minor-league affiliate, but that's not the same.)
I got to the stadium, got my ticket, went in, found one of my friends up in the bleachers by the main ouendan, and apparently I was just in time for New Song Practice!
(Fighters ouendan guy holds up the lyrics for Shinya Tsuruoka's new cheer song.)
Yeah -- given the changes in the team this offseason, the changes from the 2009 Fighters cheer songs to the 2010 cheer songs basically involve:
Gone:
Jimenez, Sledge, Botts, Naoto, Oda
Changed:
Tsuruoka, Nioka
Added:
[nothing]
It's pretty sad, actually. I was kind of hoping maybe there'd be a new song for Shota Ohno, or an official adaptation of Noguchi's old song for Kazuya Murata, or something, but... no, nothing yet, at least.
Anyway, here are the "new" songs, changed from last year:
攻守に輝き放つ 今日も星を掴み取れ 鶴岡慎也
koushu ni kagayaki hanatsu, kyou mo hoshi wo tsukamitore, Tsuruoka Shinya
Tsuruoka's new song, which has completely new lyrics and tune.
The other new song is for Tomohiro Nioka:
静かな闘志が 今、燃え上がる 
勝利の手綱を引き寄せろ 二岡 二岡 二岡
shizuka na toushi ga ima, moeagaru
shouri no tezuna wo hikiyosero Nioka Nioka Nioka
And this is the same tune as last year, just new words, since last year his song was about "you have a new stage to perform on", so this one is about pulling the reins of victory with his quiet spirit instead.
New songs aside, it was a lovely afternoon to be down in Yokohama...
In the sun, it was actually downright hot, and I took off my winter coat for a while. The game started, and would you BELIEVE who was playing left field for the Baystars?
One of my friends, who is a devout follower of Kensuke Tanaka, turned to me. "It's kinda painful seeing Sledge out there in a Yokohama uniform isn't it? And wearing number 3..." she said.
I was sitting way too far up to yell anything myself, but amusingly, our ouendan leaders kept starting cheers with things like "I know you guys all want to still cheer for Sledge, but instead, can I get you all to yell a good one for Itoi, please?" And Sledge would hear his name and turn around and laugh, and everyone would yell "SUREJJIIII!!!!" and wave at him. It was kind of funny, but kind of sad, too.
As for the game itself, there was a lot of yelling and singing and stuff, but not much actual game action to report. Tomoya Yagi started for the Fighters and Stephen Randolph started for the Baystars.
The Fighters started off well enough, with Kensuke Tanaka singling to center and then Yuta Sekiguchi walking, and both runners advanced on a wild pitch to Itoi! With no outs and runners at 2nd and 3rd, I kind of bounced up and down a bit like "It's a chance, right? Chance?" and looked at the ouendan guy standing 5 feet away from me, and he said something to the effect of "Patience, young one, we've got a long season ahead of us and plenty of time to sing chance music later." I bowed and pouted and said "Understood, sir. Sorry."
We really should have sung the chance music then, because the Fighters wouldn't have two guys on base at the same time again until the 7th inning.
Of course, the Baystars weren't doing much against Yagi either. Shingo Nonaka (!!!) led off with a single, then got caught stealing second. The next Baystars player to reach base was... Shingo Nonaka, in the 4th inning, with another single. And this time he got picked off first. Hayakawa walked and then Uchikawa hit into a double play.
Makoto Kaneko hit a two-out double in the top of the 5th, and then Takayuki Takaguchi followed that with a single to center; 3rd-base coach Makishi waved Kaneko in, and Kaneko was out at the plate on a bullet from CF Daisuke Hayakawa to catcher Tasuku Hashimoto. Oops. The weird part was that both of those guys were on Lotte last year.
In the top of the 7th, Konta walked, stole second, and Tsuruoka singled, with two outs. Nakashima pinch-ran for Tsuruoka and also stole second... but then Kaneko lined out to end that threat.
As for the Baystars, their greatest chance moment might have been in the 6th, with Yagi getting slightly tired, he led off by walking Hashimoto and then plunking Jose Castillo with a pitch. But then Hiroaki Ohnishi failed to bunt properly, Nonaka struck out, and Hayakawa hit a pop fly out to center. That was the only time the Baystars had two guys on base at all.
Yoshinori Tateyama replaced Yagi on the mound and pitched the bottom of the 7th. In my usual tradition of "He gives up home runs every time I see him, so I can't look!" I tied my towel around my head and proceeded to not watch him pitch to Uchikawa, Murata, and Sledge, and I still contend that's why he got out of it completely unscathed.
Baystars 2B Jose Castillo, who I think I saw play for the Pirates, hit a nice solid two-out double in the 8th off of Shintaro Ejiri -- everyone was shocked he ran so fast. Fortunately, Naoki Miyanishi came in to strike out a pinch-hitting Takahiro Saeki (Saeki!) to end that threat as well.
With the game going 0-0 into the bottom of the 9th, Fighters closer Hisashi Takeda came out to pitch, and naturally, Shingo Nonaka singled off of him too, making it 3-for-4 on the day. (I'm a closet Nonaka fan, he's one of those guys I really like but forget he exists most of the time.) Tatsuhiko Kinjoh bunted him up, and then my actual favorite Searex/Baystars player, Yuki Takamori, came up to bat! I was all excited to see him playing at ichi-gun, but worried he might win the game for the Baystars, which would kind of suck. But he hit a pop fly out. Yoshitomo Tsutsugo came up to bat then, and he's a big famous highschool homerun hitter, but this time, all he managed was a groundout to third. Game over, with an EXCITING FINAL SCORE OF 0-0!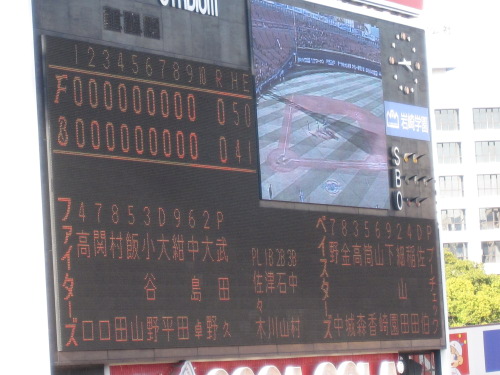 One of my friends referred to Tsutsugo as "Hama no Gozilla", being as he wears #55 and is a hyped slugger kid and all. I joked, "Shouldn't that be 'Hama no Nakata Sho'?" which got a few laughs, and then another guy said, "Actually... I think Tsutsugo is probably BETTER than Nakata..."
The ouendan were doing their preseason gag of recycling various old ouenka for ni-gun guys who are unlikely to play much at the top level this year, so during the 8th, they started out by doing Hiroshi Narahara (now a Chunichi coach)'s song for Takaguchi, Tsutomu Ishimoto's song for Sekiguchi, and then Toshihiro Noguchi (now a Baystars catcher)'s song for Murata -- they'd done that one last year too.
But the most amusing ouenka-recycling happened with the very last batter for the Fighters in the 9th inning, Seiichi Ohhira, who surprised the heck out of me by even being at ichi-gun. Anyway, as if the ouendan had worked this out to be the funny last moment of our cheering or whatever, the dude at the front made the hand sign for "ouenka", and the trumpeters started blasting JASON BOTTS'S SONG! (I mean the
one from last year
, not the infamous Ponyo one or the recycled one before that.) Half the stands cracked up and the other half started singing. We even did the version where people skip half the first line and would have yelled "whoooooooaaaaaaa -- JAY! SON! BOTTS!" except this time it was "whoooooooooaaaaa -- OH! HI! RA!" Most people were laughing too hard to even notice when Ohhira struck out.
(I should note for
Patrick
that Chris Bootcheck pitched that 1-2-3 top of the 9th...)
To be fair, the Baystars ouendan seem to have made up a whole boatload of new songs too -- while I still know some of the player songs from a few years back, like Murata and Yoshimura and Uchikawa and Saeki and all, I didn't recognize a lot of the tunes coming from the right-field bleachers.
Anyway, good times! Onward to Saturday, where I will go watch the Fighters play a "home game" at the Tokyo Dome and take on the Chiba Lotte Marines. My Fighters Fan Club card finally showed up today, so I should be good to go on that front too.