Went down to Yokohama today for a preseason game of the Baystars taking on the Hanshin Tigers. I really only had two goals for the day: 1) meet up with Mr. Westbay and with a guy who goes by Shinigami in our Koshien chats, and 2) wish Terrmel Sledge a happy birthday.
I was successful on both counts. I got to the park around 11:30, which was just a little bit too late for Baystars batting practice, but as the Tigers started to clear out and the Baystars started to do their pre-game jogging circles, I saw Sledge and I ran to the front and I held up a sign that was actually a combination of two signs made in the past, but were convenient for today:
(You've actually possibly seen these signs both before if you've been on this blog a while, as I made the Sledge one
a while ago
and the Birthday one last year for a
certain Chunichi player
.)
I yelled out, "HEY SLEDGE! HAPPY BIRTHDAY, MAN!"
He looked out, saw the sign and me and laughed and waved hello and thanks.
The other people around me were all like "Whoa, it's his birthday today?" and I said yeah, and that I was really a Fighters fan, but would cheer him here too. So a guy standing next to me held up the sign and HE yelled happy birthday the next time Sledge jogged around in his circle, and then the lady with her young son ALSO took a turn holding the sign and yelling happy birthday. I took photos, but for some reason couldn't get a good one of the birthday boy: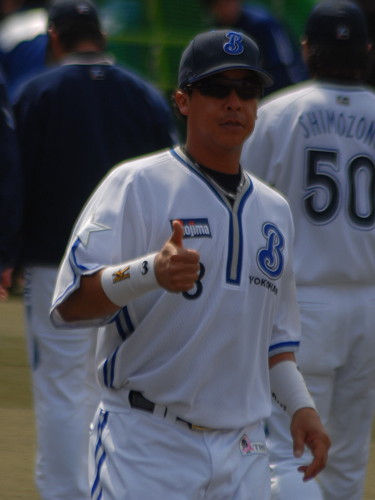 Other than that, batting and fielding practice was pretty boring for me, really. I didn't feel like battling crowds to get to the front to see the Hanshin Tigers for the most part, especially since Futagami got injured and wasn't around supposedly, and as for the Baystars the most interesting thing to me was watching Yuki Takamori work out at first base alongside Uchikawa and Saeki.
Something stupid, though: the birthday boy Sledge wasn't actually IN the starting lineup! I was looking forward to recording the ouendan singing happy birthday to him, but I guess it's a Baystars thing -- I remember trying to go to the game on Takuro Ishii's birthday a few years back only to see him benched.
On the other hand, Kenji Johjima was in the starting lineup for Hanshin, and that had a lot of people excited on both sides of the stands.
Westbay finally showed up around 12:45pm, and he found me (wearing my Takuro Ishii jersey), and then he called Shini, and then the three of us got ready to watch the game. So, both goals accomplished. I also continued the Pau tradition of bringing Calbee Yakyu chips and opening them in a group and trading (I came out with a Tsuruoka and a Fighters team stats card)
Yuya Kubo started for the Tigers and Stephen Randolph for the Baystars, and at first things didn't look so good as Randolph gave up a home run to the very first batter of the game, Matt Murton, to make it
1-0
. It was a big shot too, right over the wall in dead center.
But then the Baystars struck back with a vengeance. Ishikawa doubled, Shimozono bunted him up, and Uchikawa hit a double too!
1-1
. Then Shuichi Murata came up and did what he does best -- a home run to left! BOOM!
3-1
. Jose Castillo continued with a single, moved up on a Yoshimura grounder, and then Tasuku Hashimoto ALSO doubled to bring Castillo home, making it
4-1
.
By the end of the inning we'd stood up to high-five and sing the Baystars song so many times that even Westbay was like "This is really weird, all of this run-scoring going on by the Baystars!" and I said "Yeah, I thought they rarely score 4 runs in a WEEK, let alone in one game, let alone in one INNING..."
I was also super-excited that Hashimoto is still using the same theme he did with Lotte as his at-bat music (the theme music of the late wrestler Shinya Hashimoto), and I even started doing the chop and yelling "HA-SHI-MOTO! HA-SHI-MOTO!" to it :)
More home runs in the second inning: Takahiro Arai in the top (
4-2
) and Tatsuya Shimozono in the bottom (
5-2
). Shimozono's was also followed up by another Uchikawa double and Murata single to score him,
6-2
.
Things quieted down a bit after that. Shini and I tried to get onto the big screen holding up my Murata signs, but to no avail. Westbay had to actually go to the concourse to get Cokes for us all, as the only vendors we saw were carrying beer -- very odd that there wasn't a single cola girl given that there were so many kids at the park. He came back just in time to see Tasuku HA-SHI-MOTO! hit a 2-run homer into the right-field stands to make it
8-2
!
Randolph gave up one more run to Hanshin (
8-3
), and he came out in the top of the 7th with the bases loaded. The guy replacing him on the mound was Shigeru Kaga -- I was like "Hey, that's a new drafted guy, right?" And sure enough, it was -- and even crazier, he came out and struck out Sekimoto and Murton! For whatever reason, Obana took him out at that point and put in Takayuki Shinohara to get the last out of the inning, which he did.
Hashimoto had another double in the 8th ("These former Lotte guys are working out pretty well for us, huh?" said Westbay) and a pinch-running Shingo Nonaka (!!!) scored on pop flies by Kinjoh and Saeki.
9-3
. Hashimoto was 3-for-4 on the day with two doubles and a home run and 3 RBI. Not too bad -- let's hope he can keep it up this season.
Yoshitomo Tsutsugoh came out to play third base in the 8th and 9th innings, and Westbay was all like "Tsutsugoh is NOT Hama No Nakata -- he's a lot more humble than that!" and I said "I know, but he's a high school prospect hyped for hitting home runs," and I mentioned how Nakata Sho has actually lost weight and started running like a baseball player instead of a wounded gorilla, and then a little bit later Tsutsugoh managed to lose a fly ball in the sun. Whoops. "I didn't jinx him, did I?"
Whatever.
Baystars win!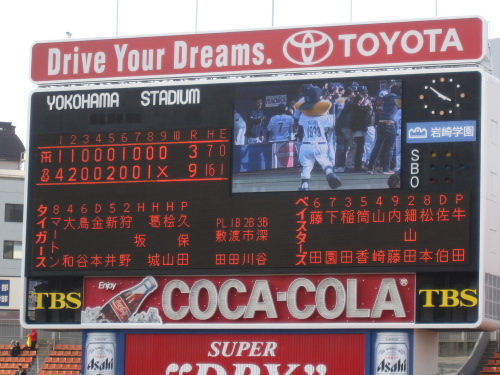 I think Westbay expected a postgame hero interview, and the fans expected the players to come throw their hats out into the stands or whatever, but instead, the game just unceremoniously ended and the ushers started telling people to get out.
The ouendan did some postgame cheers, including singing Happy Birthday to Sledge, who was already long gone, and they practiced some other songs (oddly, I still remember all of the cheer songs from when I used to cheer Yokohama up through the 2008 season, but I don't know any of the new ones, obviously), and I got a kick out of yelling "KATSUZO! YOKOHAMA! TAOSE! YOMIURI!"
I made the guys pose for a few photos with me: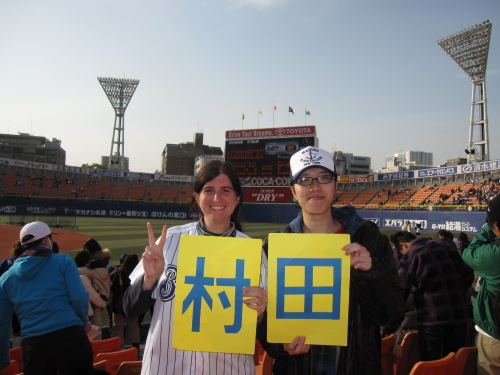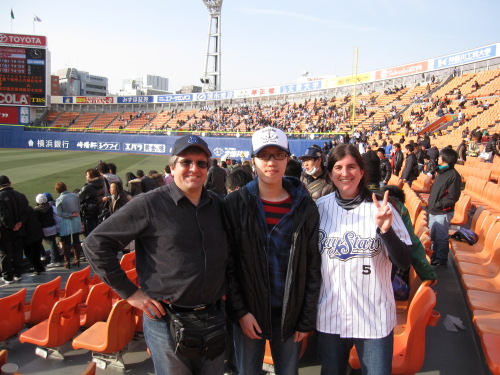 (I should note, btw, that Murata hit his home run right after we started holding those signs up in the first inning. So there!)
And then we started getting out of the stadium.
We walked around towards the train station, and GUESS WHO WE SAW OUTSIDE THE HOME PLATE ENTRANCE? SIGN GUY!!!
So I made him pose for photos with his latest signs (the top one is awesome, he made a mock newspaper layout with the results of the Baystars beating Chunichi yesterday):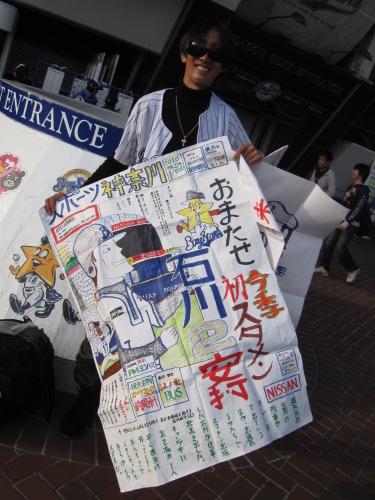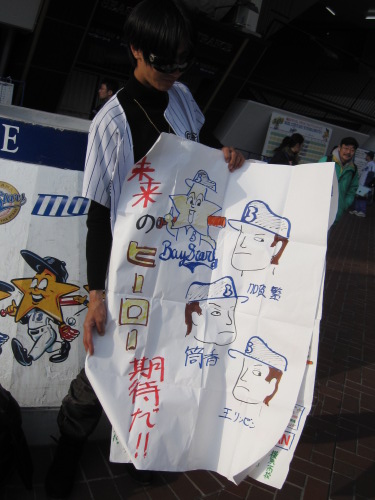 And then chatted for a bit. Just mostly "long time no see! Are you going to every game again this year?" and so on, he asked whether I was still teaching, etc. Even Westbay knows him now from the Searex fan fests. Shini was like "WTF?" But as we walked on, I explained how basically, Sign Guy is one of the few things that has actually been consistent about the Baystars the last few years, besides losing. He's just a fixture in the stands and it was good to see him again -- he even came up to say goodbye to us again when we were all standing in the Kannai train station chatting a bit before splitting up for our respective trains. He's so cute! I don't miss all that much about cheering for Yokohama, but I definitely miss Sign Guy. Sigh.
Anyway, good times! It's always fun to hang out with Westbay and always fun to meet new people, and I'm heading to Koshien next week with Shini to watch some of Senbatsu, rather than just talking about it in the chatroom. Hooray!
(I took a whole bunch of photos today, but I'll try to get around to cropping them and my Kamagaya photos soon -- wanted to write an entry first instead.)