(This is about the game on
March 14th
.)
Joining the Swallows fan club already has started to pay off for itself; when I got to Jingu it was as easy as going to the fan club window, and they scanned my card and handed me a free ticket. I really wonder if any other fan clubs offer such a ridiculously good deal.
After getting my ticket at the Swallows fan club, I walked around to the opposide side of Jingu and went in to sit with my friends in the Fighters cheering section, of course.
What can I say? It was a lovely afternoon to be out there -- really warm in the sun, I even got sunburnt.
Also, guess who was out there playing left field again for us?
And even crazier -- once again, he DID NOT SUCK. One of my friends was even remarking that Mr. Nakata looks somewhat smaller this year than last year, like he's lost weight. That could maybe account for him running slightly faster than a wounded platypus this time around.
We also apparently have a banner for him, which is kind of crazy, as ouendan usually only make them for superstars and franchise players. I mean, heck, last year I believe we only had them for Inaba and Kensuke, and before that for guys like Yukio and Ogasawara. We don't even have one for Makoto Kaneko, and I'd say he's been one of the true leaders of the team for the entire time I've been following them.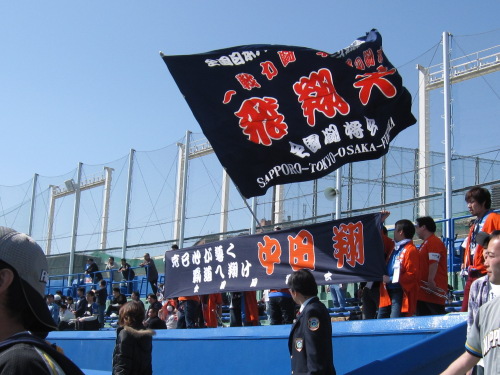 Anyway, the starters for this game were Masaru Takeda for the Fighters and Kyohei Muranaka for the Swallows, both lefties. Muranaka has intrigued me for a while, but I don't think he's quite ready for prime time yet. Masaru, on the other hand, is probably the #2 guy in the Fighters rotation, so you could say we have high expectations for him this year.
It was a pretty crazy game from the get-go. Kensuke Tanaka singled and moved up to second on a grounder by Dai-kan Yoh, and then Muranaka tried to pick Kensuke off second, but nobody was covering the base, so wheee, the ball went into centerfield and Kensuke went to third. Everyone was saying it was just like the day before, but sadly Inaba and Shinji struck out. And then to prove how cool he is, Kensuke also made this amazing leaping snag of an Aoki liner in the bottom of the first, and surprised Takahiro Araki by doubling him off first.
The second inning was pretty fast (though Sho Nakata managed to beat out a double play throw, and also made a fantastic catch in left field).
It was the third inning where the Fighters basically tore Muranaka apart. Makoto Kaneko led off with a home run into the first few rows of the left-field stands to make it
1-0
. Kensuke Tanaka followed that with a single, and Yoh bunted him up again, and Inaba singled to left, but Kensuke only made it to third. Shinji followed that up with a bullet to short that Fujimoto did a diving somersault towards and missed, so that was a single scoring Kensuke.
2-0
. Eiichi Koyano followed that up with a legitimate double to right, and that brought in Inaba.
3-0
. Shinji stood at third and Koyano stood at second, and then Yuta Sekiguchi hit a weak grounder up the left side. The thing is, Shinji had already been running on the play, so when Araki charged the ball it effectively ended up being a squeeze as there was no play at home.
4-0
. Nakata Sho hit a pop fly out to end the inning after that.
The Swallows took back one run in the bottom of the 3rd when Yasushi Iihara singled, Fukuchi followed it up with another single that sent Iihara to second, and then Araki hit a single which scored Iihara to make it
4-1
. Masaru walked Aoki but that was it as Jamie D'Antona struck out and Aaron Guiel hit this crazy liner to short that Makoto Kaneko made a perfect jump to catch.
The 4th inning was quiet, and then Yasuhiro Ichiba came in to pitch the 5th. Oh, Ichiba, how far the mighty have fallen. (A little background on BR
here
, but Ichiba could be one of the biggest flops in NPB prospect history ever.) He pitched two innings, and the Fighters pretty much mauled him, although to some extent, he brought it on himself.
In the 5th, Ichiba started off by walking Dai-kan Yoh. Yoh then took off for second base and stole it successfully on the first pitch to Inaba. Inaba grounded out and Yoh went to third -- and then when reaching back to go into his windup to Shinji Takahashi, the ball slipped and fell out of Ichiba's hand. It was called a balk, and Yoh scored (
5-1
), without anyone actually getting a hit. Embarrassing, huh?
The Swallows managed to take two runs back in their half of the 5th with four straight singles and a sac fly to make it
5-3
. Then in the 6th, with Ichiba still pitching and one out, Sho Nakata ran out an infield single, and Shota Ohno followed that up with a single, which Nakata ran to third on. Kaneko hit a huge fly ball to center that scored Nakata on the sacrifice;
6-3
. Kensuke Tanaka followed that up with a single, Yoh followed THAT up with a single, and at that point the bases were loaded for Yoshio Itoi, who hit a bases-clearing double in the midst of chance music.
9-3
. Yuji Iiyama walked, and then Koyano hit a single, scoring Itoi -
10-3
. Tomochika Tsuboi, who had led off the inning with a grounder, also finished the inning with a grounder. Oops.
I believe Ichiba earned himself another trip down to the farm team for that display of brilliance, anyway.
The Swallows added another run in their half of the 6th on an RBI double by Fukuchi to make it
10-4
. (Ejiri had since replaced Masaru, and was subsequently taken out for Miyanishi after the run.)
I realize that's a pretty wide margin, but when the Fighters announced Yoshinori Tateyama was going to pitch the bottom of the 7th, to D'Antona, Guiel, and Hiroyasu Tanaka, I did my typical thing of "OMG I TOTALLY CAN'T WATCH THIS OMG OMG" and put a towel around my head. I've been doing this for quite a while, but this time one of my friends grabbed my camera and took the following shot: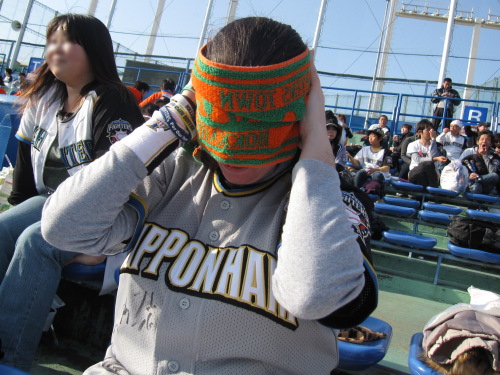 It must have worked, as he got three popouts in a row. Yay.
I was super-psyched to see Yakult pitcher Mikinori Katoh throw two innings, too -- I've been a fan of his ever since he was at Keio University. Mikinori was pretty great -- 2 innings, 3 strikeouts, but unfortunately also one home run to Takayuki Takaguchi. ("Unfortunately", she says, while sitting on the Fighters side.)
11-4
.
Brian Wolfe throws an inning, Takehiko Oshimoto throws an inning, and we find ourselves in the bottom of the 9th, still 11-4, and Takahiro Matsuka is on the mound for the Fighters. We got Matsuka in that big 3-for-3 trade with the Baystars in the offseason, and I've been intrigued by him for a while as he's the fourth Tokyo University graduate in history to actually play baseball professionally and make an appearance at ichi-gun.
Unfortunately, brilliant as Matsuka might be, he ran into some major control issues, and essentially walked four guys to allow a run. Ugh. Well, he walked one guy, then got two outs, then walked three more guys straight, then he came off the mound with the score at
11-5
, and Takayuki Kanamori replaced him. Kanamori allowed a hit to Iihara which brought two more runs in,
11-7
, and fortunately that's where it would end.
We spent a while doing a bunch of post-game cheers, and then on my way out of Jingu, by the front gate, I saw this...
It was a signing session with 5 players -- Araki, Fujimoto,
Aoki
, Yoshinori, and Nakazawa. There was some kind of thing before the game where you had to apply for it at the fan club window, though by the time I got there it was over. Then people would get a random number from 1 to 5, and would go up to that particular player and get something signed. The people who get Aoki are pretty lucky, huh?
Anyway, great day, lots of fun. I find it funny how much I've come to love Jingu over the years.