...a Rami-chan and Yusei Kikuchi?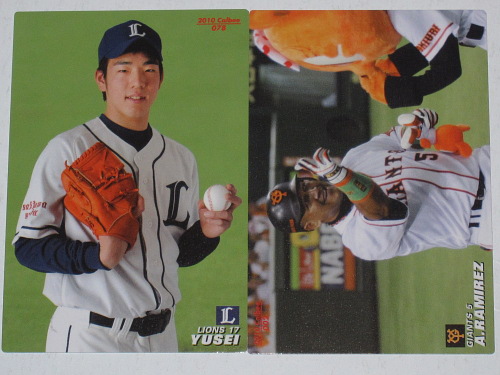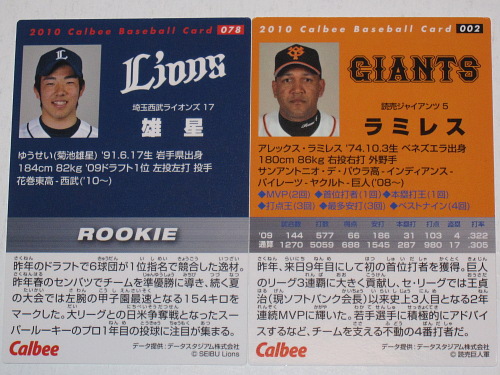 (In short:
Calbee Pro Yakyu Chips
are potato chips that come with 2 baseball cards per bag. The chips aren't that great, but the cards have been around for years, longer than BBM, even. I've collected them the last few years, but not actively so much as just "I'm in the convenience store, I want a snack, hey, it's baseball card chip season, might as well.")
I bought a bag of chips on my way back from the Dragons-Fighters game at Kamagaya today, and this is what I got.
Bizarrely, I may be one of the few people in the country not all that excited about this pull. On the other hand, I know that Kikuchi's BBM
"Rookie Edition"
card is already going for 1000 yen at the card shops, because I went to get this year's Fighters RE set and couldn't help but take a look around.
I also seem to be unable to refer to him as "Yusei".
(I still think the most bizarre thing I saw there was the Ayumi Kataoka card boxed set, which looked to be one-third baseball cards of her with the Ibaraki Golden Golds, and two-thirds cards of her looking almost like a fashion model. I can't find an official site for the cards, but
here's a variety of them
on Rakuten's auction site; you get the idea.)
Anyway, I think I'll shove that Kikuchi card into a card holder and forget about it for a while...