I love seeing the Fighters as the home team in the Tokyo Dome, sitting in the right field bleachers cheering my lungs out. It's where I started my Japanese baseball life all those years ago, and it always kind of renews my energy for the game.
Also, being as it was the first major weekend game in Kanto, there were a ton of people there whom I hadn't seen since the Japan Series in November, so I had a lot of walking around saying hi to people and catching up and saying the ritual required greetings, which are all loosely "You've been well, I hope? Yes, thanks to you! Let's make this year a good one too!"
But first, let me tell you about the new additions to the outfield seats...
The good -- the REALLY GOOD: Cup holders under the seats!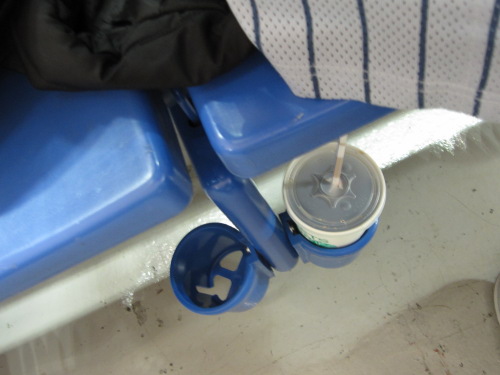 This is something they've needed for ages, and will hopefully cut down on the amount of beer that trickles down during the normal course of a game.
The bad -- but only if you're in the first row, which I was: 6 inches of fence above the old outfield wall.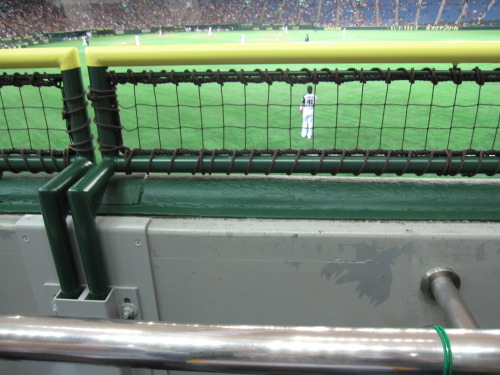 Okay, I'm using perspective to make it look pretty bad, there. It's not really THAT awful: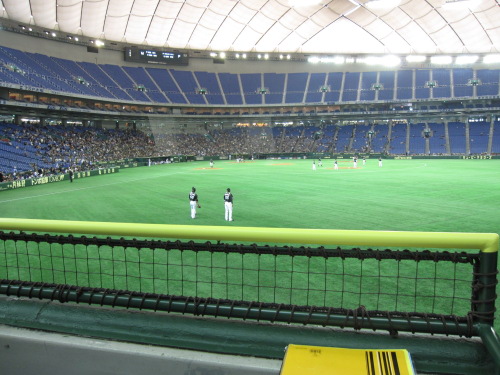 Other than that, I didn't notice any significant changes from last year. Everything's the same food, same concessions, same souvenirs, same everything. The Tokyo Dome is nothing if not consistent.
I was sitting in the front row with
Ojisan
and some of his posse. Even better, Ojisan had a present for me: a signed A4-sized version of
this poster of Ryota Imanari
, my favorite Fighters minor-league player, done for "Fighters Style 2010". Apparently Ojisan has some poster-sized ones too, but I have to come to Kamagaya to get one.
Across the aisle from me, in his usual spot, was my friend Akki. Akki was basically Brian Sweeney's biggest
stalker
fan in the outfield cheering section, and would call on me every now and then to be an interpreter, except half the time he would ask me to translate crazy things like "Tell Brian to win the next game at the Tokyo Dome and be the game hero and throw me a signed ball!"
Well, Akki showed up wearing his Sweeney #42 jersey... and immediately got harrassed by a bunch of people for it. As did his other friend wearing an Inada #5 jersey. So someone found a roll of tape, and the two of them got to work "fixing" their jerseys...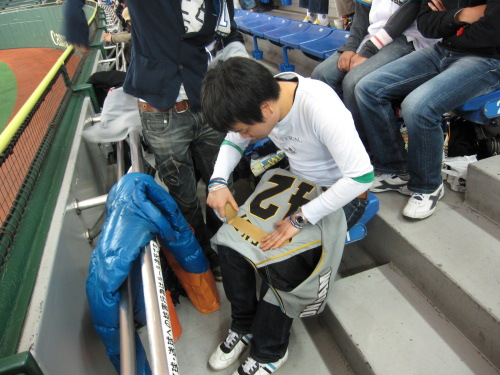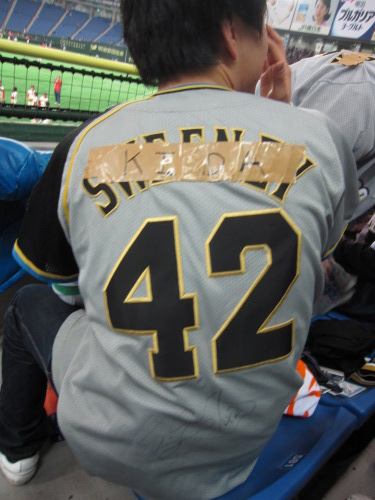 You know, I don't think I've actually seen anyone wearing a Masao Kida jersey yet, which is kinda weird considering that I *have* already seen a guy with a Manabu Iwadate jersey, and if you're going "Who the hell is that?", you would have some pretty good company even in the bleachers.
Oh, and as I continue to put off talking about the actual game, let me also mention that the ceremonial first pitch was thrown out by idol/talent/singer/whatever Mari Yaguchi, who is seriously like 3 apples tall. They made a big deal about how she spent the last month trying to learn how to throw a baseball for something-or-other, and then she still couldn't actually manage to get it more than halfway to the plate. Oops.
Fortunately, she was replaced on the mound by Yu Darvish, who throws quite a bit better, and was the starting pitcher for the Fighters. Yoshihisa Naruse was the starting pitcher for the Chiba Lotte Marines.
The strangest part of the starting lineup was most likely that the Fighters had Sho Nakata batting 7th and playing... left field. When they announced that, I was like 「中田くん?レフト?マジ?」 but it was, apparently, entirely maji.
Even stranger -- I know that I've spent the last two years making fun of Nakata for his lousy defense and the fact that he's such a wannabe Kiyohara that he runs like a 40-year-old Kiyohara at the age of 19 -- well, for whatever reason, I guess Nakata really wants to stick at ichi-gun this year, but he was running like a madman. He made some spectacular plays, at least for him -- running all the way into the stands to get a foul ball, running out a double play, and at one point he charged a single to left and fired it in fast enough that it caught Satozaki running home for the out, which got him a big cheer of いいぞ中田! from our side of the field.
Anyway, I'm running low on time before heading to Jingu for the second Fighters game of the weekend, so let me sum up this game in two things, both actually Marines-related:
- The Marines' new Korean import Tae-Kyun Kim hit one of the biggest home runs I've seen at the Tokyo Dome ever -- 140 meters into the left-field stands. That's like 460 feet. It occurs to me that the last time I saw someone hit a home run at the Tokyo Dome that followed that arc may actually be the last time I saw Tae-Kyun Kim hit a home run there during the WBC. Man, that thing looked like it was never going to land. It was also the only run they'd score all game, and off of Darvish at that.
- The Marines made a TON of errors. It was pretty ridiculous. The first error wasn't really an error, but Satozaki blocked a ball wrong and the runner advanced on the pass. The first real error was Nishioka charging a grounder, and then suddenly developing slippery hands as the ball dropped out. The second error was Takashi Ogino somehow not throwing the ball in fast enough, which led to the Fighters' go-ahead run. The third error was Imae basically getting the same grease-hands as Nishioka and couldn't get ahold of the ball again.
The fourth and final error was the most ridiculous thing I've ever seen at a pro baseball game -- Kensuke Tanaka was standing on third and Shota Ohno was standing on first. Inaba struck out -- and Ohno ran for second -- and Toshio Saitoh threw the ball to second. It wasn't Saitoh's fault, it was a perfect shot. So perfect, infact, that it BOUNCED ON SECOND BASE before heading into the outfield, because NOBODY WAS THERE TO ACTUALLY GET THE BALL AND MAKE THE TAG. Nishioka and Iguchi were both looking at each other like "THAT'S YOUR FAULT, JERK!" and in the meantime, Kensuke ran home for the Fighters' 8th and final run of the game, with that final score of
8-1
.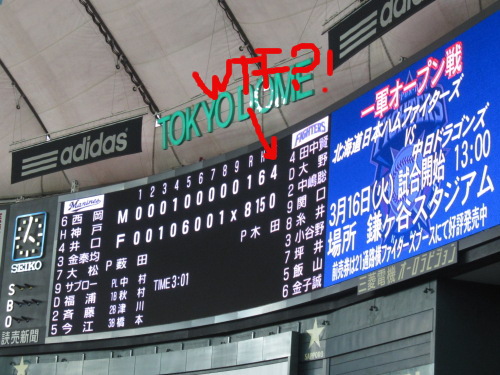 Seriously, the Fighters got 6 runs off Naruse in one inning, half due to valid hits (6 of them) and the other half due to errors, as 11 guys came to the plate. It was really pretty ridiculous. We even did chance music, because it was so out there.
One semi-amusing thing about the game was that a friend of Ojisan's sat with us, and her two daughters, who I think are around 7-9 years old. They both wanted to "meet that gaijin oneechan that we saw on TV", apparently; the one girl kept pointing at my signs like "I saw that one too!!" and seemed really happy to wave our Inaba signs together. It was kinda weird, I'm more used to kids being afraid of me.
And also, for the record, those playing the home game: the Marines' side of the outfield was PACKED full. I don't know what or who the new ouendan leaders are, but I guess even with Marines Victory Productions (the old cheering group, who were pretty close to Bobby and pretty pissed off at the front office) all quitting, there are still enough crazy Lotte fans to continue being scary and loud without them. They've changed all of the song lyrics though, for the most part, so it's pretty odd.
After the game I went out for a day on the town with Ogura and Yoneyama, two of my friends that I know from college baseball cheering here. They're quite a bit older than me, but apparently find it amusing to take a gaijin around to baseball restaurants, so first we had some snacks at the Baseball Cafe and then made our way to Yotsuya 3-chome for dinner at Abu-san, which is hole-in-the-wall baseball izakaya that is somehow tied to Shinji Mizushima (the famous baseball manga artist) and has been frequented by just about every baseball player in Japan at some point, judging by the photos on the walls. It even has things like an actual huge green 秋山 board from the Hawks scoreboard when Koji Akiyama played for the team. The owner guy played HS baseball with the Fighters' head coach Fukura, is longtime drinking buddies with Marines' manager Nishimura, and has a bazillion other such connections he was telling me about. At first, things were a little bit weird, as I don't think they EVER get gaijin down there -- people were honestly asking me if I knew how to use chopsticks -- but once it became obvious that I speak Japanese and know more than my fair share about baseball, they warmed up to me. I ended up chatting with a staff guy who is actually a semi-famous actor (he was in Sakai Masato's recent movie Golden Slumbers), and on the way out the owner even gave me a special custom Abu-san dish as a souvenir. The food wasn't bad either, for izakaya food, but I think people really come there to get to chat baseball and hopefully run into some players or famous people. My friends told me they often find half the Meiji baseball team there after games, at any rate.
Unfortunately, I didn't get home until like 11pm, at which point I wrote a little bit of this entry and then crashed, so now I'm hustling to finish it so I can go back to Jingu today. See you there!