This post is not actually heavy on Sho Nakata photos, but I was down at Kamagaya on Tuesday the 16th for the final Fighters preseason game, which was against the Chunichi Dragons. Or should I say, it was against the Chunichi Dragons' minor-league team. After all, these were the starting lineups:

Chunichi                   Fighters
--------                   --------
Ohshima rf                 Kensuke 2b
Cesar cf                   Nioka dh
Nomoto dh                  Inaba rf
Blanco 1b                  Shinji 1b
Arai 3b                    Itoi cf
Fujii lf                   Koyano 3b
Tani 3b                    Nakata lf
Maeda c                    Tsuruoka c
Iwasaki ss                 Kaneko ss

Itoh p                     Keppel p

Notice anything odd about that? The Fighters' lineup is the exact same as their Opening Day lineup, but the Dragons lineup is basically a bunch of guys who have very little chance of making the opening day lineup, aside from Blanco. So I was pretty pissed off, as were a whole bunch of other people, since this is a great chance to see the top players close up. I know that at least Wada and Morino were there, even though they didn't appear in the game, as I saw them hanging out in the dugout in the later innings, but Araki and Ibata were nowhere to be seen, nor was Tanishige. I guess Ochiai figures a minor-league park is meant for minor-leaguers. Or something.
At least they brought Doala with them.
Anyway, this was a fairly boring landslide of a game, combined with a sky that threatened to open rain upon us at any moment. Bobby Keppel forgot his jersey and had to borrow one from Brian Wolfe, but apparently that was lucky for him as he pitched 5 no-hit no-run innings against the Dragonbutts.
The big story of the day was when Sho Nakata managed to hit two home runs in two consecutive at bats ("Of course he did, we're at Kamagaya," said one of my friends) off Edward Valdez, but the second one was this GIGANTIC shot that actually completely went out of the stadium and hit the drink machine across the street and outside the building used as a dorm and training facility. I mean, like, the minute the ball left the bat, you knew it was GONE. It might be one of the biggest home runs I've ever seen someone hit in Japan.
You know what the craziest thing is? I was watching him being swamped by reporters afterwards, but rather than acting like "I'm Sho Nakata and I'm a badass and I deserve to be at ichi-gun, did you SEE that shot?" he was more like "I'm still kinda worried whether I'll make the opening day roster, but I'm going to do my best this year and work hard to help the team -- wish me luck."
Anyway, the
Fighters won 6-1
in a pretty dumb matchup, so rather than talking about the game, here are some of the photos I took that day, in no particular order: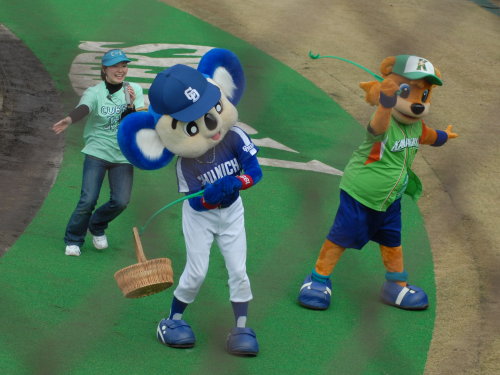 Doala during the pre-game ceremonies. Cubby had been throwing balls out of a basket, but Doala missed the point and tried to throw the basket instead.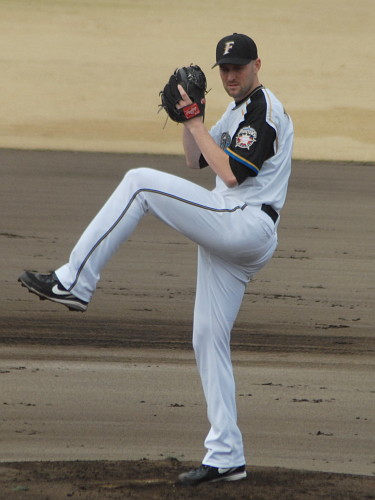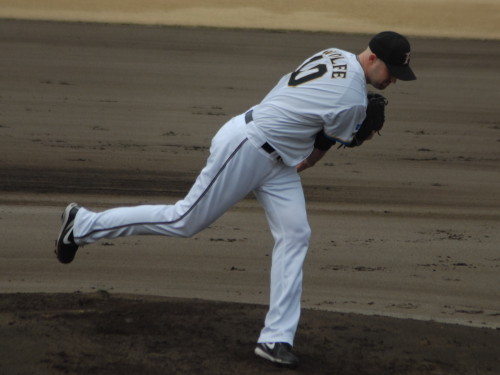 Fighters' starter Bobby Keppel. Notice the uniform he's wearing. No, it really is Keppel, not Wolfe. Really.
Dragons starter Junki Itoh, who went one inning and gave up a bunch of runs and was taken out.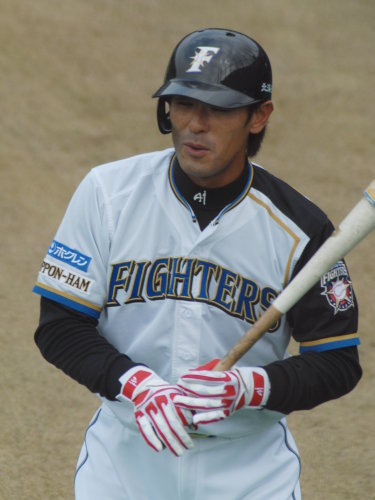 Inaba is still adorable.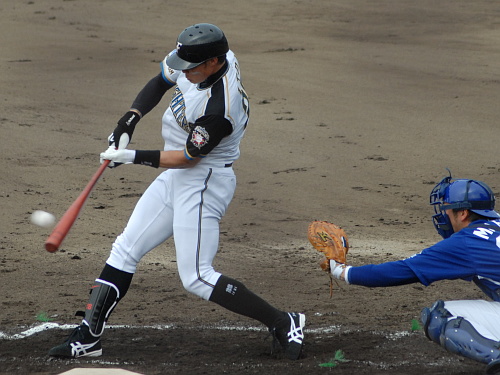 This is Yoshio Itoi hitting his 2-RBI double in the first inning.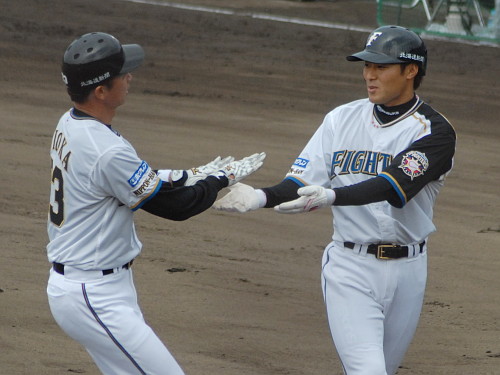 Nioka and Kensuke scored on the Itoi double.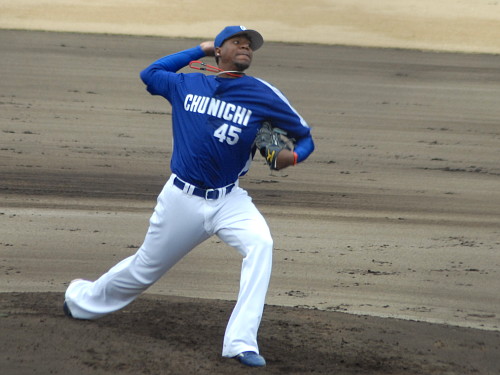 Edward Valdez took over on the mound.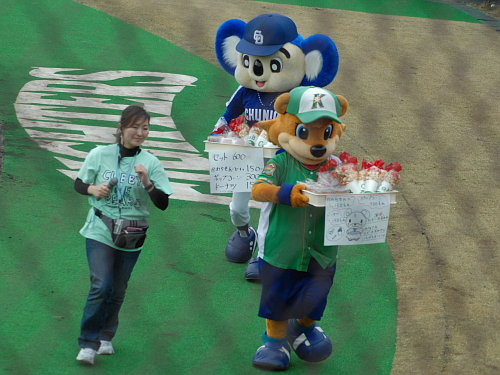 The mascots were supposed to go sell popcorn to the fans. Cubby and BB sold all of theirs but Doala came back with half a box and got scolded.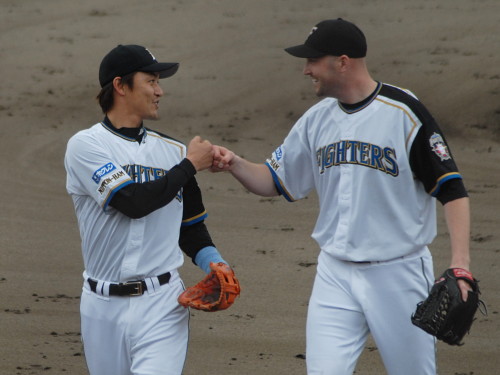 This is one of my favorite pictures, oddly -- Kaneko ran up to Keppel with a huge grin and went to high-five punch him on the way back from the mound. It was cute. I ♥ Kaneko.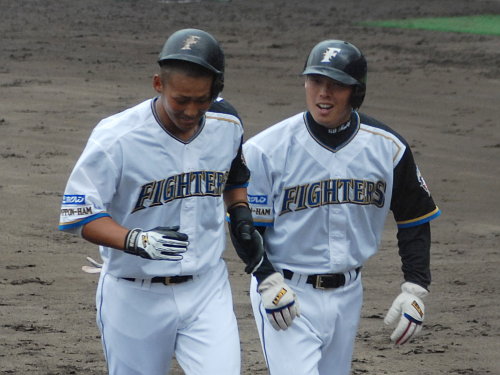 This is after Nakata's second home run. Takayuki Takaguchi gave him such a hard congratulatory smack on the back of the head that his helmet started falling off.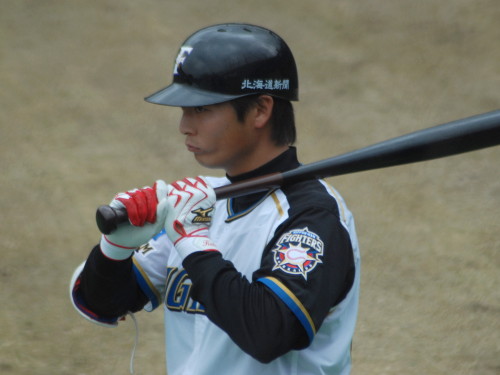 Masayoshi Katoh! He's the only kid from this year's draft class to make the opening day roster.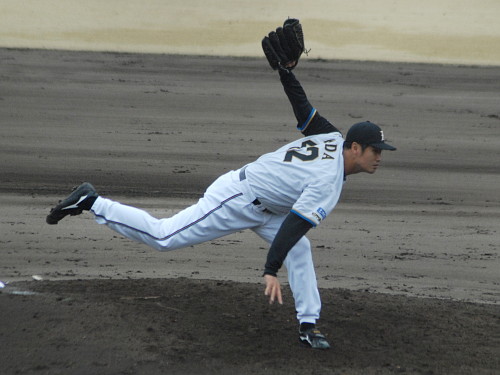 Masao Kida has this funky follow-through where he looks like he's flying.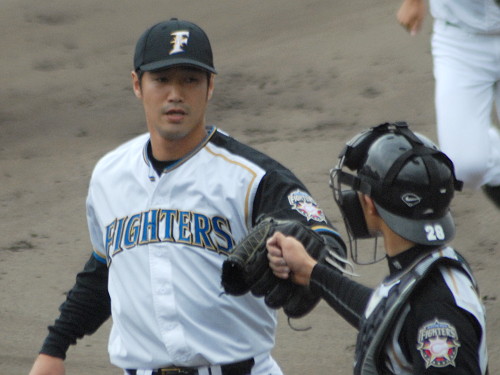 Kida comes off the mound and high-gloves Shota Ohno.
Masanori Hayashi.
Chunichi boy band member Takuya Asao.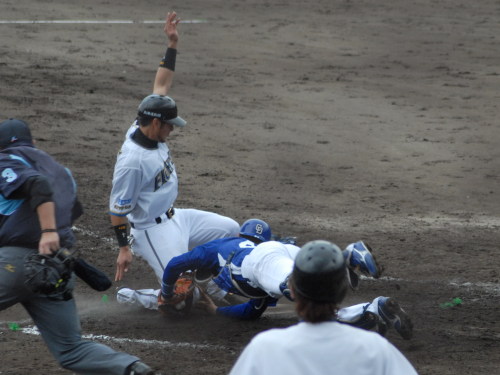 Yuji Iiyama slides into home ahead of the tag (or lunge or whatever).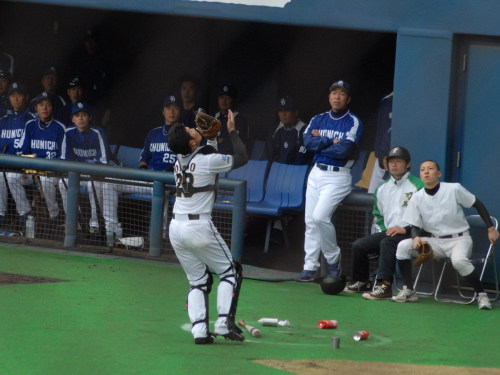 Ohno catches a Nomoto foul fly for the final out of the game. Hey, you can see Kazuki "YOU SUCK!!" Inoue standing in the front of the dugout, now that he's a coach.
Team high-fives after winning the game.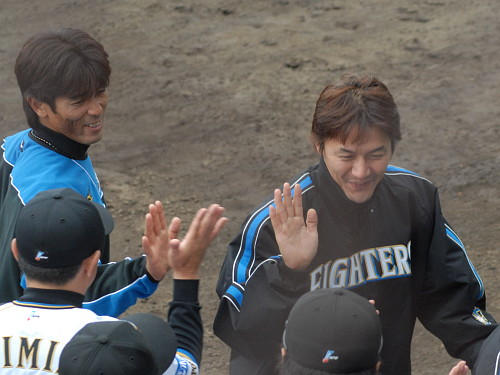 It's neat to be only a few feet away from these wonderful guys :)
(Atsunori Inaba and Makoto Kaneko, if you're not familiar with the team.)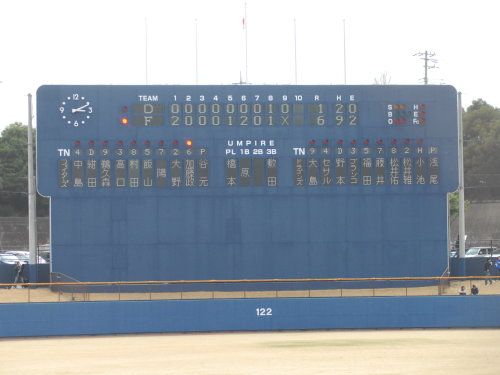 Final scoreboard.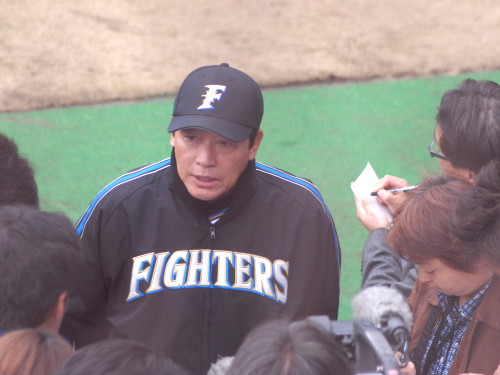 Nashida-kantoku holds court with reporters afterwards.
The Nakata Show, as it were. (I have been informed you can see the other side of this on
Youtube
.)
This was the crowd of people watching the Chunichi players escape into their bus.
Which is why I ended up just walking back to Kamagaya station afterwards. The line to take a shuttle bus back to the station was ridiculously long, and the crowds of people waiting around the Dragons bus and around the Fighters' exit was just crazy. I like Kamagaya after a normal game, where there'll be like 50 fans or so hanging out by the dormitory hoping to get autographs or photos. 3000 people is a little more than I can deal with.