TLDR Version: Friday night was FREEZING COLD in Chiba and the Marines beat the crap out of the Fighters, 9-1, with Tomoya Yagi giving up three 2-run home runs.
I don't know what possessed me to go to the game in Chiba tonight, besides that I pretty much always go to Fighters games if at all possible. It was raining and windy and about 5 degrees Celsius out there, which is in the low 40's, plus the windchill. Gah. I should have just stayed home and continued watching Koshien, though to be fair I had very little interest in the third game anyway. On the other hand, GO TEIKYO! A stupid win is still a win! (They basically got their go-ahead run on a passed ball. I still worry that Takuro Itoh was hurt by a pitch during his first at-bat, though.)
When I arrived, I was also informed by Ojisan and some other Kamagaya faithful that Ryota Imanari (I wear an Imanari #62 jersey most of the time) had gotten hit in the head with a bat during the game earlier that day in Kamagaya and was in the hospital getting checked out. Argh.
It was the first home game in Chiba (not Opening Day per se, as that was last weekend), so there was a pretty big crowd. They also had a ton of festivities for opening day. What was weird about them, to me at least, is that it seemed like they were set on being distinctly Japanese, as if to distinguish this year's Marines from not having any pesky Americans in control anymore.
After all, the slogan for this year's team is "Wa", which basically is the Japanese symbol meaning something to the effect of balance/peace/harmony/whatever. I guess it refers to the team being a finely balanced Japanese machine again. So rather than seeing people with "Bobby 2010" banners out, instead this year you saw the M-Splash girls wearing ridiculously little given how cold it was, and carrying "Wa" banners: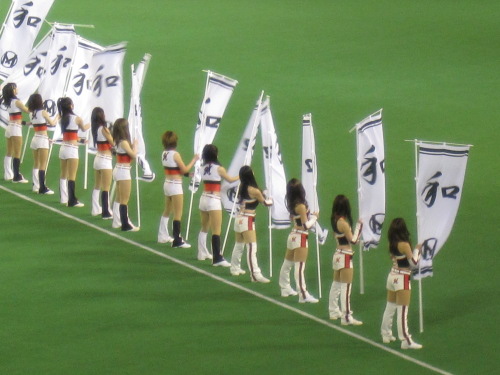 And the other pre-game ceremonies featured things like a taiko drum performance and some Japanese swordplay, and an actual performance of Kimigayo, the national anthem, which I don't remember ever hearing in Chiba before.
They had all the players on both teams come out and stand on the lines and announced the starting lineup that way, too.
The ceremonial first pitch was actress Nana Eikura. She wore #7 (because her name is Nana, which is also the number 7 in Japanese) and rode out in the bullpen car and actually managed to throw the ball to home plate! It was a Tadano-eephus-like throw, but it made it there, which is better than most non-athlete women seem to manage.
And then there was a game. Yagi started for the Fighters, and Yoshihisa "The Boy Who Can't Lose" Naruse started for the Marines.
Makoto Kaneko was not in the starting lineup and I'm not really sure why.
I should mention, yet again, that it was COLD and WINDY and RAINING, which may account for a whole bunch of the events in the game. It may also explain why I spent most of the game huddled up in my jacket feeling absolutely miserable. People kept going back to the food stands to get hot curry or soup or coffee, I saw several people drop their cheer sticks due to wearing thick gloves, and you could even see the players kind of jumping up and down to keep warm. But I also have to wonder if the cold didn't affect their gloves and such somehow -- a stiff glove and a cold wet baseball has got to be different than a soft glove and a normal baseball.
Anyway, things started off promisingly when Tomohiro Nioka lofted a ball to right field. We were all expecting it to go foul and/or get caught then suddenly it was a home run, which was crazy.
1-0
, but that was the only run the Fighters would score.
Takashi "The New" Ogino evened things up in the bottom of the 1st with a home run that landed like 3 rows in front of me, after a Nishioka triple.
2-1
.
In the 3rd, Nishioka got on base on a fielder's choice, stole second, advanced on an Ogino groundout and scored on an Iguchi single to make it
3-1
.
Then the 4th was pretty awful. With one out, DH Imaoka walked, and Satozaki hit a home run right into the Fighters ouendan leaders.
5-1
. Imae followed that with a walk and then Nishioka scored for the third time that day by ALSO hitting a 2-run homer that went over a jumping Itoi in dead center to make it
7-1
.
Yagi stayed in, and in the 5th, Tae-Kyun Kim led off with a single, and then an out later, Saburo hit a grounder to short, only Iiyama dropped the ball, and it went into LF, AND when Sho threw the ball to third, it was a bit off and so Kim was safe there. Imaoka hit a bases-clearing double after that to make it
9-1
.
I might also point out that Imaoka had a perfect 1.000 batting average after opening weekend, and after a walk and two hits here, he STILL had a 1.000 batting average: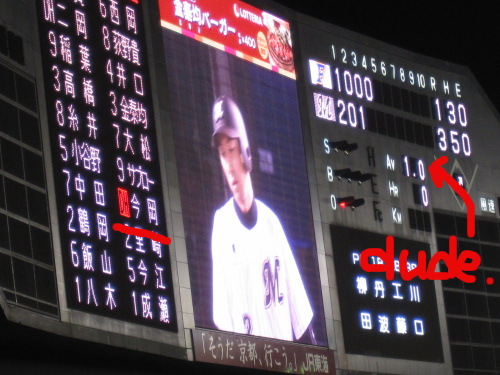 So yeah, Yagi gave up 9 runs, although only 8 were earned, I believe.
Takahiro Matsuka (yay!) pitched two innings and managed to do his normal thing, by which I mean he struck out 2 guys and walked 3 guys and gave up no hits. I wonder how long it'll take for him to strike out more and walk less. Takayuki Kanamori also pitched two innings and walked 2 and struck out 2.
As for Boy Wonder Naruse, he lasted 8 innings and only gave up that one run to Nioka. Bill Murphy closed out the game with a 1-2-3 inning and two strikeouts.
I really wish the Fighters would stop playing Iiyama. He keeps screwing up. In addition to his poor fielding, he also ran us out of the inning in the 3rd by trying to score from second on a passed ball, although maybe I should blame that on third base coach Makishi as I usually do.
What's also embarrassing is that the Marines made two errors in the 7th inning -- one was Nishioka simply dropping the ball (again, like a Kensuke error earlier on it looked like a stiff glove) and the second was the team failing to get Dai-kan Yoh out on a rundown between 3rd and home because they missed the base throwing back to 3rd -- and either way, the Fighters didn't get a single run out of it. Sheesh.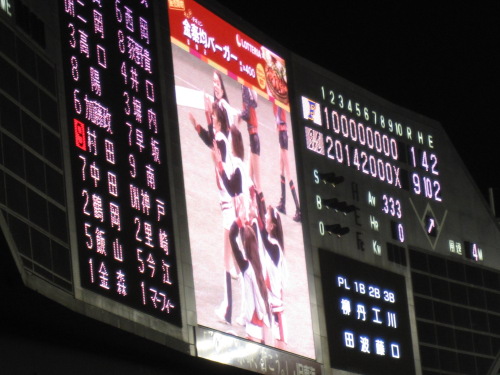 Kazuya Murata grounded out to end the game, which is notable mostly because his father was sitting in the outfield with us (apparently it is drier and more interesting than the infield, at least that's what he said). Murata is from Chiba, so his parents used to come to Kamagaya all the time to see him play.
Anyway, I pretty much BOLTED from the stadium the second the game ended. I was freezing cold, quite tired, and grumpy because the Fighters lost, and I figured if I dashed out, I could buy a ticket for Saturday and still get in line quickly for the shuttle bus back to the station, so I did exactly that. Never have I been so glad to be sitting on a train with heaters under the seat as I was the minute I got on the Keiyo train back towards Tokyo.
I found out on the train that the game heroes were Naruse and Ogino, which I guess makes sense.
I have to admit that it's really weird for me to come to Chiba Marine Stadium with the change in administration, and not just because I have to pay for my tickets now. I think that for most people the experience is completely the same -- the Fighters fans, some of us know the Marines cheers better than others, so they were saying how weird some of the new changed cheers are, but some people totally didn't notice, except that "hey, they don't have all of their normal banners and signs up, WTF?" and I was like "Last year's ouendan completely quit and took all their stuff with them." The thing is, the RF stands were still completely full of people cheering and jumping in unison. On the surface, nothing has changed. But if you really look, it has.
Plus, quite frankly, a Tae-Kyun Kim kimchee burger is simply not as good as a Bobby Burger. End of line.