Yesterday was officially
Kids Day
at the Hawks-Eagles game, but in reality, it might as well be today, given who's taking the mound.
The pitching matchup tonight features former Yakult pitcher and current Hawks pitcher Rick Guttormson facing off against Eagles rookie and Koshien hero Masahiro Tanaka, formerly of Komadai Tomakomai HS. After a mostly-uneventful top of the first inning where Teppei attempted to accomplish something and the rest of the Eagles didn't, Tanaka takes the mound, and the announcers immediately start comparing the hype over him in the draft to Matsuzaka. It's sort of funny watching him now -- he does look almost just like he did back in Koshien, throwing that lovely slider of his. Hard to believe he's not even 18 and a half years old yet and making his first pro start.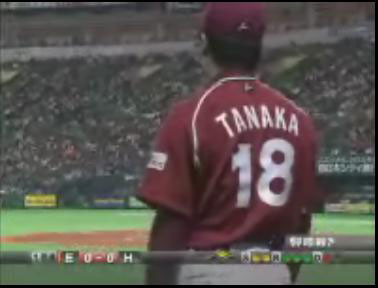 (Screenshot from softbankhawks.jp 100k videofeed)
Well. Ohmura is retired on a groundball to short, by the second base bag, but Kawasaki hits a ground ball single out to left. Hitoshi Tamura gets it into his mind that he's going to foul off everything Tanaka throws to him, and after 8 pitches, including a pitchout attempt, Tamura swings at a slider which dives down into the dirt for strike three. Tamura's out -- Tanaka's first professional strikeout! -- but Kawasaki makes it to second base safely as catcher Fujii fumbles the ball. (Fujii's fumbled the ball a couple of times.) Tanaka's mostly being clocked around 142 km/h -- about 88 mph. Not too bad for an 18-year-old kid. Aaaand... Nobuhiko Matsunaka unsurprisingly hits a double to right, a sharp line drive past a diving Takasu, scoring Kawasaki. 1-0 Hawks. But after that, Tanaka strikes out Hiroki Kokubo, swinging at what looked like a shuuto right down the middle. Sweet. So there's his first professional inning -- against the most formidable lineup in his league -- 18 pitches, 2 hits, 1 run, 2 strikeouts. Could be worse.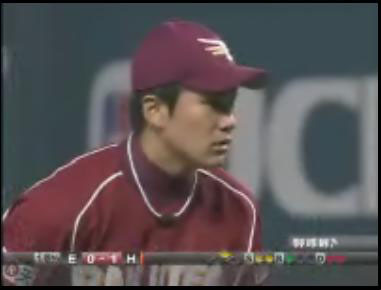 I'm not liveblogging the rest of the game, despite my amusement at things like watching Kevin Witt hit a single off Rick Guttormson, don't worry.
I didn't bother watching last night's Hawks-Eagles game with the Eagles' Shingo
Mama
Matsuzaki facing off against Toshiya Sugiuchi. Sugiuchi is only two years removed from winning a Sawamura award in 2005, and is the FOURTH starter on the Hawks rotation. That should give you a pretty good idea of why I fear them so much. Sugiuchi pitched a complete game shutout in 113 pitches, striking out 7, as the Hawks mauled the Eagles
9-0
. I feel bad for Matsuzaki -- he was decent on the farm team last year, but it's obvious he's not really ready to pitch at ichi-gun yet.
(Oh WOW, in the time it took me to write that paragraph up, the Eagles took a 3-1 lead on the Hawks. Guttormson's pretty much getting owned by a bunch of hitters smacking a bunch of hoppers into right field. Whee. At the same time, I think Tanaka is learning that if he doesn't strike out every single batter he faces, the fielding behind him will find one way or another to screw up. Sigh.)
In theory, the reason I started writing this post was to say that the Hawks commercials for this year and last year are all really awesome. They actually have a
page of the commercials
on their site, if you want to see a longer and higher-quality version of the boxing ring commercial, featuring Saitoh and Matsunaka pitching/hitting at each other. What's funny is that there are various endings to it -- the normal ending has Hiroki Kokubo climb into the ring after Matsunaka's out, but for Ladies' Day they have a woman in a Hawks jersey climb into the ring instead, and for Kids' Day they have a bunch of kids climb into the ring. It's pretty cute.
What's even more awesome is
the Hawks 2006 commercials
, though. If you understand Japanese, I highly recommend watching through them. The "Nothing But Baseball" (野球しかない) series is pretty intense, with narrations from Arakaki, Kawasaki, Matsunaka, and Saitoh about their thoughts and experiences in baseball. ("I believe in my bat. And my teammates." "I get my strength from the fans.")
And then the "We = Hawks" coaching ones are great too. Kawasaki getting coached by a kid, Matoba being "coached" by a hyper crazy office lady type, Saitoh getting swarmed by schoolgirl fans wanting to pitch like him, Matsunaka getting hitting coaching from salarymen, Arakaki getting pitching-from-the-heart advice from a tiny old lady, etc. いっしょうに、野球を。
I really wish I could find Fighters commercials online. I'm working on it. I wonder if the Hawks have this stuff up mostly because Softbank is such a big media/internet company.
(...and in the time it took me to write THOSE paragraphs, the Hawks went and took back that lead, scoring 4 runs off Tanaka to bring the score to 5-3, so he's getting taken out of the game, which he did NOT look happy about, but hey. Talk about being thrown into the fire.)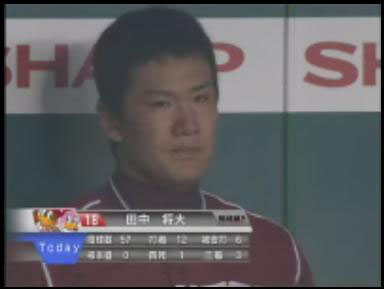 And in more fun things, Sadaharu Oh apparently was learning how to
handle an actual hawk
.
Lest you think I am totally turning this into a Hawks blog instead of a Fighters blog, I will mention that
Fernando Seguignol is a goofy game hero
, and as always,
Hichori Morimoto is goofier
. (Though I hope he didn't actually go on the field with his uniform on backwards.)
(Hmmm, 6-5 Hawks now, the Eagles are trying to catch up. Ying-Chieh Lin actually seems like a decent pitcher. Alas, my server is flaking out and I need to sleep.)