Every day on the
Rattler Radio
blog, he has a "countdown to opening day" and a number and a player that represents that number.
I thought it'd be funny to do something like that here today, except as I started to search through my hard drive for not-yet-uploaded pictures I'd taken of guys wearing the number of days left, I realized I wasn't actually sure which way is the proper way for counting this sort of interval.
Mariners Opening Day at Safeco Field is April 2, 2007.
Today is March 2, 2007.
How many days are there until Opening Day?
If you count from tomorrow until the day before Opening Day, there are 30 full days in between now and Opening Day. The most recent ex-Mariner to wear #30 was Aaron Sele.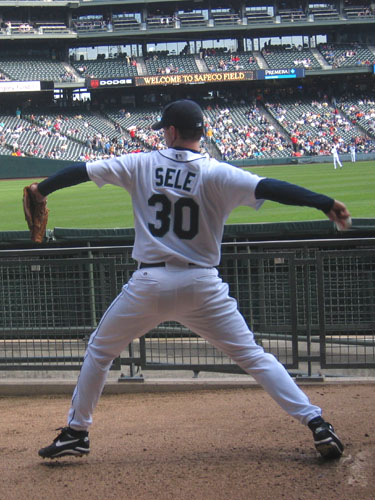 Aaron Sele is now in spring training camp with the Mets as an NRI, where he just watched his former Mariners teammate Clint Nageotte ninja the win in a
Grapefruit League game
today.
Now, isn't it sort of cheating to say "days until Opening Day" and not count today, since today has barely started? Therefore, I can see an argument saying that there are 31 days until Opening Day. The most recent ex-Mariner to wear #31 was Francisco Cruceta.
Francisco Cruceta was claimed off waivers by Texas back in October, and is now probably in the Rangers camp trying to get
Mike Young
to buy everyone a round of tequila.
Theoretically, if you're just going by 24-hour chunks of time, though, one could come up with an argument for having to count both today AND April 2nd towards the count, because it's actually slightly more than 31 days from right now until the time the first pitch will be thrown at Safeco Field. And well, we all know who the most recent ex-Mariner to wear #32 was...
Chris Snelling was traded to the Washington Nationals with Emiliano Fruto for Jose Vidro in December, and is now in spring training camp with them, hoping to win out in the Battle of the Outfielders, and in the meantime
still providing great one-liners
when writers interview him:
Q: Do you surf?
A: I've tried. I'm not really good at it, especially after seven knee surgeries.